Was ist Cornerstone Software?
IDEXX Cornerstone ist eine integrierte und vollständig zukunftssichere Praxisverwaltungssoftware. Die Software lässt sich in führende Anwendungen, Services und Produkte integrieren. Maximiert die Effizienz, um Frustration und Gebühren für verpasste Fristen zu vermeiden. Bietet einen zentralen Eingabepunkt für Tierarztanwendungen und spart den Mitarbeiter*innen so Zeit. Und es wird von einem Team unterstützt, das sich jetzt und in der Zukunft deinem Erfolg verschrieben hat, mit White-Glove-Schulungen und -Support sowie neuen Anwendungen und Services, um deine Fähigkeiten zu erweitern.
Wer verwendet Cornerstone Software?
Über 125.000 Fachleute in Nordamerikas modernsten Tierkliniken.
Wo kann Cornerstone Software bereitgestellt werden?
Cloud, SaaS, webbasiert, Windows (Desktop), Windows (On-Premise), Linux (On-Premise), Android (mobil)
Über den Anbieter
IDEXX
1983 gegründet
Telefon-Support
Chat
Erhältlich in diesen Ländern
Australien, Kanada, Vereinigte Staaten
Über den Anbieter
IDEXX
1983 gegründet
Telefon-Support
Chat
Erhältlich in diesen Ländern
Australien, Kanada, Vereinigte Staaten
Cornerstone Software – Videos und Bilder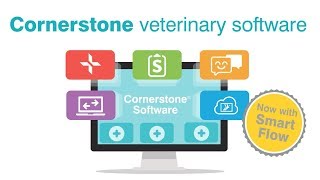 Kosten ähnlicher Produkte wie Cornerstone Software vergleichen
Cornerstone Software Funktionen
Abrechnung & Rechnungsstellung
Bestätigung / Erinnerungen
Inventarverwaltung
Terminplanung
Verwaltung von Patientenakten
Zahlungsabwicklung
Alternativen für Cornerstone Software
Bewertungen über Cornerstone Software
Verifizierter Rezensent
Owner/partner in USA
Verifizierter Nutzer auf LinkedIn
Tierarzt, 11-50 Mitarbeiter
Verwendete die Software für: Mehr als 2 Jahre
Versatile
Vorteile:
This software has been a vital part of our practice for many years. it is versatile and medical record templates can be customized to your preferences. Our laboratory results integrate directly with the medical record and are available from remote locations through the internet (VetconnectPlus). There are additional features that we hope to integrate soon such as signature capture to further streamline our "paper lite" practice. Support is fantastic and readily available from Idexx.
Nachteile:
Rarely, a feature we love gets lost in an upgrade and starts to glitch.
Antwort von Idexx Laboratories
vor 3 Jahren
Thanks for your feedback, great to hear that Cornerstone's versatility and integrations are helping you and your team! We've had a lot of practices share their success stories in going paperlite or less, and we encourage you stick with it and complete the journey. Please keep us posted!
Kelly C.
Practice Manager in USA
Verifizierter Nutzer auf LinkedIn
Tierarzt, 11-50 Mitarbeiter
Verwendete die Software für: Mehr als 2 Jahre
Flexible software that is easy to learn and use.
Kommentare: As a paperless practice utilizing many of the Idexx platforms and services, we are power users of Cornerstone. We have two practices within 15 miles of each other and we need to be able to access client records from either, or remotely. It's been a good solution for our practice. I've used several practice management software systems and while none of them are perfect for everyone, Idexx has the ability to invest in it's technology and continue to make improvements. It really does offer robust options and flexibility for many practices to use the features that are a good fit for them.
Vorteile:
It is a robust software package with good integration with other Idexx offerings. The integration increases the value of each service offering. They provide continued improvements on the user interface and enhanced functionality. The learning center provides fantastic training resources for new hires and those needing a refresher.
Nachteile:
New enhancements seem to take priority over improvement to known deficiencies, such as the functionality of the multi-location single database systems. I would like more options to capture data for reporting and analytics. You can gather most information, but need a good grasp of excel to manipulate and combine it.
Antwort von Idexx Laboratories
vor 3 Jahren
Hi Kelly, thanks for the feedback regarding Cornerstone's flexibility, ease of use and diagnostic integration; we know how important all of those are at busy practices like yours. Same goes for multi-location/single database functionality. That's an ongoing area of high focus for us, and that includes making it easier to access the reporting and analytics you depend on.
Glen J.
Owner Veterinarian in USA
Tierarzt, 11-50 Mitarbeiter
Verwendete die Software für: 1-5 Monate
In Betracht gezogene Alternativen:
Frustrated
Kommentare: While customer service such as help with software, learning, and hardware issues are really good. There seems to be constant need for these people, more so than there really should be is the application was better designed for the user. I had an opportunity to receive finical assistance to pay 50% of the training to learn Cornerstone software. I asked several times to get the proper paperwork and documents to accomplish this task. I had one month to get it done. Cornerstone sales continued to fail to get back with me and get what I needed. This cost me over $5,000. It seemed once they had my signatures on the contract they really no longer cared.
Vorteile:
Customizable templates for medical records help to accomplish many tasks and streamline our work flow. Customer serves is quite good, we can generally get help quickly. The daily planner with several tabs of tasks helps to decrease chances of task left uncompleted and gives a picture of our day. Client communications capabilities are beneficial.
Nachteile:
The user interface is not intuitive and has a very steep learning curve. Initial user experience is poor and frustrating. There are often way more steps than needed to accomplish a task. Many tasks I need to accomplish use work arounds which decreases effectiveness and efficiency, this also increase the chances of user errors, increases the learning curve for staff, this in turn leads to lost revenues and decreased customer satisfaction. While there are good automation features they lack the ability to truly make a great client information pipeline that is needed in today's veterinary industry. It is interesting that we call this a practice management software yet the features needed for a manager such as automated reports with graphs at specific time intervals to give a better overall picture of the practices health are nonexistent. The integrated Pet Health Network Pro does not truly allow the use of two practices with out the real possibility of confusing clients and lots of work arounds, they also do not have the ability to create custom templates for communication base on specific client and patient needs.
Antwort von Idexx Laboratories
letztes Jahr
Hello Dr. Jensen, thanks very much for taking the time to share your feedback. While we appreciate the thumbs up for customer support, the daily planner and client communications, we want to help you and your team address those areas of concern right away. One of our expert Cornerstone trainers is going to reach out to help you and your staff ASAP, at no charge. Please let us know how that goes!
Richard C.
Practice Administrator in USA
Verifizierter Nutzer auf LinkedIn
Tierarzt, 11-50 Mitarbeiter
Verwendete die Software für: Mehr als 2 Jahre
Cornerstone Reivew/Survey
Kommentare: From a support staff point of view, very good. From a practice management point of view, it can be difficult, especially if you join a practice years into owning the software and it was unorganized. Clean up can be difficult.
Vorteile:
I like the appointment book as it is easy to read and organize. I like the ability to email records, notes, and forms to clients. I like the help desk as they are easy to get a hold of and are very knowledgeable. I think it is easy to look up pets and clients and deal with financial transactions. PHNP is great too.
Nachteile:
You need to make a new client file in order to make an appointment, although I know there are a few work around for this. You cannot inactivate a mass amount of clients at one time. You can email a mass amount of clients at one time. I wish you could eliminate service and inventory items instead of just inactivating them. I wish there was a better way to organize service and inventory item, so we can pull sales and revenue figure easier. It is hard to create these reports. I hate that once you have 4 files open on the patient clipboard, it make you close a few before you can continue working. I don't like that you cannot put cost of good on service items (labwork, etc.)
Antwort von Idexx Laboratories
vor 3 Jahren
Hi Richard, thanks for taking the time to share such detailed feedback. We know how much you depend on Cornerstone, and we'd like to help you address some of the areas you cited; you'd mentioned finding the Customer and Technical Support team helpful, and we'd recommend starting there.
Lindsay S.
Customer Service Manager in USA
Tierarzt, 11-50 Mitarbeiter
Verwendete die Software für: Mehr als 2 Jahre
Easy to use, updates needed
Kommentare: We often have IT problems, and Cornerstone support is very quick to blame issues on security settings on the server and router.
Vorteile:
There are numerous different ways to do things in Cornerstone which makes it user friendly. Cornerstone appears to be one of the more popular programs available. Using Cornerstone PDF to save records, etc. is much easier than using Adobe.
Nachteile:
Cornerstone seems to be one of the slower practice management programs to offer newer features. The updates do not seem to ever go smoothly, but the new features and updates are exciting when they do come out. Reports are cumbersome. I wish there was a spot to make notes about clients that aren't specific to each patient. Call backs could be updated so that the communication shows in the patient chart.
Antwort von IDEXX
vor 9 Monaten
Hello Lindsay, thank you for your feedback on Cornerstone. Always good to know where we are hitting the mark and where there is room for improvement.