Das könnte dich auch interessieren:
Was ist EFI Pace?
Verwendet künstliche Intelligenz, um Kostenvoranschläge zu erstellen, normalerweise in 60 Sekunden oder weniger.
EFI Pace – Details
EFI
1989 gegründet
EFI Pace – Videos und Bilder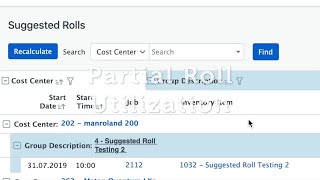 ▶︎
EFI Pace – Details
EFI
1989 gegründet
Kosten ähnlicher Produkte wie EFI Pace vergleichen
Startpreis
Nicht verfügbar
N/A
Nicht verfügbar
Nicht verfügbar
EFI Pace – Bereitstellung und Support
Kundenbetreuung
E-Mail/Helpdesk
FAQ/Forum
Wissensdatenbank
Telefon-Support
Chat
Einsatz
Cloud, SaaS, webbasiert
Android (mobil)
iPhone (mobil)
iPad (mobil)
Training
Persönlich
Live Online
Webinare
Dokumentation
Funktionen von EFI Pace
API
Abrechnung & Rechnungsstellung
Aktivitäts-Dashboard
Aktivitäts-Verfolgung
Angebote / Schätzungen
Anpassbare Berichte
Anpassbare Felder
Anpassbare Vorlagen
Aufgabenmanagement
Aufgabenplanung
Auftragsmanagement
Berichterstattung und Statistik
Bestandsverfolgung
Bestell-Management
Buchhaltung
CRM
Daten-Import / -Export
Dokumentenmanagement
Dokumentenspeicher
Drag-and-Drop
Drittanbieter-Integration
E-Mail-Management
Echtzeit-Berichterstattung
Echtzeit-Daten
Einkauf & Empfang
Elektronische Zahlungen
Erinnerungen
Finanzmanagement
Integration in die Buchhaltung
Inventarverwaltung
Kalenderverwaltung
Kontaktmanagement
Kundendatenbank
Kundenmanagement
Kundenportal
Kundenspezifisches Branding
Leistungskennzahlen
Lieferanten-Management
Marketing-Automatisierung
Mitarbeitermanagement
Prognosen
Projektmanagement
Projektzeiterfassung
Rechnungsmanagement
Terminplanung
Trainingsmanagement
Verkaufspunkt POS
Workflow-Management
Zeit & Kosten Verfolgung
Zugriffskontrollen / Berechtigungen
Lynn D.
Vice President in USA
Druck, 51-200 Mitarbeiter
Verwendete die Software für: Mehr als 2 Jahre
Suite products not equal, making in-house support challenging
Kommentare: Overall, although much has been done to integrate Pace with Process Shipper and Printstream (products we use every day), there are still software issues, especially with Printstream and Process Shipper. I appreciate the products in the suite and the effort that is being made to enhance the integration within the suite, and I feel EFI is on the right track and committed to making the suite better and stronger.
Vorteile:
Pace's user interface and overall navigation is intuitive. We especially appreciate the file structure. It allows us to import, export and enhance system data easily using PaceStation query and the Universal Importer. Pace customer support is another strength.
Nachteile:
It was more difficult and time-consuming to implement than we expected. Training could have been better. We were spoiled by Pace. It would be wonderful if all the products in the suite (especially Process Shipper and Printstream) could be supported the same way as Pace. With Printstream especially, obtaining support takes longer and often techs need to access files and tables we can't even view, to change a variable or status.
Jacques C.
Business Development in USA
Druck, 51-200 Mitarbeiter
Verwendete die Software für: Mehr als 2 Jahre
My Pace Review
Kommentare: Overall experience is a 7 due to lack of help from service
Vorteile:
I like all the features that Pace has to offer. The ability to write xpath's and event handlers has been very beneficial to the company and production.
Nachteile:
Lack of adequate white papers or examples on the items mentioned above, xpath's and event handlers. The amount of time spent on producing these is cumbersome in some instances. Also the fact that we pay for service but service does not include help, it only looks at broken items. I have installed several MIS packages over the years and this is the only one that I know that does not include help in its service plan.
Bildungsmanagement, 5.001-10.000 Mitarbeiter
Verwendete die Software für: Mehr als 2 Jahre
Pace MIS For Printing Industrey
Kommentare: Efficient order processing of around 35,000 individual jobs a year.
Vorteile:
We have used Pace for many years. Large printers must have an MIS to efficiently manage production. And that MIS must integrate with ordering systems. Pace integrates with our Market Direct Storefront. Over the years, we made the transition from an internally created accounting system to our first commercially available MIS - Covalent. We then transitioned to Logic. And years ago we transitioned to Pace.
Nachteile:
Because integration of ordering software and Pace can be complex, once in a while there's a glitch. Figuring that out can be difficult, but with help from EFI Support we've always been able to do so.
Druck, 11-50 Mitarbeiter
Verwendete die Software für: Mehr als 2 Jahre
Visionary architecture
Vorteile:
The base architecture of the system makes it extremely flexible combined with the customisation and api delivered an out of the box / bespoke solution that is hard to beat.
Nachteile:
Integration of the various EFI components software packages is complex and the structure of EFi with each product having "business owners" within EFI and no one seemingly employed as integration specialists between the components feels like a missed opportunity. Put another way Within EFI no one owns the glue between the pieces of the jigsaw.
Robert F.
Operation Director in USA
Marketing & Werbung, 51-200 Mitarbeiter
Verwendete die Software für: 1-5 Monate
In Betracht gezogene Alternativen:
Pace with additional modules
Kommentare: Overall we are very excited about the opportunities the additional modules will provide us to streamline and smooth out our workflow.
Vorteile:
The software has a ton of functionality built into it. I like that it is all self contained within the Pace Suite of software.
Nachteile:
Parts of it take alot of time to navigate. There are multiple clicks through several pages that are required to input and/or access information. It could be more streamlined.