Was ist RESMARK?
Mit Resmark kannst du Touren, Aktivitäten, Anmietungen und Unterkünfte buchen. Generiere Leads und konvertiere sie mit personalisierten, automatischen E-Mails in Verkäufe. Erstelle und verwalte dein Inventar mit robusten Tools. Bestelle deine Produkte und verwalte Zahlungen mit dem umfassenden Back-Office-System von Resmark. Steigere deine Online-Reservierungen mit einem äußerst mobilgerätefreundlichen Buchungsprozess. Erstelle über 50 detaillierte Berichte zu Vertrieb und Betriebsabläufen. Volle Integration mit digitalen Verzichterklärungen über WaiverSign.
Wer verwendet RESMARK?
Reiseveranstalter mit einer Größe von 1 bis 50+ Nutzer, einschließlich Rafting, Radfahren, Angeln, Seilbahn, Reiten, Segeln, Tauchen, Walbeobachtung, Unterricht, Veranstaltungen und mehr.
Wo kann RESMARK bereitgestellt werden?
Cloud, SaaS, webbasiert
Über den Anbieter
RESMARK Systems
2005 gegründet
Telefon-Support
Chat
Erhältlich in diesen Ländern
Kanada, Mexiko, Vereinigte Staaten
Über den Anbieter
RESMARK Systems
2005 gegründet
Telefon-Support
Chat
Erhältlich in diesen Ländern
Kanada, Mexiko, Vereinigte Staaten
RESMARK – Videos und Bilder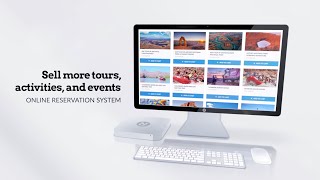 Kosten ähnlicher Produkte wie RESMARK vergleichen
RESMARK Funktionen
Anmerkungen zur Reservierung
CRM
Gruppenreservierungen
Kundenbetreuung
Online-Buchung
Preismanagement
Reiseplan erstellen
Reservierung von Akitivtäten
Reservierung-Management
Ressourcenmanagement
Kenneth Long
Manager in Chile
Erholungseinrichtungen & -dienstleistungen, 51-200 Mitarbeiter
Verwendete die Software für: Mehr als 2 Jahre
The most functional reservations software you will find
Kommentare: Resmark is the most functional and robust reservations and marketing software out there. The program is user-friendly, super-functional and comes with a highly responsive customer service team. Resmark has all the features (real-time online bookings, tracking, reports, built-in waiver sign program) we need to run our outdoor adventure company easily and efficiently. The thing I appreciate most is that the developers are constantly working on improvements and really listen to customer feedback. The program is more expensive than many others, but it is well worth it.
Vorteile:
Ease of use, constant upgrades and development, great customer support
Nachteile:
comparatively expensive
Antwort von RESMARK Systems
vor 5 Jahren
Thanks so much for your comprehensive review Kenneth! We love working with Cascade! We've appreciated your insights and feedback over the years and look forward some exciting new functionality next season.
Verwendete die Software für: Nicht angeboten
Resmark Rocks!
Kommentare: Resmark allows me to keep my sanity. We operate busy activities in the Lake Tahoe region. Prior to Resmark we had phone operators making reservations. With hundreds of people every day, the situation quickly became overwhelming, insane really. I brought in Resmark and our reservations are now manageable and busy. Without a doubt, Resmark was one of the best business decisions I've made. I did take me awhile to fully understand all the features, it has a lot. But once you do, it works really well. I appreciate the reliability, I've only experience it crashing one time in the years I've used it. They fixed it within minutes. In the time it took me to learn the system I was on the phone with customer support daily. They were always patient, always helpful. Hands down, the customer support is incredible. The official support hours are regular business hours. However, when I really needed some help on a weekend evening and felt like I was "up the creek" and would have to wait until Monday, I sent an email to the support team with a faint glimmer of hope. Amazingly, within minutes I got a call and my issue was resolved. I don't know if this is their official policy - but there seems to be some secret support person checking at all hours for situations like this. They had my back. There are some ways they could improve and things I'd like to see. I mention it and they listen and relay the suggestion to the software developers. They issue updates consistently. Enough said, I realize this may seem too good to be true and may come across like I'm a Resmark employee. I'm not - they've really helped my business. Feel free to contact me if you have other questions. (only during the Winter months as I'm too busy in the Summer)
Verwendete die Software für: Nicht angeboten
3 Years Using Resmark
Kommentare: Overall a great system, setup was rather involved, but once you get the base information(especially Hotel Pickup Locations and times) in, it gets easier. Love the Lodging Reports that show "Current Guests, Check In, or Check Out"...very helpful for managing housekeeping. Changes/Improvements have been made to the Automated Email System that made it a breeze to handle a lot of Marketing Tasks. Waiver Integration was also added since we started with Resmark, and that is a GREAT tool for managing waivers for different activities. Love the many options for each Item (Activity , Rental or Lodging) that allows you to create policies, options, fees, and even custom fields and then link them to different items. You can have several websites linked to your Resmark System and even choose which activities/items to offer on each site. Overall, great system and looking forward to new features.
Angela
Coordinator in USA
Erholungseinrichtungen & -dienstleistungen, 2-10 Mitarbeiter
Verwendete die Software für: 1-5 Monate
RESMARK Systems Review
Vorteile:
RESMARK offers ease of use, functionality and impactful software. Their client services team is responsive- providing support and guidance throughout all phases of use. RESMARK features the necessary tools and resources for our online bookings so that the company can focus on providing the best possible experience to our clients.
Nachteile:
This is a great product but like anything there is a learning curve. My only recommendation might be to provide a video resource library for clients to reduce service team questions. It would allow ease of access for clients and provide an additional method for training.
Antwort von RESMARK Systems
vor 8 Monaten
Thanks so much for the review Angela. We actually do have a video library in our support center (which can be accessed at any time using the "support center" button next to the log-out button). If there are any particular videos that we don't currently have that would be helpful to your team, let us know and we're always happy to make a new video on that subject.
Verwendete die Software für: Nicht angeboten
Resmark has made a world of difference for our small company!
Kommentare: We searched for three years to find an online booking system that fit our needs. We needed an incredibly robust system that could handle the dynamic nature of our tour company, but everything that we saw had functional limitations or looked cheap and awkward when integrated on our web site. When we discovered Resmark it was clear that we had finally found something that worked for us.
Resmark literally acts as another administrative assistant, only this "employee" rarely makes any mistakes and works around the clock!
At first we were a bit nervous about making the big leap into an online system, especially one that has a bit higher cost than so many of the systems available out there. However, the value of Resmark is outstanding. No other system that we tested came close to being as robust as Resmark, and we see the system paying for itself already (only halfway into our season). I also feel the need to talk about the customer support that Resmark offers. I am blown away by how easy they are to reach, and how helpful they are. There is a bit of a learning curve to figuring out how to set things up (at least for techno-challenged people like me), but the friendly folks at Resmark have been an invaluable resource. Their knowledge of the system is comprehensive, and they are incredibly quick to fix any problems that arise. i can recommend Resmark without reservation. It has made our company more efficient and effective, and it has taken a huge administrative load off of our backs.