Was ist Expensify?
Mit Expensify kannst du deine Belege ganz einfach nachverfolgen und die Ausgaben unterwegs verwalten. Mach einfach ein Foto von deiner Quittung. Expensify überträgt die Details automatisch. Expensify kann jeden Beleg kategorisieren und codieren und sogar Geschäftskosten automatisch zur Genehmigung und Erstattung einreichen. Mit robusten Funktionen wie dem Abstimmen von Unternehmenskarten, mehrstufigen Genehmigungsworkflows und direkten Synchronisierungen mit allen wichtigen Buchhaltungssoftwareprogrammen spart Expensify Unternehmen aller Größen und Formen Zeit.
Wer verwendet Expensify?
Expensify erleichtert jedem das Spesenmanagement, von Einzelpersonen, die persönliche Spesen verfolgen, bis hin zu Unternehmen jeder Größe und in jeder Branche.
Wo kann Expensify bereitgestellt werden?
Cloud, SaaS, webbasiert, Mac (Desktop), Windows (Desktop), Chromebook (Desktop), Android (mobil), iPhone (mobil), iPad (mobil)
Über den Anbieter
Expensify
2008 gegründet
Telefon-Support
Chat
Erhältlich in diesen Ländern
Australien, Kanada, Vereinigte Staaten, Vereinigtes Königreich
Über den Anbieter
Expensify
2008 gegründet
Telefon-Support
Chat
Erhältlich in diesen Ländern
Australien, Kanada, Vereinigte Staaten, Vereinigtes Königreich
Expensify – Videos und Bilder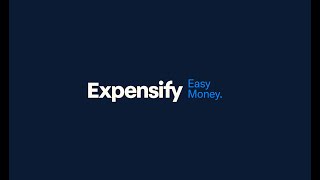 Kosten ähnlicher Produkte wie Expensify vergleichen
Expensify Funktionen
Abrechnung & Rechnungsstellung
Aktivitäts-Verfolgung
Belegmanagement
Berichterstattung / Analyse
Dashboard
Erstattungs-Management
Firmenkarte
Genehmigungs-Workflow
Integration in die Buchhaltung
Kontenabgleich
Kontrolle des Genehmigungsprozesses
Kosten-Kontrolle
Kostenverfolgung
Lohn- und Gehaltslisten-Management
Management von Beschränkungen
Mobile App
Online-Buchung
Projekt-Nachverfolgung
Reservierungs-Management
Richtlinien Managemen-
Upload mobiler Kaufbelege
Zeit & Kosten Verfolgung
Zeitverfolgung
Zentrale Buchhaltung
Alternativen für Expensify
Bewertungen über Expensify
Tiana T.
Human Resources Business Coordinator in USA
Verifizierter Nutzer auf LinkedIn
Automotive, 11-50 Mitarbeiter
Verwendete die Software für: Mehr als 1 Jahr
In Betracht gezogene Alternativen:
User Friendly Interface
Kommentare: Great system to help track employee spending. The credit cards act as debit cards which is good if you're a company that is trying to not live on credit.
Vorteile:
Minimal learning curve if your team us any experience with expensing items in a software format. You can fix mistakes really easily and there aren't a ton of buttons to wade through.
Nachteile:
Sometimes new employees need to get reloaded to allow them to bill items to customers. That might be the accounting firm that we work with a fault though.
Mohammed O.
Tech. Manager and Software Arch in Jordanien
Informationstechnologie & -dienste, 51-200 Mitarbeiter
Verwendete die Software für: Mehr als 2 Jahre
A robust system for documenting and controlling expenses
Kommentare: Expensify enables us to document expenses and raise their records to the cloud with ease and smooth audits and approvals within specified dates.
Vorteile:
The great thing about Expensify is that we are able to monitor, document and control all expenses. Through Expensify, team members got rid of collecting paper receipts and then preparing lists and submitting them to the accounting department for auditing and approval. With Expensify, things have become clearer, as each team member independently will be able to scan his invoices to be raised on his own cloud and enter data from them to his expense page, and then the accounting department will be able to audit and notify him of approval or request other inquiries, and by These quick and accurate procedures ensure that no receipts are lost and that you get the money straight away.
Nachteile:
Not a lot of unwanted things, and it does not require a lot of effort on the part of the users to be able to track their expenditures properly.
Tori H.
Office Manager in USA
Unternehmensberatung, 51-200 Mitarbeiter
Verwendete die Software für: 1-5 Monate
Easy to use expense reporting
Vorteile:
It's very quick and easy to submit expenses and qualifying receipts.
Nachteile:
This system is great for use on cell phones, but the software makes you log on a computer to finalize the submission of the report.
Nasko L.
Chief Operating Officer in USA
Verifizierter Nutzer auf LinkedIn
Essen & Trinken, 11-50 Mitarbeiter
Verwendete die Software für: Mehr als 2 Jahre
Save Time and Money by Using Expensify
Kommentare: Overall very happy with Expensify as a solution that allows me to have all my expenses organized in one place. Would highly recommend using it, especially for its feature that allows me to attach digital images of the receipts to each expense item. It has a great option to submit and send expense reports to multiple people. If you are using Expensify across mutliple users, all the information is easily accessible by every team member.
Vorteile:
A great solution to keep all my expense reports in one place, with a great option to attach PDFs of receipts and/or images of receipts. Expensify can pull data directly from my credit card statements and that feature alone saves a lot of time of manual entering numbers and vendors.
Nachteile:
It can get a little too much to configure in the beginning and navigating down to expense categories is not the easiest to do - it takes time to find things around that I could customize but once these are all in place, using Expensify is fairly easy. Expensify creates automatic names for your reports - make sure you change them to something that makes sense to you and your accountants or everyone will wonder what Expense Report 234902u5435242ewd is for.
Gregor T.
Senior Operations Executive in Deutschland
Informationstechnologie & -dienste, 1.001-5.000 Mitarbeiter
Verwendete die Software für: 1-5 Monate
Gregor Tims FREE NOW review
Kommentare: I use Expensify to record and upload receipts of expenses I incur in my job. I do a lot of testing of competitor apps which creates multiple expenses per day and Expensify is a really easy way of recording these and sending them to my manager. I think some minor improvements could be made, but overall it's a very slick and easy app to use.
Vorteile:
It's very easy to upload receipts, reports etc and to combine various expenses into one report. It's super easy to send it off to my manager and for him to approve it. There's a very clear record of my expenses and a clear description of where they are in the reimbursement process. It works well!
Nachteile:
I got a bit confused initially about how to add my bank details, it seemed very US-focused, by which I mean there seemed only to be a way of adding an American bank details. I was actually just confusing myself, because I hadn't appreciated that by submitting it, my company would actually just use my bank details that they already have to reimburse me. This could be clearer in the app, but maybe it's just a specific thing for my company? Also, it would be nice to be notified that I have been reimbursed when the actual money has been sent. The status said 'reimbursement received' before the money actually came back to my account, which made me worried that it had been sent to the wrong person, when in fact the payment hadn't actually been sent yet! Making that clearer would be great. It also felt a bit clunky creating a report - it might be better to make it obvious that you should do this before adding an expense as adding it afterwards was slightly confusing.