Was ist DonorSnap?
DonorSnap ist ein einfach zu bedienendes Online-Spender-/Mitgliedschaftsmanagementsystem. Zu den Funktionen gehören Tracking für Spenden, Zusagen und Interaktionen, unbegrenzte nutzerdefinierte Felder, Excel-Import/-Export, Online-Formulare/-Spenden und Massen-E-Mail-Versand. Es gibt keine versteckten Kosten oder langfristigen Verträge. Für 39 $ pro Monat kannst du alle Funktionen nutzen, einschließlich unbegrenzter Nutzer, unbegrenzter Nutzung, bis zu 1.000 Kontakte in der Datenbank und 2.000 Massen-E-Mails/Monat. Teste DonorSnap 30 Tage lang kostenlos mit deinen eigenen Daten.
Wer verwendet DonorSnap?
DonorSnap bedient gemeinnützige Organisationen aller Art, Form und Größe. Das System kann leicht an die Bedürfnisse von fast jeder Organisation angepasst werden. Das Unternehmen kontaktiert dich, wenn DonorSnap bei dir nicht richtig funktioniert.
DonorSnap – Details
DonorSnap
2007 gegründet
DonorSnap – Details
DonorSnap
2007 gegründet
DonorSnap – Videos und Bilder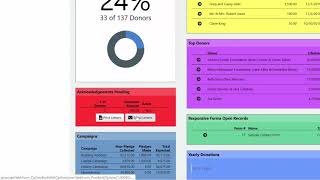 Kosten ähnlicher Produkte wie DonorSnap vergleichen
Startpreis
39,00 $/Monat
99,00 $/Monat
99,00 $/Monat
N/A
DonorSnap – Bereitstellung und Support
Kundenbetreuung
E-Mail/Helpdesk
FAQ/Forum
Wissensdatenbank
Telefon-Support
Chat
Einsatz
Cloud, SaaS, webbasiert
iPhone (mobil)
iPad (mobil)
Training
Live Online
Webinare
Dokumentation
Videos
Mia H.
Executive Director in USA
Verifizierter Nutzer auf LinkedIn
Non-Profit-Organisation Management, Selbstständig
Verwendete die Software für: Mehr als 1 Jahr
DonorSnap Best Solution for SMALL nonprofit
Kommentare: Fabulous, [SENSITIVE CONTENT HIDDEN] is amazing, the support team is responsive and I have hopefully sold a new user, another Fisher House group like mine.
Vorteile:
When I was researching, I was pleased to get such quick response and favorable reviews from current testimonials. The pricing is great, implementation and conversion realistic with cost and timeframes, and features are perfect for our size organization. I like being able to target customers through reports and then send emails/texts. Integration with QB is a huge plus! Responsive forms automatically entering new donors is also a time saver.
Nachteile:
I would like inbound text (text to donate specifically) but more importantly, the ability to upload document attachments from the software. Scanning them, naming them and then adding them is very time consuming. I use handwritten notes to donors and like to capture them for future reference so they don't originate from a document that can be PDF.
Matthew F.
Executive Director/ Single Pitch Rock Climbing Guide in USA
Erholungseinrichtungen & -dienstleistungen, Selbstständig
Verwendete die Software für: Mehr als 2 Jahre
Donor Snap is the Aldi of CRM's--Everything you need without the facade
Kommentare: Overall awesome, I brag about it often with others in the field and I enjoy working within the software to create new forms, queries, reports, etc.
Vorteile:
DonorSnap will allow you to do virtually anything. No extra fees or bundle packages, they just give you access to everything for considerably less money than some of the competitors we were looking at originally. They are simple and everything is fully customizable, especially the online forms that can be embedded into our website to collect contact data and payment information from our supporters. We run all of our trip payments, forms, signed waivers, and subscriptions through DonorSnap. We'll never go anywhere else, especially for $40/month, compared to $200+/month from other big software companies.
Nachteile:
DonorSnap takes a little getting used to. It's very basic, no fun graphics or "wow" work here--just functional CRM software. The tech help is via email only, so you cannot get an immediate answer, but at the same time, this is how they keep their overhead low and pass the savings onto the clients. If you are unwilling to watch some tutorials on form set-up then this is not for you; it will take some practice and getting used to as you learn the software.
Cass K.
Executive Director in USA
Non-Profit-Organisation Management, 2-10 Mitarbeiter
Verwendete die Software für: 1-5 Monate
In Betracht gezogene Alternativen:
Great basics, but communucation tools lacking or are too generic
Kommentare: Sales, data transfer, and workshops have been good. I feel like the staff does its best to fully answer questions and solve problems. But with the overall limitations of the communications functions, there's only so much they can do.
Vorteile:
The client database is straightforward and easy to use. The fields are intuitive and you can adapt or add per your own needs. Screen layout when searching can be tough because of long rows but pulling up individual contacts is easy. I love that you can copy data right from the viewing screen without having to open the editable contact. The help features are user friendly and usually address the most common problems. I like that there are videos as well as written materials on various topics.
Nachteile:
The communication tools are sorely lacking. Email, letters, and forms are way too basic and challenging to edit. There does not seem to be a feature allowing you to change line spacing within a form or in the Automated Task Manager. In addition, I had to keep canceling the project and restarting because after one attempt to edit an ATM task, the system won't let you make additional edits. You have to start over. The emails come out looking like you emailed directly from your email provider. You are limited to one image insert, they are hard to edit, and you cannot add a form directly into the email. I have yet to send out an email from DonorSnap because it looks so pedestrian and ... boring. We are still using MailChimp for its visual features, which of course defeats the purpose. The forms are "okay" but come out looking like a child made them. Totally lackluster, but functional. I'll be honest: I am embarrassed to send out communications and put the forms on our website. If we leave DonorSnap for another product, it will because of the generic communication tools. The query tools used in creating tasks are not intuitive. If it weren't for the help videos I would never be able to implement these.
Antwort von DonorSnap
vor 9 Monaten
Hi Cass, Thank you for your review. We are always working on ways to improve DonorSnap and appreciate your feedback. We understand that dedicated email tools like MailChimp have polished template builders, and for that reason we provide an integration with Constant Contact for organizations needing those services. The DonorSnap email tools are aimed at providing easy access to mass emailing and automation for all organizations. With some html experience or a third party html email template builder, you can build the same types of emails in DonorSnap. In the future we hope to add similar template builders as well. For more specific help with your emails and forms, please contact us at support@donorsnap.com. We will show you how to edit your emails, adjust line spacing, add multiple images, and insert links to your forms directly in your emails. If you need other types of customization in your forms, please let us know what you're looking for and we'll be happy to help.
Sister joanne L.
Director of Mission Advancement in USA
Einzel- & Familiendienstleistungen, 2-10 Mitarbeiter
Verwendete die Software für: Mehr als 2 Jahre
In Betracht gezogene Alternativen:
DonorSnap -
Kommentare: With our previous, very complicated donor management system, we had to hire specialists to do trainings for staff, problem solve, and design queries. DonorSnap and its support services have enabled us to keep our programs functioning without delays.
Vorteile:
Unlike our previous donor management software, DonorSnap's features are very user friendly and easy to learn. Staff support is tremendous. Support/directions are available on every task page. And when we contact support directly, we have never waited more than an hour for a response. Price is also a great plus. We saved $6,000 per year by switching to DonorSnap.
Nachteile:
At first I was concerned that we could not have a phone call with support as we were learning the program. But I soon learned that support's methods of providing customized video instructions were even better, allowing us to replay instructions as needed and also save the videos for future reference.
Catherine A.
Database Admin in USA
Non-Profit-Organisation Management, 2-10 Mitarbeiter
Verwendete die Software für: Mehr als 1 Jahr
In Betracht gezogene Alternativen:
Well worth the price tag
Kommentare: Easy and seamless because I tried to learn and conceptualized how each field in Donorsnap work first before mapping fields from the old system. Conversion and support team were very helpful and prompt in responding to issues.
Vorteile:
Very inexpensive but can do all the basic functionalities for advancement day to day operations. Batch entry is so easy once you understand how it works. Query, reporting and exporting custom reports is very user friendly. As with all other systems, a software is only capable to it's fullest potential if you understand how the various modules within the system work together. Training and support is crucial and their customer support is hands-on one of the best.!
Nachteile:
The standard reports work for the most part but I wish it gives us much more flexibility. It also limits selection of fields based on active fields/codes which means that you'll have to basically leave all codes - old and new - for the report to work accurately. This means for example that if you inactivate a Campaign code from 2 or 3 years ago, you are not able to run revenue from those codes unless you reactivate them. This is a nightmare for admins from a table code management point. The design of the standard reports need to be improved as well to look presentable especially when executives ask for last minute reporting and you know how often that happens.
Antwort von DonorSnap
vor 9 Monaten
Hi Catherine, Thank you for your review and feedback regarding the standard reports. We're currently working on improving these canned reports to offer additional functionality. If you have more specific reporting needs in addition to including inactivated campaign codes, please let our support team know so that we can work towards making that happen. Thank you again for your review!