Was ist DonorSnap?
DonorSnap ist ein einfach zu bedienendes Online-Spender-/Mitgliedschaftsmanagementsystem. Zu den Funktionen gehören Tracking für Spenden, Zusagen und Interaktionen, unbegrenzte nutzerdefinierte Felder, Excel-Import/-Export, Online-Formulare/-Spenden und Massen-E-Mail-Versand. Es gibt keine versteckten Kosten oder langfristigen Verträge. Für 39 $ pro Monat kannst du alle Funktionen nutzen, einschließlich unbegrenzter Nutzer, unbegrenzter Nutzung, bis zu 1.000 Kontakte in der Datenbank und 2.000 Massen-E-Mails/Monat. Teste DonorSnap 30 Tage lang kostenlos mit deinen eigenen Daten.
Wer verwendet DonorSnap?
DonorSnap bedient gemeinnützige Organisationen aller Art, Form und Größe. Das System kann leicht an die Bedürfnisse von fast jeder Organisation angepasst werden. Das Unternehmen kontaktiert dich, wenn DonorSnap bei dir nicht richtig funktioniert.
Wo kann DonorSnap bereitgestellt werden?
Cloud, SaaS, webbasiert, iPhone (mobil), iPad (mobil)
Über den Anbieter
DonorSnap
2007 gegründet
Telefon-Support
Chat
Erhältlich in diesen Ländern
Kanada, Vereinigte Staaten
Über den Anbieter
DonorSnap
2007 gegründet
Telefon-Support
Chat
Erhältlich in diesen Ländern
Kanada, Vereinigte Staaten
DonorSnap – Videos und Bilder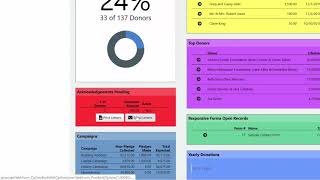 Kosten ähnlicher Produkte wie DonorSnap vergleichen
DonorSnap Funktionen
Absolventen-Management
Belegmanagement
Berichterstattung / Analyse
CRM
Dashboard
E-Mail Marketing
Fundraising-Management
Kampagnenmanagement
Kontaktmanagement
Mitgliedschaft-Management
Online-Spenden
Pfand-Management
Social-Media-Integration
Spenden-Tracking
Spender-Management
Subventions-Management
Tracking von Beiträgen
Veranstaltungsmanagement
Wiederkehrende Spenden
Zahlungsabwicklung
für gemeinnützige Organisationen
Alternativen für DonorSnap
Bewertungen über DonorSnap
Celeste G.
Operations Manager in USA
Verifizierter Nutzer auf LinkedIn
Non-Profit-Organisation Management, 51-200 Mitarbeiter
Verwendete die Software für: Mehr als 2 Jahre
Great solution for small nonprofits
Vorteile:
DonorSnap is easy to use. My favorite feature is the form builder; the forms integrate nicely with our website and are a great solution for event registration forms that import the data directly into the CRM. I've used both DonorSnap and Saleforce for registration and hands down DonorSnap is far more reliable, simpler, and offers better customization for our needs vs Salesforce. It's also far easier to use both as the administrator and as an end user. I've never had a DonorSnap form fail me. I can't say the same for Salesforce. We use DonorSnap for tracking donors, volunteers, and participants in our programs. DonorSnap keeps their software updated and is very good about offering training and notifications of any server maintenance that may disrupt use (it never does).
Nachteile:
The report features are very robust but not always intuitive to set up and run. Fortunately if you get stuck, DonorSnap's support team is fabulous and will help you to figure it out.
Ashley S.
Program Director in USA
Non-Profit-Organisation Management, 2-10 Mitarbeiter
Verwendete die Software für: Mehr als 2 Jahre
Use for a small but very busy neighborhood senior services organization
Kommentare: We've used the software for about three years now, and we've found that DonorSnap's focus is on functionality, which we appreciate. Though they gave it a makeover fairly recently, it wasn't one of those software makeovers that just makes it look more modern while removing functionality (my personal pet peeve). They add new features pretty regularly and provide clear and easily accessed training for them. The pricing structure is frozen in place, so no worries about it suddenly blowing up your small organization's budget.
Vorteile:
Our favorite features are responsive forms and mass email campaigns. DonorSnap seems hard to learn, but you get the hang of it pretty quickly. It's a great balance of having a basic ready-to-go template in place with a lot of ways to customize it for your org's needs. The support team is pretty responsive over email when you need them. We also pay less than half of what we used to pay for a different CRM that didn't give us nearly as many features. The fact that DS is web-based came in handy during the Covid pivot to work-from-home.
Nachteile:
There are a number of minor software bugs (that have fairly easy workarounds once you remember that they're there).
Cass K.
Executive Director in USA
Non-Profit-Organisation Management, 2-10 Mitarbeiter
Verwendete die Software für: 1-5 Monate
In Betracht gezogene Alternativen:
Great basics, but communucation tools lacking or are too generic
Kommentare: Sales, data transfer, and workshops have been good. I feel like the staff does its best to fully answer questions and solve problems. But with the overall limitations of the communications functions, there's only so much they can do.
Vorteile:
The client database is straightforward and easy to use. The fields are intuitive and you can adapt or add per your own needs. Screen layout when searching can be tough because of long rows but pulling up individual contacts is easy. I love that you can copy data right from the viewing screen without having to open the editable contact. The help features are user friendly and usually address the most common problems. I like that there are videos as well as written materials on various topics.
Nachteile:
The communication tools are sorely lacking. Email, letters, and forms are way too basic and challenging to edit. There does not seem to be a feature allowing you to change line spacing within a form or in the Automated Task Manager. In addition, I had to keep canceling the project and restarting because after one attempt to edit an ATM task, the system won't let you make additional edits. You have to start over. The emails come out looking like you emailed directly from your email provider. You are limited to one image insert, they are hard to edit, and you cannot add a form directly into the email. I have yet to send out an email from DonorSnap because it looks so pedestrian and ... boring. We are still using MailChimp for its visual features, which of course defeats the purpose. The forms are "okay" but come out looking like a child made them. Totally lackluster, but functional. I'll be honest: I am embarrassed to send out communications and put the forms on our website. If we leave DonorSnap for another product, it will because of the generic communication tools. The query tools used in creating tasks are not intuitive. If it weren't for the help videos I would never be able to implement these.
Antwort von DonorSnap
letztes Jahr
Hi Cass, Thank you for your review. We are always working on ways to improve DonorSnap and appreciate your feedback. We understand that dedicated email tools like MailChimp have polished template builders, and for that reason we provide an integration with Constant Contact for organizations needing those services. The DonorSnap email tools are aimed at providing easy access to mass emailing and automation for all organizations. With some html experience or a third party html email template builder, you can build the same types of emails in DonorSnap. In the future we hope to add similar template builders as well. For more specific help with your emails and forms, please contact us at support@donorsnap.com. We will show you how to edit your emails, adjust line spacing, add multiple images, and insert links to your forms directly in your emails. If you need other types of customization in your forms, please let us know what you're looking for and we'll be happy to help.
Stevi L.
Special Projects Coordinator in USA
Religiöse Einrichtungen, 11-50 Mitarbeiter
Verwendete die Software für: Mehr als 2 Jahre
Dedicated to DonorSnap
Kommentare: Love it, very happy with it.
Vorteile:
There are so many things about DonorSnap to applaud. I love how we are able to keep track of every donation and I love all of the fund development analysis reports that are available. The customizable reports has been essential for me to compile all kinds of data, from volunteer hours to fundraising data and even our newsletter list.
Nachteile:
The only issue I have sometimes is with the acknowledgement letters. I format multiple letters for this system, and for some reason sometimes getting the formatting right is a struggle because I will end up with a logo on the 2nd page or a page gets cut off. I have always been able to mess with the word document and fix it, but sometimes I don't know exactly why it is doing what it does and just have to try different things.
Kim K.
Director of Advancement in USA
Bildungsmanagement, 11-50 Mitarbeiter
Verwendete die Software für: Mehr als 2 Jahre
In Betracht gezogene Alternativen:
Great Support!
Kommentare: Donorsnap has worked well for our organization. The team at Donorsnap goes above and beyond to make sure we are successful!
Vorteile:
The software is easy to use and pretty comprehensive in all its features. If we ever have a question or need help with a feature, support responds very quickly! We appreciate having access to the app, we can access contact information from anywhere.
Nachteile:
There is nothing we do not like about Donorsnap.