Was ist CMS IntelliCAD?
CMS IntelliCAD offers a full suite of 2D & 3D compatible CAD tools! It is suitable for engineers, architects and consultants, or anyone needing to review CAD drawings. It is designed to give you an unrivaled compatibility and a true professional CAD Software option. It provides a advanced programming toolkit for LISP, VBA .Net and IRX development. CMS IntelliCAD also offers DWG native support and also BIM support, extended interoperability with, but not only, DGN, .STEP, .IGES and .PDF files.
Wer verwendet CMS IntelliCAD?
On-premise perpetual standalone or network or cloud-based CAD Software that assists architectural, engineering, construction (AEC) firms with design, rendering, collaboration and interoperability.
Wo kann CMS IntelliCAD bereitgestellt werden?
Cloud, SaaS, webbasiert, Windows (Desktop)
Erhältlich in diesen Ländern
Vereinigte Staaten
Erhältlich in diesen Ländern
Vereinigte Staaten
CMS IntelliCAD – Videos und Bilder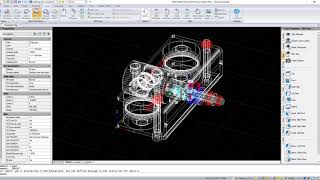 Kosten ähnlicher Produkte wie CMS IntelliCAD vergleichen
CMS IntelliCAD Funktionen
2D-Zeichnung
3D-Imaging
Abfassung
BMI-Modellierung
Daten-Import / -Export
Dokumentenmanagement
Präsentations-Tools
Alternativen für CMS IntelliCAD
Bewertungen über CMS IntelliCAD
Durchschnittliche Bewertung
Preis-Leistungs-Verhältnis
Nutzerbewertungen nach Unternehmensgröße (Angestellte)
<50
51-200
201-1.000
>1.001
Bewertungen nach Punktzahl finden
Geetika
Head-Operations in Indien
Verifizierter Nutzer auf LinkedIn
Bankwesen, 10.000+ Mitarbeiter
Verwendete die Software für: 1-5 Monate
A delightful experience for every penny spent!!
Kommentare: Productivity and efficiency of my staffs have increased three folds hence extremely happy with the features and user interface offered by Intellicad.
Vorteile:
Intellicad is a very trouble free, secure and powerful CAD software tool. It is a conglomerate of 2D and 3D compatible CAD tools which is suitable for architects, engineers, consultants and also anyone who needs to evaluate CAD drawings. Installation is really effortless and easy. It provides an unbeaten compatibility and supports application streaming that allows users to access the software and its various components from a browser . It is, surprisingly, at par with most of the highly ranked CAD softwares, but at a very down to earth price. It has an inbuilt toolkit for LISP, VBA .Net and IRX development and opens .dwg files, sets dimensions, viewing sheets and tabs, measures length and coordinates perfectly without any lags. Zoom in and zoom out is seamless and quick with a very adaptable user interface. It is the closest a CAD software could get to AutoCAD and that too at such a feasible price, moreover, the integrations offered for the CMS Intellicad are Microsoft.Net and Microsoft VBA. The prominent features of Intellicad are as follows-Script recorder, LISP support, ADS support Solid, ACIS 3d Solids import, Solid ACIS 3d Solids export, Multiple open drawings, 3D surface commands, Native .dwg and *.dgn support, Ribbon interface, 3D Solids modelling, Raster image, Graphical block preview, AutoCAD menu and script files, VBA and .Net 4.5 API, Photo-realistic 3D rendering, Command line support, TrueType font, BIM support etc.
Nachteile:
Did not find any downsides except the fact that we need more tutorials on social media for using this software. It is a beautifully crafted software with a strong user interface, tutorials on social media will create more awareness among people about softwares with innumerable features at such affordable prices, what else would you want?
Design, Selbstständig
Verwendete die Software für: 6-12 Monate
As Good as AutoCAD but AFFORDABLE
Kommentare: Easy to buy and download! I'm able to open CAD files, so getting started was easy!
Vorteile:
This program works just like CAD. It even lets me open files created in CAD. As an interior designer with a small practice, I could never afford CAD once my student license ran out. But IntelliCAD lets me do everything I need to in creating floorplans and elevations with detail and accuracy! Best Decision I Ever Made!
Nachteile:
If you have not used CAD before, learning a program like this on your own is daunting. I'm not sure you can teach it to yourself easily.
Antwort von CMS
vor 2 Jahren
Thank you for your review Lisa!
Maschinerie, Selbstständig
Verwendete die Software für: Mehr als 2 Jahre
The program is amazingly good, comparable to AutoCAD. Customer service is dying or dead.
Kommentare: good drafting at low price
Vorteile:
Very similar to AutoCAD for drawing. Does not have as many management features that are typically only important for collaboration among many users. Very stable.
Nachteile:
Delivery of the product is very awkward. It is difficult to actually get the product after purchase. Transferring a license is rediculously hard. Customer service was once fairly good, but now is rotten. It took me six months to move a license to a new machine, and it still is not working. I bought subscription to the cloud version, and I could not get it "installed". No answers from customer service for nine days now.
Antwort von CMS
vor 3 Jahren
Thanks for your review. Now that Capterra granted us access to provide a reply, here's our answer to the cons you have posted. a) After payment confirmation, licenses are immediately and automatically posted at the LICENSES web page of our website. We do not send them by email because automatic email messages may probably be filtered by some free email service providers. b) Dedicated support is only available to customers covered by a support pack subscription. Free support has always been available at the free support forum for almost 20 years now. You've always been free to use it. c) the old license you've purchased is not licensed to run on Windows updated system simply because it's not compatible with such OS updates, and therefore it required maintenance. Users have free access instructions at our website. d) The Cloud version is a download product that does not require install. You just download and run it as published at https://us.intellicadms.com
Trevor
Trainer in Australien
Unternehmensberatung, Selbstständig
Verwendete die Software für: Mehr als 2 Jahre
A Trainer's View
Kommentare: My best overall experience every time with CMS IntelliCAD is the reports I get back from my trainees of the successes they are having in their businesses using CMS IntelliCAD and how grateful they are that they invested in the software and training for their business.
Vorteile:
It's ease of set up and use. The help function is well laid out and easy to use. It's compatibility with AutoCAD - works almost exactly the same - as a previous AutoCAD user I didn't miss a step changing over! Great value for money. My customers just love it, they wouldn't use CAD if it wasn't available.
Nachteile:
there's not much I could say against this product, it really ticks all the boxes. If there was one small thing it would be that the grid still displays every time the program fires up, it should remember to turn it off as was left at shut down but knowing the ITC they'll fix it for sure next release.
Venkatesh
Sr. Engr Design in Indien
Architektur & Planung, 11-50 Mitarbeiter
Verwendete die Software für: Mehr als 1 Jahr
Best CAD Software Tool for Mechanical & AEC applications.
Kommentare: Time to perform elevation & sectioning was reduced drastically.
Vorteile:
User-friendly interface, Exhaustive AEC entities, Advanced Rendering, Easy migration & Interoperability.
Nachteile:
The designer requires support for creating manufacturer specific component library, which is time-consuming.