Was ist FactoryLogix MES?
Die beste Manufacturing-Execution-System (MES) -Software. FactoryLogix von Aegis Software ist eine integrierte Suite von Software-Modulen und Geräten, die deinen Fertigungsprozessen Geschwindigkeit, Kontrolle und Transparenz bietet.
Wer verwendet FactoryLogix MES?
Qualitativ hochwertig, hohe Zuverlässigkeit, geschäftskritische Hersteller (OEM und CM) in den Bereichen Elektronik, Luft- und Raumfahrt, Automobilindustrie, Industrie, Militär- und Medizingeräteindustrie in Amerika, Europa und Asien.
Wo kann FactoryLogix MES bereitgestellt werden?
Cloud, SaaS, webbasiert, Windows (Desktop), Windows (On-Premise), Linux (On-Premise), Android (mobil), iPhone (mobil), iPad (mobil)
Über den Anbieter
Aegis Industrial Software
Ansässig in Horsham, USA
1997 gegründet
Telefon-Support
24/7 Live-Support
Chat
FactoryLogix MES Kosten
Startpreis:
Nicht vom Anbieter bereitgestellt
FactoryLogix MES bietet keine Gratisversion.
Über den Anbieter
Aegis Industrial Software
Ansässig in Horsham, USA
1997 gegründet
Telefon-Support
24/7 Live-Support
Chat
FactoryLogix MES – Videos und Bilder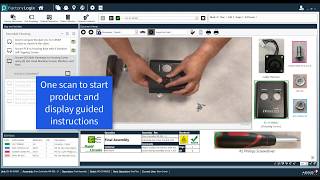 FactoryLogix MES Funktionen
Auftragsmanagement
Automatisierte Terminplanung
Berichterstattung / Analyse
Dokumentenmanagement
Integration in die Buchhaltung
Inventarverwaltung
Kapazitätsplanung
Material-Rechnung
Planung von Materialanforderungen
Produktionsplanung
Prognose
Qualitätsmanagement
Rückverfolgbarkeit
Terminplanung
Veränderungsmanagement
Was-wäre-wenn-Analyse
Alternativen für FactoryLogix MES
Bewertungen über FactoryLogix MES
Carl
Global Aegis Coordinator in USA
Verifizierter Nutzer auf LinkedIn
Elektrische/elektronische Fertigung, 501-1.000 Mitarbeiter
Verwendete die Software für: Mehr als 2 Jahre
Factory Logix saves us money and time
Kommentare: Any time we have had issues with the system, we needed to understand how something could be done in the system, or just general questions, the Aegis Support Team have never failed to be there for us. They are a World-Class group and always go above and beyond to help us out. With the features that Aegis' FactoryLogix offers, it has helped us get new customers as customers are asking for more and more things. We view FactoryLogix as both a manufacturing execution system and a sales tool! Aegis gives us a competitive advantage, enabling us to meet our customers' changing requirements, ultimately helping us to capture more business and consistently deliver exceptional products and customer service.
Vorteile:
One of the major issues we had was paperwork on our production floor. The creation, distribution, and updating of paper documents on our production floor creates an extensive amount of work for our staff. With FactoryLogix we have gotten rid of all the paperwork we were creating. We went from having many cabinets full of paper documentation to all of our documentation now electronic. No longer do we have pages and pages for each work order. With FactoryLogix, if anything changes, we go into the system and immediately make any changes required, and the production floor gets those changes instantly. The entire documentation process is real-time and much easier. We can also now track the product from the cradle to the grave. Additionally, we can let our customers know if items inside any of the units have been replaced due to using Sub-Assembly collection capabilities. FactoryLogix has saved us much in the way of dollars and time of creating production orders. When it comes to reporting, while this is an area of the solution that we do not use as much, anytime we need something, a pre-existing report can be leveraged, or a new report can be created. The depth of information captured in the system provides us a rich data repository that can support any level of data investigation or reporting that we need.
Nachteile:
We do not have any negatives to report about FactoryLogix. Whenever we were not sure how to use the solution to meet our needs, the Aegis team was always there to support us and help us with any challenge we encountered.
Scott
Manufacturing Process Specialist in USA
Elektrische/elektronische Fertigung, 201-500 Mitarbeiter
Verwendete die Software für: Mehr als 2 Jahre
Simply put, nothing but positive experiences.
Kommentare: On the back end, the amount of data collected is almost limitless. FactoryLogix has full defect history (who, when, where, what, how) that can be exported into Excel or automatically presented into charts, graphs, reports, and live dashboards. This data can also drive automatic email alerts based on almost any criteria you can think of (DPMO, yield, machine status). On the pricing side, you pay for what you need. It is module and license-driven and can easily expand as you expand your requirements. The Aegis team is proactive in offering new ways that we can leverage the solution to drive additional improvements. We are pleased to be part of the Aegis customer community and look forward to a continued relationship with them.
Vorteile:
As a company specializing in the development of advanced strategic, operational, and tactical communication solutions, we use FactoryLogix to create our production processes. We are currently expanding our usage of FactoryLogix to track our entire circuit board production process. FactoryLogix is very versatile with sources of CAD file data that easily imports. FactoryLogix can find all matching packages and uses your X/Y placement files to assign the references to the appropriate packages. We import all BOMs from their original Excel format. Also, you can import 3D CAD files for mechanical assemblies. Their newest release has expanded their 3D CAD capabilities and is truly amazing looking. Once you have your process set up and process detail page templates designed, you can quickly import new assembly files and generate your process details efficiently. Operators can view them digitally while scanning boards through their process, following multiple guided steps if needed while recording any assembly data (measurements taken, defect data, etc.). They can also send feedback to your manufacturing engineers. FactoryLogix can ensure that the assembly does not get started at a process if it has any open defects, has not passed the previous step successfully, or can even check to make sure enough time has elapsed since the previous step. It can also perform multiple checks when someone tries to pass it through their process. Additionally, FactoryLogix has sample inspection methods
Nachteile:
I don't really have any negatives to report regarding the software solution. To date, we are happy with the capabilities, and we look forward to expanding our usage of the system in the near future.
Russell
Manufacturing Process Engineer in USA
Elektrische/elektronische Fertigung, 1.001-5.000 Mitarbeiter
Verwendete die Software für: Mehr als 2 Jahre
Manufacturing superior quality products with FactoryLogix
Kommentare: Aegis' customer support team has been very accommodating when I have needed to reach out to them. They are very knowledgeable about the product they are supporting and always eager to help. There is also a customer support portal that offers numerous training videos. The portal has been a very helpful tool when new employees need introductory training. As a power user, I often refer to these videos as a refresher or learn new functionalities.
Vorteile:
FactoryLogix has extensive quality management capabilities throughout the entire manufacturing process. As an OEM manufacturer with large work order quantities, the in-line first article feature in FactoryLogix allows us to catch and prevent incorrect builds, which provides high dollar cost avoidance. Regarding data collection, before using FactoryLogix, defects were generally applied at the component level making it difficult to extract useful information when investigating root cause. Now with FactoryLogix, we can enforce the level at which defects are assigned, which could be at assembly, component, or even down to the pin of a circuit board. This level of granularity gives us the rich data needed for accurate and efficient root cause analysis. FactoryLogix will automatically prompt the operator to perform quality checks periodically during the production process, ensuring that critical quality parameters are being met throughout production. Having the ability to catch non-conformances, while in-process, has dramatically reduced our amount of rework and associated costs. Additionally, we have instantaneous access to all quality data collected throughout the entire process, which we did not have before using FactoryLogix. This real-time access to information enables us to instantly trigger alarms if something is not performing as intended.
Nachteile:
The response time of the software can sometimes be painful
tevin
Senior engineering manager in Hongkong
Maritime Wirtschaft, 51-200 Mitarbeiter
Verwendete die Software für: Mehr als 2 Jahre
FactoryLogix MES is used in our Suzhou factory operations and throughout our company's EMS facilitie
Vorteile:
There are several advantages we can note using Aegis: Visibility – The most essential benefit using FactoryLogix I find as an engineering manager is the immediate information I have to our operation's performance and the insight it offers to make improvements in both quantitative and qualitative ways. Compliance Assurance – One key area of our operations where we rely on Aegis MES is in our packing area for finished goods. It is here where the system's extensive validations ensure we are delivering accurate and the highest quality products to our customers Customer support – Whenever we have needed assistance, we have direct and immediate contact to their support staff without having to deal with an automated voice menu or being put on hold. They have a sense of urgency when responding to us, listening to our needs, and delivering solutions in a timely manner. Factory-wide coverage and configurability – FactoryLogix supports our entire factory from automated electronics assembly to manual system builds, with its MES interface for our assemblers, inspectors, and technicians, and with connections to our assembly, inspection, and test equipment. All of this is covered with standard capabilities that required little customization, and as our manufacturing environment continues to change over the eight-plus years since first using Aegis software, its extensive configurability enables us to change processes, rules, and behaviors as necessary to meet our own customers' expec
Nachteile:
We do not have anything to report on the negative side for this software.
Curtis
Business Systems Analyst in USA
Elektrische/elektronische Fertigung, 501-1.000 Mitarbeiter
Verwendete die Software für: Mehr als 2 Jahre
Spartronic's Review of Aegis' FactoryLogix MES Solution
Kommentare: Customer Support – Spartronics utilizes FactoryLogix at 6 facilities where proper production control is critical to our operations. When issues arise, the technical support Aegis provides is timely, knowledgeable, and constantly exceeds expectations.
Vorteile:
• Traceability – In the highly regulated markets Spartronics serves, FactoryLogix fulfils the manufacturing requirements for product realization. Spartonics utilizes FactoryLogix for product and component level traceability, to provide controls for product measurement tracking, and to ensure all manufacturing operations are successfully completed. • WIP Tracking – With the high mix of products Spartronics manufactures, having real-time data on product status and location in WIP is crucial to our daily production planning. FactoryLogix also provides automated daily reports on product status on the manufacturing floor. • Quality Metrics – The quality reporting features of FactoryLogix provides Spartronics an extremely valuable tool to monitor process effectiveness and drive process improvements. These reports can be generated ad hoc, scheduled, or set up as alarm features to notify Engineering personnel if predetermined parameters are deviating from expected values. • Document Control – FactoryLogix provides Spartronics' critical manufacturing process with paperless controls. FactoryLogix controls the build instructions, by assembly or process revisions, delivering the correct documentation to operators on the production floor. • Machine Data – Spartronics utilizes many different types of automated build and test devices. FactoryLogix integrates with those machines to automatically collect pass/fail and defect information.
Nachteile:
None reported at this time. Experience has been very positive for the organization.