Was ist Acctivate Inventory Management?
Herausragende Inventarsoftware für QuickBooks – hebe dein Lager und deine Geschäftsabläufe auf ein neues Niveau und steigere damit deine Gewinne und die Kundenzufriedenheit.
Verwalte alle Geschäftsphasen in Echtzeit in deinem Unternehmen mit leistungsstarken, nutzerfreundlichen Funktionen für Inventarmanagement, Einkauf, Kund*innen, Lagerhaltung, Barcoding, Vermietungskosten, Chargen- und Seriennummernnachverfolgbarkeit und mehr. Integriere außerdem führende E-Commerce-Plattformen, EDI-Anbieter und andere Best-in-Breed-Lösungen.
Wer verwendet Acctivate Inventory Management?
Kleine bis mittlere Unternehmen, Großhandelsvertriebs- und Fertigungsunternehmen, die QuickBooks mit zusätzlichen Inventarmanagementfunktionen erweitern müssen.
Wo kann Acctivate Inventory Management bereitgestellt werden?
Cloud, SaaS, webbasiert, Windows (Desktop), Windows (On-Premise), Linux (On-Premise)
Über den Anbieter
Acctivate
Ansässig in Arlington, USA
1985 gegründet
Telefon-Support
Chat
Erhältlich in diesen Ländern
Kanada, Vereinigte Staaten, Vereinigtes Königreich
Über den Anbieter
Acctivate
Ansässig in Arlington, USA
1985 gegründet
Telefon-Support
Chat
Erhältlich in diesen Ländern
Kanada, Vereinigte Staaten, Vereinigtes Königreich
Acctivate Inventory Management – Videos und Bilder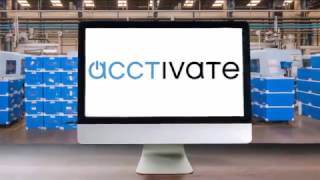 Kosten ähnlicher Produkte wie Acctivate Inventory Management vergleichen
Acctivate Inventory Management Funktionen
Alarmfunktion / Benachrichtigungen
Angebote / Schätzungen
Artikelverwaltung
Auftragsabwicklung
Auftragserfassung
Auftragsmanagement
Auftragsverfolgung
Barcode / RFID
Barcode / Tickets scannen
Berichterstattung / Analyse
Berichterstattung und Statistik
Bestandskontrolle
Bestandsoptimierung
Bestandsprüfung
Bestandsverfolgung
Bestell-Management
Bestückung
CRM
Check-in/Check-out
Drittanbieter-Integration
E-Commerce-Management
Einkauf & Empfang
Inventarverwaltung
Katalogisierung / Kategorisierung
Kostennachverfolgung
Lagerhaus-Management
Lieferanten-Management
Material-Rechnung
Mobiler Zugriff
Multi-Channel-Kommunikation
Nachbestellungen verwalten
Nachfragevorhersage
Produkt-Rückruf Management
Produktions-Management
Produktkennzeichnung
Prognose
Qualitätskontrolle
Qualitätsmanagement
Retourenmanagement
Rückstandsverwaltung
Rückverfolgbarkeit
Suchen / filtern
Supply-Chain-Management
Verkaufsberichte
Verkaufsprognose
Versand-Management
Vertrieb- & Abwicklungplanung
Verwalten von Fälligkeiten
Wareneingangs- / Einlagerungsverwaltung
Wiederkehrende Bestellungen
Alternativen für Acctivate Inventory Management
Bewertungen über Acctivate Inventory Management
Ruth
Customs Broker in USA
Verifizierter Nutzer auf LinkedIn
Groߟhandel, 11-50 Mitarbeiter
Verwendete die Software für: Mehr als 2 Jahre
Excellent Software for a small company
Kommentare: We started using ACCTivate in 2010 as an inventory add-on to Quickbooks. We have very much appreciated all the software had to offer. We have modified the system somewhat over time to fit our needs. We also had some custom reports created for us that have worked very well. Very pleased with the software and the support team.
Vorteile:
-Very intuitive product -Easy to learn -Highly functional -Crystal report software for reporting is easy to learn and use to customize your reports -Very flexible system
Nachteile:
-Original Reporting is lacking. Custom reports are available or can be made by a third party -Very occasional issues syncing with Quickbooks
Antwort von Acctivate
vor 3 Jahren
Hi Ruth, Thank you for sharing your feedback. It is great to hear all you have gained and the growth in your nine years of using Acctivate. Kind Regards, Erica Avila
Paul
Purchasing Manager in Kanada
Einzelhandel, 11-50 Mitarbeiter
Verwendete die Software für: Mehr als 2 Jahre
In Betracht gezogene Alternativen:
Acctivate Review
Kommentare: We have been using it for 6 years now. There was a bit of a learning curve. Once sorted out, we can order receive, pick and sell our product with ease. Database size has been a bit of an issue and Intuit file size management grows quickly. Great product for a mid size business.
Vorteile:
Acctivate brought us up to todays technology in product Inventory and sales control, at a reasonable price.
Nachteile:
The lack of Vendor control, and Vendor Options make things hard. Doing a Daily Sync with Quickbooks does not come with out issues, and tax rounding is Canada is a large issue. We do have SOP's in place to administrate these short falls.
Elektrische/elektronische Fertigung, 2-10 Mitarbeiter
Verwendete die Software für: Mehr als 1 Jahr
Quelle: SoftwareAdvice
Can't function with Acctivate
Kommentare: We bought Fishbowl inventory in 2017 and returned it within a month. And then spent considerable time looking at options and reviewing them. We spend days and days with Acctivate before buying. And then we bought it. It took three or four months to get us to an 'active state'. At which point we discovered that the entire way we setup our product structure would not work. So we started over and now, 12 months after purchasing, we have finally invoiced the projects from November of 2017. We have posted over 100 requests in the online help system and with a few exceptions been told that our ideas are not applicable to their users.
We have made the decision to not to renew our maintenance plan.
And Acctivate was not interested in extending our plan for a few more months give the total disaster we have had implementing it.
We did consider it affordable and the yearly maintenance costs reasonable given the platform.
However, we have spent lot of money on labor to get the system implemented AND still had to hire an outside consultant to build custom routines to be able to get reports that answer basic stocking questions. We continue to find the interface prevents you from being able to make smart decisions at the moment you have to (when you can see the data) and is wholly lacking for a system with as much data as it has. We can not say strongly enough that you should really consider your options before moving forward with Acctivate.
Vorteile:
Lot's of handholding during setup. Possibly considered affordable - unless you count your time. At this point - not much - We have fought for a year to get the system online.
Nachteile:
Lack of respect for the ideas and needs of customers It hides important information needed to make decisions in the windows where you need to make decisions. It doesn't auto update backorders A huge list of other items.
Biotechnologie, 2-10 Mitarbeiter
Verwendete die Software für: Mehr als 1 Jahr
In Betracht gezogene Alternativen:
Acctivate Inventory Management works well suits our needs
Kommentare: Very please with our choice
Vorteile:
The setup and learning curve were very reasonable, daily use and upkeep is easy
Nachteile:
The dashboard needs to be more user friendly to setup and use (sizing and placing the report boxes is awkward) Some dropdown menus are not intuitive, but once learned easy to navigate
Gabriel
Sr. Director of Operations in USA
Bekleidung & Mode, 11-50 Mitarbeiter
Verwendete die Software für: Mehr als 1 Jahr
Excellent for the Price!
Kommentare: We were able to greatly improve visibility of our performance allowing us to focus resources in the areas that needed help. The quality and consistency of our output also improve dramatically. Probably the one area that had the most drastic improvement has been our warehouse. The ACCTivate our inventory is the most accurate it has ever been and order processing accuracy has also improve dramatically with the use of the mobile scanners.
Vorteile:
Software is filled with many intuitive features that cover a wide variety of of business uses in everything from order processing to inventory management. Inventory management includes ability to manage using bins and multiple physical or virtual warehouses. This is a strong feature for an application in this price range. The ability to create custom fields in virtually every section of the software helps resolve many challenges, and the fields are, in most cases, can be made to appear in reports. Has a great order management module that can be customized for specific views and allow for both visibility and batch management of open sales order. Mobile/handheld support allowed our warehouse to switch from manual to scanned picking, which greatly improved accuracy and accountability. Software supports ODBC connectivity which provide a solid work around for the software's lack of strong out-of-the-box reports (see below) In conclusion, if you are a small to mid-size business that has outgrown Quickbooks, you really cant go wrong with ACCTivate. So long as your Quickbooks data is clean and organized, migration is quick and painless.
Nachteile:
Out of the box reporting is a bit limited depending on your needs. Very basic reports are fine and they are accurate, but if your business has complex or custom logics by which you evaluate performance, you will need to hire a report writer (Crystal Reports) to build your report templates. No real audit trail tracking/reporting so seeing who did what can be a challenge. Lacks ability to restrict certain permissions that can lead to accidental or deliberate manipulation of data resulting in order processing errors.
Antwort von Acctivate
vor 5 Jahren
Gabriel, your feedback is greatly appreciated. We are happy to hear about the improvements across your business after implementing Acctivate, especially the visibility & productivity gains that have allowed you all to focus on the work at hand. We also continually strive to learn what businesses need and how we can enhance our software, so it is also good to know about reporting and permission based needs. - Dakota