Was ist LabCollector LIMS?
LabCollector ist eine All-in-one-Laborverwaltungssoftware. LabCollector basiert auf unabhängigen Modulen, die miteinander interagieren können, und verwaltet eine Vielzahl nützlicher Laborinformationen und -daten. Die Lösung ist einzigartig, erschwinglich und erweiterbar und bietet eine anpassbare kollaborative Nutzeroberfläche. Die Lösung enthält auch ein ELB (Elektronisches Laborbuch) und viele andere Add-ons (Workflows, Sensorüberwachung, Servicemanagement usw.), mit denen du dein eigenes LIMS erstellen kannst. LabCollector kann in der Cloud oder On-Premise gehostet werden.
Wer verwendet LabCollector LIMS?
Wir zielen auf Menschen in Forschungslabors ab. Es gibt 2 verschiedene Märkte 1. Akademische (Institut, Universität ..) 2. Industrien.
Wo kann LabCollector LIMS bereitgestellt werden?
Cloud, SaaS, webbasiert, Mac (Desktop), Windows (Desktop), Linux (Desktop), Windows (On-Premise), Linux (On-Premise), Android (mobil)
Über den Anbieter
AgileBio
Ansässig in California, Frankreich
2002 gegründet
Telefon-Support
Chat
Erhältlich in diesen Ländern
Afghanistan, Albanien, Amerikanisch-Samoa, Amerikanische Jungferninseln, Andorra und 156 weitere
LabCollector LIMS Kosten
Startpreis:
350,00 $/Jahr
Ja, kostenloser Test verfügbar
Ja, Gratisversion verfügbar
LabCollector LIMS bietet eine Gratisversion und eine kostenlose Testversion. Die kostenpflichtige Version von LabCollector LIMS ist ab 350,00 $/Jahr verfügbar.
Preismodelle
Kostenlose Testversion
Über den Anbieter
AgileBio
Ansässig in California, Frankreich
2002 gegründet
Telefon-Support
Chat
Erhältlich in diesen Ländern
Afghanistan, Albanien, Amerikanisch-Samoa, Amerikanische Jungferninseln, Andorra und 156 weitere
LabCollector LIMS – Videos und Bilder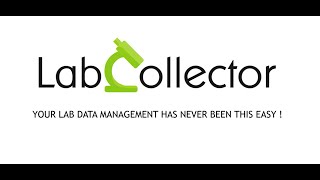 LabCollector LIMS Funktionen
Berichterstattung / Analyse
Compliance-Verfolgung
Daten-Import / -Export
Datensicherheit
Datenspeicher-Management
Dokumentenmanagement
EMR / EHR
Elektronischer Datenaustausch
Integration von Laborinstrumenten
Inventarverwaltung
Kalibriermanagement
Kundendatenbank
Labor-Auftragsmanagement
Musterproben-Management
Werkzeuge zur Zusammenarbeit
Workflow-Management
Zugriffskontrollen / Berechtigungen
Alternativen für LabCollector LIMS
Bewertungen über LabCollector LIMS
Olivier Josh
Project Assistant in Philippinen
Verifizierter Nutzer auf LinkedIn
Hochschulbildung, 51-200 Mitarbeiter
Verwendete die Software für: 1-5 Monate
Lab management made easy
Kommentare: Much better than spreadsheets. Very organized and highly recommended.
Vorteile:
As a researcher, Labcollector has helped our laboratory in organizing data sets and files that need to be stored and used later. Inventory management is also a plus. The efficiency of the software is also worth noting in terms of its immense functionality.
Nachteile:
None at the moment. We have been using it for almost 6 months now, and so far it has been great.
Antwort von AgileBio
vor 3 Jahren
Thank you for using. We appreciate your review and we feel rewarded from all these years developing the tool. Feel free to reach out with any suggestion you may have so we continue to better serve you. Check soon our new version.
, 11-50 Mitarbeiter
Verwendete die Software für: Mehr als 2 Jahre
very good database for LabManagement
Kommentare: We started using this Software 3 years ago for all the Groups in our Department, we use it for cells in LN, reagents in freezers, slides, equipment (pipettes, instruments, etc...), plasmids, and General documents (SOPs).
Vorteile:
Very easy to adapt to your needs, you can have separate databases belonging to single Groups, very flexible System. Good support.
Nachteile:
It can get very slow if you add too many records to 1 single module, we have 1 with 6000 records and it is a bit too slow. The Import of tubes through a box Reader should be improved (we have the scanner but do not use it), it is complicated to Import big data from another database.
Antwort von AgileBio LLC
vor 6 Jahren
Thank you for your review. We love to hear how we can improve LabCollector for our clients. Since LabCollector v5.2 an improved indexing allows a much faster database support. LabCollector supports this way big databases with over 100 000 records for one module. Another point of interest considering LabCollector speed, it is the server capacity by having your LabCollector on your local server. We offer servers with high capacities such as Virtual private server as well as dedicated servers. Another improvement of version 5.2 is the import from Excel/CSV files! This has been improved making it simpler to import and new import tools are under progress. Batch Sample Tool is a free tool in LabCollector to import from any rack reader into LabCollector. We are compatible with any scanner brand using our direct connector ScanServer. Keep tuned as we keep making better versions every days!
Gabriela
scientist in Luxemburg
Forschung, 201-500 Mitarbeiter
Verwendete die Software für: Mehr als 2 Jahre
Not intuitive & cumbersome
Kommentare: I am leaving it behind and going to try other options.
Vorteile:
Nothing, really. I was hoping that the electronic version would make my work easier, but it made it harder.
Nachteile:
The program does not mimic a paper version of the lab book, many features are not useful, and trying to use it as a true lab book is cumbersome. Creating protocols for an easy insertion was not possible, it required approval from others, and insertion was cumbersome. The different layers of the lab book are useless and just add confusion. Trying to fit my recording needs to the lab book was the reverse of what I needed.
Antwort von AgileBio
letztes Jahr
We're sorry that you did not find what you expected. LabCollector is composed of many tools and some are plugins to add. For example the ELN component needs to be downloaded and added to the inventory framework. Furthermore we keep improving the software and take reviews in consideration. Hope you can keep an eye on us and also our team is always available to help discovering the features. Call us for a walk through next time!
Pharmazeutika, 2-10 Mitarbeiter
Verwendete die Software für: 6-12 Monate
Very useful lab software well worth its price
Kommentare: We wanted to implement an ELN in a start-up comany so we were looking for a program which is not too comprehensive but reasonably priced. Nevertheless, we were happy to find out that LabCollector is much more than just an ELN. It has repleaced not only hand-written lab books but also several spreadsheets at our company. The modular structure of the software is optimal for us as we can have the features which we really need and not pay for others which we would never use. It is also an advantage for a small company that you don't need to have your own server.
Vorteile:
LabCollector makes the organization of the lab much more transparent and efficient compared to spreadsheets and hand-written lab books. It is definitely worth the extra energy you have to put into it at the beginning to set up your system. In addition, good documentation also adds value to our products. Furthermore, Agilebio offers excellent customer support.
Nachteile:
There are some bugs in the program but if you report them to the developers they will try to fix them or at least they will suggest you a way to solve your problem.
Jean
Associate Professor in
Verwendete die Software für: Nicht angeboten
We spent years searching for a tool like LabCollector
Kommentare: Very positive experience. This product has managed to fill a niche between desktop biobanking solutions and enterprise-class LIMS systems. It is a great LIMS that meets the needs of many academic research groups, institutes, and biotech companies.
Vorteile:
We spent years looking for a decent sample management software. Some of the key requirements that LC meet include: - web-based solution - software that could be implemented in house instead of being hosted by a third party. - no per user licensing fee LC goes beyond this set of requirements. There are a number of modules for managing other aspects of a lab operation beyond simply tracking samples. LC is progressively becoming a central hub of all our laboratory information. The use of a standard database (MySQL) makes it possible to access the data without going through the user interface when needed. Customer support is top notch. They are extremely responsive and helpful. We really feel that we get a personal attention.
Nachteile:
It is not always obvious to understand how the different modules complement each other. We had to develop our in house policies regarding the use of LC modules. The software is encrypted. We would prefer to have access to the source code so that we can better integrate this tool with our other informatics resources.