Das könnte dich auch interessieren:
Was ist vSphere?
Lieferung von umfassenden, personalisierten virtuellen Desktops an jedes Gerät mit allen Vorteilen des zentralen Enterprise-Desktop-Management.
vSphere – Details
VMware
1989 gegründet
vSphere – Videos und Bilder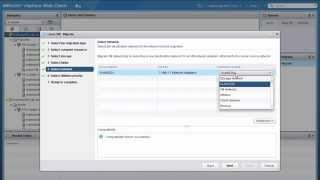 ▶︎
vSphere – Details
VMware
1989 gegründet
Kosten ähnlicher Produkte wie vSphere vergleichen
Startpreis
995,00 $/Jahr
15,00 $/Monat
0,01 $
N/A
vSphere – Bereitstellung und Support
Funktionen von vSphere
API
Aktivitäts-Dashboard
Aktivitäts-Verfolgung
Alarmfunktion / Benachrichtigungen
Anpassbare Berichte
Audit Trail
Bandbreiten-Überwachung
Baseline-Manager
Berichterstattung und Statistik
Compliance Management
Dashboard
Dashboard-Erstellung
Datenvisualisierung
Drittanbieter-Integration
E-Mail-Benachrichtigungen
Echtzeit-Aktualisierungen
Echtzeit-Analytik
Echtzeit-Benachrichtigungen
Echtzeit-Berichterstattung
Echtzeit-Daten
Echtzeitüberwachung
Einkauf & Empfang
Ereignisprotokolle
IP-Adressen-Überwachung
Internet-Benutzungsüberwachung
Inventarverwaltung
Kapazitätsmanagement
Konfigurationsmanagement
Korrektur-Management
Leistungskennzahlen
Leistungsmanagement
Netzwerk-Ressourcenmanagement
Netzwerkanalyse
Prädiktive Analytik
Remote-Monitoring und -Management
Richtlinien Managemen-
SSL-Sicherheit
Schwachstellen-Scannen
Schwellenwert-Warnungen
Server-Überwachung
Service Level Agreement (SLA) Management
Simple Network Management Protocol (SNMP)
Störfallmanagement
Uptime-Berichterstattung
Visuelle Analytik
Wartungsplanung
Web-Traffic-Berichterstattung
Wirtschaftsprüfung-Management
Zugriffskontrollen / Berechtigungen
Überwachung
Alarmfunktion / Benachrichtigungen
Backup und Recovery
Bandbreiten-Überwachung
Berichterstattung / Analyse
CMS-Integration
Dashboard
Datei-Verwaltung
Datenbank-Unterstützung
Datenspeicher-Management
Dedizierte virtuelle Ressourcen
Drittanbieter-Integration
Echtzeit-Aktualisierungen
Konfigurationsmanagement
Kontrollpanel
Lastverteilung
Leistungsmanagement
Mail-Server-Überwachung
Remote-Zugriff/-Kontrolle
Ressourcenoptimierung
Ressourcenzuordnung und -planung
Rollen-basierte Genehmigung
SSL-Sicherheit
Server-Überwachung
Sicherheitstools
Uptime-Berichterstattung
Virtueller Server
Web-Framework-Unterstützung
Website-Hosting
Zugriffskontrollen / Berechtigungen
Überwachung
API
Aktivitäts-Dashboard
Anwendungs-Zugriffskontrolle
Archivierung & Aufbewahrung
Automatische Sicherung
Backup und Recovery
Berichterstattung / Analyse
Compliance Management
Datei-Verwaltung
Dateitransfer
Datenmigration
Datenspeicher-Management
Datenvisualisierung
Desktop-/Anwendungsvirtualisierung
Disaster Recovery
Drittanbieter-Integration
Echtzeit-Berichterstattung
Echtzeitüberwachung
Einmalige Anmeldung
Ereignisprotokolle
Ferngesteuertes Update / Installation
HIPAA konform
Integration des aktiven Verzeichnisses (AD)
Kapazitätsmanagement
Konfigurationsmanagement
Lastverteilung
Leistungsüberwachung
Namensraum-Management
Provisionierung virtueller Maschinen
Remote-Monitoring und -Management
Remote-Zugriff/-Kontrolle
Rollen-basierte Genehmigung
Server-Überwachung
Service Level Agreement (SLA) Management
Sichere Datenspeicherung
Snapshots virtueller Maschinen
Verschlüsselung virtueller Maschinen
Versionskontrolle
Virtuelle Maschinen-Überwachung
Visuelle Analytik
Warnungen / Eskalation
Zugriffskontrollen / Berechtigungen
Zwei-Faktor-Authentifizierung
Jose de jesus R.
Gerencia de Área Plataforma Tecnológica in Venezuela
Verifizierter Nutzer auf LinkedIn
Verwendete die Software für: Mehr als 2 Jahre
My experience virtualizing productivity environment for the growth of services
Kommentare: The opportunity to share my experience with the use of VMwaresVphere is generous because I can help other users with my recommendation or other potential clients who wish to implement a virtualized environment
Vorteile:
I have worked for a few years in virtualization, using virtual environments completely or mixed environments, virtual - physical, and MWware vSphere has shown me to be a hypervisor, taking full advantage of the processing capacity of each host, so taking advantage of the centralized administration that is achieved through VMware Vcenter, the large number of configurations of networks and virtual networks give an additional value to product. Likewise the use of multiple operating systems allows me to have a server farm with a variety of services to our customers to meet their needs 100%. Actually working VMware vSphere together with VMware vCenter is the greatest benefit cost advantage, since we have significant savings in terms of equipment maintenance, licensing, space saving, energy savings and man hours dedicated to supervising a physical environment as such.
Nachteile:
The daily work of the vSphere tool has helped me to know it and not only know its advantages and benefits but also its few weak points, however its greatest weakness may be its high cost, which for implementations in small business environments can be very difficult. of implementing since a technological infrastructure of process of a great capacity is required and the cost in the licensing would affect in an important way the cash flow, and it would be underutilized. Without the integration of VMware Vcenter 100% all the benefits of VMware vSphere would not be used. Equally, the training of the staff would also have a huge cost, even though the training by the technical staff is excellent, there is also the virtual training that gives the advantage of cost savings, however it is not as effective as in person.
Sagar J.
System Administrator in Indien
Verifizierter Nutzer auf LinkedIn
Informationstechnologie & -dienste, 501-1.000 Mitarbeiter
Verwendete die Software für: Mehr als 2 Jahre
In Betracht gezogene Alternativen:
Vmware Vsphere
Kommentare: It's cost-effective - pay as use concept if no need stop your services and get free from billings Space Effective - physical to virtual conversation helps you to save your infra space which is not possible in case of physical deployment Why Vsphere - it a product of a leading virtualization vendor.
Vorteile:
Vsphere - Vcenter is the platform where you can create configure and customize the virtual machines as per the customer requirement Vsphere allows you to synchronize with multiple host/nodes, which helps you run the features of high availability smart server deployment. Vsphere has various products which help every smaller multinational organization to manage their cloud infrastructures. Vpshere allows you the features which highly recommended and essential to smoothly run any organization. Vsphere is the product of Vmware and the vendor is running in the top list of virtualization providers Features of Vsphere High Availability - Providing the high SLA Distributor resource scheduler - smart deployment of servers Distributor power management - save you cost Fault Tolerance - Zero downtime Wow that you rarely get with any other virtualization platform.
Nachteile:
Vsphere should be licensed purchased it's not allowed you to run the infra after 30 days of trial. There are various packages available for their products, so small-level organizations are supposed to run all features they have to pay the cost of the required product. Should require stronger connectivity to access your Vsphere smoothly.
Verifizierter Rezensent
Network and System Administrator in USA
Verifizierter Nutzer auf LinkedIn
Bildungsmanagement, 51-200 Mitarbeiter
Verwendete die Software für: Mehr als 2 Jahre
Bring back the thick client for Windows
Kommentare: They tried to make it more convenient by forcing everyone to the web version, but they did it too soon. Too slow, buggy, and reliant on old technology. They should have waited until the HTML5 version was fully ready and rolled it out then.
Vorteile:
With esx 6+ you are forced to the web version of vsphere. This does have its conveniences (when it works), and for the most part contains everything in the older thick software client. Managing and access VM's is similar. Installing updates is arguably easier, and vcenter management seems to be more feature filled.
Nachteile:
Where do I start .... first of all, you need to have flash installed and allowed to get the full feature set on the browser. The HTML5 version is great when it works, but very buggy. Also, it is not nearly as responsive as the old software client. For the remote console, you need to install a plugin and software to get that working properly.
Ibrahim M.
System Engineer in Ägypten
Computer- & Netzwerksicherheit, 51-200 Mitarbeiter
Verwendete die Software für: Mehr als 2 Jahre
In Betracht gezogene Alternativen:
VMware vSphere Review
Kommentare: Very satisfied.
Vorteile:
-Easy of use -Resources allocation for VMs. -Easy migration -Usability -Stability -Frequently updates with new features and security fixes.
Nachteile:
Orchestration features need more AI enhancements and more automation integration using API this will made integration process very easy for developers and administrators.
Gabriel M.
Senior Engineer Proactive Maintenance Lead in Panama
Informationstechnologie & -dienste, 10.000+ Mitarbeiter
Verwendete die Software für: Mehr als 2 Jahre
In Betracht gezogene Alternativen:
Big changes on new Vsphere 6.7
Kommentare: Have been on the technology field for over a decade by now working with a lot of different virtualization technologies, by far this is one of the most reliable and easy to use out there.
Have seem some weird issues with another virtualization technologies but vsphere always had a lot of redundancy to prevent the production going down once you have configured it correctly.
Vorteile:
- Stylish new look. - Better performance than previous versions. - Lots of support for security bridges not supported on previous version and hardware compatibility with new products and software.
Nachteile:
- User interface is annoying sometimes. Mostly this is one of the huge concerns for me on this new version, If i want to see the running task there are a lot of widget on the screen and need to zoom out the view to see some of the running task, or the alerts, then zoom in to read it correctly and zoom it out to see them again, is a little annoying for me but well it works... For anything else is pretty good.