Was ist Maptitude?
Die GIS- und Mapping-Software von Maptitude bietet die Tools, Karten und Daten, die du benötigst, um zu analysieren und zu verstehen, wie Geografie dich und deine Organisation beeinflusst. Maptitude ist die leistungsfähigste und am wenigsten teure, voll ausgestattete Mapping-Software. Maptitude wurde für die Datenvisualisierung und geografische Analyse entwickelt und verfügt über eine umfassende Bibliothek mit landesweiten und weltweiten Karten, einschließlich vollständiger US-Straßenkarten, Demografie und Grenzen (wie z. B. Datenerhebungsgebiete und Postleitzahlen).
Wer verwendet Maptitude?
Banking Business Census Data Immobilienunternehmen GIS Franchise-Mapping GIS Gesundheitswesen Versicherungen Alternative zu MapPoint Marketing und Sales Mapping Gebietszuordnung
Maptitude – Details
Caliper
1983 gegründet
Maptitude – Details
Caliper
1983 gegründet
Maptitude – Videos und Bilder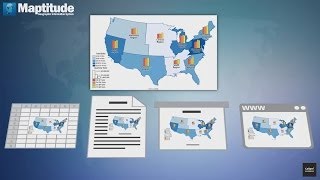 Kosten ähnlicher Produkte wie Maptitude vergleichen
Startpreis
695,00 $/einmalig
N/A
0,01 $
Nicht verfügbar
Maptitude – Bereitstellung und Support
Einsatz
Cloud, SaaS, webbasiert
Windows (Desktop)
Windows (On-Premise)
Linux (On-Premise)
Training
Persönlich
Live Online
Webinare
Dokumentation
Funktionen von Maptitude
3D-Imaging
API
Aktivitäts-Dashboard
Berichterstattung / Analyse
Berichterstattung und Statistik
Bildverwaltung
Data Mapping
Daten-Import / -Export
Datenerfassung und Übertragung
Datensammlung
Datenvisualisierung
Dreidimensionale Analyse
Drittanbieter-Integration
Etikettierung
Farbkodierung/Symbole
Geocoding
Geografische Karten
Geolokalisierung
Geotargeting
Internet-Mapping
Interoperabilität
Karte teilen
Kartenerstellung
Mehrere Standorte
Routenoptimierung
Standortverfolgung
Statistische Analyse
Trend-Analysen
Zensusdaten-Integration
Überwachung
API
Ad-hoc-Berichterstattung
Aktivitäts-Dashboard
Aktivitäts-Verfolgung
Alarmfunktion / Benachrichtigungen
Anpassbare Berichte
Auftragsmanagement
Benutzer-Management
Berichterstattung / Analyse
Berichterstattung und Statistik
Data Mapping
Daten-Connectors
Daten-Import / -Export
Datenbank-Unterstützung
Datensynchronisation
Datenvisualisierung
Demografische Daten
Drittanbieter-Integration
Echtzeit-Analytik
Echtzeit-Benachrichtigungen
Einmalige Anmeldung
Geocoding
Geofencing
Geografische Karten
Geolokalisierung
Geotargeting
Handelsraumanalyse
Kommunikationsmanagement
Kundensegmentierung
Mehrere Standorte
Mehrfache Datenquellen
Mobiler Zugriff
Multichannel-Marketing
Prädiktive Analytik
Risikokarten
Rollen-basierte Genehmigung
Routenoptimierung
SEO-Management
Standortverfolgung
Statusverfolgung
Suchen / filtern
Trend-Analysen
Verhaltensbezogene Analysen
Versandmanagement
Visuelle Analytik
Visuelle Entdeckung
Webseitenintegration
Werkzeuge zur Zusammenarbeit
Widgets
Zugriffskontrollen / Berechtigungen
Manfred S.
CEO - Geschäftsführer in Deutschland
Verifizierter Nutzer auf LinkedIn
Unternehmensberatung, 2-10 Mitarbeiter
Verwendete die Software für: Mehr als 2 Jahre
Software + Service + Support sind hervorragend
Vorteile:
Maptitude ist eine sehr gute Lösung für Kunden, die bislang Microsoft MapPoint im Einsatz hatten. Bei auftretenden Fragen oder Problemen hilft Caliper schnell und kompetent. Die HERE Datenbasis ist das non plus ultra.
Nachteile:
Eine intensive Einarbeitung ist notwendig, um alle Features optimal anwenden zu können. Es gibt bislang keine deutsche Sprachversion.
Sheldon neil C.
Planning & Scheduling Specialist in Australien
Verifizierter Nutzer auf LinkedIn
Transport/Güterfrachtverkehr/Schienenverkehr, 2-10 Mitarbeiter
Verwendete die Software für: Mehr als 2 Jahre
In Betracht gezogene Alternativen:
Maptitude's ability to use my data for analysis and visualisation it is phenomenal.
Kommentare: I use Maptitude to conduct drive time analysis and calculate the optimal sequence of serving key locations. This has helped to reduce my dead kilometre cost but also has the added benefit of being able to provide drivers with instructions in the form of left and rights and maps.
I use it to extract and analyse demographics for an area I will be serving to understand the makeup of my customers. I create selection sets to apply my analysis on only the set of data I'm interested at that moment.
I create heatmaps that shows public transit safety aspects such as accident hot spots, driver abuse from customers etc.
One of the interesting case studies I did not long ago was to map all the bus stops we serve and also all public toilets that are within walking distance to the bus stops. This helped my drivers to know where they can have a biological break if they need to during their journey.
Vorteile:
Whenever I need to analyse my data and represent it visually I always go to Maptitude. The software is a GIS that can import, covert and export Google Earth, OpenStreetMap, Esri Shape, MapInfo, GPS, AutoCAD, Excel, Text etc. I've been using Maptitude for more than 13 years and bar TransCad (Caliper Corporations Public Transit Modelling Solution), there is no other GIS software that delivers like this!
Nachteile:
I've compared Maptitude to many other solutions and can honestly say there is no major dislike that I have. If I'm really critical I'd say probably that the Caliper brand name appears on the bottom of the maps I produce (very small), and I'd like to keep secret how I am able to do what I do.
Antwort von Caliper
vor 2 Jahren
Thank you for the feedback on Maptitude mapping software!
Taunya K.
President in USA
Transport/Güterfrachtverkehr/Schienenverkehr, 2-10 Mitarbeiter
Verwendete die Software für: Mehr als 2 Jahre
Maptitude for Planners
Kommentare: Analysis of demographics, locations, paratransit trip history, etc., to help local governments, committees, and agencies plan and change fixed route patterns, expansion, timing, etc.
Vorteile:
I have been a planning consultant for over 20 years. I highly recommend Maptitude. The learning curve is short - it is the most intuitive but powerful mapping applications I have ever used. Others are fine, they cannot beat the ease of use and functionality of Maptitude. It is easy to create map layers and final presentation maps from scratch with it. And Maptitude comes with map layer data of its own, which is the best I have seen. In addition can import a variety of file types, which is extremely valuable when you are working with local governments using a variety of map formats. This means you can readily combine data from many sources in one map in Maptitude. You will really like working with it.
Nachteile:
I cannot think of a thing I didn't like about it.
Antwort von Caliper
vor 2 Jahren
Thank you for the feedback on the #Maptitude mapping software GIS application!
Nick N.
CEO in Australien
Verwendete die Software für: Nicht angeboten
Great value!
Kommentare: Maptitude comes with a wealth of data at an unbelievably inexpensive price. The Australian data, with which I'm most familiar, if bought separately from other sources, would run into the thousands of dollars and I am stunned at the value for money. Please don't think that value for money has compromised functionality or capability! Maptitude has a wealth of analytical features that satisfy my ongoing needs in the area of demographic analysis. Regular in the business/demographic sphere include thematic mapping, route planning, territory design, trade area analysis and location/allocation modelling. A critical area is output and Maptitude has this covered with the ability to produce good quality maps of any size, a wide range of graphics formats and also Kmz/kml output for Google Earth. If there is one criticism, it's that the you can't produce a visual legend for Google Earth and if the exported geographic features have too many points, then they simply won't appear in Google Earth..a point reduction function would be very useful. On the negative side. It is a slightly dated looking package, reminding one of the Windows XP software and it's annoying that you only merge two geographic features at a time, a definite disadvantage if you need to merge data from a variety of sources into one geographic layer. It makes it a bit fiddly. This is not a package just for the professional, full time user. A newbie will find the package relatively easy to learn and the software site comes with a series of tutorials that will allow you to transition from newbie to effective novice relatively easily. That's given us the confidence to recommend Maptitude to non-GIS users such as sales managers, database analysts, franchise managers, advertising planners, retailers and merchandisers. All in all, value for money, good quality output, a wealth of data and functionality and easy to use.
Raymond K.
Senior Financial Analyst in USA
Automotive, 10.000+ Mitarbeiter
Verwendete die Software für: Mehr als 1 Jahr
Amazing product at a great value with even better customer service!
Kommentare: I am using the software to Map out where all of our dealership are located throughout the country while mapping out where our competitors are located in order to identify potential acquisition targets. The benefits have been providing invaluable insight to upper management regarding what kinds of opportunities are out there and consequently, giving the company a chance to grow via acquisitions. Moreover, the additional features within Maptitude allows you to identify new areas of growth or new markets to enter given the plethora of demographic data it has embedded within the software. it shows population growth, income levels of population and so so much more. It really provides a high level overview for any user who wants to learn and find out anything about a particular area of the country.
Vorteile:
Maptitude offers a lot of bang for your buck. I did hours of research, looking at different mapping companies before choosing Maptitude and surprisingly, Maptitude is one of the very few companies that allows you to pay a one-time fee only (which is very reasonable given you're getting) and you get lifetime access to the software. Most other companies require you to pay an annual fee which can add up pretty quickly. The mapping software itself is amazing. It is robust, dynamic and does everything you can possibly imagine and then some. It is very user friendly and has a lot of built in features that can help making maps extremely useful as it provides invaluable insights into your data. The best part is after I purchased the product, the amount of customer support I received was fantastic. Every time I had a question, the company would always reply back immediately with a solution. They were very knowledgeable in their product, timely and very helpful. The mapping software is a home run and I could not be happier with the product nor the high level of customer service. Thank you!
Nachteile:
Nothing as of right now. If there are any dislikes, I will be sure to address it to Maptitude first before airing any dirty laundry. More often than not, it is more likely user error that is the cause of any major issues.