Das könnte dich auch interessieren:
Was ist SolidWorks Premium?
SolidWorks Premium integriert nahtlos leistungsstarke Konstruktionstools - einschließlich branchenführender Teile-, Baugruppen- und Zeichnungsfunktionen mit integrierter Simulation, Rendering, Animation, Produktdatenmanagement und Kostenschätzung. SolidWorks unterstützt dich dabei, deine Arbeit schneller und einfacher als je zuvor zu erledigen. Innovative Phasen der Produktentstehung sorgen für ein produktiveres 3D-Design.
SolidWorks Premium – Details
SolidWorks
1993 gegründet
SolidWorks Premium – Videos und Bilder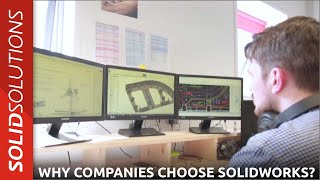 ▶︎
SolidWorks Premium – Details
SolidWorks
1993 gegründet
Kosten ähnlicher Produkte wie SolidWorks Premium vergleichen
Startpreis
N/A
275,00 $/Monat
N/A
Nicht verfügbar
SolidWorks Premium – Bereitstellung und Support
Kundenbetreuung
E-Mail/Helpdesk
FAQ/Forum
Wissensdatenbank
Telefon-Support
Chat
Einsatz
Cloud, SaaS, webbasiert
Mac (Desktop)
Windows (Desktop)
Windows (On-Premise)
Training
Persönlich
Live Online
Webinare
Dokumentation
Videos
Funktionen von SolidWorks Premium
2D-Zeichnung
3D-Design und Modellierung
API
Aktivitäts-Dashboard
Animation
Anmerkungen
Anpassbare Vorlagen
Benutzerdefinierte Entwicklung
Berichterstattung / Analyse
Berichterstattung und Statistik
Bildbearbeitung
Compliance Management
Datei-Verwaltung
Dateitransfer
Daten-Import / -Export
Datenerfassung und Übertragung
Datenspeicher-Management
Datensynchronisation
Datenvisualisierung
Design-Management
Dokumentenerstellung
Dokumentenmanagement
Dokumentenspeicher
Drag-and-Drop
Drittanbieter-Integration
Echtzeit-Aktualisierungen
Echtzeit-Vergleiche
Für 3-D-Druck
Für Architekten
Für Fertigungsunternehmen
Inhalt-Bibliothek
Komponentenbibliothek
Konfigurationsmanagement
Konfigurierbarer Workflow
Kundenspezifisches Branding
Mehrere Projekte
Mehrfache Format-Unterstützung
Modellierung & Simulation
Prognosen
Prozesskontrolle
Prädiktive Analytik
Referenzmanagement
Regelbasierter Workflow
Sichere Datenspeicherung
Skizzen- und Anmerkungstools
Stücklistenmanagement
Versionskontrolle
Visuelle Analytik
Visuelle Entdeckung
Vorlagen-Management
Werkzeuge zur Zusammenarbeit
Workflow-Management
2D-Zeichnung
3D-Imaging
API
Aktivitäts-Dashboard
Anforderungsmanagement
Anpassbare Felder
Anpassbare Vorlagen
Benutzerdefinierte Entwicklung
Berichterstattung / Analyse
Berichterstattung und Statistik
Beurteilung-Management
CAD-Werkzeuge
Chemikalienmanagement
Compliance Management
Datei-Verwaltung
Dateitransfer
Daten-Import / -Export
Datenerfassung und Übertragung
Datenvisualisierung
Design-Analyse
Design-Management
Dokumentenerstellung
Dokumentenmanagement
Dokumentenspeicher
Drittanbieter-Integration
Elektrisch
Fertigungsdesign-Daten
Historische Berichte
Inhalt-Bibliothek
Konfigurationsmanagement
Konfigurierbarer Workflow
Material-Rechnung
Mechanisch
Mechatronik
Planungs-Tools
Produktdatenmanagement
Prognosen
Projektmanagement
Projektvorlagen
Prozesskontrolle
Präsentations-Tools
Rollen-basierte Genehmigung
Versionskontrolle
Veränderungsmanagement
Visuelle Analytik
Vorlagen-Management
Werkzeuge zur Zusammenarbeit
Zivil
Zugriffskontrollen / Berechtigungen
Zusammenfassende Berichte
Shubham A.
Operations and Training Manager in Indien
Verifizierter Nutzer auf LinkedIn
Design, 201-500 Mitarbeiter
Verwendete die Software für: Mehr als 2 Jahre
Phenomenal CAD tool for futuristic renderings
Kommentare: We're creating Robots and industrial solutions for our clients. Some models require kinematic links and joints in order to show the motion in a robot. Therefore, with the help of software, we're almost doing 60% of our company's work on the software and it;s generating 70% of revenue using this.
Vorteile:
Solidworks is the most versatile CAD tool, that doesn't require much training in order to learn and create the components. I have been a regular user since my internship days. Was in the R&D department, creating components varying in size from minute to big. and with Solidworks, the life of designers is very easy; thanks to its numerous features that help creating animations in a real-time frame.
Nachteile:
I haven't found any major fault which I don't like except one thing. In order to design really amazing and realistic components, you require a versatile system with a dedicated RAM and Graphics Card. As such companies are releasing their software every single year; so it become difficult for manufacturing companies to cope up with their software eligibility criteria. Rest everything is the best I have found so far in the software
Kyle T.
Drafting Manager in USA
Bau, 51-200 Mitarbeiter
Verwendete die Software für: Mehr als 2 Jahre
In Betracht gezogene Alternativen:
CAD for Experts
Kommentare: SolidWorks has been a major asset to the company and the key piece to the success of our companies CAD abilities. We make use of parts of the program many people may never touch, such as pipe routing. While it has it's drawbacks, the benefits of using software such as SolidWorks allows us to do much more specialized work without our industry that other programs do not have the capability of producing.
Vorteile:
SolidWorks does nearly everything under the sun when it comes to CAD design. From 2D and 3D sketching, to mechanical assemblies and full simulations.
Nachteile:
SolidWorks tends to be a bit unstable at times. Dealing with high amounts of features and parts can slow down the software if you don't have a very robust system. Crashes will be, unfortunately, a way of life at times. It does a decent job of backing up and recovering files during these crashes so work is not always lost. Save often is the most important piece of advice I can give to anyone using SolidWorks
Sharudin J.
Systems engineer in Australien
Verifizierter Nutzer auf LinkedIn
Gewerbeimmobilien, 51-200 Mitarbeiter
Verwendete die Software für: Mehr als 2 Jahre
Solidworks Premium Review
Kommentare: Solidworks is such a fun and productive software. You can create drawings so quickly of parts and assemblies with the drag and drop function.
Vorteile:
Solidworks is fairly easy to use for 3D modelling. The function of creating parts, adding them to assemblies and creating drawings is so quick and easy.
Nachteile:
Some functions in the software may get errors and can be a headache to resolve. The problem could be so micro and hard to find and resolve.
Verifizierter Rezensent
Mechanical Engineer in USA
Verifizierter Nutzer auf LinkedIn
Luft- & Raumfahrt, 2-10 Mitarbeiter
Verwendete die Software für: Mehr als 2 Jahre
Industry standard software; headaches must also be industry standard
Kommentare: SolidWorks can be both the solution to and cause of many problems in my day-to-day engineering work. If the developers spent more of the thousands and thousands of dollars charged annually per seat on fixing existing issues and improving stability, rather than cramming in new features, maybe this software would be worth hanging onto. We are looking at switching to CAD package built with modern needs in mind (eg Siemens NX). This is a great software to learn CAD basics with, however, in part because there are lots of guides and tutorials online due to its popularity. Currently, we couldn't live without it, but we sure wish we could and will be hopefully moving to a different software package in the near future.
Vorteile:
SolidWorks is a very powerful software for mechanical design. While FEA in Premium can be limited, it's very helpful for performing basic statics analysis of a component. If you take the time to set up component, weldment, fastener etc libraries and tweak several hidden settings, you can do a lot of complicated designs and large assemblies, then generate drawings and BOMs all in one software package. -Hole wizard and similar tools are extremely useful -FEA is helpful for validating designs -Reference and parameter-driven components (when they work) within assemblies allows flexible and complex designs -Convenient tools like sheet metal, weldments/structural members etc make industrial design easier
Nachteile:
Unfortunately, SolidWorks' strength is also its weakness. Over the years it has become extremely bloated with features and truly needs to be rebuilt from the ground up. -Unstable. Crashes at least once a day unexpectedly and with little to no warning, with no hope of recovery, even on hardware built specifically for running SW. -Unreliable and finicky at times, settings/references/converted entities/mates are notorious for somehow spontaneously changing or breaking between sessions. -Solving mates, especially in large assemblies, can be extremely slow. Eg. adding and mating fasteners to an assembly with hundreds of parts is a nightmare. -Drawings are convoluted and performance hurts with large assemblies. Chock full of features but hard to use. -No great built-in way to create/export clean BOMs from assemblies without putting in a lot of work. -SINGLE CORE? IN 2021?? COME ON! Not all operations have to be limited to one thread!
Alejandro S.
Design Engineer in Ecuador
Verifizierter Nutzer auf LinkedIn
Öl & Energie, 2-10 Mitarbeiter
Verwendete die Software für: Mehr als 2 Jahre
My experience with SolidWorks
Kommentare: Although I have not worked much with this software, compared to others, I can say that most mechanical element design softwares are very similar and if you have already used other software of this type, it will be very easy to use SolidWorks.
With very little training I have managed to make simple machine assemblies without any problem, just like the simulations
Vorteile:
It is one of the most used software in the industry for the design of mechanical parts, so it has been improving over the years, it is very easy to use from the beginning, it is very intuitive, so you can start drawing with little training. There is a very large community in case you have any questions. Designs can be validated by using finite element analysis and computational fluid dynamics, so no other software is required.
Nachteile:
Like most of these software, SolidWorks is somewhat expensive, so the investment is justified when handling large projects, for the design of individual parts or small machines, you can opt for cheaper options or free software. The computer necessary to use SolidWorks must have very specific characteristics in terms of CPU, GPU and RAM memory, so the initial investment is somewhat expensive.