Was ist SolidWorks Premium?
SolidWorks Premium integriert nahtlos leistungsstarke Konstruktionstools - einschließlich branchenführender Teile-, Baugruppen- und Zeichnungsfunktionen mit integrierter Simulation, Rendering, Animation, Produktdatenmanagement und Kostenschätzung. SolidWorks unterstützt dich dabei, deine Arbeit schneller und einfacher als je zuvor zu erledigen. Innovative Phasen der Produktentstehung sorgen für ein produktiveres 3D-Design.
Wer verwendet SolidWorks Premium?
Nicht vom Anbieter bereitgestellt
Wo kann SolidWorks Premium bereitgestellt werden?
Cloud, SaaS, webbasiert, Mac (Desktop), Windows (Desktop), Windows (On-Premise)
Über den Anbieter
SolidWorks
1993 gegründet
Telefon-Support
Chat
Erhältlich in diesen Ländern
Vereinigte Staaten
Über den Anbieter
SolidWorks
1993 gegründet
Telefon-Support
Chat
Erhältlich in diesen Ländern
Vereinigte Staaten
SolidWorks Premium – Videos und Bilder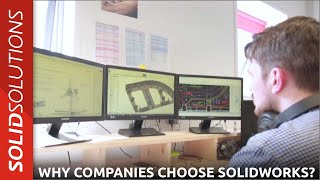 Kosten ähnlicher Produkte wie SolidWorks Premium vergleichen
SolidWorks Premium Funktionen
2D-Zeichnung
3D-Imaging
Anmerkungen
Berichterstattung / Analyse
CAD-Werkzeuge
Daten-Import / -Export
Design-Analyse
Drag-and-Drop
Fertigungsdesign-Daten
Komponentenbibliothek
Mechatronik
Präsentations-Tools
Versionskontrolle
Werkzeuge zur Zusammenarbeit
Alternativen für SolidWorks Premium
Bewertungen über SolidWorks Premium
Amjed A.
Mechanical Engineer in Jordanien
Verifizierter Nutzer auf LinkedIn
Maschinenbau oder Wirtschaftsingenieurwesen, 201-500 Mitarbeiter
Verwendete die Software für: Mehr als 2 Jahre
SolidWorks Review
Kommentare: I use this software for 3D modeling and simulation, also to perform analysis on parts and models.
Vorteile:
This is the greatest CAD and CAE program I've ever used; it includes a lot of useful features. one thing I use a lot is the library. It has a large library of components, such as screws and threads. In addition, the assembling feature is simple and precise. You may also pick from a variety of export extensions.
Nachteile:
It has all features I want, so I don't think there is any thing need improvement.
Verifizierter Rezensent
Model Based Developer in Indien
Verifizierter Nutzer auf LinkedIn
Computer-Software, 51-200 Mitarbeiter
Verwendete die Software für: Mehr als 2 Jahre
Review after 10 years use of Solidworks
Kommentare: My overall 10+ years experience with solidworks is very fantastic. I learned solidworks in my college days and I am using in my professional carrier. It easy and very useful in product and machine design. It also comes with some analysis tools and add on packages which makes job easy.
Vorteile:
Its very user friendly software compare to other softwares. Its make job easy for designers and gives some in build libraries along with premium version which saves the time.
Nachteile:
Solidworks is expensive than solidedge. Solidworks don't have accuracy compare to NX CAD or CATIA. Surfacing is not that much accurate in solidworks.
Verifizierter Rezensent
Mechanical Engineer in USA
Verifizierter Nutzer auf LinkedIn
Luft- & Raumfahrt, 2-10 Mitarbeiter
Verwendete die Software für: Mehr als 2 Jahre
Industry standard software; headaches must also be industry standard
Kommentare: SolidWorks can be both the solution to and cause of many problems in my day-to-day engineering work. If the developers spent more of the thousands and thousands of dollars charged annually per seat on fixing existing issues and improving stability, rather than cramming in new features, maybe this software would be worth hanging onto. We are looking at switching to CAD package built with modern needs in mind (eg Siemens NX). This is a great software to learn CAD basics with, however, in part because there are lots of guides and tutorials online due to its popularity. Currently, we couldn't live without it, but we sure wish we could and will be hopefully moving to a different software package in the near future.
Vorteile:
SolidWorks is a very powerful software for mechanical design. While FEA in Premium can be limited, it's very helpful for performing basic statics analysis of a component. If you take the time to set up component, weldment, fastener etc libraries and tweak several hidden settings, you can do a lot of complicated designs and large assemblies, then generate drawings and BOMs all in one software package. -Hole wizard and similar tools are extremely useful -FEA is helpful for validating designs -Reference and parameter-driven components (when they work) within assemblies allows flexible and complex designs -Convenient tools like sheet metal, weldments/structural members etc make industrial design easier
Nachteile:
Unfortunately, SolidWorks' strength is also its weakness. Over the years it has become extremely bloated with features and truly needs to be rebuilt from the ground up. -Unstable. Crashes at least once a day unexpectedly and with little to no warning, with no hope of recovery, even on hardware built specifically for running SW. -Unreliable and finicky at times, settings/references/converted entities/mates are notorious for somehow spontaneously changing or breaking between sessions. -Solving mates, especially in large assemblies, can be extremely slow. Eg. adding and mating fasteners to an assembly with hundreds of parts is a nightmare. -Drawings are convoluted and performance hurts with large assemblies. Chock full of features but hard to use. -No great built-in way to create/export clean BOMs from assemblies without putting in a lot of work. -SINGLE CORE? IN 2021?? COME ON! Not all operations have to be limited to one thread!
Shoukhin M.
Founder & CEO in Bangladesch
E-Learning, 2-10 Mitarbeiter
Verwendete die Software für: Mehr als 2 Jahre
Solidworks is All rounder as a 3D modeling Tool
Kommentare: Overall, I have had a positive experience with SolidWorks Premium. It is a powerful program that allows me to create complex 3D models with ease. The user interface is easy and the tools are powerful. I have been able to save time and money by using this software for product design.
Vorteile:
As a Designer, Solidworks is the best solution for me for creating and modifying 3D designs. There are several versions of SolidWorks, but the Premium edition is the most comprehensive. It offers me an intuitive user interface, powerful engineering tools, and extensive libraries of components and assemblies. I can get a realistic view of how products will look before they are manufactured - this can save time and money. I can easily create complex designs that would be difficult or impossible to create by hand. I can quickly and easily export designs to different program applications for further refinement or production. This will allow me to make changes to the design or produce it in a different format. This software is very easy for me to use and it can be helpful for beginners too. They will be able to create complex 3D models in a short amount of time. I can use this 3D tool to design products with complex shapes and curves. The Bill of Materials Management feature can help me keep track of all the components that go into my product, and how much each component costs.
Nachteile:
Sometimes, I can't understand some of the tool features to execute for modeling. It is hard to find some errors that occurred while designing a complex model. Sometimes, I get stuck on what tool to use or how to fix an error in my model.
Eric H.
GM- Finance in UK
Maschinerie, 11-50 Mitarbeiter
Verwendete die Software für: Mehr als 2 Jahre
In Betracht gezogene Alternativen:
Best of Breed for Engineering Design Software
Vorteile:
The nesting feature for drawings has been extremely helpful as well as the component registry
Nachteile:
The software has been a key element for our business but the price point and the independent vendor sales method is frustrating at times