Was ist Statgraphics Centurion?
Greife auf ein breites Spektrum statistischer Verfahren, von Übersichtsstatistiken bis zu Experimentvorlagen zu und verwende sie.
Wer verwendet Statgraphics Centurion?
Statgraphics wird in der Qualitätssicherung/-kontrolle, bei medizinischen klinischen Tests, in der verarbeitenden Produktion, in der Exploration von Öl-, Gas- und Bergbauprojekten, in der wissenschaftlichen Forschung, in Fortune-500-Unternehmen und in der Luft- und Raumfahrt (NASA) eingesetzt.
Wo kann Statgraphics Centurion bereitgestellt werden?
Cloud, SaaS, webbasiert, Windows (Desktop), Windows (On-Premise), Linux (On-Premise)
Über den Anbieter
Statgraphics Technologies
Ansässig in The Plains, USA
1982 gegründet
Telefon-Support
Chat
Über den Anbieter
Statgraphics Technologies
Ansässig in The Plains, USA
1982 gegründet
Telefon-Support
Chat
Statgraphics Centurion – Videos und Bilder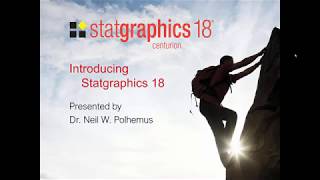 Kosten ähnlicher Produkte wie Statgraphics Centurion vergleichen
Statgraphics Centurion Funktionen
API
Anpassbare Berichte
Bayessche Analyse
Berichterstattung / Analyse
Berichterstattung und Statistik
Dashboard
Daten-Identifizierung
Datenanalyse-Werkzeuge
Datenerfassung und Übertragung
Datenmanagement
Datenvisualisierung
Erkennung von Zusammenhängen
Individuelle Anpassung
KI/Maschinelles Lernen
Leistungskennzahlen
Modellierung & Simulation
Multivariate Statistik
Prognose
Prädiktive Analytik
Regressionsanalyse
Self-Service-Analysen
Statistische Analyse
Statistische Prozess-Kontrolle
Statistische Simulation
Visuelle Analytik
Visuelle Entdeckung
Zeitreihenanalysen
Überlebensanalyse
Alternativen für Statgraphics Centurion
Bewertungen über Statgraphics Centurion
Mario M.
BI Senior Analyst in USA
Verifizierter Nutzer auf LinkedIn
Einzelhandel, 1.001-5.000 Mitarbeiter
Verwendete die Software für: Mehr als 2 Jahre
My Statgraphics 18 Review
Kommentare: Descriptive Statistics, data recognition, linear regression, logistic regression, ridge regression, discriminant analysis, etc...With all the Huge graphical facilities
Vorteile:
Large selection of Statistics procedures, easy to use, graphical facilities for Data understanding, low price
Nachteile:
Not like SPSS Modeler (Old Clementine) : easy data join and filter from any source; facility to link the mathematical models solutions. You create and follow your own Models flow.
Elizabeth C.
VP of R&D in USA
Textilien, 2-10 Mitarbeiter
Verwendete die Software für: Mehr als 2 Jahre
In Betracht gezogene Alternativen:
lots of stat function with good tutorials
Kommentare: The Statgraphics team has been very responsive when I have had technical issues with the software, typically responding to email inquiries within an hour or two. The software tutorials are very good, showing clearly how to set up an analyses and how to interpret it. The backup stat tutorials, explaining the statistics, are excellent as well.
Vorteile:
The software is pretty intuitive and easy to use with excellent tutorials. The thing I like the most about the Statgraphics software though is the brief stat interpretations included as part of the analysis reports. For users who are not stat professionals, the interpretations are very helpful in making sure users understand the meaning of the data.
Nachteile:
Occasionally, one of my files will get corrupted somehow and cause the program to crash every time the corrupted file is opened. The report generator is very bare bones, so exporting the report to a .rtf file then editing it with a standard text editor is necessary to achieve good formatting for printability.
Jim L.
Quality Manager in USA
Glas, Keramik & Beton, 10.000+ Mitarbeiter
Verwendete die Software für: Mehr als 2 Jahre
Nice but not the best
Kommentare: Some of our R&D folks still use Statgraphics for trending, control charting, and capability analysis. Once in a great while one of them will try some comparative analysis, but usually they call me for help. Anything DOE or multiple regression related and they come to me for help and I'll use JMP instead of Statgraphics.
Vorteile:
1) The ease of use by non-statisticians is awesome. The menus are structured to make it easy to find what you're looking for. Highly recommended for the common man who does not have a strong background in stats. 2) The Stat-Advisor is a great tool - especially for the non-statistics folks. 3) The dynamic linking of the data to the graphical reports is very nice. The ability to see the impact of new data on existing reports is a great feature.
Nachteile:
1) The installation process is EXTREMELY painful. Because our IT rules do not allow us to have admin rights on our laptops, the multiple back-and-forth validation process imposed by Statgraphics frustrates everybody here that tries to set it up. Often this process takes days to accomplish. 2) Customer support has deteriorated greatly over the last 20 years. I've been a Statgraphics user since the 80's. Back then when you had a problem a simple email resulted in an almost immediate response - often from N.P. himself. In the last 5 years I've had many support requests or questions get completely ignored. Very disappointing to a long time user. 3) The DOE module is the weakest link in the Statgraphics chain. Even in the 80's and 90's when I loved the product and used it exclusively, our Applied Math and Statistics group used JMP for any DOE work because it is just that much better. 4) There is no scripting function or application builder utility. You can save a folio but cannot apply the analyses in that folio to a different data set like you could with a script or macro function.
Stanley A.
Consultant in USA
Pharmazeutika, Selbstständig
Verwendete die Software für: Mehr als 2 Jahre
Statgraphics software for Facile and Accurate Analysis - for Statisticians and Nonstatisticians
Kommentare: I have used Statgraphics to solve drug quality problems, validate processes, develop sampling plans, assess capability to meet requirements, set specifications, assess process control, identify factors that control outputs, perform simulations, among many others.
Vorteile:
The software explanatory text and graphics with every analysis.
Nachteile:
Software updates appear too infrequently.
Timothy S.
Quality Manger in USA
Verteidigung & Raumfahrt, 51-200 Mitarbeiter
Verwendete die Software für: Mehr als 2 Jahre
Why I chose Statgraphics
Kommentare: The ability to use valid statistics in non-traditional manufacturing environments where your basic X-Bar R charts are not valid. Batch processes. Autocorrelated processes. Non-Normal capability analysis. Statgraphics gives you the ability to analyze and interpret circumstances and manufacturing issues that are not always straightforward or "normal".
Vorteile:
I have been using Statgraphics software in it's evolving forms for many years and have pulled it into every company I have worked at - across industries. There are several features that make this a must have software in every manufacturing environment. It is a powerful package that has all the tools needed for the advanced statistician, but is user friendly enough for those who may only have a rudimentary understanding of statistical techniques and premises. The stat-advisor, confirms the experience of experts while guiding the less experienced with the knowledge of when a statistical technique or method is valid or not, or under what premise the analysis is valid. Statgraphics has helped me throughout my professional quality career to gain knowledge and experience that has allowed me to use these powerful tools to improve processes, reduce scrap, and provide data-based advice.
Nachteile:
Pricey - but worth it. It is less a function of cost and more a function of value.