Was ist Printers Plan?
Printer's Plan has been voted the #1 print shop management software for literally decades. The cloud version gives you access to your data anytime and anywhere. Its unmatched ability to quickly estimate and move jobs through the shop makes it the superior choice for small and medium print shops. From shipping to credit card payments, Printer's Plan supports all the integrations you need to create fewer touch-points and more automation in your business. Learn more at www.PrintReach.com
Wer verwendet Printers Plan?
Designed for small & medium businesses in the printing industry, Printer's Plan is an estimating and business management tool that helps with job tracking, invoicing, inventory tracking, and more.
Printers Plan – Details
PrintReach
2019 gegründet
Printers Plan – Details
PrintReach
2019 gegründet
Printers Plan – Videos und Bilder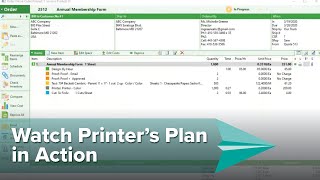 Kosten ähnlicher Produkte wie Printers Plan vergleichen
Startpreis
Nicht verfügbar
Nicht verfügbar
Nicht verfügbar
Nicht verfügbar
Printers Plan – Bereitstellung und Support
Einsatz
Cloud, SaaS, webbasiert
Windows (Desktop)
Windows (On-Premise)
Training
Persönlich
Live Online
Webinare
Dokumentation
Videos
Funktionen von Printers Plan
"Best Fit" Auferlegung
API
Abrechnung & Rechnungsstellung
Aktivitäts-Dashboard
Aktivitäts-Verfolgung
Angebote / Schätzungen
Anpassbare Berichte
Anpassbare Vorlagen
Auftragsabwicklung
Auftragskostenrechnung
Auftragsmanagement
Auftragsverfolgung
Berechnungen mehrerer Versionen
Berechnungen vor/ nach einer Dienstleistung
Berichterstattung und Statistik
Bestandsverfolgung
Bestell-Management
Drittanbieter-Integration
Druck-Management
Elektronische Zahlungen
Inventarverwaltung
Job-Management
Job-Nachverfolgung
Job-Planung
Kontrolle des Genehmigungsprozesses
Kostennachverfolgung
Kostenschätzung
Kreditkartenbearbeitung
Kundenspezifisches Branding
Leistungskennzahlen
Lieferanten-Management
Preis- / Margen-Management
Press & Run-Stilanalyse
Produktion-Nachverfolgung
Produktionsoptionen-Bewertung
Produktkatalog
Prozess-Tinten-Berechnung
Rabattmanagement
Rechnungsmanagement
Regelbasierter Workflow
Reinzeichnung-Schätzung
Rollen-basierte Genehmigung
Schätzung
Schätzung der Buchbinderei
Schätzung des "besten Preises"
Terminplanung
Versand-Management
Vorlagen-Management
Workflow-Management
Zugriffskontrollen / Berechtigungen
API
Abrechnung & Rechnungsstellung
Abrechnungssatz-Management
Aktivitäts-Verfolgung
Alarmfunktion / Benachrichtigungen
Archivierung & Aufbewahrung
Authentifizierung
Benutzer-Management
Berichterstattung / Analyse
Berichterstattung und Statistik
Budgetkontrolle
Datenextraktion
Datenvisualisierung
Dokumenten-Abbildung
Drag-and-Drop
Drittanbieter-Integration
Druck für Gäste
Druck-Management
Druckabrechnung
Druckquoten/-limits
Einmalige Anmeldung
Ferndrucken
Ferngesteuertes Update / Installation
Job-Management
Job-Nachverfolgung
Kontingentmanagement
Kostennachverfolgung
Kreditkartenbearbeitung
Löschen von Druckaufträgen
Mehrere Authentifizierungsmethoden
Mehrere Standorte
Mehrfache Format-Unterstützung
Mehrsprachig
Mobiles Drucken
Nutzungsverfolgung/-analyse
Regelbasierter Workflow
Rollen-basierte Genehmigung
Self-Service Portal
Sicheres Aufgeben von Druckaufträgen
Sicheres Login
Umweltmetriken
Unterstützung mehrerer Drucker
Warnungen / Eskalation
Warteschlangenmanagement
Weiterleiten von Druckaufträgen
Zugriffskontrollen / Berechtigungen
Zusammenfassende Berichte
Zwei-Faktor-Authentifizierung
Überwachung
Überwachung des Gerätestatus
Farrukh Z.
Entrepreneur in Pakistan
Verifizierter Nutzer auf LinkedIn
Geschäftsbedarf & -einrichtung, 2-10 Mitarbeiter
Verwendete die Software für: 6-12 Monate
A great Management Software I've ever used
Kommentare: I had a great experience with Prnters Plan.
I will definitely recommend to my colleague.
Vorteile:
I'm using this softaware for approx 1 year and this help me so much. As it's name show it helps you to make plan It is a best management software. It help you out to control everything. The crew is very cooperative. Everytime I need help they are here to help me out. Project management is now very easy with software.
Nachteile:
There are some bugs issues that needs to be solved.
Antwort von PrintReach
vor 2 Monaten
Farrukh, thank you for the positive feedback! Our team is constantly squashing bugs and they have hopefully taken care of the ones you've found. Have a great day,
Michael H.
President in USA
Druck, 2-10 Mitarbeiter
Verwendete die Software für: Mehr als 2 Jahre
POS software once chosen is rarely change to a different POS
Kommentare: Not much has change with the exception of wide format that has little use unless I'm running extremely large jobs. (which I don't) So for the most part is awkward. The remaining printing software is very difficult to program. I usually spend hours to get the system to calculate cost and mark up properly on new items.
Vorteile:
Once deployed to change POS is very difficult with any software. Therefore no comparisons can be made.
Nachteile:
The cost is ridicules. Prior to being in "the Cloud" I could buy the software and use it onsite for many years. Now I pay that cost a year. If the previous server software was available I could use it for ~5 years. Therefore you raised the cost 500%.
Antwort von PrintReach
vor 3 Monaten
Michael, Thank you for taking the time to review Printer's Plan. It means a lot to us! You're correct the price has gone up. Providing and supporting cloud-hosted software to our customers is more expensive, but we calculate the additional functionality and time savings to offset the additional costs and more. Printer's Plan is packed with new features each year, you can see all of them here: https://support.printreach.com/hc/en-us/articles/360040592153-Release-Notes-and-Downloads We hope you'll explore our new integrated payments feature and ShipStation integration. All the best,
Druck, 2-10 Mitarbeiter
Verwendete die Software für: 6-12 Monate
I wish we had a different option.
Kommentare: It isn't the worst program I've ever used, but it is definitely frustrating.
Vorteile:
The program does the price calculations, as long as everything is up to date in the system. The back-up happens weekly, or however often you want to back-up.
Nachteile:
Limited to a certain number of people on at one time. Have to be connected to the internet to use. Everything has to be manually entered and updated through the back-end and although you can make a one-time change to pricing on a single order, you can't accept that price as a default going forward without going into another menu entirely.
Antwort von PrintReach
vor 2 Monaten
Hi Jessy, I'm sorry to hear you're having some frustrations with Printer's Plan. Often times a 15-20 minutes phone call with our support techs can help clear up a lot of misunderstanding and I invite you to give us a call to help sort out some of these issues you're experiencing. All the best,
Angela L.
Bookkeeper in USA
Druck, 2-10 Mitarbeiter
Verwendete die Software für: Mehr als 2 Jahre
No title
Kommentare: Over-all everything is fine except for the Print Reach Pay deposits.
Vorteile:
The software is easy to understand and very user-friendly.
Nachteile:
With regard to the collection of credit card payments, the total amount of the sales captured for the day is not deposited in the bank on the same day. Print Reach deposits the money after two days. This is the feature that we don't like because with our former credit card processor, they deposit our credit card sales total for the day after 5 PM on the same day of the sale. We hope Print Reach will resolve this matter. We just recently converted to Print Reach Credit Card processing and we don't like the money is being handled.
Antwort von PrintReach
vor 2 Monaten
Angela, Thank you for submitting your review and it's great to hear you enjoy the user-friendly nature of Printer's Plan. Your review prompted our team to reach out and explain the next-day funding option availability for your account. The team reported that we were successfully able to switch you over. Thanks for being the best part of Print Reach!
Mark H.
Account Executive in USA
Druck, 11-50 Mitarbeiter
Verwendete die Software für: 6-12 Monate
Printer's plan for estimating
Kommentare: So far we are using it to standardize our estimating process. This allows for more consistency and easier updates to ongoing projects and quote requests.
Vorteile:
Ease of setting up services and adjusting on the fly to affect changes globally (i.e. paper price updates, production times, etc).
Nachteile:
Allows you to estimate something that's impossible to do on a given machine (i.e. printing on sheet larger than press can run). Doesn't seem to know correct impositions for work & turn / tumble layouts. Can't calculate weights based on paper used. Work order is one size fits all rather than customizable, both in terms of information presented and graphical layout.
Antwort von PrintReach
vor 2 Monaten
Hi Mark! Thank you for your review of Printer's Plan. You've provided some valuable feedback for our development team and we'll make sure they review your concerns. We're always looking for ways to improve the Printer's Plan print estimating feature. Have a great day,