Was ist Silent Auction Pro?
Einfache, nutzerfreundliche Event-Software für auktionsbasierte Fundraising-Veranstaltungen. Eliminiere Schlangen beim Ein- und Auschecken, speichere Kreditkarten, verkaufe Tickets, Online-, mobile, Papier- und Live-Auktionsoptionen. Verwalte Kontakte, verfolge Spenden, erstelle Auktionspakete und gedrucktes Material, schreibe Dankesschreiben und vieles mehr. Erstklassiger Kundenservice (siehe Bewertungen). Kostenloser Telefonsupport, kostenloser Support am Veranstaltungsabend, Video-Tutorials und mehr. Die Anwendung hilft dir dabei.
Wer verwendet Silent Auction Pro?
Schulen, Kirchen, Gemeindedienstleistungsunternehmen, gemeinnützige Organisationen aller Größen, Sportorganisationen, politische Organisationen und alle, die eine auktionsbasierte Veranstaltung organisieren möchten.
Wo kann Silent Auction Pro bereitgestellt werden?
Cloud, SaaS, webbasiert, Android (mobil), iPhone (mobil), iPad (mobil)
Über den Anbieter
Silent Auction Pro
2007 gegründet
Telefon-Support
Erhältlich in diesen Ländern
Vereinigte Staaten
Über den Anbieter
Silent Auction Pro
2007 gegründet
Telefon-Support
Erhältlich in diesen Ländern
Vereinigte Staaten
Silent Auction Pro – Videos und Bilder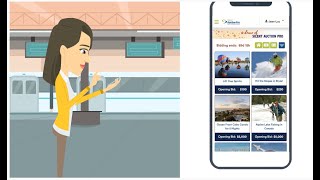 Kosten ähnlicher Produkte wie Silent Auction Pro vergleichen
Silent Auction Pro Funktionen
Abrechnung & Rechnungsstellung
Absolventen-Management
Angebotsmanagement
Belegmanagement
Berichterstattung / Analyse
CRM
E-Mail Marketing
Gebot-Management
Kampagnenmanagement
Kartenverkauf
Kundendatenverwaltung
Mitgliedschaft-Management
Online-Gebote
Online-Spenden
Online-Versteigerung
Option "Jetzt kaufen"
Pfand-Management
Registrierungs-Management
Sitzplan
Spenden-Tracking
Spender-Management
Suchen / filtern
Teilnehmer-Management
Ticket-Reservierungen
Tracking von Beiträgen
Veranstaltungsmanagement
Verkaufspunkt POS
Website-Management
Wiederkehrende Spenden
Zahlungsabwicklung
für gemeinnützige Organisationen
Alternativen für Silent Auction Pro
Bewertungen über Silent Auction Pro
Erin C.
Auction Chair in USA
Verifizierter Nutzer auf LinkedIn
Fundraising, 2-10 Mitarbeiter
Verwendete die Software für: Mehr als 2 Jahre
In Betracht gezogene Alternativen:
A Must for School Fundraising
Kommentare: We are going to start using our SAPro software in our other school fundraisers, not just our auction. It is a great way to organize and keep all of our sponsor and donor information organized. I can also not speak highly enough of the customer support! They are quick to answer calls and get you answers to your questions.
Vorteile:
We've used Silent Auction Pro for at least three events in the last several years as a Mobile Pro client. It is pretty intuitive and keeps our donations well organized, as well as allowing us to communicate effectively with bidders and donors. The ability for anyone to bid online opens our fundraising to the community, not just our school families, helping us raise much more money than we could achieve with paper bidding.
Nachteile:
We would love to see an app in the future, rather that just a mobile site for bidding.
Sarah N.
Blues & BBQ/Auction Coordinator in USA
Fundraising, 51-200 Mitarbeiter
Verwendete die Software für: Mehr als 2 Jahre
This software was a Game Changer for us!
Kommentare: I can't imagine using another software program. This is a program that can easily taught and transferred among changing administrators of your event (ours is a school/band fundraiser, so our parent teams are different and evolving each year). Since the software is straightforward and user friendly, it makes it easy to recruit and replace team leads (unlike our previous system, which made a potential new team lead say "oh, I couldn't do that! That looks complicated!"). We have appreciated the support from Silent Auction Pro, especially when we first got started with the program. It's been a real blessing to our event!
Vorteile:
This software has made the planning process so smooth for us. The Bidsheet Pro option has been the best fit for our event. The ability to enter donations/auction items, credit the student bringing in the auction item, and then have an online catalog to share, bidsheets, and an easy checkout process at the click of a button has improved the process for us 10-fold.
Nachteile:
I do wish there was an option to download the reports into a Google Sheets format. The reports automatically download into Microsoft Office Spreadsheet format, which is the better format for functionality, but as an organization, we appreciate the ability to share documents with Google.
Antwort von Silent Auction Pro
letzten Monat
Thank you Sarah for the great review! Regarding the reports format - they are a CSV format and would think that could easily be imported into Google Sheets... We'll take a look
Aaron W.
IT Director in USA
Verwendete die Software für: 1-5 Monate
Silent Auction Pro - basic auction software
Vorteile:
Silent Auction Pro has features like image uploading and item organizing that make it useful for auctions.
Nachteile:
Silent Auction Pro uses an unreliable payment processor, they do not give an opt out for saving credit card info, and there is no bulk upload for items.
Antwort von Silent Auction Pro
vor 4 Jahren
Regarding our credit card processors: Silent Auction Pro uses two of the largest and most reliable payment processors on the planet - PayPal and WorldPay / Vantiv. Regarding storing credit cards: For mobile bidding, yes customers must put a credit card on file. This is by design as we believe that it is in the best interest of organizations holding fundraisers that they have a credit card on file for each online bidder. People who do not have a credit card or refuse to put one on file may bid on a bidding Kiosk. Note that credit cards are NOT stored on Silent Auction Pro servers but instead with PayPal or WorldPay. Regarding no bulk upload for items. This is true. It is just as easy if not easier to enter donations into Silent Auction Pro than it is to enter them first in a spreadsheet (where you can't enter a photo anyway). If you purchase a system to help manage your event, you should use that system exclusively and not try to switch back and forth.
Ciera M.
Operations and Family Support Coordinator in USA
Bildungsmanagement, 11-50 Mitarbeiter
Verwendete die Software für: Mehr als 2 Jahre
Wonderful Product!
Kommentare: We have increased our profit every year using Silent Auction Pro. The Auction setup is wonderful. I cannot imagine using any other product! 10 out of 10!
Vorteile:
I love the changes that were made this year. The site looks great on mobile use. It was SO easy to get help when needed and Becca made a sheet for me that I needed that saved me SO much time!!!
Nachteile:
I wasn't a big fan of the seating chart feature. I think it could be helpful for some people but there were just too many variables for us to use it. This wasn't a big deal to us at all.
Marissa L.
Parent Volunteer- Auction Chair in USA
Bildungsmanagement, Selbstständig
Verwendete die Software für: 1-5 Monate
Wonderful Product!
Kommentare: It was great! This year everything went off without a hitch. It worked beautifully and was easy to use. I definitely recommend Silent Auction Pro.
Vorteile:
My kids school does an annual auction to raise money for the PTO. I am a parent volunteer that is the chair for the school auction. This year we switched from another company to Silent Auction Pro and it has been night and day. Silent Auction Pro is very easy to use and it looks great. I am very happy with my decision to change to Silent Auction Pro.
Nachteile:
To be honest I can't think of anything that I didn't like. It was easy to use and if I had a question my contact at Silent Auction Pro was very quick to respond and walk me through it.
Antwort von Silent Auction Pro
vor 3 Wochen
Thank you for your review, Marissa! We're so happy to hear your event was a success, and we look forward to working with you again.