Was ist Oracle JDeveloper?
Komplette IDE für Service-Oriented Architecture (SOA) und Java-Entwicklung.
Wer verwendet Oracle JDeveloper?
Nicht vom Anbieter bereitgestellt
Wo kann Oracle JDeveloper bereitgestellt werden?
Mac (Desktop), Windows (Desktop)
Über den Anbieter
Oracle
Ansässig in Chicago, USA
1977 gegründet
Chat
Erhältlich in diesen Ländern
Vereinigte Staaten
Über den Anbieter
Oracle
Ansässig in Chicago, USA
1977 gegründet
Chat
Erhältlich in diesen Ländern
Vereinigte Staaten
Oracle JDeveloper – Videos und Bilder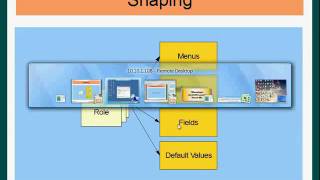 Kosten ähnlicher Produkte wie Oracle JDeveloper vergleichen
Oracle JDeveloper Funktionen
Code-Bearbeitung
Code-Entwicklung
Debuggen
Integrierte Entwicklungsumgebung
Alternativen für Oracle JDeveloper
Bewertungen über Oracle JDeveloper
Carlos C.
Chief Technology Officer SOA/BPM Manager in El Salvador
Verifizierter Nutzer auf LinkedIn
11-50 Mitarbeiter
Verwendete die Software für: Mehr als 2 Jahre
In my work I use JDeveloper to develop Java, SOA and BPM applications to achieve implementations
Kommentare: It allows me to complete my job and complete the implementations where I need to develop a Java Application, SOA composites, BPM processes and OSB pipelines. It allows to shorten time of developing and work with the develop team in a way that the job is done faster and with less errors.
Vorteile:
JDeveloper has all required tools to develop an application for any of it products, it provides all required tools to complete the life cycle of the application. Also it has an integrated Weblogic runtime environment so you dont have to do extra job downloading more files, configuration etc. It has integration with other tools like Git so you can work with your team on the same application. The Oracle community is big so you find many tutorials that makes it easy to develop on JDeveloper and how to manage it. It provides many options to create Webservices with just one click and many other things so you don´t have to spend much time to develop an application, the developing is faster.
Nachteile:
The product requires by default much memory of your computer, so if you have a team of developers you will have to do some adjustment to your laptops in order to run JDeveloper smoothly.
José ernesto C.
Arquitecto de integración de aplicaciones in El Salvador
Verifizierter Nutzer auf LinkedIn
Verwendete die Software für: Mehr als 2 Jahre
Great development environment, which integrates the basic and advanced J2EE development
Kommentare: The development of components in java: web applications, ejb (mdb), jca has been facilitated for the developments to be implemented in weblogic platforms.
The design of uml diagrams is limited in terms of diagrams but it is quite practical.
The developments with BPM are perfectly integrated in this IDE as well as those of OSB and SOA.
Vorteile:
Integrated development of different ORACLE technologies Easy integration with agile development components. Easy integration with software versioning components Well-defined developer type roles from database development to SOA and BPM development
Nachteile:
Sometimes it creates problems with old versions of svn. Sometimes it generates problems on the dependencies of some component when changes are made. The version that includes SOA / OSB and BPM can generate problems with the edition of xml that contain definitions of adapters and their dependencies.
Saul P.
Analista de desarrollo in USA
Verifizierter Nutzer auf LinkedIn
Verwendete die Software für: 6-12 Monate
is more practical when debugging and integrating with the weblogic console, fabulous
Kommentare: develop OSB web services for companies, easier to develop, less time and more benefits
Vorteile:
I like the way in which tests can be done, the tools for development, how debugging is done, how development is integrated in the weblogic console without importing and exporting, but directly by this ide I can do it by configuring, the improvements as soon as the graph
Nachteile:
the configuration and installation of it, is a little problematic to do it, but when you have a version of oracle, and domains with other ides, it is very heavy as far as RAM is concerned, if you use it for java development you forget how to program in java since you only bring components, it could be said that it would be an advantage but only for loose programming.
Ivan harris T.
Gender and Development Research Officer in Philippinen
Verifizierter Nutzer auf LinkedIn
Staatsverwaltung, 51-200 Mitarbeiter
Verwendete die Software für: Kostenlose Testversion
My Review for Oracle JDeveloper
Vorteile:
One of the best things I like about Oracle JDeveloper is its free of charge. You can even integrate your work with related software like the Oracle Middleware, among others. I also love its debugging capabilities, ensuring that the program that I am developing is stable and ready to use.
Nachteile:
There are times that errors pop up of the screen while working, resulting the user to restart its work all over again. It is also very confusing for beginners like me to navigate the web logic environment, and would take time to fully execute its adhoc testing and debugging capabilities.
Daniel P.
Consultor de BPM in Venezuela
Verifizierter Nutzer auf LinkedIn
501-1.000 Mitarbeiter
Verwendete die Software für: Mehr als 2 Jahre
Oracle's preferential IDE
Kommentare: JDeveloper has given me great confidence when it comes to making business applications. The support of JDeveloper, of all Oracle is formidable.
Pleases very little that is not intuitive or easy to handle, it requires a high level of expertise to handle it.
Vorteile:
Quality of use guaranteed, characteristics of the highest quality. With JDeveloper you can create lots of quality business applications. The software provides customer support, in person depending on the country and location or online.
Nachteile:
JDeveloper is well known in the middle, but it is complex to use it. It is required to use it with guidance or assistance. It has been difficult to make an application with JDeveloper software. Its difficulty increases as progress is made in the development of applications.