Was ist PatternSmith?
PatternSmith und seine integrierten Plug-ins ermöglichen es dem Anwender, perfekte Muster zu entwickeln.
Wer verwendet PatternSmith?
Für jeden, der eine Musterdatei zum Schneiden oder Zeichnen von automatisierten Anlagen benötigt. Große und kleine Hersteller profitieren von der Designsoftware von PatternSmith. Jeder, der effizient arbeiten möchte.
Wo kann PatternSmith bereitgestellt werden?
Windows (Desktop), Windows (On-Premise)
Über den Anbieter
Autometrix
1992 gegründet
Telefon-Support
Erhältlich in diesen Ländern
Vereinigte Staaten
Über den Anbieter
Autometrix
1992 gegründet
Telefon-Support
Erhältlich in diesen Ländern
Vereinigte Staaten
PatternSmith – Videos und Bilder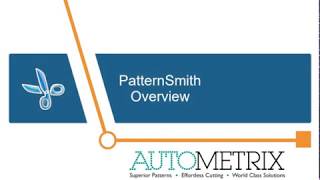 Kosten ähnlicher Produkte wie PatternSmith vergleichen
PatternSmith Funktionen
Abrechnung & Rechnungsstellung
CAD-Werkzeuge
Farbanpassung
Lieferanten-Management
Materialwirtschaft
Modeillustrationen
Muster, Farbe & Kunstlager
Muster-Layout / Druck / Schnitt
Produkt-Management
Produktdatenmanagement
Produktions-Management
Schnittmustergradierung
Supply-Chain-Management
Textil-Muster-Design
Versand-Management
Alternativen für PatternSmith
Bewertungen über PatternSmith
Verifizierter Rezensent
Managing Director in Kenia
Verifizierter Nutzer auf LinkedIn
Verwendete die Software für: Mehr als 2 Jahre
Great User Interface
Kommentare: The software has helped our fashion and design company in nesting more efficiently. We have been able to make varying and attracting iterations with ease.
Vorteile:
1.The software is user friendly. It helps you in organizing files and executing cuts easily. 2.Its new version (Version 8) has a very intriguing look. It provides a current windows program as compared to previous versions which were outdated 3.Efficient while performing huge programming requiring multiple formats.
Nachteile:
1.The software crashes quite often 2.It has been difficult to execute simple commands like extensions and trimming while using PatternSmith. 3.Not compatible with AutoCAD
Antwort von Autometrix
vor 4 Jahren
Hi There - thanks for the honest feedback! We're sorry to hear you're experiencing software crashes - we've got a team of software developers right here in house constantly working to improve our software, so please don't hesitate to reach out with questions. We also consistently update our software - so head over to our website and download our newest version and see if you experience improved reliability. If not, contact Customer Service and they'll walk you through some logs our way so we can determine the issue and work to fix it!
Scott
Programming Director in USA
Textilien, 201-500 Mitarbeiter
Verwendete die Software für: Mehr als 2 Jahre
PatternSmith is a powerful CAD program that is flexible to work with a variety of cutting machines.
Kommentare: Ease of use. Flexible.
Vorteile:
PatternSmith is very easy to use. It has powerful tools in the editor mode that can be easily set up for your own specifications. We also export all of programs as .nc files that can be used for a variety of cutting machines. It also incorporates a material library much like other more expensive software platforms. When used in conjunction with AutoMetrix cutting tables the result is smooth, fast cutting with the ability to change the nesting area as needed for specialty fabrics and recuts. I would recommend Patternsmith to anyone who does high volume programming with multiple machine formats.
Nachteile:
I would like to see some dimensioning capabilities in future releases. There are also problems associated with the back button and the software locking up. This usually occurs when there are a lot of radiuses or complex math equations working in the background. Saving to polylines often results in broken pieces such as a square having only three sides after saving it, At this time users are not able to set up a que for programs. They need to load each program individually for cutting.
Antwort von Autometrix
vor 5 Jahren
Hi Scott - thanks for your detailed feedback! Jordan has a current service contract, so you guys can upgrade to our newest PatternSmith version 8 at any point. We'd recommend it, and see if it improves your experience! We also have some products in the works right now that address some of your feature requests - so stay tuned! Feel free to reach out to me directly if you'd like to know more...
Karl
Production Manager in USA
Sportartikel, 2-10 Mitarbeiter
Verwendete die Software für: Mehr als 2 Jahre
In Betracht gezogene Alternativen:
Purpose-built software with some bizarre bugs. (patternsmith 7.6-7.7)
Kommentare: We're running and Autometrix table, and Patternsmith is the best tool that integrates seamlessly. When it works, it's very efficient. Once you get accustomed to the workarounds and establish a workflow, custom work can be drawn up very quickly. Customer service is outstanding.
Vorteile:
The integration between the pattern editing and nesting is seamless. When it's dialed, it's very efficient. It runs on old computers because, well, it's pretty old. Customer service is awesome if you have a service contract.
Nachteile:
Crashes frequently. No autosave function. When nesting a table, executing the undo command repeatedly explodes all the parts to random parts of the table you're working on, and sometimes replaces them with other random parts that weren't even in the table.... let's just say it has a revisionist approach to history. In 7.6, the labels for different nests magically trade places and generally pull random words from other nests, sometimes from other files altogether.
Antwort von Autometrix
vor 3 Jahren
Hello Karl, Thank you for taking the time to review your experiences with PatternSmith. You are correct, version 7.6 is pretty old software now, and I'm happy to let you know that you are eligible to upgrade to our current version (version 9) for FREE. PatternSmith upgrades are a benefit of your paid Support Agreement, and we can provide training and assistance with the new version if you'd like. You can download PatternSmith 9 directly from our website or contact us at software@autometrix.com for assistance.
Sportartikel, 11-50 Mitarbeiter
Verwendete die Software für: Mehr als 2 Jahre
PatternSmith Review
Kommentare: It has been good. Like all programs it takes a while to get good at it. I do not run the cutting machine, but the people that do have given me very good feedback on what sort of ways I should do the designs. What we should write in the seam allowances and that sort of thing.
Vorteile:
THe way it interfaces with te cutting machine.. The way you can use measure poly lines.
Nachteile:
I Also design with Solid works, so when I use both I get a very powerfull combination. yet patternsmith can do things in 2D that solid works can not, and of course we can unfold products in solid works, and export the DXF files. I really have no complaints except that it has taken me a long time to learn how to use both. Years ago, if I was on the road, and I needed to work on patternsmith, the program would not let me use it because it would recognize a different IP adress or something like that. We went bac to 2005, 7.6 and everything worked out fine. We continue to use 2005 7.6 today.
jonathan
Cad drafter/ machine programmer in Kanada
Geschäftsbedarf & -einrichtung, 51-200 Mitarbeiter
Verwendete die Software für: Mehr als 2 Jahre
Good product, easier to use in new version, but no language choice
Vorteile:
new design easier to understand, user friendly
Nachteile:
parametric files don't exist, can't use a part in many markers and then change one and auto updates on next open in another marker. also not possible to put software in french.
Antwort von Autometrix
vor 4 Jahren
Hi Jonathan - thanks for your feedback! Glad to see you guys are enjoying the new version. We'll continue to work to make the system more flexible for all the different use cases, but the primary reason we don't have parametric type patterns as a standard is because of how it affects each separate marker. If you change a pattern, it's unlikely that the nested marker can remain the same without running into overlap issues. We DO have another product, Templates, that is a powerful plugin for PatternSmith allowing parametric pattern templates to be built, and then resized patterns are generated and ready for nesting. If you think that might be of interest, please let us know and we can set up a demo! We are also working to support more languages in the future - we'll make sure French is on the list.