Was ist Commission Tracker?
Commission Tracker wurde speziell für Versicherungsagenturen entwickelt, die Gruppen- und individuelle Leistungen verkaufen. CT konzentriert sich auf die Verwaltung der vom Versicherungsträger an deine Agentur gezahlten Provisionen sowie der Provisionen, die an deine Fertiger gezahlt werden müssen.
Aber die Software tut noch viel mehr: Du erhältst detaillierte Berichte aus jedem Winkel deines Unternehmens.
Viele Agenturen verfolgen diese Provisionen zunächst mit Excel-Tabellen, stellen jedoch bald fest, dass die Berichterstellung kompliziert ist.
Wer verwendet Commission Tracker?
Versicherungsagenturen, die bereits ein CRM haben und Provisionsmanagement hinzufügen müssen.
Wo kann Commission Tracker bereitgestellt werden?
Cloud, SaaS, webbasiert, Mac (Desktop), Windows (Desktop), Windows (On-Premise), Android (mobil), iPhone (mobil), iPad (mobil)
Über den Anbieter
AmbiCom
1995 gegründet
Telefon-Support
Chat
Erhältlich in diesen Ländern
Kanada, Vereinigte Staaten
Über den Anbieter
AmbiCom
1995 gegründet
Telefon-Support
Chat
Erhältlich in diesen Ländern
Kanada, Vereinigte Staaten
Commission Tracker – Videos und Bilder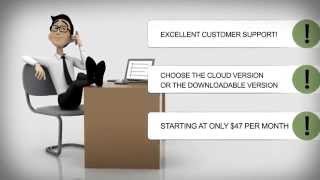 Kosten ähnlicher Produkte wie Commission Tracker vergleichen
Commission Tracker Funktionen
Berichterstattung / Analyse
Kommissions-Terminplanung
Kommissionserklärungen
Kommissionsrechner
Kommissionsregeln/-konditionen
Provisionsmanagement
Verwaltung von Versicherungspolicen
Wirtschaftsprüfung-Management
Workflow-Management
Alternativen für Commission Tracker
Bewertungen über Commission Tracker
Matthew
President and CEO in USA
Verifizierter Nutzer auf LinkedIn
Versicherung
Verwendete die Software für: Mehr als 2 Jahre
Have been using it for 15 years, very reliable and gets the job done.
Kommentare: Saves time, makes payroll a breeze.
Vorteile:
The Commission Tracker is very comprehensive in setting up producers and client accounts. it handles multiple splits easily so for clients with multiple agents it is very handy. While data entry is straightforward, when there are lots of commissions statements it will take a lot of time. They have an in-house data entry service that is very effective and when I switched over, it made it much easier to process commissions.
Nachteile:
For most people it should not be a problem but the installed version runs on a Windows computer. The cloud version is a better way to run the software because there is no need to save the data locally.
Versicherung, 11-50 Mitarbeiter
Verwendete die Software für: Mehr als 2 Jahre
Allows you to manage your book of business with a positive financial impact!
Kommentare: Confidence that you are managing your revenue!
Vorteile:
Commission Tracker is user friendly and yet very detailed. Ability to building your carrier commission scales allows you to calculate your book of business to the penny. The import of commissions is easy to use unlike some other products. For folks that prefer to hand key, this is easy as well and the discrepancies appear right on the screen, which allows the auditing process to start immediately. The program is multi-user and allows for permission settings. The key to this software is the customer service. Any question or issue is addressed quickly and diligently. If you have a specific need, the programmers try to understand how you manage your business to help understand the best solution. Sometimes your needed solution becomes a program update. Love that they are open to real life needs and solutions. This is not an out of the box product that does not evolve!
Nachteile:
Not a personal fan of crystal reports because I am not well versed in it. All reports are exportable to Excel, however Crystal to Excel sometimes need manipulating. That being said, if a report needed is not programmed, the programmers will help create one specific for your needs.
Verwendete die Software für: Nicht angeboten
Commission Tracker was an easy fix to our tracking problem.
Kommentare: Commission Tracker was an easy fix to our tracking problem. The program has worked well with us over the past 6 years and we are eager to work with our newly updated version, 4.0. We had been running 3.0 all this time and are very happy to see the enhancements in 4.0 and look forward to the release of 5.0.
Vorteile:
Commission Tracker is user friendly and easy to learn. The training process for new users has been made simpler by the ease of use of the system. The reports in Commission Tracker give the user alot of flexibility. A big pro for us has been the ability to have reports customized for us. This has made it possible for us to maximize our return on the product.
Nachteile:
One con that comes to mind is that we, as a Commission Tracker user, would love to have access to the network of other CT users. I would love to see a user's group meeting or a place that we as users can talk with other users and pick up on all the parts of the system that we might not be using but should be and just aren't because we don't realize what it does or what it can do for us.
Verwendete die Software für: Nicht angeboten
There isn't a better commission Tracker Software
Kommentare: In my opinion, Commission Tracker is THE best commission tracking software on the market, for any price and it is amazingly affordable! This will be a rather wordy review, but I can't say enough wonderful things about Commission Tracker. I found CT 3 years ago and chose it because it was within our budget and the demo looked like what we needed. Little did I know that it was not only what we needed, but it is awesome! It is easy to learn, easy to use, has a huge number of user option oriented reports that are accurate. It also does future commissions predictions. It tracks carrier commissions receivable and producer payable commissions with tremendous flexibility. You can use CT for P&C and Health and Benefits. It works great for both and it does both very well, better than other packages I have used and demoed. It also has customizable commission tables for graded commissions, PCPM and flat rate. Producer commission tables also offer quite a bit of flexibility. Commission Tracker was perfect for my needs. However, my sales staff needed an agency management system and my boss wanted it fully integrated with the accounting software. We saw demos for Vertafore and Applied Systems. Whenever I asked if they could do something that CT can do for tracking commissions, they told me, "No." So we investigated many other packages and decided on one, I don't want to offer the name because I am currently using it. My new software is great for what the sales staff needs but is tremendously lacking in the commission tracking, sales tracking and reporting side. I had much more confidence in Commission Tracker than this package or any that I have seen. I told the staff at Commission Tracker that if they ever develop up to a full blown AMS and financial package, I would return to them in a heartbeat. The support staff is extremely responsive and helpful. And the programming staff is constantly coming up with new and excellent features and enhancements. So, if you are looking for a competent, dependable, user friendly, affordable software to track your insurance sales and commission activity, COMMISSION TRACKER GETS INSURANCE LIKE NO ONE ELSE DOES!!!
Dusty
Independant Insurance Agent in USA
Versicherung, 2-10 Mitarbeiter
Verwendete die Software für: Mehr als 2 Jahre
Couldn't function without it
Vorteile:
This software is absolutely amazing. I could not process commissions without. We were using an excel spreadsheet to track our commissions until we just got to big and it was too hard to keep up with. We have used commission tracker for maybe 8 years or so now and it has made life so much easier. It allows us to track what we are being paid and if we are missing commissions or not getting the correct amount. Also because we have multiple agents that we pay it tracks the commission splits with so much ease. Love, Love, Love this software.
Nachteile:
might take a little bit of a learning curve to get used to. Wish I had done some things different from the beginning because it's too late to change them now. The way you enter info can be subjective to the person doing the entering and therefore trying to train someone else to take over is very difficult because they may not do it the same way and therefore you will end up with inconsistency.