Was ist Clinical Conductor CTMS?
Clinical Conductor CTMS ist das klinische Trial Management System (CTMS), für Forschungseinrichtungen, Krankenhäuser, AMCs, Objektnetze, Gesundheitssysteme und CROs. Clinical Conductor ermöglicht es Unternehmen, die klinische Forschung der Durchführung effizienter und profitabler zu gestalten. Clinical Conductor CTMS ist die marktführende Anwendung, die Testprozesse einfacher macht und es Unternehmen ermöglicht, bessere Geschäftsentscheidungen zu treffen und für jede Herausforderung bereit zu sein.
Wer verwendet Clinical Conductor CTMS?
Clinical Research Organisationen einschließlich: CROs, Akademische Gesundheitszentren, Krankenhäuser, Gesundheitssysteme, Sponsoren, Forschung Sites, Site-Netzwerke
Wo kann Clinical Conductor CTMS bereitgestellt werden?
Cloud, SaaS, webbasiert, Android (mobil), iPhone (mobil), iPad (mobil)
Über den Anbieter
Advarra
1985 gegründet
Telefon-Support
24/7 Live-Support
Chat
Clinical Conductor CTMS Kosten
Startpreis:
Nicht vom Anbieter bereitgestellt
Clinical Conductor CTMS bietet keine Gratisversion.
Über den Anbieter
Advarra
1985 gegründet
Telefon-Support
24/7 Live-Support
Chat
Clinical Conductor CTMS – Videos und Bilder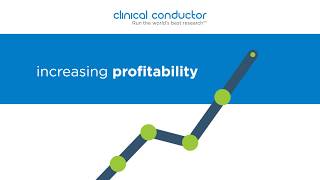 Clinical Conductor CTMS Funktionen
21 CFR Part 11-Compliance
Daten-Import / -Export
Dokumentenmanagement
EMR / EHR
Elektronische Datenerfassung
Finanzmanagement
HIPAA konform
Inventarverwaltung
Management klinischer Studien
Patientenmanagement
Patientenwerbung
Patientenüberwachung
Terminplanung
Workflow-Management
Alternativen für Clinical Conductor CTMS
Bewertungen über Clinical Conductor CTMS
Ellie
CTMS Specialist in USA
Verifizierter Nutzer auf LinkedIn
Forschung, 11-50 Mitarbeiter
Verwendete die Software für: Mehr als 2 Jahre
I love Clinical Conductor!
Kommentare: Customer Service is second to none. I've always had a great experience with everyone from the sales team to the support staff. Fun people with a great work ethic and sense of humor!
Vorteile:
It's easy to use, very intuitive and provides many of the reports that I need for our site.
Nachteile:
I would like for it to be able to integrate and import data from our EHR system.
Douglas
Clinical Research Coordinator, CTMS Admin in USA
Krankenhausversorgung & Gesundheitswesen, 5.001-10.000 Mitarbeiter
Verwendete die Software für: Mehr als 2 Jahre
Fast, Reliable Cloud based software 5.0
Kommentare: The ability of the system to track elements of a study to ensure you are capturing the functionality of the coordinator/PI time, ability to instill bonuses should it be needed, capture team coverage while primary will be out of office, recruitment management using social media and real time matrix showing financial analysis to make informed decisions on future studies. I would use their service and recommend to other research sites as well. Bio-optronics team has addressed every concerned we had in a prompt, courteous manner.
Vorteile:
I like the web conferences offered to ensure your staff and administrator for the system understand the full capabilities of the program used. The ability to manage your documents and print at multiple sites should you need to be very comforting. the two part verification for stipend payment to prevent errors
Nachteile:
The inability to lock data once verified by the study manager or administrator to ensure all of the team who worked on study get the credit. Which once explained to their team is being addressed. During a rollback to correct data you may need to complete information twice as it resets to default staff, a minor inconvenience.
Casey
Research Systems Management Specialist in USA
Forschung, 51-200 Mitarbeiter
Verwendete die Software für: Mehr als 2 Jahre
Average Product
Kommentare: We've had the product for about 5 years. In my opinion, the product has great potential, but it consistently falls short on simple quality of life issues. For example, allowing the ability to sort all variables on a given page, and headers should remain static when scrolling down a large data set. Depending on the size of your organization, I would advise assigning an administrator for your site to help with establishing standard use guidelines and ensuring data quality. Without one, it can be very difficult to show reliable data or provide a "return on investment".
Vorteile:
Pros: Financial functionalities are quite adequate. However, it does not conform to budgets with visit payments and conditional, invoiceable items for payment very well. Visit management is adequate. However, there are limitations conforming to protocols that require conditional, as needed items. For example, capturing reportable events at times outside of a scheduled protocol visit are challenging. Affordable. Customer service is responsive and unlimited.
Nachteile:
Usability, user experience. Can be very difficult to navigate and answer questions clearly and quickly. Workarounds can be common and confusing for end users. Recruitment functionality is cumbersome and not customizable. Especially for sites where the pre-screening process can take weeks to months for a study.
Verifizierter Rezensent
Clinical Trial Manager (Site Level) in USA
Verifizierter Nutzer auf LinkedIn
Forschung, 2-10 Mitarbeiter
Verwendete die Software für: Mehr als 2 Jahre
Sound Medical Research
Kommentare: I've been using Clinical Conductor for about 5 years both as a clinical research coordinator and clinical trial manager and for the most part I've been happy with the product however the time it takes to navigate around for instance completing a visit, looking up an available time on the calendar then scheduling a visit or speaking to a CRA who needs to schedule a visit requires checking the calendar then going into studies choosing the study finding the monitor and scheduling the visit
Vorteile:
The interface looks good and it fairly easy and intuitive for navigate for the most part. I like the training that is available.
Nachteile:
For many things it can take a lot of clicks to get to where you want to go. My personal wish would be able to much more from my weekly calendar screen, such as schedule appointments and non-stud appointments, approve stipends and complete visits. When scheduling a patient it would be nice to have the scheduled date ranges and times with a list of available time slots for that visit.
KATRINA
Research Admin / Research Coordinator in USA
Forschung, 2-10 Mitarbeiter
Verwendete die Software für: Mehr als 2 Jahre
Long Term User
Kommentare: As a company that has used this program since the beginning it has been a valuable tool to our organization and has continued to grow with Research and the ever changing world. It is continuing to meet the needs of its customers and continues to ask what they can do better.
Vorteile:
This software helps to manage all aspects of our research organization from patient, study, billing, etc all in 1 software program.
Nachteile:
There are so many tools within this software product, even after 10 years I still don't know everything and how to use each area.
Antwort von Bio-Optronics
letztes Jahr
Thank you for the nice review! We are pleased that CC CTMS is valuable to you and your research organization. As you know from experience, we are committed to your sucess and will continue adapting to industry trends and listening to the needs of our user community. This will be strengthened as part of Advarra.