Was ist Q Ware CMMS?
Cloudbasierte Lösungen von Q Ware machen das Wartungsmanagement für kleine und mittlere Unternehmen einfach. Die Software ist sehr einfach zu bedienen und zu 100 % auf deine Bedürfnisse zugeschnitten. Das komplette System wird in separaten Modulen verkauft, sodass du nur für das bezahlst, was du auch benötigst. Hier findest du eine Liste der enthaltenen kostenlosen Funktionen: – Support – Schulung – Arbeitsanforderungsnutzer – Dokumentenablage (Handbücher, Garantien, Belege, POs usw.) – Logo-Branding von Anwendung und Berichten – Nutzerdefinierte Berichterstattung – Mobilfähigkeit
Wer verwendet Q Ware CMMS?
K-12 Schulen, Flughäfen, Pflegeeinrichtungen, Hochschulgelände, Industrielle Einrichtungen, Banken und Kreditgenossenschaften, Dienstleistungsanbieter, Facility Management, Wartungsmanagement
Wo kann Q Ware CMMS bereitgestellt werden?
Cloud, SaaS, webbasiert
Über den Anbieter
C&S Companies, Q Ware Group
2004 gegründet
Telefon-Support
24/7 Live-Support
Chat
Über den Anbieter
C&S Companies, Q Ware Group
2004 gegründet
Telefon-Support
24/7 Live-Support
Chat
Q Ware CMMS – Videos und Bilder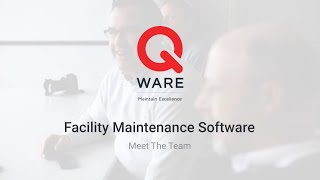 Kosten ähnlicher Produkte wie Q Ware CMMS vergleichen
Q Ware CMMS Funktionen
Alarmfunktion / Benachrichtigungen
Anlagegegenstand-Management
Arbeitsauftragserstellung
Arbeitsauftragsverwaltung
Berichterstattung / Analyse
Bestandskontrolle
Dokumentenmanagement
Erinnerungen
Für mechanische Ausrüstung
Geräte-Management
Gerätenachverfolgung
Inspektions-Management
Instandhaltungsmanagement
Inventarverwaltung
Job-Management
Kostennachverfolgung
Kreditplanung
Kundendienst-Historie
Lieferanten-Management
Mobiler Zugriff
Störfallmanagement
Techniker-Management
Terminplanung
Verfolgen von Vermögensanlagen
Vorbeugende Wartung
Wartungsplanung
Alternativen für Q Ware CMMS
Bewertungen über Q Ware CMMS
John
Superintendent of Public Works in USA
Verifizierter Nutzer auf LinkedIn
Versorgungsunternehmen, 11-50 Mitarbeiter
Verwendete die Software für: Mehr als 2 Jahre
Q Ware CMMS Excels!
Kommentare: I have used Q WARE CMMS for over 15 years now. This spans two different employers. I find them to be the very best in customer support and respond quickly to your needs. They still treat each customer with individual care.
Vorteile:
Ease of use Superior Customer Support Inexpensive as compared to other CMMS
Nachteile:
I honestly don't have any cons. They continue to amaze me.
Antwort von C&S Companies, Q Ware Group
vor 2 Jahren
Thanks John! You've been a great supporter and we appreciate your business. We'll continue to focus on individual care. Stay Safe. Q Ware Team
Mary
IT Administrator & Technology Coordinator in Griechenland
Bildungsmanagement, 201-500 Mitarbeiter
Verwendete die Software für: Mehr als 2 Jahre
Please include Event Booking in your new upgrade of QWare
Kommentare: QWare for us is a one stop place for work orders, fixed assets and event bookings (with work order for the event). No other product fulfills our needs as QWare. Please upgrade the whole product (work orders, fixed assets and event bookings) and not just sections of it.
Vorteile:
When we were looking to purchase a software that brought our school together in many areas, work orders, event booking with work orders for the event and fixed asset management QWare ticked all of our boxes. Before QWare we had multiple google calendars for booking events, a work order program that did not allow custom fields and departments using an excel sheet to keep track of their inventory. As you can see QWare has become a one stop for all of the above. Very important for consistency. The ability to create custom fields was a big plus. Event booking which we could see in one single calendar the events booked in different areas and the ability to filter out based on area has been amazing for our school. We rely of this so much and the way we built it was a one stop, book your area and create a work order for the event. This was EXCELLENT for our school.
Nachteile:
We were looking so much forward in upgrading to the new face lift which we were told before covid hit. Now we have been told that the upgrade is only available for work order and fixed assets not event booking. We purchased the product for these three features and now it is a big disappointment that we do not see event booking in this upgrade which is very important for our school. Just so you could get an idea, we are going through an accreditation process and our action research for the IT department is going to be on QWare and how all departments have come together in one product! I have users complaining that the interface is outdated, and the new product with the user friendly interface and ease of use would work for us. Also from what I recall with the update you could built that if one selects an option it takes them to a specific place when you build the custom fields. I am in such a difficult position and we really hope that the upgraded software includes all of the areas which we have purchased, work orders, fixed assets and event booking (especially events)
Antwort von C&S Companies, Q Ware Group
vor 8 Monaten
Hi Mary, Thank you for the review! We appreciate your thoughtful feedback and we're happy to hear Q has been working well for you. We are working our hardest to get everyone on the newest version with the features they need. Please reach out to us with any questions about the new version or for help with your accreditation. Best, Q Team
Michael
Director of Facilities in USA
Verwendete die Software für: Nicht angeboten
Product review
Kommentare: I am very pleased with the product. Have been using it for approximately 4 years now. The event & work order module has been very well received by a variety of users. Thanks
Cyril
Superintendent of Buildings & Grounds in USA
Bildungsmanagement, 51-200 Mitarbeiter
Verwendete die Software für: Mehr als 2 Jahre
In Betracht gezogene Alternativen:
Berlin CSD - Electronic Work Order Program
Kommentare: Overall, we have been very pleased with the product and its functionality for the Berlin CSD. The teaching and support staff love the feedback, and I have a much better accountability of my maintenance staff; the jobs they do; and the time it takes to complete those tasks.
Vorteile:
* Welcoming and friendly sales team, easy to work with and very knowledgeable. * Easily installed and adapted to our facilities * Training and use for all school district staff was easy, with very few questions and/or complaints * Have seen a dramatic increase in the number of Work Orders being submitted by staff for items that need to be done or receive attention. * Program provides feedback to the Requestor / Other Administrators which has proven to be very favorable
Nachteile:
* Some changes to programming have to go back through the Company versus being able to make them yourself
Antwort von C&S Companies, Q Ware Group
vor 2 Jahren
Hi Cyril, Thank you for the feedback. We hope you and your district are navigating COVID alright. We appreciate your business over the years and please reach out if there is anything we can do to make Q work better for you. Thanks again and stay safe. Q Ware Team
Rich
Admin Analyst in USA
Staatsverwaltung, 51-200 Mitarbeiter
Verwendete die Software für: Mehr als 2 Jahre
In Betracht gezogene Alternativen:
The customer service is everything
Kommentare: We chose qware because we needed a system that would send email communications to hold folks accountable. It worked! With QWARE multiple people have access to the same information simultaneously, and then as the info is updated (and projects worked-on) a stream of communications easily inform us all.
Vorteile:
The reporting features are my second favorite feature, because the customer is support is amazing. I am not talking about work around and duct tape. I am talking about getting help and advice on solving complicated workflow for my organization so that that solutions create data streams and analysis tools.
Nachteile:
The con is so minute it's almost not worth mentioning. When I download a report, it includes a totals line in the csv. Ok. No bid deal because I can delete the totals line before I Power Query the report into my analysis.
Antwort von C&S Companies, Q Ware Group
vor 2 Jahren
Hi Rich, Thank you for the honest review. We appreciate your business. As always, if there is anything you need going forward or ideas you have to make Q better for you, please don't hesitate to reach out. Stay safe. Q Ware Team