Was ist Claromentis?
Mit dieser funktionsreichen, ansprechend gestalteten Intranet-Software kannst du deiner Belegschaft einen angenehmen Arbeitsplatz bieten. Die Anwendung ist eine Intranet-Softwarelösung, die deinem Unternehmen einen One-Stop-Shop zur Verfügung stellt, um Informationen auszutauschen, die Produktivität zu steigern, Personal zu verbinden und die Zusammenarbeit zu erleichtern. Profitiere von 20 Jahren Intranet-Erfahrung im Erstellen, Entwerfen und Bereitstellen von Intranets für große wie kleine globale Unternehmen in jeder beliebigen Branche.
Wer verwendet Claromentis?
Die Software bedient Organisationen jeder Größe, von Start-ups und KMUs bis hin zu globalen Konzernen. Alle Branchen können von einem Intranet profitieren, darunter der Finanzsektor, das Bildungswesen, das Gesundheitswesen und Wohltätigkeitsorganisationen.
Wo kann Claromentis bereitgestellt werden?
Cloud, SaaS, webbasiert, Windows (On-Premise), Android (mobil), iPhone (mobil)
Über den Anbieter
Claromentis
Ansässig in Brighton, UK
1998 gegründet
Telefon-Support
Chat
Claromentis Kosten
Startpreis:
1,50 $/Monat
Ja, kostenloser Test verfügbar
Keine Gratisversion
Claromentis bietet keine Gratisversion, aber eine kostenlose Testversion. Die kostenpflichtige Version von Claromentis ist ab 1,50 $/Monat verfügbar.
Kostenlose Testversion
Über den Anbieter
Claromentis
Ansässig in Brighton, UK
1998 gegründet
Telefon-Support
Chat
Claromentis – Videos und Bilder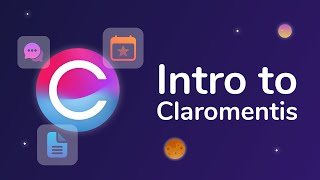 Claromentis Funktionen
Aktivitäts-/Newsfeeds
Alarmfunktion / Benachrichtigungen
Aufgabenmanagement
Brainstorming
Chat / Messaging
Content-Management
Dokumentenmanagement
E-Mail-Management
Filesharing
Formularverwaltung
Inhalt-Bibliothek
Kalenderverwaltung
Kommunikationsmanagement
Kontaktmanagement
Kundenportal
Kundenspezifisches Branding
Live-Chat
Meeting-Management
Mitarbeiter-Datenbank
Mitarbeiterverzeichnis
Remote-Zugriff/-Kontrolle
Richtlinien Managemen-
Self-Service Portal
Suchen / filtern
Umfragen & Feedback
Werkzeuge zur Zusammenarbeit
Wissensbasis-Management
Wissensmanagement
Zugriffskontrollen / Berechtigungen
Alternativen für Claromentis
Bewertungen über Claromentis
Nicholas
IT Operations Manager in USA
Verifizierter Nutzer auf LinkedIn
Automotive, 501-1.000 Mitarbeiter
Verwendete die Software für: Mehr als 1 Jahr
An amazing product at a reasonable price, what could be better than that?
Kommentare: A company wide communication platform that has helped to simplify tons of daily tasks such as training, reporting, and communication with our team on important issues.
Vorteile:
The intranet looks great and has a lot of features right out of the box. No modules and features that cost extra money. Whether hosted or with an in-house server, the cost is very reasonable. A lot of other companies like to nickle and dime you for every little feature and we love that Claromentis is no nonsense when it comes to their pricing. The permission controls are very granular and with a clear company structure, each user's experience could be tailored specifically to them. These features just get better and better too with each update. The updates are not too frequent, but they always bring noticeable changes at no extra charge (hosted platform). The support is very helpful, usually responding to issues or changes within 24 hours (emergencies even faster). As far as down-time goes, we have experienced none (other than for updates) with the hosted platform and I can't explain how nice it is not to have to worry about that. Their e-learning module is great and has significantly helped to streamline our training. New employees can be hired and their new hire training immediately sent to them as soon as they log into the intranet, no manager intervention required. The Infocapture module is great for getting rid of complicated Excel sheets that are emailed back and forth. Overall, it's an amazing product at a reasonable price!
Nachteile:
First off I'd like to say these aren't necessarily cons, just things that could make the platform even greater than it already is. Sometimes it can be difficult to navigate through all the different features, but that can be managed by turning off the things your company won't be using. Some admin features you think would all be in one place, are scattered around in a couple different areas which can cause confusion. Some examples would be settings or permissions on an e-learning course that are not editable from the admin panel. I sometimes find myself clicking to the admin panel out of habit, only to realize the settings that I want to change are within the course itself. No IP-Whitelisting control features. If there was a way to create lists of IP's (and a section for IP's not listed) and assign modules or users to the various lists in the admin panel, it would be awesome. This would allow for greater control over what the users have access to at different locations. Think full access while on-site at work, and only schedules while at home. Infocapture (their form system) is lacking some features that could be nice, such as being able to compare multiple entries, or set global calculations that would take into account specific entries. Think if a store entered their sales numbers every day, could we see what their average or max sales numbers were. Currently you can not.
Tori
Marketing Executive in UK
Bildungsmanagement, 51-200 Mitarbeiter
Verwendete die Software für: 6-12 Monate
A comprehensive system in a truly customisable platform.
Vorteile:
We use Claromentis as our central communication and collaboration tool to allow our employees from across the country, both office-based and remote workers, to remain in contact on the go. It enables us to communicate key company announcements to everyone, in the same way, at the same time and it allows us to collaborate on projects seamlessly, remaining in contact with one another where ever we are. Claromentis centralises everything we do as a business, from helping us manage key processes, organise and monitor our company documents and policies to allowing us to share news, announcements and collaborate on projects. The possibilities within Claromentis are truly endless, allowing you to build a unique digital workspace which fits your businesses needs perfectly; the scope of different features it offers is fantastic. We have been using Claromentis for six months and have already seen the great impact it has had on our operations, and we still have areas to uncover!
Nachteile:
For us, inter-app alerts are difficult to follow. There are so many moving parts to Claromentis and the @mention feature works great in some areas, but not in others; it doesn't always trigger a notification to the mentioned individual. This makes it difficult to keep on track of communication happening within the different apps which make up Claromentis. There is also not currently a desktop or tablet app, which if available would bring the digital workspace into its own and separate it from a web application. However, those things being said, the pros and the benefits Claromentis has brought to our organisation and the way we work speak volumes and far outweigh the cons, which hopefully in time will no longer exist.
In Betracht gezogene Alternativen: Yammer, Microsoft Teams, Ryver, Slack, Jostle und Igloo
Gründe für den Wechsel zu Claromentis: Capabilities, flexibility and cost
Chirag
SEO Executive in Indien
Informationstechnologie & -dienste, 11-50 Mitarbeiter
Verwendete die Software für: 1-5 Monate
Great Plateform for Companies
Kommentare: Best software for store data and manage content and details of employees.
Vorteile:
It's a great software for mid level companies. Flexible and provides much features to mange employees and data storage.
Nachteile:
Little bit tricky to use first time but it's easy to use after you spend some time and explore the features.
Verifizierter Rezensent
Digital Marketing Executive in UK
Verifizierter Nutzer auf LinkedIn
Versicherung, 51-200 Mitarbeiter
Verwendete die Software für: Mehr als 2 Jahre
Our version is outdated so that may be why we have some negative feelings towards this platform
Kommentare: Customer service excellent, final product could do with improving.
Vorteile:
At the end of the day the system does what we want it to do - communicate internally to all staff and stakeholders across the business. Customer support has always been excellent.
Nachteile:
I believe that the version of this intranet that we currently use is outdated, which is probably negatively impacting our experience. All the features just seem so old and bland. Everything could do with a improving from page templates to themes and designs.
Antwort von Claromentis
vor 4 Jahren
Hello, Thank you for your review - we're sorry to hear that your experience with the product hasn't been 100% positive, but we're so glad that you're happy with our customer service team - I've passed on your feedback to them. You mention that you're on an outdated version of our system. We want to ensure you get the most out of your intranet software, and the latest version of Claromentis contains loads of exciting new features - I encourage you to get in touch with your dedicated project manager, or email us at marketing@claromentis.com, so that we can arrange an upgrade for you. Upgrades are included in your Support and Maintenance contract, so please do make good use of this service! We look forward to working with you on an upgrade soon. Best, Claromentis Marketing
Ernesto
IT Manager in USA
Kunststoffe, 51-200 Mitarbeiter
Verwendete die Software für: Mehr als 2 Jahre
Team Work
Kommentare: Our overall experience with Claromentis has been outstanding: The main reason behind this is the fact that the company is setup to work with customers closely and perform critical tasks and services which were fundamental to us as a small business:
** initial training:
The claromentis team provided us with plenty of time of training directly with their service reps and engineers to ensure that as administrators we fully understood the platform
**** Customizations****
As expected, we quickly ran into situations where we needed special functionality not present in the standard product. The claromentis team was able to work with us to properly spec out these customizations and achieve them to our full satisfaction. This has been a **fundamental** part of our relationship and an element that we are convinced would have been very difficult to find with other vendors.
Vorteile:
What we liked most about this software was the ease **and the speed** with which we were able to implement it and get our first workflows online. Because the Claromentis team is set to work closely with a customer in getting their server (we use the on-premise option) up and running, and also carefully train the customer in the use of the different features (we use InfoCapture in particular), they ensure that a customer quickly becomes a success story.
Nachteile:
If we could add anything here would be only the lack of a intelligible output for the infocapture workflow rules. I'm sure at some point the team will add a visualization tool that would allow non-technical users to understand the currently workflows on an infocapture project. The current interface however is very easy to use for system administrators.