Was ist PointOS?
PointOS wurde von Bar- und Restaurantfachleuten gegründet, um eine kosteneffektive, voll funktionsfähige und nutzerfreundliche Restaurantmanagementplattform bereitzustellen, die Restaurants und Bars dabei unterstützt, effizienter und profitabler zu arbeiten. Die PointOS-Plattform bietet ein All-in-one-POS-System mit Funktionen wie Bestands- und Arbeitsprognose, detaillierten Berichten und Analysen, die dir helfen, die richtigen Entscheidungen für dein Unternehmen zu treffen.
Wer verwendet PointOS?
Gastgewerbe – Bars/Restaurants/Clubs
Wo kann PointOS bereitgestellt werden?
Cloud, SaaS, webbasiert, Windows (Desktop), Windows (On-Premise), Linux (On-Premise), Android (mobil), iPhone (mobil), iPad (mobil)
Über den Anbieter
PointOS
Ansässig in BOSTON, USA
2007 gegründet
Telefon-Support
24/7 Live-Support
Chat
Erhältlich in diesen Ländern
Vereinigte Staaten
Über den Anbieter
PointOS
Ansässig in BOSTON, USA
2007 gegründet
Telefon-Support
24/7 Live-Support
Chat
Erhältlich in diesen Ländern
Vereinigte Staaten
PointOS – Videos und Bilder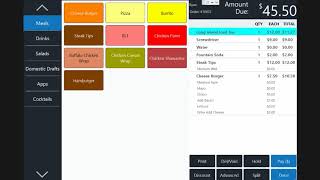 Kosten ähnlicher Produkte wie PointOS vergleichen
PointOS Funktionen
Abrechnung & Rechnungsstellung
Angebotsmanagement
Auftragsmanagement
Barcode / Tickets scannen
Belegmanagement
Berichterstattung / Analyse
Bestandskontrolle
Cash Management
Datensicherheit
Elektronische Unterschrift
Geschenkkarten-Management
Getrennte Kontrollen
Integration in die Buchhaltung
Inventarverwaltung
Kontrollen aufteilen
Kreditkartenbearbeitung
Kundendatenbank
Kundenkonten
Küchen- / Menü-Management
Liefermanagement
Mehrere Standorte
Mitarbeitermanagement
Mobile Zahlungen
Mobiler Zugriff
Online-Bestellung
Online-Zahlungen
PCI-Compliance
Persönliche Zahlungen
Rabattmanagement
Restaurant-POS
Retourenmanagement
Tabellenverwaltung
Treueprogramm
Trinkgeld-Management
Verkaufsberichte
Verkaufspunkt POS
Zahlungsabwicklung
Frank D.
Business Owner in USA
Verifizierter Nutzer auf LinkedIn
Essen & Trinken, 11-50 Mitarbeiter
Verwendete die Software für: Mehr als 1 Jahr
Awesome
Kommentare: Never had a problem
Vorteile:
So easy and understanding. Great valley with the money your spending. I'm so glad i end up with this awesome system
Nachteile:
Sometimes it blocks and i need to restart the pc
Antwort von PointOS
vor 2 Jahren
Frank, We are so happy that you are pleased with your PointOS point of sale system. We are always aiming to provide the best value at an affordable price. While we sell the software as just a license that you can place on any windows device, we do not provide support should something go wrong with your device. PointOS does offer new modern sleek hardware options from Elos with parts and labor warrantees and can replace your device next day.
Essen & Trinken, 2-10 Mitarbeiter
Verwendete die Software für: Mehr als 2 Jahre
Works well for my bar
Kommentare: Overall I haven't had any major issues. It does run slow at times but that's probably related to the internet not the system. I've been using the system for nearly three years. I started with one station and recently bought two more. It is nice that there are no monthly fees.
Overall, I would recommend PointOS.
Vorteile:
I like the set up of the software. I have three stations in my bar and they are all linked so you can add items to a tab from any station. The system is easy to use, based on my experience and that of my staff. Several of my staff report that PointOS is much easier to use than other software they've used at other bars. The item menu can be easily customized and alphabetized. I like that you can add recipes so if someone isn't sure exactly what's in a drink they can click on the recipe and see it at the station. It calculates cost per ounce when you add items to the inventory so figuring prices is easy. The sales reports are quick and easy so it's simple to pull reports to figure tax each month. There are also employee reports and each employee clocks in so hours are very easy to figure as are tips collected.
Nachteile:
It would be nice if there were more item tabs. We sell a high volume of alcohol and mixed drinks and we don't have room to put all of it on its own tab. Another thing that would be nice, but really not a big deal, is if there were more icons to make the item tabs easier to find. There are some icons, for instance the more popular beers have an icon so it's easy to recognize. For items with no icon, you have to type it in. You can highlight the items by color which is helpful. It is cumbersome to add everything in but I suppose every system is that way.
Antwort von PointOS
vor 2 Jahren
HI Katie, Thank you for the feedback. Our Support Team has troubleshooting steps to help improve performance and will assist as the best of their abilities to make sure when multiple terminals are in use that the communication between devices is not impeded by improperly setup firewalls and antivirus, but are limited in the abilities to assist with hardware that has not been purchased or maintained by PointOS.
Scott T.
Test Engineer in USA
Verifizierter Nutzer auf LinkedIn
Automotive, 2-10 Mitarbeiter
Verwendete die Software für: Mehr als 2 Jahre
PointOS is solid but could be better
Kommentare: There have been a couple of issues that I have addressed with the company with no resolution. Truthfully it could be more but I dont recall, as we have been running the system for a couple years and I found work arounds. One of which I turned off printing sales tax on the receipt (as we include it in the price of the drink) and it still printed it on there. Another issue is different reports from the same day dont equal each other i.e. server sales reports vs a detailed daily report. As mentioned above the remote reporting software called mypointosconnect has been down many times for multiple days. When contacting customer service wait times typically run less than 15 minutes sometimes less than 2. Its not horrible software but its showing signs of age while other offerings add nice new features, PointOS has a built in jukebox that I've never ever used. I use streaming services for music in the establishment and have since a hard drive with 15k songs crashed during a busy night. If you looking for cutting edge features, you'll be better suited looking elsewhere but if you want something that works day in and day out with limited frills this might be your software. There update might fix some of my gripes, I'll find out the first week of August if they meet their deadline.
Vorteile:
I like the fact in a tablet world, that I could install the software on a Windows PC. You actually own the software and the service contract is reasonably priced compared to others. By switching to PointOS, the processor they required for direct integration has been great and has saved us a bundle.
Nachteile:
While it's nice to own the software and run it on a Windows box but Windows 7 is getting harder and harder to find. While the software worked flawlessly for the first year it has become sluggish and there have been numerous remote reporting outages as of late. They have been promising a brand new version for over two years and they finally have picked a launch date. The software looks dated and you have to run the system at a very low resolution to function properly. Lastly, automatically added charges or discounts are a percentage. If you want a happy hour price you have to set a happy hour price for every item.
Antwort von PointOS
vor 2 Jahren
Hi Scott, Thank you for taking time to leave feedback. PointOS has an all new user experience with the reliability of PointOS Professional with new features being added regularly. The new PointOS also has a dedicated development team that has provided expedited trouble responses for both software and some hardware issues. PointOS has an excellent track record for adding new features requested by customers. We value all our customers feedback and our team is always looking for new ways to make PointOS better.
Verifizierter Rezensent
Owner in USA
Verifizierter Nutzer auf LinkedIn
Essen & Trinken, 11-50 Mitarbeiter
Verwendete die Software für: Mehr als 2 Jahre
50/50
Kommentare: Software is straightforward as long as the new updates don't screw any thing up. The great thing this company has going for it is the technical support department. Customer service experiences were terrible.
Vorteile:
Software is easy to use and technical support is always friendly and available 24/7.
Nachteile:
Customer service is completely lacking on this product. Purchased the remote desktop feature and it never did work on any device. iOS, Andriod or PC. This was a license for an extended time period. PointOS would not return any calls on this for weeks. When I was finally able to get ahold of somebody, Point OS refused to technically resolve the issue, or offer any refund, pro-rated or otherwise.
Antwort von PointOS
vor 2 Jahren
HI There, Thank for taking the time to leave your valued feedback. The PointOS Software (Pro and PointOS) are Windows? 7 or higher compatible. We are excited to say that our newest software that will be coming out soon will also support Android and iOS. In addition our new customer success representatives are available 24 hrs 7 days a week 365 days a year to help assist with any questions.
Verifizierter Rezensent
Associate Project Manager in USA
Verifizierter Nutzer auf LinkedIn
Automotive, 11-50 Mitarbeiter
Verwendete die Software für: Mehr als 2 Jahre
Good system
Kommentare: Overall a solid purchase, good value.
Vorteile:
One time purchase. Great hardware options available, but will run on any windows PC. Touch screen is best, but not required.
Nachteile:
Split tenders seem to generate problems. it will go ahead and print the kitchen ticket before getting full payment.
Antwort von PointOS
vor 2 Jahren
We are pleased to hear you are happy with the PointOS point of sale software and the value of its offerings for our competitive pricing. With the launch of the PointOS XE we offer new split check features which should help address your concerns.