Was ist VSys One?
VSys One has over 20 years of experience deploying Volunteer Management solutions for organizations of all sizes, types and budgets. Design your own applications, onboarding steps, approval processes, & reports using our user-friendly PC or Web-based software. The system includes reference checking, automated communications & notifications, and a custom report generator (in case our 200+ reports are enough!). We provide secure FedRamp hosting, HIPAA compliance & more.
Wer verwendet VSys One?
Designed for all types of volunteer organizations including healthcare, museums, municipalities, zoos, not-for-profits, performing arts centers, wildlife preserves, and corporations.
VSys One – Details
Bespoke Software
1998 gegründet
VSys One – Details
Bespoke Software
1998 gegründet
VSys One – Videos und Bilder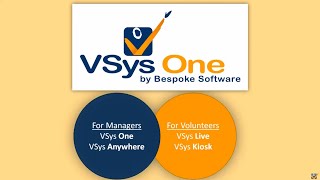 Kosten ähnlicher Produkte wie VSys One vergleichen
Startpreis
10.000,00 $/einmalig
Nicht verfügbar
240,00 $/Jahr
150,00 $/Monat
VSys One – Bereitstellung und Support
Kundenbetreuung
E-Mail/Helpdesk
FAQ/Forum
Wissensdatenbank
Telefon-Support
Chat
Einsatz
Cloud, SaaS, webbasiert
Windows (Desktop)
Windows (On-Premise)
Linux (On-Premise)
Android (mobil)
iPhone (mobil)
iPad (mobil)
Training
Persönlich
Live Online
Webinare
Dokumentation
Funktionen von VSys One
API
Aktivitäts-Dashboard
Aktivitäts-Verfolgung
Alarmfunktion / Benachrichtigungen
Anerkennungs-Management
Anpassbare Berichte
Anpassbare Felder
Anpassbare Formulare
Aufgabenmanagement
Berichterstattung und Statistik
CRM
Dokumentenspeicher
Drittanbieter-Integration
Erinnerungen
Eventplanung
Kalenderverwaltung
Kommunikationsmanagement
Kontaktmanagement
Kundenspezifisches Branding
Mitgliederverzeichnis
Mitgliedschaft-Management
Mobiler Zugriff
Personalisierung
Recruiting von Freiwilligen
Registrierungs-Management
SMS-Nachrichtenversand
Self-Service Portal
Suchen / filtern
Terminplanung
Umfragen & Feedback
Veranstaltungsmanagement
Verfolgen der Teilnahme
Zeitverfolgung
Zugriffskontrollen / Berechtigungen
Zusammenfassende Berichte
für gemeinnützige Organisationen
Siehe die vollständige Freiwilligenmanagement-Software Liste
Amy faith L.
Network Manager, Volunteer Services & Patient Experience Team in USA
Verifizierter Nutzer auf LinkedIn
Krankenhausversorgung & Gesundheitswesen, 10.000+ Mitarbeiter
Verwendete die Software für: Mehr als 2 Jahre
In Betracht gezogene Alternativen:
A Real Game Changer in Volunteer Administration and Metrics Reporting for Senior Leadership!
Kommentare: I have worked in volunteer administration for close to 25 years. I have seen a thing or two when it comes to data collection and volunteer tracking software. In my time, I have never worked with a more sincere group of people than the staff at Bespoke Software. My organization is currently two-years post merger and we're working with VSys to merge all of our hospitals into one cohesive system. With VSys One and VSys Live, whenever you have a task, the customer service team will meet you where you are at and help you to accomplish the project. In some cases you can start the project on your own and they will take the reins if something needs to be tweaked or they might even walk you through it with step-by-step instructions. With other software, it seemed to take forever to get an answer and the answer did not involve human interaction. With VSys, you can be sure that during normal business hours, you are covered with telephone and email support.
Vorteile:
With customization of advanced exporter and custom column reports, VSys One user tools and reports offers the ability to create performance-based dashboards when saving data to Excel, creating a graphical gauge that tracks the throughput of volunteers and lets you monitor volunteer successes throughout your system. We recently created a thermometer to provide leadership with reports on numbers of volunteers returning back into service in-person post-pandemic week over week. We plan to expand on the reporting to include peer-to-peer volunteers and number of visits or encounters they have on a daily basis. The software will grow as your program grows. We love the ability it has to put the onus on volunteers to upload their own data, making the on boarding process much easier with less keying in of information for staff, while eliminating the need for paper and having to chase after volunteers to complete their requirements. We love that VSys is able to report out on everything you need, helping you to speak in a language that C-Suite leaders can understand and it even has the ability to do some things that you didn't know you needed. With VSys One and Vsys Live, the possibilities are endless!
Nachteile:
At first, the cost was a dissatisfier among top leadership, but it is well worth the price. They say you get what you pay for. VSys is the Rolls-Royce of Volunteer Administration Software, it simply inspires greatness and makes data tracking simple!
Patricia D.
Director in USA
Krankenhausversorgung & Gesundheitswesen, 1.001-5.000 Mitarbeiter
Verwendete die Software für: Mehr als 2 Jahre
In Betracht gezogene Alternativen:
Cottage Health Volunteer Program
Kommentare: we are able to manage over 1,000 active volunteers, we especially like the ability to communicate with some or all volunteers as well as documenting all interactions. We are able to customize the database to meet our best practices and procedures.
Vorteile:
The pros are have a robust database that handles all of our daily operations, from an on-line application that when accepted is downloaded right in to the database. We also like the ability to customize to our services and requirements (national, state and local guidelines and to customize to our hospital's culture and policies, The help line is fantastic and are very knowledgeable and patient. they are responsive to requests and upgrades.
Nachteile:
The scheduling is great.... but I would like to add phone numbers and to be able to color code the training volunteers vs the trained volunteers.
David C.
Director, Volunteer Services in USA
Krankenhausversorgung & Gesundheitswesen, 501-1.000 Mitarbeiter
Verwendete die Software für: Mehr als 2 Jahre
Needlessly Complex
Kommentare: The product line is confusing - VSys One, VSys Lite, VSys Live, VSys Kiosk, VSys Live Kiosk. A few key features that were promised by the project leader have failed to materialize. My sense is that again, they have a product that can do many things, but they don't know how to package their own product or create a user interface friendly for customers. The business model is one of paying for a support subscription post-implementation so they don't have much of an incentive to change.
Vorteile:
I can't deny that it is powerful. It will make reports and track data. The phone support is decent.
Nachteile:
See the title of the review. The user interface as the administrator is cumbersome and non-intuitive. There are too many steps and serpentine workflows to accomplish basic tasks such as creating a job assignment or building a new training.
Megan F.
Volunteer Services Manager in USA
Krankenhausversorgung & Gesundheitswesen, 501-1.000 Mitarbeiter
Verwendete die Software für: Mehr als 2 Jahre
Wonderful Product
Kommentare: My overall experience has been excellent. I have worked at two different organizations who use Vsys. Each organization set it up differently (Vsys is very customizable), and Vsys staff members are always there to help.
Vorteile:
I love all of the features Vsys One offers. I can run reports on almost anything, automate most of our onboarding process, and keep track of health documents, trainings, etc. My favorite features include the job slots/calendar tool as well as the automatic emails that remind volunteers of their schedule each week. It is also wonderful that they have support (real people!) that you can call for any help you need.
Nachteile:
The software takes some time to learn just like any other software. There are multiple ways to do everything which is good, but while you are trying to learn if people show you multiple different ways to do one thing it can be confusing.
Suzanne H.
Senior Volunteer Program Supervisor in USA
Museen & Institutionen, 51-200 Mitarbeiter
Verwendete die Software für: Mehr als 2 Jahre
In Betracht gezogene Alternativen:
Customer Service Can't be Beat!
Kommentare: We are able to manage our legacy volunteer data (16K records), our current roster of active or recently active (2K records), communication, job history, training, implement automated features like background check surveys, and maintain schedules for volunteers in multiple roles effectively. And when I need assistance, it's there at the other end of the phone!
Vorteile:
While the entire database is robust enough to more than meet our organizational needs, the very best part is the awesome support team that is always available to me. We implemented this program about five years ago, and it's been able to help us manage a tremendous amount of information about our 800+ volunteer program. The fact that it's on the cloud also helps us because we can access anything we need regardless of where the volunteer management team is physically (a plus in Covid times!).
Nachteile:
The challenge with such a strong database system is that it can be hard to master if you are not a daily user. However, the team is working on updates and have been very open to my feedback about changes and improvements from the user's standpoint. If they keep going with the focus on user experience, it will continue to be an industry leader.