Was ist Penelope?
Penelope ist eine Cloud-basierte Case-Management-Softwareplattform, die sich Ideal für Organisationen im Bereich Human Services mit mindestens 15 Nutzern eignet.
Erhalte eine zentrale, vertrauenswürdige Informationsquelle und befreie deine Organisation von mehreren Datensilos und veralteten Systemen mit einer konfigurierbaren Lösung, die für Organisationen mit umfangreicherem Dienstleistungsangebot entwickelt wurde.
Penelope umfasst flexible Datenerfassungs-, Workflow- und Berichtsoptionen, während das mobile Kundenportal ClientConnect zur Verbesserung der Kundenerfahrung beiträgt.
Wer verwendet Penelope?
Mittlere bis große gemeinnützige Organisationen und Unternehmen im Bereich Human Services, die eine sichere, Cloud-basierte Software benötigen. Diese flexible und konfigurierbare Software trägt dazu bei, die Bindung und die Ergebnisse der Kundschaft zu verbessern.
Wo kann Penelope bereitgestellt werden?
Cloud, SaaS, webbasiert, Mac (Desktop), Windows (Desktop), Linux (Desktop), Chromebook (Desktop)
Über den Anbieter
Social Solutions
Ansässig in Waterloo, Kanada
2001 gegründet
Telefon-Support
Chat
Erhältlich in diesen Ländern
Australien, Irland, Kanada, Neuseeland, Vereinigte Staaten und 1 weitere
Über den Anbieter
Social Solutions
Ansässig in Waterloo, Kanada
2001 gegründet
Telefon-Support
Chat
Erhältlich in diesen Ländern
Australien, Irland, Kanada, Neuseeland, Vereinigte Staaten und 1 weitere
Penelope – Videos und Bilder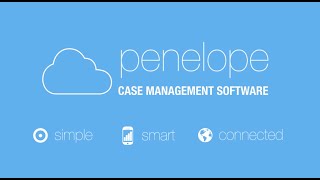 Kosten ähnlicher Produkte wie Penelope vergleichen
Penelope Funktionen
Abrechnung & Rechnungsstellung
Aktivitäts-Dashboard
Anfangsbeurteilung
Behandlungsplanung
Berichterstattung / Analyse
Berichterstattung und Statistik
Bestätigung / Erinnerungen
Beurteilung-Management
Compliance-Verfolgung
Dokumentenmanagement
Elektronische Rezepte
Empfehlungs-Management
Fall-Aufzeichnungen
Fall-Management
Formularverwaltung
Für Praxen für mentale Gesundheit
Kalenderverwaltung
Kundenmanagement
Medizinische Abrechnung
Patientenakten-Aufzeichnungen
Patientenmanagement
Programm-Management
Self-Service Portal
Terminplanung
Terminverwaltung
Workflow-Management
Zielsetzung / Nachverfolgung
Alternativen für Penelope
Bewertungen über Penelope
MARIE
Interim Program Manager in Kanada
Verifizierter Nutzer auf LinkedIn
Einzel- & Familiendienstleistungen, 501-1.000 Mitarbeiter
Verwendete die Software für: Mehr als 2 Jahre
I like this program!!
Kommentare: At first it was daunting as there is SO much information but once we figured it out I love it!
I'm part of the team that works on our documentation to make things flow easier. It's great to be able to tailor it to our company needs.
Vorteile:
Being able to read my staff input by generating a report whenever I need it. Being able to pull reports to the tableau so I can see my numbers just like that.
Nachteile:
Only being able to access from work computers with the VPN installed there. Would be great to be able to access from personal computers.
Susan
Program Manager in Kanada
Non-Profit-Organisation Management, 2-10 Mitarbeiter
Verwendete die Software für: Mehr als 2 Jahre
In Betracht gezogene Alternativen:
EXcellent system for client files and caseload management
Kommentare: We love Penelope for report writing and for documenting outputs for different projects including quality assurance reviews - we know that we are not using Penelope to it's full capacity and there is a lot more potential for improved and different methods of reporting.
Vorteile:
The user interface for our frontline counsellors is very intuitive which is efficient in getting new users up and running and is excellent for day-to-day casen documentation and file management
Nachteile:
Customization of the software was a challenge for us to understand our needs with respect to the many different functions and options available - using the sandbox was helpful in working out a few of the errors we made in planning
Grant
General Manager in Australien
Non-Profit-Organisation Management, 201-500 Mitarbeiter
Verwendete die Software für: Mehr als 2 Jahre
UI is poor. Reporting function only in PDF. not SMS friendly. Case file structure = privacy issues
Vorteile:
it has a diary schedule linked to cart items. it's god if you only want Penelope to do one thing, ie, ATAPS service & payments
Nachteile:
UI poor resulting in clunky data entry and more time spent entering data. not mobile / tablet friendly Reporting function does not provide dashboard, only reports in pdf or that you have to cut and past into Excel. Case file / service file structure creates privacy issues - we may have to move away from this product on the basis of legal advice Lack of technical support available in Australia
Miguel
Data Coordinator in USA
Krankenhausversorgung & Gesundheitswesen, 501-1.000 Mitarbeiter
Verwendete die Software für: Mehr als 1 Jahr
Penelope from the Perspective of Reporting and Program Surveillance
Kommentare: I was hired to obtain, process and analyze the raw Penelope data because the built in reports were not sufficient for our reporting purposes. To be fair to Athena, I've observed this is true with any database system; built in reports for any database are static and the reporting needs of non-for-profit organizations are dynamic and shift at least annually. Initially, I had trouble using my credentials to log into Penelope's ODBC interface. It took a couple of months for Athena to figure out the issue was on their end. Once I was able to download the data, I had to figure out where everything was at and how to link it together. Athena's data dictionaries were invaluable, but you have to become familiar with the databases to correctly merge them and prepare the data. Now I can track anything entered into Penelope.
Vorteile:
Penelope is comprehensive in terms of documenting service appointments, client assessments, referrals, notes, agency workshops and meetings, etc. One can access the raw data via ODBC and prepare the data for reporting, projections for grant writing or program surveillance. One can also use the built in reports for these. There is a feature that allows appointments to sync with Microsoft Outlook that is very handy. Athena Software has a lot of documentation for Penelope that I have found extremely helpful. Managers can look at staff caseloads easily.
Nachteile:
I found that support for accessing the raw data, especially in terms of data preparation is very limited unless you pay for a support meeting. They do provide data dictionaries and data maps which I found very helpful. Using login credentials for downloading the data can be frustrating initially because they are not immediately actualized by the engineers. Once that occurs, ODBC works fine and is reliable. With other issues Athena responds fairly quickly. Also, they do not provide support for using R. Thankfully, there is sufficient documentation from R developers that enabled me to figure it out.
Alyce
Database Administrator in Kanada
Non-Profit-Organisation Management, 1.001-5.000 Mitarbeiter
Verwendete die Software für: Mehr als 2 Jahre
many used
Kommentare: We are a unique organization in many ways, (arent we all) and the configuration of the software was an undertaking not for the faint of heart. We did have issues where Athena struggled to understand our business model during configuration. Once we overcame this issue, Athena has been very flexible, understanding and creative in helping us maximise the softwares uses to our organizations specific needs. We have found great value for money in this partnership.
Vorteile:
The engage tool (client communication) has made a big difference to our interactions with clients, particularly during COVID lockdowns. The customer service and support is always quick, informed and flexible to our needs. Our particular business pushed the Penelope system slightly out of its intended scope, but the Athena team has been so flexible with us and very creative in solving our issues.
Nachteile:
The software can be difficult to configure and test. The testing environments are extremely helpful for this, but as with all software, it can be impossible to understand the ramifications of system changes without testing each and every expected output. I have seen systems that do this a little better than Athena's Penelope.