Was ist SumTotal Learn?
The global business environment has dramatically changed. Now, more than ever, your organization needs a powerful Learning Management system (LMS) to ensure your workforce is compliant, has the skills needed to meet the demands of the market, and are upskilling to address the changing future of your business.
SumTotal Learning Management connects the dots between the skills and competencies people need now, while also providing the tools they need to develop and grow with your organization.
Wer verwendet SumTotal Learn?
Enterprise organizations or those in rapid growth phase. SumTotal has extensive experience with complex highly regulated industries like manufacturing, healthcare, pharma and aviation.
Wo kann SumTotal Learn bereitgestellt werden?
Cloud, SaaS, webbasiert, Mac (Desktop), Windows (Desktop), Android (mobil), iPhone (mobil), iPad (mobil)
Über den Anbieter
Skillsoft
2004 gegründet
Telefon-Support
24/7 Live-Support
Chat
Erhältlich in diesen Ländern
Vereinigte Staaten
Über den Anbieter
Skillsoft
2004 gegründet
Telefon-Support
24/7 Live-Support
Chat
Erhältlich in diesen Ländern
Vereinigte Staaten
SumTotal Learn – Videos und Bilder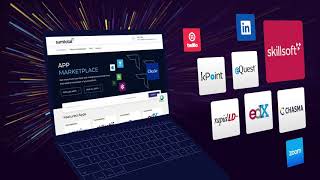 Kosten ähnlicher Produkte wie SumTotal Learn vergleichen
SumTotal Learn Funktionen
Asynchrones Lernen
Berichterstattung / Analyse
Bestenlisten
Bonus-Verwaltung
Compliance-Verfolgung
E-Commerce-Management
Feedback-Management
Gemischtes Lernen
Integrierter Autorensystem-Kurs
Klassenbücher
Kurs-Tracking
Kursverwaltung
Leistungskennzahlen
Lernmanagement
Lernpfade/-verläufe
Mobiler Zugriff
Mobiles Lernen
Portal für Lernende
SCORM-Compliance
Soziales Lernen
Synchrones Lernen
Tests/Bewertungen
Trainingsverwaltung
Werkzeuge zur Zusammenarbeit
Zertifizierung und Lizenzierung
Zielsetzung / Nachverfolgung
Alternativen für SumTotal Learn
Bewertungen über SumTotal Learn
Ian
Training Specialist in USA
Verifizierter Nutzer auf LinkedIn
Verwendete die Software für: Mehr als 2 Jahre
I have used many providers. SumTotal Learn is the most robust when it comes to functionality.
Kommentare: I am able to focus on larger training projects because the system simplifies my job. It offers me flexibility in multiple ways.
Vorteile:
- Reporting is extremely powerful. It's extremely flexible and I like the many options for sending automated reports. - An easy to use course catalog. It can be overwhelming for learners when you have hundreds of learners. SumTotal's ILT specific features make it easy for learners. - Automation is very easy in SumTotal. You just need to know how you want things to operate and the system will do your job for you. - Integration with Skillsoft is a dream - It is very flexible when it comes to roles and permissions. Many systems are trying to simplify permissions by reducing the options. I find this limits my capabilities. SumTotal breaks down the permissions so you can be flexible. - Price. No one will beat their price. - Customer Support is amazing. Years a go, their support wasn't that great. However, they have revamped it significantly. They are very helpful and responsive now. - They are fantastic at communicating updates. Every month, they hold a webinar to talk about enhancements. SumTotal does a great job of communicating the progress of these enhancements and what they will do. I have found many vendors say features are coming but never tell you more.
Nachteile:
- Its not a dealbreaker for me but the interface reminds me of Peoplesoft. I think SumTotal could overhaul the site to make it more tablet-friendly. - They do not offer a built-in video player. However, when working with my implementation specialist, I learned its better to publish videos in SCORM files for tracking purposes. - I wish SumTotal built of the bulk import features for online classes. They are releasing new features, just want more.
Verifizierter Rezensent
Manager - Projects in Frankreich
Verifizierter Nutzer auf LinkedIn
Informationstechnologie & -dienste, 10.000+ Mitarbeiter
Verwendete die Software für: Mehr als 2 Jahre
In Betracht gezogene Alternativen:
A Paradigm Shift in the eLearning Era!
Kommentare: - SumTotal is the most suitable solution for medium and large organizations.
- It serves as a compliance-friendly application for banking, insurance and life science industries.
- Return on Investment is high and have positive impact on the organizational learning needs.
- It has Learning Experience Platform (LEP) services for the clients through their strategic partnerships which is the demanding feature in the eLearning market.
- Custom Dashboard, custom theme management and custom widget management features are extraordinary and make the user feel like they are owning their learning platform. There are many features which are really excellent, easy to use and modern. I highly recommend this solution for the medium and large organizations especially when there are looking for a compliance-oriented solution.
Vorteile:
SumTotal has lot of unique features and in compliance with many industries. - Global Search: From Global Search, all entities can be searched including the navigation link, people, training objects, communities etc. - Extended Enterprise Learning: This is for eCommerce and works well for the large organizations when they want to sell their courses to their external stakeholders or to the public. - Learning Administration: It has complete front-end administration/configuration capability hence it can be managed internally post implementation. This will save lot of AMC for the organization.
Nachteile:
There are few features which are evolving over a period of time. Once these features are improvised, it will be moved to the most likable feature. - SumTotal has Content Library which has all the courses available for the users. Many times, as a user, I get lost in the Library. One should know the exact course category to be able to utilize this feature. - Reports need to be improved further and should be user-friendly for customizing the reports. These are definitely not drawbacks but the features are in-progress.
Verifizierter Rezensent
Associate Workforce Systems Analyst in USA
Verifizierter Nutzer auf LinkedIn
Computer-Software, 1.001-5.000 Mitarbeiter
Verwendete die Software für: Mehr als 2 Jahre
Worst customer support
Kommentare: I have improved in my ability to deal with difficult and unintelligent people.
Vorteile:
It has the capability to do many useful things, such as coordinate in person trainings, offer online courses, and report on a number of different items. The advanced reporting feature, while difficult to use at first, is invaluable for a larger organization with many different courses being taken at any given time.
Nachteile:
It is incredibly difficult to use and administer and the customer support is just dreadful. I cannot emphasize that enough. I have to follow up many times to get resolution on any support ticket opened... usually it takes at the very least 2.5 weeks to close the most simple ticket, and that only comes when I remind them to respond every few days. It is frustrating because I know the system has pretty good features and capabilities, but without an intuitive design and satisfactory support, it becomes quite a burden to administer and use.
Madalina
Sales Marketing Manager in Rumänien
Verifizierter Nutzer auf LinkedIn
Transport/Güterfrachtverkehr/Schienenverkehr, 10.000+ Mitarbeiter
Verwendete die Software für: Mehr als 1 Jahr
Great potential for the future of SumTotal Learning
Kommentare: This product still requires a lot of work, but it has great potential. It can be easily used by inexperienced users, as it has an intuitive design, and it has all essential functions to make the education process as painless and convenient, as possible.
Vorteile:
What I like the most about this app is its clean, intuitive and almost minimalistic front-end interface, which makes the user experience so much better. Also, I really appreciate the high level of customization, so that each student or teacher can adjust this app to their need without a problem. Plus, the cost of this app is noticeably lower, that the costs of similar apps. I am familiar with SumTotal Learning, as we use it as LMS program in the university. The process to get everything up in the running in this app was slow, but we loved the result. It is not as easy to use, as we would like, but it is still a great software.
Nachteile:
Sadly, this app is not perfect and requires a lot of improvement. Navigation isn't the best one, which is why you spend a lot of time clicking on different pop-ups. A reporting system is undeveloped and useless for now. Some other features also don't work as they should, which can lead to miscommunication between professors and students. Plus, the tech support is not helpful and non-responsive, so most of the time you are alone with software problems.
Peter
LMS Adminstrator in Indien
Verifizierter Nutzer auf LinkedIn
Vorstandsbüro, 1.001-5.000 Mitarbeiter
Verwendete die Software für: Mehr als 2 Jahre
Meet the most robust LMS
Kommentare: I fell in love with this LMS. Stable, reliable and robust.
Vorteile:
If you are dealing with a big organization, SumTotal is the way to go. I worked for GE as a LMS Adminstrator migrating all courses from their existing Plateau LMS to SumTotal LMS and this is one of the most robust LMS, I have ever seen. It is easy to use (will get some time getting used to it), and it has a plethora of functionalities to cover all your training activities. Just go for it, if you don't mind the licence cost. Customer support is too good .
Nachteile:
Licence cost is too high. It will kill you. Only few organizations will be able to manage it. Sometimes, tickets will take to close, but you got to understand that there are multiple business units working with one ticketing system available. Imagine the crowd.