Was ist HawkSoft CMS?
Seit 1995 ist HawkSoft ein Anbieter von Verwaltungssystemen für Agenturen, die effektive Workflows wünschen, ohne die dem Personal und den Versicherungsnehmern gebotene angenehme Erfahrung opfern zu müssen. HawkSoft ist ein unabhängiges Unternehmen, das seine CMS-Lösung mit unabhängigen Agenten entwickelt hat. Das Tool bedient Agenturen, die ihr Versicherungsgeschäft stärken möchten. HawkSoft entwickelt sich in ein hochmodernes System weiter, das Tausende von Agenturen, die persönliche und kommerzielle Risiken schriftlich dokumentieren, unterstützt.
Wer verwendet HawkSoft CMS?
HawkSoft ist für Agenturen mit Geschäfts- und Privatkunden konzipiert, die eine aussagekräftige, langfristige Beziehung zu einem Privatunternehmen, das einen außergewöhnlichen Wert für ihr Managementsystem liefert, wertschätzen.
Wo kann HawkSoft CMS bereitgestellt werden?
Cloud, SaaS, webbasiert, Mac (Desktop), Windows (Desktop), Windows (On-Premise), Linux (On-Premise), Android (mobil), iPhone (mobil), iPad (mobil)
Über den Anbieter
HawkSoft
Ansässig in Canby, USA
1995 gegründet
Chat
Erhältlich in diesen Ländern
Vereinigte Staaten
HawkSoft CMS Kosten
Startpreis:
Nicht vom Anbieter bereitgestellt
HawkSoft CMS bietet keine Gratisversion.
Über den Anbieter
HawkSoft
Ansässig in Canby, USA
1995 gegründet
Chat
Erhältlich in diesen Ländern
Vereinigte Staaten
HawkSoft CMS – Videos und Bilder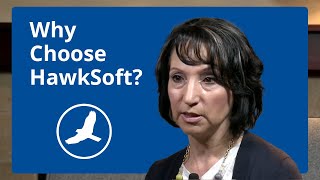 Kosten ähnlicher Produkte wie HawkSoft CMS vergleichen
HawkSoft CMS Funktionen
Provisionsmanagement
Reklamationsabwicklung
Verwaltung von Versicherungspolicen
Alternativen für HawkSoft CMS
Bewertungen über HawkSoft CMS
Pramod N.
Business Analyst in Indien
Verifizierter Nutzer auf LinkedIn
Versicherung, 11-50 Mitarbeiter
Verwendete die Software für: Mehr als 2 Jahre
HawkSoft - Agency's best companion
Kommentare: We have used many AMS like AMS360, EzApps, etc for different agencies, but HawkSoft is the BEST. It stands up from crowd and it provides something which no other AMS could provide, PEACE of MIND. We know our data is safe in hands of HawkSoft.
Vorteile:
HawkSoft is best all-in-one solution for small & growing agency as well as well established agency. It can maintain & manage data for thousands of customers without breaking a sweat. Very fluid, modern interface which is very easy to learn and use, loads of customization, complete control over your data and robust performance are plus points of this AMS. Also if you are new user, help is in abundance and available at your fingertips. Their integration with Raters and carriers is time saver.
Nachteile:
Only thing I didn't like about HawkSoft is that their training course (HawkSoft University) are very expensive and provides very generic knowledge for the fees they charge.
James B.
President in USA
Versicherung, 2-10 Mitarbeiter
Verwendete die Software für: Mehr als 2 Jahre
In Betracht gezogene Alternativen:
Love Hawksoft
Kommentare: I switched from one of the big two and the only regret I have is not switching sooner. Current reports do not do historical changes currently.
Vorteile:
The customer service is the most important part of hawksoft. They make you part of the family. It is an amazing family. The program is amazing, it works for our commercial, personal lines and they are growing with partners that help us automate.
Nachteile:
They were amazing to transfer data. The software is not perfect, but it has been amazing and we love it.
Antwort von HawkSoft
letzten Monat
Thank you for the heartfelt review. We're glad you feel like part of the family at HawkSoft - that means we've done our job!
Michael W.
Agent & Manager in USA
Versicherung, 11-50 Mitarbeiter
Verwendete die Software für: Mehr als 1 Jahr
Quelle: SoftwareAdvice
Unstable/Constant Issues, but Good when it works
Kommentare: When the system works, it is fine, but it errors about once a week. It is a constant battle and with what we do and how important the system is to our minute by minute workflow, the instability kills this product for us. Knowing this now, I would have opted for a different program/company. You simply can't trust that it will be there all the time for your company, or that work you do won't just be lost at random.
Vorteile:
The ability to drag and drop was a step up from our previous, not much else, perhaps some of the interactivity and organization of the tasks.
Nachteile:
Notes entered can be dropped/lost without notice with relative frequency, and when notes are absolutely essential to what we do, well, simply put, that cannot happen.
Antwort von HawkSoft
vor 2 Jahren
Thank you for sharing your concerns, Michael. The recent connectivity issues you experienced are due to load-balancing problems on one of our servers. It affected only those agencies whose data is hosted on that server, but we understand the frustration caused by the loss of productivity and disruption to your business, as well as the impact that trickles through to policyholders who trust your agency for timely service. The connectivity issues lasted for nearly half the day for most agencies in that region. We trust that your agency is now back up and running. We value you as a customer, Michael, and we want to understand all of your concerns as fully as possible. Please don't hesitate to reach out to support@hawksoft.com if you would like to discuss your experience further. While we can't promise that there will never be disruptions to service, we can promise that we'll leave no stone unturned to make it right for you and your agency when there is a disruption.
Versicherung, 11-50 Mitarbeiter
Verwendete die Software für: Mehr als 2 Jahre
Hawksoft is the best!
Kommentare: I love hawksoft - super efficient and have never given me a problem
Vorteile:
The logs it creates so it covers all your work as long as you work out of the system
Nachteile:
I have no complaints about hawksoft, have been using it for 3+ years myself, on top of how long my employers have as well
Antwort von HawkSoft
vor 2 Monaten
Thanks for leaving such a great review of HawkSoft! The automatic documentation is definitely a favorite among customers. Agencies like to say "if it's not in HawkSoft, it didn't happen!"
Paulette A.
Agency Sales Manager in USA
Versicherung, 11-50 Mitarbeiter
Verwendete die Software für: Mehr als 1 Jahr
Using Hawksoft for our Agency Management System
Kommentare: Overall, Hawksoft management and the development team are wonderful to work with and receptive to what an agency needs. There
are many features that enable us to save time when handling our clients. The direct links that can be set
up to company websites is a great help. Agency Intelligence gives a quick snapshot of the book of business so you can see where to focus your cross selling attempts.
Vorteile:
Having only used Hawksoft for a little more than a year, it is still a "work in progress". The support staff is wonderful whenever you have to call in to ask a question. There are many wonderful features that are very user friendly and time saving, such as the "hot keys", "external links", and other quick features on the task bar. I really like using the "virtual printer" which makes it very easy to attach a document so it doesn't have to be printed and scanned. The drag & drop feature is also very convenient. The "help" feature and all of the training guides give you step by step processes to follow, so "self-training" is easy as well. Management is delightful to work with and very receptive to agency needs. It integrates with our emailing system well.
Nachteile:
These are the things that could assist running an agency smoother: Reports could be easier to use. It would be nice if you could "drill down" commission reports more specifically like you can production reports. Also, the commercial book of business is skewed because when tax & fees are added to the premium it looks like there is more premium than there actually is. Commercial lines could be easier to navigate through. It is not as user friendly for life & health and there is no category to segment "Group Benefits". It's all lumped under "other". Commission Reports for Life & Health are difficult to reconcile for various reasons. We chose Hawksoft because we were told that every line of business could be combined into 1 management system (except for investments of course) and that is not as simple as it sounds. There are challenges. Integrating with a rater would be wonderful for personal lines. A pet peave of the agency principle is that you have to click too many things to get out of something. Agency billing & invoicing is a challenge at times.