Was ist Scala?
Scala-Lösungen ermöglichen dir, Erfahrungen für die Publikums-Einbindung anhand von Netzwerken digitaler Zeichen, Kiosks, mobilen Geräten, Websites und Internet-verbundenen Verbindungseinrichtungen zu schaffen. Scala, ein STRATACACHE Unternehmen, bietet die Plattform für Vermarkter, Händler und Innovatoren, um diese digitalen Erfahrungen leicht zu erstellen und ihren Einsatz zentral zu verwalten, mit der Flexibilität, sich schnell an lokale Geschäftsbedingungen und Publikumsvorlieben in Echtzeit anzupassen.
Wer verwendet Scala?
Viele Branchen haben einzigartige Anforderungen und Scala verfügt über mehr als 30 Jahre Erfahrung und weiß, was am effektivsten funktioniert, um deine anspruchsvollen Ziele zu erreichen.
Scala – Details
Clougistic
1987 gegründet
Scala Kosten
Startpreis:
Nicht vom Anbieter bereitgestellt
Ja, kostenloser Test verfügbar
Keine Gratisversion
Scala bietet keine Gratisversion, aber eine kostenlose Testversion.
Scala – Details
Clougistic
1987 gegründet
Scala – Videos und Bilder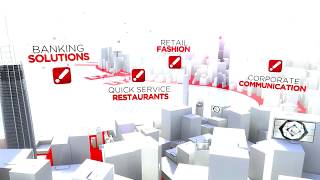 Scala – Bereitstellung und Support
Kundenbetreuung
E-Mail/Helpdesk
FAQ/Forum
Telefon-Support
Chat
Einsatz
Cloud, SaaS, webbasiert
Windows (Desktop)
Funktionen von Scala
API
Aktivitäts-Dashboard
Alarmfunktion / Benachrichtigungen
Anpassbare Vorlagen
Audit Trail
Automatisches Aktualisieren
Automatisierte Terminplanung
Benutzer-Management
Berichterstattung und Statistik
Bildbibliothek
Content-Management
Daten-Import / -Export
Datensicherheit
Digitale Beschilderungen
Digitales Menüboard
Drag-and-Drop
Drittanbieter-Integration
Echtzeit-Aktualisierungen
Echtzeit-Benachrichtigungen
Echtzeit-Daten
Echtzeitüberwachung
Inhalt-Bibliothek
Inhalte planen
Kampagnenplanung
Kundenspezifisches Branding
Layout und Design
Medienbibliothek
Mehrere Standorte
Mobiler Zugriff
Multimedia-Unterstützung
Offline-Zugriff
Remote-Display-Management
Remote-Zugriff/-Kontrolle
Social-Media-Integration
Spiellisten-Management
Support mehrerer Bildschirme
Terminplanung
Veranstaltungskalender
Video-Management
Video-Streaming
Video-Unterstützung
Visueller Editor
Vorlagen-Management
WYSIWYG-Editor
Werbemanagement
Widgets
XML / RSS
Zugriffskontrollen / Berechtigungen
interaktive Inhalte
Überwachung
Michael W.
A/V Analyst in USA
Verifizierter Nutzer auf LinkedIn
Hochschulbildung, 501-1.000 Mitarbeiter
Verwendete die Software für: 6-12 Monate
Higher than average quality
Vorteile:
Scala incorporates into various signage solutions and brings a power engine to bear in content sharing.
Nachteile:
Scala can also be difficult to navigate, especially for the newly initiated. Keep a help guide handy.
Gavin G.
Digital Project Manager in UK
Informationstechnologie & -dienste, 51-200 Mitarbeiter
Verwendete die Software für: Mehr als 2 Jahre
Powerful Digital Signage Platform
Vorteile:
We have used Scala for 13+ years now, it's probably the most proficient Digital Signage platform available, allowing you to create everything from simple displays showing screens to fully interactive displays, triggering from external sources, rateboards, flight boards, etc. The customer facing UI is excellent and allows simple building and scheduling of playlists and displays.
Nachteile:
The power of Scala means that it's not easy to just pick up, for most of the complex stuff I would always advise getting the experts in to help you build and implement the project.
In Betracht gezogene Alternativen: CoolSign, SignStix und DISE Digital Signage Software
Patrick C.
Digital Content Manager in USA
Verwendete die Software für: Mehr als 1 Jahr
Scala can be a great platform depending on your use case.
Vorteile:
The Scala platform (Designer, Content Manager, Player) provides a great deal of out-of-box functionality for a variety of uses. Its main pros are flexibility, user interface, and scalability. Scala Designer gets you started quickly with creating and publishing content with support for many file types and a large library of built in transitions and clip art. Content manager allows you to easily organize and create advanced frame sets for playback. This flexibility makes Scala great for a variety of applications such as large video walls, menu boards, or standalone displays. Another pro of Scala (Content Manager) is its user interface. It is divided into logical sections making it easy to navigate and make changes, however, you will become best friends with your mouse as there is a lot of clicking involved (see cons). Lastly, the scalability of the software makes it ideal for small or large deployments. Adding additional players is seamless allowing you to expand your network with little effort.
Nachteile:
Make sure you have a solid use case and understand what Scala can do out of the box and what you will need to develop to achieve your desired functionality. Scala provides functionality that can serve a variety of use cases, however, some will require more work than others. Basic video walls and simple signage (1 media item to the next) are well suited for Scala out of the box. However, more advanced playback behaviors (think if this then that kind of behavior) will certainly require custom script development which can be a challenge as ScalaScript is nowhere near as universal as developing in other languages. As mentioned in the pros, Scala Content Manager provides a logical user interface, however, nearly every setting requires and enormous number of mouse clicks to get things done.
Daniel D.
Team Leader Procurement Operations in Deutschland
Bau, 201-500 Mitarbeiter
Verwendete die Software für: 6-12 Monate
The ideal programming for the specialized beginner
Kommentare: There are a large number of stages accessible for advanced signage. The battle is discovering one that addresses the issues for all specialty units in a venture. I've worked with a few signage organizations that offer bits of highlights, that must be conduit taped together to make a whole usable bundle. Scala appears to have everything under one rooftop, without being needed to acquire different equipment and programming suppliers to make everything work.
Vorteile:
Scala is by all accounts one of the favored stages that our computerized media group employments. This makes it a simple choice when searching for an answer. Our group knows about the stage to such an extent that I have implicit help and usage help previously, during, and after the business cycle with the client. We're likewise ready to give configuration administrations to our clients, for those that might not have an in-house group to do this.
Nachteile:
Nothing that I have found up until this point. I have had a few chances to create and propose Scala as a total advanced signage arrangement. The solitary thing that has been a drawback for me to date is that I haven't locked in my neighborhood Scala accomplice rep more. I realize that are a superb wellspring of data. I will make an objective to interface with my nearby rep/accomplice to make that relationship.
Kelvin C.
Marketing Analyst in USA
Transport/Güterfrachtverkehr/Schienenverkehr, 201-500 Mitarbeiter
Verwendete die Software für: Mehr als 2 Jahre
Scala is very good for managing digital signage
Kommentare: My overall experience with Scala has been very positive. Very easy to use, easy to learn, and gets the job done right. We have not had issues and will continue to use this service for our agency.
Vorteile:
We have been using Scala for our agency to manage digital signage on our digital displays for over a year now and it is a very good program. The layout is easy to learn and use, has all the functions you need, and makes managing displays very easy. We can upload media files, transport them to specific channels (displays), and set the schedule of when they will run. Very good product overall.
Nachteile:
Not much to dislike about Scala. Our marketing and IT teams have used this program for over a year and there are no issues or complaints about the program.