Was ist CollectMax?
CollectMax von JST ist eine bewährte, fortschrittliche Softwarelösung, die von Hunderten Inkassokanzleien eingesetzt wird. CollectMax ist für fast jede Kanzlei geeignet, unabhängig davon, ob 200 oder 200.000 Dateien verwaltet werden.
CollectMax ist äußerst flexibel und nutzerfreundlich. Die Einarbeitung neuer Nutzer ist einfach, der Kauf von CollectMax ebenfalls: Optionen sind u. a. eine monatliche Miete. Du kannst mit einem Basispaket beginnen und es aufstocken, wenn die Kanzlei wächst. Ganz einfach.
Wer verwendet CollectMax?
Anwaltskanzleien und Unternehmen, die den Forderungseinzug verwalten, einschließlich Kreditkarten, Handel, medizinisch, Kreditgenossenschaften, Einzelhandel, Forderungsübergang, Vermieter/Mieter, Autofinanzierung und mehr.
Wo kann CollectMax bereitgestellt werden?
Windows (Desktop)
Erhältlich in diesen Ländern
Vereinigte Staaten
Erhältlich in diesen Ländern
Vereinigte Staaten
CollectMax – Videos und Bilder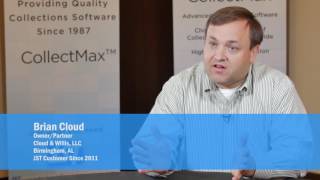 Kosten ähnlicher Produkte wie CollectMax vergleichen
CollectMax Funktionen
Kundenmanagement
Transaktionsmanagement
Alternativen für CollectMax
Bewertungen über CollectMax
William
Attorney/owner in USA
Rechtsberatung, 2-10 Mitarbeiter
Verwendete die Software für: Mehr als 2 Jahre
GREAT! The system is the best that I have found and you are constantly working hard to improve it.
Kommentare: We do not use all of the features on CollectMax as we no longer have telephone collectors. But we do use the system extensively for drafting documents based on templates. Nothing I have seen can match the ease of document drafting in CollectMax. Writing checks and keeping track of thousands of expenditures for court costs would be impossible but for CM. WE have 254 counties in Texas and many courts in each county. We have over one thousand courts in our database; we can make notes on each court's unique requirements in the system.
Tracking activities and follow up queues could be made a bit easier with your own calendar rather than trying to incorporate Outlook. Our calendar needs to have room for lots of matters set at the same time such as several dozen cases set on a hearings docket in state court or a Lift Stay docket in Bankruptcy Court. Within that time slot, you should be able to sort on a particular field. A universal search through the entire calendar for a particular file is essential. A huge inducement to use CM is that you are constantly listening to your customers and making improvements/adaptations to improve, improve, improve. Keep up the good work.
Vorteile:
The flexibility and ease of adaptation to my specific needs.
Nachteile:
You need a fully integrated calendar system that allows lots of hearings to be noted at a particular time and place. It needs to have a sort feature on any time block. And, very important, it must have a universal search feature so that I can find a particular file wherever it is in the calendar.
Rechtsberatung, 11-50 Mitarbeiter
Verwendete die Software für: Mehr als 2 Jahre
Powerful Software with Plenty of Features!
Kommentare: Our firm has been using CollectMax for more than 11 years, and I strongly recommend it for any firm with a collections aspect. The system is extremely capable, and with it, you can, reflect and manage your real-world trust banking, create flexible documents, print remittance checks with in-depth reporting, and document just about every detail of the legal collections process. There are many add-on modules that you can use to build the system out to cover as much ground as you like. The team at JST is always working on new features, and they take to heart the input they receive from their users. A word to the wise:
You will get from this system what you put in. As with any powerful piece of software, training and understanding are crucial! You will most likely be managing a real-world trust account with it, and you do not want to have to work on correcting mistakes accumulated in ignorance. I have found time and again that CollectMax facilitates good business practices, so be sure to lay a good foundation as you incorporate it into your firm.
Vorteile:
Designed with best practices for firms in mind, and always developing new features.
Nachteile:
The learning curve is rather steep, and some mistakes can be difficult to undo.
Anwaltskanzlei, 51-200 Mitarbeiter
Verwendete die Software für: Mehr als 2 Jahre
Max is the "best in class" of any dog show!
Kommentare: I have utilized many different legal collection platforms but always come back to JST's CollectMax as my favorite. The reasons are that the program is the most user-friendly but the back-end functionality is flexible and advanced enough for a firm to make the program highly automated and efficient. With MaxPlans, Group Documents and other interfaces CollectMax could save a firm lots of money in staff salaries while keeping the clients happy in assuring compliance oversight. To further enhance the experience the support staff are patient, friendly and extremely knowledgeable about their product.
Vorteile:
Product and Management
Nachteile:
Emergency Service. I am disappointed with how long it sometimes takes for JST to engage customers when their system is down. Certainly an area of opportunity.
Melissa
Accounting Manager in USA
Anwaltskanzlei, 51-200 Mitarbeiter
Verwendete die Software für: Mehr als 2 Jahre
User-Friendly Software
Vorteile:
The software is very user-friendly and intuitive. The reporting can be slightly customized to your liking and can be run frequently for small sets of data. The merge documents are very easy to set up and the interfaces are usually easily navigated.
Nachteile:
Customer support is slower than I would like. An issue can go on for weeks and require numerous emails. Clients can get upset waiting for issues to be resolved. The MaxExtract and MaxUpdater interfaces aren't as intuitive as other areas of CollectMax. The banking and account features are not developed to a point where you can maintain all of your records withing CollectMax. The company should do some research on basic financial reports that most companies like to run and the requirements of IOLTAs. It would be impossible to even provide basic banking reports required for IOLTAs.
Anwaltskanzlei
Verwendete die Software für: Mehr als 2 Jahre
Simple.Satisfaction
Kommentare: In the collection industry, we often find ourselves worrying about non-fee generating activities. JST collectmax is a tool that simplifies the training needed for collectors, the data extraction tools allow for managers to get creative with certain account details when choosing which files to collect on and the compliance sections allow for you to properly share vital information with clients. You're able to upload images and voice calls directly to the file. A simple product that satisfies all of your business needs.
Vorteile:
User friendly. Compliance driven.
Nachteile:
Updates are often, if you're not renting can be costly.