Was ist VolunteerHub?
VolunteerHub unterstützt gemeinnützige Organisationen seit 1996 dabei, mehr von ihren Freiwilligen zu profitieren. Tatsächlich wurde die Software für mehr als 5 Milliarden Stunden eingesetzt. Wenn du innehältst und in Betracht ziehst, dass jede Freiwilligenstunde mit einem Wert von mehr als 22 $ zu deiner Organisation beiträgt, kann die Verwendung einer Freiwilligenmanagement-Software wie VolunteerHub einen Unterschied ausmachen.
Wer verwendet VolunteerHub?
Gemeinnützige Organisationen, die nach einer besseren Möglichkeit suchen, um Freiwillige, Freiwilligenveranstaltungen und -informationen zu verwalten.
Wo kann VolunteerHub bereitgestellt werden?
Cloud, SaaS, webbasiert
Über den Anbieter
von Carr Engineering
1996 gegründet
Chat
Erhältlich in diesen Ländern
Vereinigte Staaten
Über den Anbieter
von Carr Engineering
1996 gegründet
Chat
Erhältlich in diesen Ländern
Vereinigte Staaten
VolunteerHub – Videos und Bilder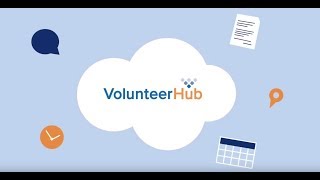 Kosten ähnlicher Produkte wie VolunteerHub vergleichen
Startpreis
150,00 $/Monat
Nicht verfügbar
199,00 $/Monat
Nicht verfügbar
Funktionen von VolunteerHub
API
Aktivitäts-Dashboard
Aktivitäts-Verfolgung
Alarmfunktion / Benachrichtigungen
Anerkennungs-Management
Anpassbare Berichte
Anpassbare Felder
Anpassbare Formulare
Aufgabenmanagement
Berichterstattung und Statistik
CRM
Dokumentenspeicher
Drittanbieter-Integration
Erinnerungen
Eventplanung
Kalenderverwaltung
Kommunikationsmanagement
Kontaktmanagement
Kundenspezifisches Branding
Mitgliederverzeichnis
Mitgliedschaft-Management
Mobiler Zugriff
Personalisierung
Recruiting von Freiwilligen
Registrierungs-Management
SMS-Nachrichtenversand
Self-Service Portal
Suchen / filtern
Terminplanung
Umfragen & Feedback
Veranstaltungsmanagement
Verfolgen der Teilnahme
Zeitverfolgung
Zugriffskontrollen / Berechtigungen
Zusammenfassende Berichte
für gemeinnützige Organisationen
Siehe die vollständige Freiwilligenmanagement-Software Liste
API
Ad-hoc-Berichterstattung
Aktivitäts-Dashboard
Aktivitäts-Verfolgung
Alarmfunktion / Benachrichtigungen
Anpassbare Berichte
Anpassbare Felder
Anpassbare Formulare
Anpassbare Vorlagen
Anwesenheitsmanagement
Ausschuss-Management
Belegmanagement
Berichterstattung und Statistik
Buchhaltung
CRM
Daten-Import / -Export
Dokumentenspeicher
Drag-and-Drop
Drittanbieter-Integration
E-Mail Erinnerungen
Echtzeit-Analytik
Echtzeit-Berichterstattung
Elektronische Zahlungen
Erinnerungen
Eventplanung
Formularverwaltung
Freiwilligen-Management
Fundraising-Management
Gebühren-Management
Integration in die Buchhaltung
Kalenderverwaltung
Kampagnenmanagement
Kommunikationsmanagement
Kontakt-Datenbank
Kontaktmanagement
Kreditkartenbearbeitung
Kundenspezifisches Branding
Mitglieder-Datenbank
Mitgliedschaft-Management
Mobiler Zugriff
Registrierungs-Management
Social-Media-Integration
Social-Media-Management
Spender-Management
Subventions-Management
Veranstaltungsmanagement
Webseitenintegration
Wiederkehrende- / Abonnement-Abrechnung
Zugriffskontrollen / Berechtigungen
für gemeinnützige Organisationen
Siehe die vollständige NPO Software (Non-Profit-Organisationen) Liste
Verifizierter Rezensent
Manager of Family Support Services in USA
Verifizierter Nutzer auf LinkedIn
Verwendete die Software für: Mehr als 1 Jahr
We went from paper and pencil to our first volunteer software (VolunteerHu after extensive research.
Vorteile:
We love how customizable it is and how we can make it match all of our other branding. We felt VolunteerHUb offered us the most options of any other available software.
Nachteile:
Having to set up the system from scratch was very time consuming. Understanding the wording and how to set up the system isn't very intuitive at first but once you understand it set up is easy and tech support is fantastic!
Tyler B.
Volunteer Coordinator in USA
Non-Profit-Organisation Management, 201-500 Mitarbeiter
Verwendete die Software für: Mehr als 1 Jahr
Saves so much time with high demand, one-off or shift-based opportunities!
Kommentare: Overall I am very pleased with my VolunteerHub experience. When I joined the organization 1.5 years ago, we had been using its most basic functionality for a few years. Since then, I have learned from webinars, help docs and extremely responsive support team emails how to use nearly every feature. We've implemented each feature successfully, which has saved time and allowed us to rely on a huge pool of volunteers in new ways. Although I think the price increases have been a bit disproportionate to the increase in the number of active users we can have, VolunteerHub is meeting all of our major needs at the moment, and most of our minor ones, too.
Vorteile:
Perfect for empowering thousands of individuals and group leaders to claim space in our twice-daily, year-round meal service opportunities with minimal initial interaction from our very small staff Volunteers can join groups (skills, interests, corporate, etc.), on their own or automatically through a customized link, and we can email those groups to recruit in a way more targeted than emailing all volunteers at once Easy to record volunteer hours automatically, and print useful nametags, with minimal interaction from a staff member, for opportunities with set start and end times (regular shifts, one-off opportunities, etc.) and to report basic attendance for those opportunities Automatic confirmation, reminder and thank-you emails Modify events, reservations, user groups, etc. in large batches and pull useful general participation reports Make notes about individual volunteers in their accounts
Nachteile:
Volunteer Hub shines with scheduling volunteers for opportunities with set start and end times. Much more attention is needed for creating irregular opportunities and scheduling volunteers/recording attendance for them. For example, opportunities with flexible start and end times, just gauging interest in internships, and volunteers who don't stick to a regular schedule but are welcome any time, can be a bit complex in Volunteer Hub. Unfortunately, there is no dashboard or easy view of major trends Some of the text that administrators have no control over provides constant confusion for volunteers. For example, the sign in button(s) in the Kiosk feature say "new" and "existing users," which often causes first-time volunteers - who have created accounts at home - to create a duplicate account on-site (and we need volunteers to be able to create accounts on-site for other reasons). Very basic email generator
Heather K.
Volunteer Manager in USA
Non-Profit-Organisation Management, 11-50 Mitarbeiter
Verwendete die Software für: Mehr als 1 Jahr
Volunteer Hub Didn't Work for Us
Kommentare: The person who helped me set up was nice but the program didn't work well for us. We couldn't easily copy big events that are the same each year.
Vorteile:
We didn't have any pros. This product didn't work for us. We gave it a year but in the end we needed something different.
Nachteile:
It seemed difficult to use and not end user friendly. Our users complained that it was much more difficult.
Stephanie M.
Volunteer Services Manager in USA
Non-Profit-Organisation Management, 11-50 Mitarbeiter
Verwendete die Software für: Mehr als 2 Jahre
Ease of Use and Reporting!
Kommentare: VolunteerHub offers excellent customer service, and they are always open to feedback. Not only do they work directly with their clients, but they also have a fast turnaround and frequently apply client feedback to improve the site. There are also a variety of tutorials on their customer support page.
Vorteile:
User-friendly interface, easy to modify and customize, and an excellent reporting feature. Our organization opted for the eTapestry integration, which automatically replicates volunteer data into eTapestry for efficient volunteer and donor tracking. VolunteerHub has simplified event management, volunteer tracking, and makes reporting quicker and easier than calculating numbers and formulas on a spreadsheet. The new filters on the events page also make it easier to navigate between opportunities. Staff is also able to use the kiosk feature, which allows volunteers to check-in and check-out remotely and more accurately.
Nachteile:
The communication features such as the internal email system are helpful; however, it lacks the option to add attachments. A few of our less tech-savvy users and volunteers complain about ease of use. Still, our team is typically able to walk them through most areas of concern.
Catie E.
Manager of HR & Volunteer Services in USA
Non-Profit-Organisation Management, 51-200 Mitarbeiter
Verwendete die Software für: Mehr als 2 Jahre
VolunteerHub is an Invaluable Resource!
Kommentare: Overall, our experience with VolunteerHub has been great. We have a level of functionality that we did not have before. We are able to recruit, onboard and train volunteers easily with the help of this software. If we ever have an issue or a suggestion for a new feature, VolunteerHub is quick to respond and very supportive.
Vorteile:
VolunteerHub has taken us from paper sign in sheets and manually recording hours to an all-automated process - saving us time and increasing overall efficiency. The reports that VolunteerHub offers is AMAZING! We are able to report on exact volunteer hours, total volunteers and compare data easily. I absolutely love the communication feature. I can send an email to all 10,000+ volunteers in our database with one click! The email/SMS feature is extremely helpful when we have last minute volunteer opportunities become available and we need them filled ASAP.
Nachteile:
This is a great software and has really transformed our volunteer program. Any concerns or suggestions we have had are attended to quickly by VolunteerHub staff. No complaints - thank you!