Was ist TS School?
TS School administration and management desktop software application is completely free!
This highly customizable application suits all types of educational institutions. More than just administration software, it is designed specifically for the development of Staff, School and most importantly Students.
Wer verwendet TS School?
Designed for schools, home schools, colleges, and universities across the globe, it is an on-premise solution that helps manage admissions, timetables, attendance, documents, and more.
TS School – Details
Time Software
1993 gegründet
TS School – Details
Time Software
1993 gegründet
TS School – Videos und Bilder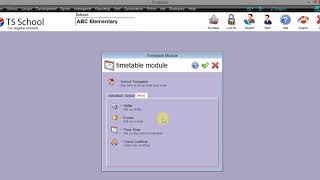 Kosten ähnlicher Produkte wie TS School vergleichen
Startpreis
N/A
50,00 $/Monat
145,00 $/Monat
Nicht verfügbar
TS School – Bereitstellung und Support
Training
Persönlich
Live Online
Dokumentation
Funktionen von TS School
API
Aktivitäts-Dashboard
Aktivitäts-Verfolgung
Alarmfunktion / Benachrichtigungen
Anmeldung / Onboarding
Anpassbare Berichte
Anpassbare Formulare
Anwesenheitsmanagement
Aufgabenmanagement
Berichterstattung / Analyse
Beurteilung-Management
Bibliotheks-Management
Buchhandlungs-Management
Cafeteria-Management
Daten-Import / -Export
Dokumentenmanagement
Dokumentenmanagement
Dokumentenspeicher
Drittanbieter-Integration
Elektronische Zahlungen
Eltern-/Schüler-Portal
Facility-Management
Finanzmanagement
Fortschrittsbericht
Höhere Bildung
Kalenderverwaltung
Klassenterminplanung
Lernmanagement
Online-Kalender
Online-Zahlungen
Personalverwaltung
Registrierungs-Management
Rollen-basierte Genehmigung
Schulbezirk
Self-Service Portal
Software für Schulen
Sonderpädagogik
Studenten-Management
Studenteninformationen/-dokumente
Studentenportal
Stundenplan-Management
Unabhängig/Privat
Verfolgen der Teilnahme
Wohnungsmanagement
Zulassungsmanagement
Verwendete die Software für: Nicht angeboten
Excellent school software
Kommentare: Excellent technical and usage support. When we have problems and call the help desk, she is always very nice and patient to help us addressing the issue and giving a solution. I would like to promote it in our country.
Besides, it also provides the whole spectrum of need. The price is reasonable. Multiple language support is also another feature although the translation is awful sometimes. It takes times to learn how to operate the software.
The school system of every country is different from each other. It may take more time to learn.
Networking and database are the issues that we need to fix because of incompatible version of all softwares.
People of TS school are very nice, patient and excellent attitude.
Antwort von Time Software
vor 5 Jahren
Thank you very much Mr Ko for your support and generous review. Your kind words are priceless! We have much to work toward with hopes to improving TS School for your ease of use. Your contribution to this effort is valued and appreciated.
Verwendete die Software für: Nicht angeboten
TS school system
Kommentare: Frankly speaking i found TS school system simple and comprehensive. you can add templates, import and report data. reports could be costumized according to your needs. I wished that attendance is included in the free version to test it as it was really important to me.
in short, TS school is a relaible system that you can use and trust.
Niyazi Omer
Antwort von Time Software
vor 5 Jahren
Thank you very much for your encouraging response Mr Omer. Please use the demonstration module to check out the attendance register. As a measure of good relations we would like to offer you free 45 day Professional Edition with our next new version. Kindly email me in order to correspond effectively. You add value to our mission - much appreciated. TS School Team
Mandlenkosi P.
CEO in Südafrika
Unterhaltung, Selbstständig
Verwendete die Software für: Mehr als 1 Jahr
In simple words I would say it's convenient and less complex compared to other softwares
Kommentare: As a beginner in the field I was given one on one lessons on how to use the software, and this made learning it rather easy and less stressful than online tutorials
Vorteile:
I am in the music business and mainly on the road so I do not have time to sit down and do admin work but this software puts me at ease because it has a simple layout, it's organized, simple to use and it makes data capturing a breeze.
Nachteile:
I had a glitch in my early days of using the app and getting in touch with customer care was hell... But eventually I managed to get through to them, and I must admit that they are very customer friendly
Antwort von Time Software
vor 4 Jahren
Thank you for your candour. The low points allows us to repair areas that require attention. We aim to make your administration so much more effortless. Wishing Mil Crew (Music is Life) much success.
Mohd firdaus M.
Sales Executive in Malaysia
Verwendete die Software für: Nicht angeboten
TS School
Kommentare: I have work with TS School software and develop it in the school in Malaysia. This is the place where school administrator can managed all the school bills, students, scheduled and it almost everything. Turn your school into a worldwide top quality by managing all the process and simultaneously gain a performance for all.
Antwort von Time Software
vor 6 Jahren
Thank you very much Mohd Firdaus. We sincerely value your feedback. Thank you for inspiring us to do even better.
Verwendete die Software für: Nicht angeboten
Awesome Software that can manipulate data like magic
Kommentare: I like most about TS is the ability to send sms through it and its immediate fast service of the customer care.
Antwort von Time Software
vor 5 Jahren
Thank you Sir, Your response and rating is sincerely appreciated. Many thanks for your patronage and your kind contribution this review. Hope to serve you even better in the future. TS School Team