Was ist Chameleon-i?
Wenn du nach einer erschwinglichen, schnellen und flexiblen Rekrutierungssoftware suchst, die mit deinem Unternehmen wächst, solltest du Chameleon-i testen.
Von Recruitment-Profis für Recruitment-Profis entwickelt. Du profitierst von folgenden Vorteilen:
Keine lästigen Downloads – mit der Software direkt zum Geschäft
Vielseitige Software – für permanente, temporäre und Vertragsplatzierungen
30-tägige kostenlose Testversion (keine Kreditkarte erforderlich)
Unterstützung in Großbritannien – Hilfestellung
Chameleon-i wächst mit dir. Besuche Chameleon-i und überzeuge dich selbst.
Wer verwendet Chameleon-i?
Die Chameleon-i Rekrutierungssoftware eignet sich für jede Personalvermittlungsagentur.
Wo kann Chameleon-i bereitgestellt werden?
Cloud, SaaS, webbasiert
Über den Anbieter
Remedy HCMS
2007 gegründet
Chat
Erhältlich in diesen Ländern
Vereinigtes Königreich
Sprachen
Nicht vom Anbieter bereitgestellt
Über den Anbieter
Remedy HCMS
2007 gegründet
Chat
Erhältlich in diesen Ländern
Vereinigtes Königreich
Sprachen
Nicht vom Anbieter bereitgestellt
Chameleon-i – Videos und Bilder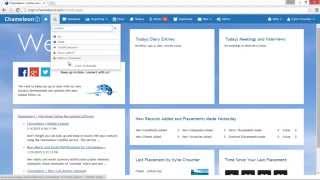 Kosten ähnlicher Produkte wie Chameleon-i vergleichen
Chameleon-i Funktionen
Abrechnung & Rechnungsstellung
Aufgabenmanagement
Berichterstattung / Analyse
Bewerber-Management
CRM
E-Mail Marketing
E-Mail-Management
E-Mail-Vorlagen
Interview-Management
Kandidatenprofile
Kandidatenverfolgung
Karriereseite
Lebenslauf-Analyse
Lebenslauf-Suche
Social-Media-Integration
Speicherung von Lebensläufen
Stellenanzeige veröffentlichen
Vorstellungsgespräche planen
Werkzeuge zur Zusammenarbeit
Workflow-Management
Alternativen für Chameleon-i
Bewertungen über Chameleon-i
Clare
Managing Director in UK
Personalbeschaffung & -besetzung, 2-10 Mitarbeiter
Verwendete die Software für: Mehr als 2 Jahre
Chameleoni is a perfect system for Recruitment companies, easy to use and can be accessed anywhere
Kommentare: A Recruitment Company who is able to keep and log all our information on a database which can be accessed anywhere is the key to this software
Vorteile:
The database is easy to use, having all the Recruitment candidate/Clients history in one place is ideal, several consultants can use it at one time. Easy to Setup or full training was given. Being able to log recruitment process with candidates, input their pros/cons. Using/creating templates for easy using e-mails for clients and candidates. Ideal for sales calls logs and alerts. Keeping paperwork to a minimum in Recruitment. Online support when you have a problem. I have used a lot of Recruitment databases and this is the complete package and a realistic cost and you could buy a software package but Chameleoni you get online help and the software is always being upgraded.
Nachteile:
To be honest I have been using the software package for 7 years and when I was starting my Company I knew what I was looking for with a software package for Recruitment and the only thing I could say is if it was free that would be good!
Personalbeschaffung & -besetzung, Selbstständig
Verwendete die Software für: Mehr als 2 Jahre
Quelle: SoftwareAdvice
Ideal For Me
Kommentare: Having somewhere secure to hold my data is of course very important. But also, having somewhere I can keep my client information and have it easily accessible and searchable is ideal. I'd miss a lot if I was still having to search through excel or my windows explorer files.
Vorteile:
This software ticked a few boxes when I first started, Grosvenor Resourcing. 1) It was low cost, 2) It was web based 3) I was able to import my excel data into it with ease and 4) It was easy to use with what seemed a lot of functionality for the price. What I've come to learn over the years of using it is that I was barely scratching the surface in terms of what it could do, I'm probably still not. It's still great value and the features have been added to and improved over the years. There were only two that I ever felt I needed added and over the time they have been - clearly others felt they were missing too. The support is really good too. If something isn't working or I don't know how to do something then the live chat or phone support is usually very quick and helpful. I've already got one other recruiter to use this software and I would gladly recommend it again. I have a friend who works for a competitor and I've used their software in the past, which is very good, but I don't see any reason that I'd need to move away from Chameleon-i, it covers all my needs and does it well.
Nachteile:
Off the top of my head I'd have to say no. There were a couple of things I felt didn't work as efficiently as they could or could be added, but they've since been put in or changed for the better. Some of the usage could be a little more intuitive, but it's all there and all works well.
Personalbeschaffung & -besetzung, 2-10 Mitarbeiter
Verwendete die Software für: 1-5 Monate
Quelle: SoftwareAdvice
Could be so good but yet so far!
Kommentare: I used Chameleon-i for a number of years on a one & then two user basis.
The system is straight forward and nearly good but found after 5 years of using it to build a database of candidates - it was useless! I couldn't search within CVS. After flagging this to help desk and raising this with the company - they couldn't fix it and the attitude of the company was dire! I was left for 6 weeks without a fix and was forced to find an alternative supplier - no interest from Chameleon-i and I was forced to leave. A loyal customer lost and any credibility with it because of their attitude!
I raised it with the management and request some kind of refund for some of the money I had paid or even some gesture of goodwill - not a sausage! At great cost, I had to migrate what I could across to Bullhorn - wish I'd done it sooner. Terrible customer service.
The system isn't terrible but fundamentally couldn't do what I and most people would expect it to do - the basic search! I wouldn't recommend the company to anyone on that basis!
Vorteile:
Straightforward basic setup
Nachteile:
Everything costs "extra" per month Support was terrible Management team not interested in problems Fundamentally couldn't do the recruitment basics
Gray
Director in Hongkong
Architektur & Planung, 2-10 Mitarbeiter
Verwendete die Software für: Mehr als 2 Jahre
Quelle: SoftwareAdvice
In Betracht gezogene Alternativen:
Good quality software and excellent value for money.
Vorteile:
Easy to learn the basics Easy to use Good functionality overall Good price per user Online support excellent
Nachteile:
Sometimes the software crashes Had a few issues with fonts on the cv and email wizard. Emails come out with strange fonts and sizes. Data records sometimes don't load properly
Andrew
Managing Director in UK
Personalwesen, 11-50 Mitarbeiter
Verwendete die Software für: Mehr als 1 Jahr
Great product that does what you need (and more)
Kommentare: Improved workflow. Smarter searching and great access to historical knowledge. It's wonderful at presenting your information to your clients and candidates in a professional manner. We couldn't live without it.
Vorteile:
Cloud based so we could lose the expensive MS-SQL servers we had and all their licenses. Love the Word Template linking feature. We use it every moment of the day for different things. The candidate shortlisting is spot one. The consultants enjoy the ease of use. New consultants are trained quickly. Very adaptable. The support is great and the developers listen to common sense (and use). Clear and simple work flow.
Nachteile:
Not very flexible for contract recruitment. It works but it works its way and our clients don't! They listened to our issues and have scheduled in time for the changes (which is very like them) but it's a definite weak area of the product.