Was ist mHelpDesk?
mHelpDesk ist eine einfache und leistungsstarke Softwarelösung für dein Außendienstgeschäft. Sie automatisiert alles vom ersten Kundenkontakt bis zur Bezahlung. Das Unternehmen bietet seinen Kund*innen mobile und Online-Tools, die hinsichtlich Leistung, Zuverlässigkeit und Funktionalität ihresgleichen suchen. Das Unternehmen hat die besten Tools in einem äußerst nutzerfreundlichen und erschwinglichen Paket zusammengefasst, das keine großen Vorabinvestitionen erfordert. Und firmeninterne Produktexpert*innen sorgen dafür, dass du sofort einsatzbereit bist.
Wer verwendet mHelpDesk?
mHelpDesk eignet sich perfekt für etablierte und wachsende kleine und mittlere Unternehmen, die eine bessere Organisation, mobilen Zugriff und effizientere Planungs- und Abrechnungsprozesse wünschen.
Wo kann mHelpDesk bereitgestellt werden?
Cloud, SaaS, webbasiert, Mac (Desktop), Windows (Desktop), Linux (Desktop), Android (mobil), iPhone (mobil), iPad (mobil)
Über den Anbieter
mHelpDesk
2009 gegründet
Telefon-Support
Chat
Erhältlich in diesen Ländern
Kanada, Vereinigte Staaten
Über den Anbieter
mHelpDesk
2009 gegründet
Telefon-Support
Chat
Erhältlich in diesen Ländern
Kanada, Vereinigte Staaten
mHelpDesk – Videos und Bilder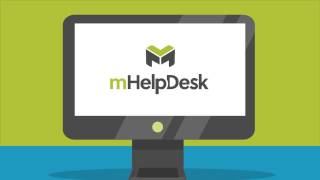 Kosten ähnlicher Produkte wie mHelpDesk vergleichen
mHelpDesk Funktionen
Abrechnung & Rechnungsstellung
Aktivitäts-Dashboard
Aktivitäts-Verfolgung
Alarmfunktion / Benachrichtigungen
Angebote / Schätzungen
Anlagegegenstand-Management
Anpassbare Berichte
Anpassbare Felder
Anpassbare Vorlagen
Arbeitsauftragserstellung
Arbeitsauftragsverwaltung
Aufgabenmanagement
Aufnahmemanagement
Auftragskostenrechnung
Automatische Zeiterfassung
Automatisierte Angebotserstellung
Automatisierte Terminplanung
Automatisierung von Geschäftsprozessen
Bericht-Zusammenfassung
Berichterstattung / Analyse
Bestandskontrolle
Bestandsoptimierung
Bestandsprüfung
CRM
Daten-Import / -Export
Datenvisualisierung
Dokumentenmanagement
Drag-and-Drop
Drittanbieter-Integration
E-Mail-Management
Echtzeit-Berichterstattung
Echtzeit-Daten
Echtzeit-Planung
Elektronische Unterschrift
Elektronische Zahlungen
Erinnerungen
Finanzmanagement
Flottenmanagement
Formularverwaltung
Fotos hinzufügen und bearbeiten
Für gewerbl. & industr. Elektroinstallateure
GPS
Geräte-Management
Gerätenachverfolgung
IT-Asset-Management
Inspektions-Management
Instandhaltungsmanagement
Integration in QuickBooks
Integration in die Buchhaltung
Inventarverwaltung
Job-Management
Job-Planung
Kalender-Synchronisierung
Kalenderverwaltung
Kommentar-Bibliothek
Konfigurationsmanagement
Kontakt-Datenbank
Kontrolle des Genehmigungsprozesses
Kosten-Datenbank
Kostennachverfolgung
Kreditplanung
Kundendatenbank
Kundendienst-Historie
Kundenhistorie
Kundenmanagement
Kundenspezifisches Branding
Lieferanten-Management
Mehrere Standorte
Mitarbeiter-Datenbank
Mitarbeitereinsatzplanung
Mitarbeitermanagement
Mobile App
Mobile Benachrichtigungen
Mobile Unterschriftenerfassung
Mobiler Zugriff
Online-Buchung
Online-Zeiterfassung
Preismanagement
Projektmanagement
Rabattmanagement
Rechnungsmanagement
Release-Management
Reparatur-Tickets
Routing
Schätzung
Self-Service Portal
Service Level Agreement (SLA) Management
Service-Katalog
Störfallmanagement
Techniker-Management
Terminplanung
Ticket-Management
Verfolgen von Vermögensanlagen
Versandmanagement
Vertrags-/Lizenz-Management
Vorbeugende Wartung
Vorlagen
Wartungsplanung
Wiederkehrende Termine
Wohnungsinspektionen
Workflow-Konfiguration
Zahlungsabwicklung
Zahlungseinzug im Außendienst
Zeit & Kosten Verfolgung
Zeitverfolgung
Zugriffskontrollen / Berechtigungen
Alternativen für mHelpDesk
Bewertungen über mHelpDesk
Mark J.
CEO in USA
Verifizierter Nutzer auf LinkedIn
Verwendete die Software für: Mehr als 1 Jahr
Our experience has been extremely positive. No other company would go this far for a customer.
Kommentare: We are completely cloud-based, completely mobile, our response time has decreased and profits have increased. We have found a vendor/partner that listens. We truly have an integrated product from end-to-end. Service calls/requests for quotes come in, an excellent work product goes out, seamlessly.
Vorteile:
The field app is very strong and that is a must. The admin provides a true workflow experience. The software is as flexible as it can be, provides true integration to QB, and has cut our entry time in half. Our profits are up and communication is vastly improved. The cloud feature fits our Disaster Response plan. Their customer service is the best I have seen and we have tried many.
Nachteile:
Very little to dislike. They are always improving. I would like to see an inventory module, and Ajax searches would be a real improvement. But overall, they are the "best-in-class".
Antwort von mHelpDesk
vor 4 Jahren
Thank you for sharing your thoughts on mHelpDesk Mark! We are so happy to work with you and VIALARM.
Informationstechnologie & -dienste, 2-10 Mitarbeiter
Verwendete die Software für: Mehr als 2 Jahre
In Betracht gezogene Alternativen:
Field Service Software for any Business to Stay Organized
Kommentare: Overall I have had a really good experience, anytime I have ran into a problem which is not very often but my problems have been resolved in a professional and expediential matter that allowed my business to continue to operate. You can keep an open line of communication with your customers on work order status or any problems that arise during the work order.
Vorteile:
You are able to automate your business to keep a customer database, schedule and track work orders. Billing is a breeze with in the email feature you send to your customers. They can pay directly with PayPal or Credit Card account. There is even a feature to generate leads to your business. You can customize your invoices and work orders to meet your business needs. Works on mobile Apps and integrates all your invoices to quick books.
Nachteile:
When customers pay from your credit card account, you are only able to setup and activate one payment option at a time. It would be nice to have individual bank accounts set for different sections of your business model.
Bau, 51-200 Mitarbeiter
Verwendete die Software für: Mehr als 2 Jahre
Functional and reliable product with ZERO updates
Kommentare: It's been OK. We are still using it but we are actively looking for a replacement. Of course once you invest in a product it's painful to rip it off and go with another (despite being necessary). They know this and that might be part of why they are totally complacent.
Vorteile:
I like the simplicity of it. It's very simple to use and it works as expected. If your goal is to schedule jobs, create quotes, schedule estimates, and push invoices over to quickbooks it works just fine. It also has a mobile app that is sufficient for basic functionality.
Nachteile:
We've been using this product for over 2 years and they haven't made one single solitary update. Zero. Not one addition to the software. In other words, they appear to have absolutely no ambition whatsoever to make the system better. No doubt this is an organizational decision. If you're looking for a very basic product that works well for what it does, mhelpdesk is fine. If you're looking for a product that will grow with you then it absolutely is not. This product is going nowhere. They have absolutely no decent way to manage memberships. The system freezes up semi-frequently (although thankfully we've never had an extended downtime) The building of estimates is very basic and you have no way of building in multiple options within the same estimate. It's very plain jane. It always will be. There are manifold bugs and usually the bugs will last for months and months and sometime once they happen they never get resolved. For example: - I can no longer export a customer list from the software. I doubt they will resolve this despite the repeated tickets. - You can no longer drag and move items around on a quote when you're using google chrome. It only works if you're using Safari. The problem is virtually nothing in the product works with Safari so you have to login just to do that one task and then go back to Chrome for everthing else. - You have to click save more than once in certain workflows in order for the page to actually save.
Maurice L.
Managing Director in UK
E-Learning, 11-50 Mitarbeiter
Verwendete die Software für: 6-12 Monate
There Is A Requirement To Seep Up The System.
Kommentare: When I decided to migrate to an online, cloud-based system that would help us manage our firm more efficiently, I looked at a number of options. I had a chance to speak with a couple of them. I wanted to deal with a smaller company that could provide excellent service and grow with us. MHelpdesk has made my life a lot easier. We run a home painting company, and having all of our information in one location has been quite beneficial. We are still in the process of transferring everything, but at our own pace. My advice to anyone considering this is to take the jump, sign up for the 30-day trial, and give it a shot. Take it for a minimum of three weeks to see how it works. You won't want to return to the never-ending spreadsheets. I understand that there are larger organizations in this field, but they will not treat you as well as these folks.
Vorteile:
The customizability options for generating estimates and invoices are fantastic. The ability to build a price list simplifies invoicing in the field by allowing you to simply add a pre-worded/priced line item to the invoice. Collecting payments is equally simple, thanks to the possibility of emailing an invoice to a customer, who can then click a link and pay with a credit card.
Nachteile:
The one thing we'd want to see modified is the ability to schedule a work order by selecting a project name. At the moment, you can only choose a site's parent name. Because not all parent names correspond to site names in our field, determining the correct parent and site name can be difficult at times. It would be helpful if you could add by site parent name or exact site location.
Industrieautomation, 2-10 Mitarbeiter
Verwendete die Software für: Mehr als 2 Jahre
In Betracht gezogene Alternativen:
mHelpDesk
Kommentare: Always have a great experience when dealing with customer service. I have been helped in a very timely manner with any issues that would pop up.
Vorteile:
I like that it is easy to use and was easy to setup. The flow of the customer account is good.
Nachteile:
I do not like the reporting. It is not the easiest reports to pull and when you do, sometimes does not make sense. However, I have not used the reports enough to say they are unworkable.
Antwort von mHelpDesk
vor 3 Jahren
Rita, thank you for sharing your comments. We're happy to hear that the product is working for your business and that the Customer Support team has been helpful. We'll pass your feedback about the reporting to the product and engineering teams. Thanks for being a customer!