Was ist dominKnow | ONE?
dominKnow ist eine integrierte Suite leistungsstarker Autorenwerkzeuge für Teams. Mit unserem cloudbasierten Autorensystem können Teams vielerlei Arten attraktiver Inhalte erstellen, in Echtzeit zusammenarbeiten, Inhalte projektübergreifend nutzen und wiederverwenden und KMU in den Bewertungsvorgang einbeziehen. Mit zahlreichen Vorlagen und Digitalressourcen kann man attraktive Inhalte gestalten und flexibel anpassen, ansprechende Lernerlebnisse entwickeln und diese ganz einfach in SCORM und xAPI veröffentlichen.
Wer verwendet dominKnow | ONE?
Teamarbeit spart Entwicklern Zeit, durch Zusammenarbeit, Wiederverwendung von Materialien und optimierte Reviews. Teams können in Echtzeit kooperieren und Ressourcen gemeinsam nutzen.
Wo kann dominKnow | ONE bereitgestellt werden?
Cloud, SaaS, webbasiert, Mac (Desktop), Windows (Desktop), Linux (Desktop), Android (mobil), iPhone (mobil), iPad (mobil)
Über den Anbieter
dominKnow
Ansässig in Ottawa, Kanada
1997 gegründet
Telefon-Support
Chat
Erhältlich in diesen Ländern
Kanada, Vereinigte Staaten
Über den Anbieter
dominKnow
Ansässig in Ottawa, Kanada
1997 gegründet
Telefon-Support
Chat
Erhältlich in diesen Ländern
Kanada, Vereinigte Staaten
dominKnow | ONE – Videos und Bilder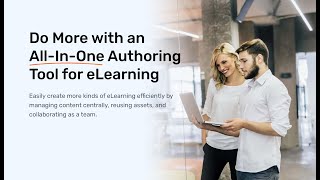 Kosten ähnlicher Produkte wie dominKnow | ONE vergleichen
dominKnow | ONE Funktionen
Ablaufplan
Anpassbare Vorlagen
Asynchrones Lernen
Audio- / Videoaufnahmen
Autorensysteme
Daten-Import / -Export
Gamification
Gemischtes Lernen
Interaktives Lernen
Kurs-Veröffentlichungen
Lernmanagement
Medienimport
Mobiler Zugriff
PowerPoint-Konvertierung
Quiz
Tests/Bewertungen
Video-Management
Vorlagen-Management
Zertifizierung und Lizenzierung
interaktive Inhalte
Alternativen für dominKnow | ONE
Bewertungen über dominKnow | ONE
Kristine S.
Design Specialist in USA
Verifizierter Nutzer auf LinkedIn
E-Learning, 5.001-10.000 Mitarbeiter
Verwendete die Software für: 6-12 Monate
Awesome Cloud Based Authoring tool!
Kommentare: I thoroughly enjoy working in Dominknow and it's been quite easy to pick up. It's a great solution to other larger platforms that do not offer the same customer service. I hope to continue to see them grow in their functionality.
Vorteile:
Dominknow makes it easy to work across teams and share progress on a project. It's cloud based platform makes saving easy and secure. I appreciate that since it's cloud based you always have the latest version versus accidentally opening an old version of a training on a desktop application. The responsiveness is incredible and unlike any other authoring tool.
Nachteile:
Some of the functionality and tools was a bigger learning curve. The training provided is comprehensive, but I wish it was more interactive to allow you to practice these skills in a simulation.
Antwort von dominKnow
vor 3 Jahren
Thanks so much for your feedback Kristine. Please drop me a line with more details about your suggestions for improving our training materials. You might also check out our community where we've begun to add even more helpful information https://community.dominknow.com
Peter H.
Senior Manager, Training Programs in Kanada
Internet, 11-50 Mitarbeiter
Verwendete die Software für: 1-5 Monate
Cloud-based authoring for cloud skills training!
Kommentare: We are using dominKnow | ONE to create web-based training on a variety of cloud computing topics and skills. Since these topics are constantly changing, we need a tool that produces high quality output while being easy to learn and use, especially for engineers who won't make authoring their career. dominKnow | ONE hit the target for us.
The onboarding training we received from dominKnow made the ramping up process all the easier.
Vorteile:
There is a lot to like with dominKnow | ONE. It is browser-based and keeps all files in the cloud, which is important as we often have student interns working on our eLearning projects. Review functionality is built in from the ground up; you don't have to be an author to provide comments, and it is easy to track how each comment is resolved. The Capture tool is fantastic, it allows eLearning developers to create software demoes without having to import/customize screen recordings made with another tool. I like having the choice between Claro for fixed-pixel projects and Flow for responsive projects. Finally, I found it very easy to customize the player with our corporate colours and branding.
Nachteile:
dominKnow | ONE doesn't allow you to start text lines with spaces. This is a challenge as we deal in computer programming with very specific spacing requirements.
Antwort von dominKnow
vor 3 Jahren
Thanks so much for the great feedback and review Peter. For your con item, a couple options are to add a characters in place of "spaces" and apply a course style that changes the color of those specific characters to match the background. You could also try the padding feature which will move it over. As always we greatly appreciate your business and feedback to help make dominKnow|ONE great.
Jennifer T.
Instructional Designer in USA
E-Learning, 2-10 Mitarbeiter
Verwendete die Software für: Mehr als 1 Jahr
In Betracht gezogene Alternativen:
Review
Kommentare: Support is great. The software works and displays beautifully when published.
Vorteile:
Very easy to duplicate projects and pages. Once you have a template, and save the actions the software becomes much easier to use. Some of the features you have added recently like the ability to quickly change the object that is animated are great.
Nachteile:
More resizing options. Often when a 3 column design or something within the containers does not work, I have to start all over. Many projects are like that in dominknow because of the containers I know there are benefits to them, but it makes the design on the fly nearly impossible. More Action options and easier to use. The actions are not intuitive, and it would be great if you had bundled templates for actions. Sometimes, if I am working in a 3 tab set or multiple images on a page when you replace one image, it replaces all images or at least one other image on the page. Another glitch is when you change an image, then click Accessibility, the image reverts and has to be added again. I hate having to Commit every page after I make a course copy. The Assessments are terrible. They are so slow to load when editing, the only options that work on mobile are MC and T/F. Often I will commit a page with a question and it will revert and I have to go back in and edit again. The users say the questions are slow to load and cumbersome. It's jinky.
Antwort von dominKnow
vor 2 Jahren
Hi Jennifer, Thanks for the feedback. It sounds like you could benefit from some additional support and training. Some things are often "different" from previous tools and can lead to misunderstandings. We would be happy to review your concerns with you to clarify. Some specific items: 1. The "containers" are actually very flexible and the instances you describe can be adjusted on the fly. Typically through the container sizing tool. 2. There are hundreds of actions and variations of these available. We would love to hear about additional ones you would like to see. 3. Several of the already provided templates have actions in them and there are a number of sample courses that you can download and use as well. 4.The tabs and accessibility items don't appear to be correct. We would be happy to review this with you. 5. You definitely don't have to hit commit for every page - and there is a mass commit. 6. Re: Assessments all items work on mobile. You may be missing something.
Francesco P.
Director, Solution Consulting in Italien
Informationstechnologie & -dienste, 10.000+ Mitarbeiter
Verwendete die Software für: Mehr als 2 Jahre
Best collaborative authoring solution, not just for eLearning
Kommentare: I have helped large global organisations but also small or medium businesses select and deploy a learning content management and collaborative authoring solution to support their internal designers and/or external suppliers. dominKnow | One has covered all business critical requirements and helped organisations rethink the way they design their learning content. Also the support team is very knowledgeable and reliable.
Vorteile:
dominKnow | One is a comprehensive collaborative authoring suite, rich in features and not too complex to use. Good for both professional eLearning designers and developers as well as less frequent users such as subject matter experts. It combines three authoring environments to design and build content natively conceived for mobile consumption: Responsive (mobile first), fixed screen and software simulations. Supports collaborative work including co-authoring, peer review, translation and localisation, etc. Has a very set of interactive ("engage") components to make your content engaging and pedagogically effective. The support community is also very active and people can find tutorials and samples that make their life easier and inspire.
Nachteile:
As every other fully web based tool, you need to be constantly connected to the internet when you use it. This may cause issues if you need to work while travelling if you do not have a stable connection (e.g. on a train or plane)
Therren D.
Mangement& Program Analyst in USA
Staatsverwaltung, 501-1.000 Mitarbeiter
Verwendete die Software für: Mehr als 1 Jahr
The DomiKnow Solution
Kommentare: Overall, the DomiKnow platform is helping our organization to give more creative freedom to content creators in a way that is more visually appealing and functional to the end users. We are finding that content managers are better able to customize their content and the experience that people have when they take the courses they have created. Because of the ability to edit courses, for example, it is easier to use feedback from stakeholders and end users. It also makes it easier to upload and launch training content from the Sumtotal LMS which is something our team values!
Vorteile:
I most enjoyed the amount of freedom this software give to content creators. The ability to create a the pages, edit them, include video or other visual features is really good and easy to teach others how to use. The customer support including documents, FAQ links, YouTube tutorials, and the customer support phone number have proved helpful to our content creation team and the new users we have trained.
Nachteile:
There are time I have found it difficult to select some of boxes on at the page creation level....sometimes it stalls or when clicking on a box or field to edit it is slow in responding to the prompt. Also, there were times when after adding text to the field and editing it, the format of the text would change or not take effect once I hit save. As the page becomes slower in response to clicks/prompts, it becomes increasingly frustrating to edit the page.
Antwort von dominKnow
vor 2 Jahren
Thanks so much for your feedback. I think you'll be happy hear that we are adding even more helpful information directly into the product in the next release and integrating the community and articles right within the workflow. In terms of the cons mentioned, it sounds like there might be some latency with your connections as this is not "normal" please reach out to our support team (or respond to my message) and we would be happy to see if we can't resolve that for you.