Das könnte dich auch interessieren:
Was ist Zaui?
Zaui ist eine technologieführende Reservierungs- und Verwaltungssoftware für Shuttle-Unternehmen, Tour-, Aktivitäts- und Vermietungsunternehmen. Zaui ist eines der ältesten Reservierungssysteme der Branche. Innovative Tools um Tourismusunternehmen wachsen zu lassen.
Funktionen: zentralisiertes Betriebsmanagement, E-Commerce-Buchungs-Engine, mobile und Point-of-Sale-Apps, Bestands- und Preismanagement, Agent-/Affiliate-Buchungen, Fahrzeug- und Routenmanagement, Online-Wiederverkaufskanäle (OTA) und vieles mehr.
Wer verwendet Zaui?
Buchungs- und Reservierungsmanagementsoftware speziell für die Tourismusbranche: Transport- und Shuttle-Unternehmen, Tour- und Aktivitätsbetriebe, Verleihfirmen und Ticketanbieterunternehmen.
Zaui – Details
Zaui Software
1999 gegründet
Zaui – Videos und Bilder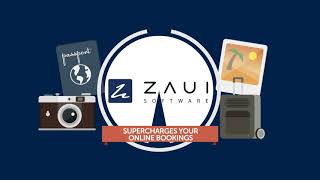 ▶︎
Zaui – Details
Zaui Software
1999 gegründet
Kosten ähnlicher Produkte wie Zaui vergleichen
Startpreis
Nicht verfügbar
95,00 $/Monat
Nicht verfügbar
Nicht verfügbar
Zaui – Bereitstellung und Support
Kundenbetreuung
E-Mail/Helpdesk
FAQ/Forum
Wissensdatenbank
Telefon-Support
24/7 Live-Support
Chat
Einsatz
Cloud, SaaS, webbasiert
Mac (Desktop)
Windows (Desktop)
Android (mobil)
iPhone (mobil)
iPad (mobil)
Training
Live Online
Webinare
Dokumentation
Videos
Dominic M.
Manager, Consumer Sales & Marketing in Kanada
Verifizierter Nutzer auf LinkedIn
Freizeit, Reisen & Tourismus, 51-200 Mitarbeiter
Verwendete die Software für: Mehr als 2 Jahre
Great reservations+operations platform that can grow with your business!
Vorteile:
- Super-customizable system for any tourism business scenarios (complex multi-component packaging, shared inventories, add-ons, merchandise; charters, cross-selling, etc); - Has functionality & integrations not available with other systems we've explored; - Great technical support team; - Fully-customizable online booking portal(s);
Nachteile:
- Past issues with system speed (seems to be resolved now)
Antwort von Zaui Software
vor 3 Jahren
Thanks so much for your review Dominic! We have been so proud to watch Prince of Whales grow over the years and look forward to many more successful years! Happy to hear you getting the most out of the customization and digging deep into the feature set! Please let us know if we can of any help! Best of luck as we head into Whale season!
Verifizierter Rezensent
Reservations Assistant in Kanada
Verifizierter Nutzer auf LinkedIn
Museen & Institutionen, 201-500 Mitarbeiter
Verwendete die Software für: Mehr als 1 Jahr
In Betracht gezogene Alternativen:
Simple and Effective with Amazing Support
Kommentare: From initial set-up and training through to today, the entire experience has been smooth. I was confident enough in my understanding of the system about 3 days after we first got it to train our entire staff. Every interaction I've had has been positive and I would confidently recommend Zaui to anyone looking for this type of software.
Vorteile:
The incredibly fast set-up and ease of use for frontline staff is a major plus. The on-boarding and support teams are very responsive and go above and beyond what one would expect. The number of features that we could grow to use in the future is impressive as well.
Nachteile:
It would be nice to be able to disable/further customize some aspects of the software. We use Zaui for a free tour offering, but there is no ability to eliminate dollar amounts and checkout language, even on the customer facing end. I do recognize that we are in a tiny minority of users with this request, and they have noted it.
Pieter D.
Owner in Kanada
Gastgewerbe, 2-10 Mitarbeiter
Verwendete die Software für: Mehr als 2 Jahre
Critical issues with software reliability
Kommentare: It started off being a good software and I enjoyed the professional help from their technical team. Unfortunately once their frequent and lasting outages started to happen, I have lost complete trust in this company and product!
Vorteile:
The software is sophisticated and has many features that are designed for the hospitality industry. The software is relatively easy to use.
Nachteile:
If you are looking for a reservation software/platform that experiences frequent outages that can last for 24 hours during peak tourism season, this software is for you. They have literally lost their clients thousands of dollars due to their reliability issues. Unfortunately, our clients only sees your website and this flawed product will directly impact your reputation. Until they fundamentally improve their reliability and work with their third party infrastructure providers (Microsoft Azure), I can not recommend this company/product. Unfortunately it is very difficult to change providers halfway through peak season, otherwise I would have!
Antwort von Zaui Software
vor 2 Jahren
Hi Pieter, Thanks for being with us for the last 2+ years. We are extremely apologetic on how the recent outages have affected your business. We realize how critical your booking system is to your operation and please rest assured that our technical team did not sleep until this issue was resolved. As you are aware, we experienced a critical outage in the architecture that runs behind the scenes in Zaui. Although it was not a direct problem with the Zaui element of the architecture, it resulted in a massive slow down of all systems on the Zaui platform. These types of outages are not common and many companies have been involved in the restoration of the entire ecosystem and source of slowness. The Zaui team has been relentless in assisting and solving the technical problem with restoring everyone's system to faster and more reliable service than ever before. We completely empathize with your position and would love to build on the foundation we have created with LIVV Adventures.
Charles F.
President in USA
Transport/Güterfrachtverkehr/Schienenverkehr, 11-50 Mitarbeiter
Verwendete die Software für: Mehr als 2 Jahre
Scalability
Kommentare: The biggest benefit I have gained from Zaui is added efficiency. We are able to do more with fewer people, and we are able to work from wherever we so please. I can even Zaui while having sushi, and I often do.
Vorteile:
We are into our fifth year with Zaui, and as a business. We began with just one van so it was a relatively easy process to get up and running with a simple schedule. Fortunately we discovered a local niche that needed to be filled, and a year later we were up to ten vans and counting. Houston has two airports. Zaui makes it easy to create express runs to each airport, as well as multi-stop activities. The software is highly-configurable and once you have established your schedule it will allow you to track and manage a fleet of vehicles, drivers and their passengers. On our busiest days we have moved more than 500 passengers in a dozen 14-passenger Mercedes-Benz Sprinter vans. I couldn't imagine trying to tackle that with pencil and paper, or even a printout. Zaui allows the drivers to see an electronic manifest that can be refreshed in an instant as the office personnel moves passengers around as necessary. The drivers can check-in their passengers and it is instantly updated in the system. The reservation itself is easy to read and looks professional, because it is. Our customers don't even need to print it out because the driver, either has them on the manifest, or is able to search by name or confirmation number. The driver can check them in even if they are scheduled for a different shuttle time. Zaui staff is amazing! They are always pleasant even when I am not!!
Nachteile:
We have over 31,000 reservations now, so the Lookup feature shows some instability when trying to retrieve a name from the database. Private shuttle reservations don't show on the schedule until a payment or partial payment is made. We work around this by leaving notes at specific shuttle times where we expect this group to be. I have yet to see a photo of Zaui's huge office space. When I call in I can hear people in the background more than fifty feet away. I have heard the ceiling is made of wood. Must be nice.
Antwort von Zaui Software
vor 2 Jahren
Thank you for your awesome feedback Charles! It has been incredible to be a part of your amazing success story! We chuckled a bit at the "huge office space" comment. Although we aspire to have a warehouse for an office one day, our close-knit quarters will have to do for now! We are incredibly grateful to have partners like you and are always here to support your business, no matter your mood, no matter the size of your question. Thanks for riding with us! We can't wait to see what is next for Galveston Express!
Dean D.
Manager in Kanada
Freizeit, Reisen & Tourismus, 11-50 Mitarbeiter
Verwendete die Software für: Mehr als 2 Jahre
In Betracht gezogene Alternativen:
Good booking system
Kommentare: Overall it's been a good experience and we'll stick with their software for a lot longer.
Vorteile:
Zaui software has been amazing for our online bookings. It considerably has lessened the workload of phone bookings and been very useful to connect with third party sellers of our product.
Nachteile:
Initial setup was cumbersome and a little frustrating. As is making some alterations. Just the system not having the capacity to understand our product. We always find a way though.
Antwort von Zaui Software
vor 7 Monaten
Hi Dean, Appreciate you for taking time to share your feedback with us. It's great to hear that Zaui is delivering value in helping with offloading phone bookings and letting the booking engine do the heavy lifting for Toby Creek Adventures. Also wanted to add that it's been a pleasure working with your team (Nicole) in switching over to the new online booking engine, and setting up staggered intervals for your ATV tours to keep both your team and guests safe. Let us know if there's anything else we can help with! Best, The Zaui Team