Was ist Edvance360?
Das LMS mit Bewertung von Gartner als zweitbeste LMS bezüglich des Preises bietet einen umfassenden Ansatz: Erstelle interaktive, "spielerische" Lernpfade aus beliebigen Dateien, biete Kurse im eigenen Tempo sowie von Lehrern geleitete Kurse, ein integriertes Videokonferenz-Tool sowie Fortbildungskurse mit Zertifikaten und Abzeichen an und belebe die ILT-Kurse. SCORM-kompatibel. Auf einer kollaborativen Plattform aufgebaut, um Lernende über den Kurs hinaus einzubinden; Ressourcen- und Inhaltsbibliotheksoption und Mentoring-Tools verfügbar. B2B-Multi-Tenant-Option.
Wer verwendet Edvance360?
Edvance360 bietet eine flexible und anpassbare Nutzeroberfläche, die sich für Unternehmen, Behörden, Militär, Non-Profit-Organisationen, Gesundheitsprogramme, Weiterbildungsprogramme und Schulen eignet.
Wo kann Edvance360 bereitgestellt werden?
Cloud, SaaS, webbasiert, Android (mobil), iPhone (mobil), iPad (mobil)
Über den Anbieter
Edvance360
Ansässig in Thomasville, USA
2004 gegründet
Telefon-Support
24/7 Live-Support
Chat
Über den Anbieter
Edvance360
Ansässig in Thomasville, USA
2004 gegründet
Telefon-Support
24/7 Live-Support
Chat
Edvance360 – Videos und Bilder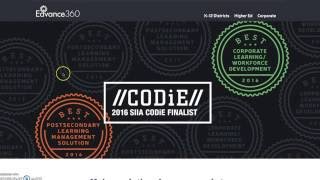 Kosten ähnlicher Produkte wie Edvance360 vergleichen
Edvance360 Funktionen
API
Aktivitäts-Dashboard
Asynchrones Lernen
Aufgabenmanagement
Beurteilung-Management
Drittanbieter-Integration
E-Commerce-Management
Gemischtes Lernen
Integrierter Autorensystem-Kurs
Klassenbücher
Kommunikationsmanagement
Kurs-Tracking
Kursverwaltung
Lernmanagement
Lernpfade/-verläufe
Mobiles Lernen
Portal für Lernende
SCORM-Compliance
Soziales Lernen
Synchrones Lernen
Tests/Bewertungen
Trainingsverwaltung
Virtueller Klassenraum
Zertifizierung und Lizenzierung
Alternativen für Edvance360
Bewertungen über Edvance360
toshiki
Student in Hongkong
Verifizierter Nutzer auf LinkedIn
Internet
Verwendete die Software für: Mehr als 1 Jahr
A painless way to learn.
Kommentare: a lot
Vorteile:
Using this software, it was easy for me to learn my classes that I need to learn. I actually prefer to learn this way and hope I will be using this software next year.
Nachteile:
The only thing I didn't like about this software was the UI on my phone. Other than that I had no problems with it.
Antwort von Edvance360
vor 5 Jahren
Toshiki, thank you for the feedback. Your school is on an older version, we believe. If they will upgrade to Version 8.1, we believe you will love the mobile interface.
Terri
Simulation & Technology Coordinator in USA
Hochschulbildung, 11-50 Mitarbeiter
Verwendete die Software für: Mehr als 2 Jahre
Edvance360 benefits School of Nursing
Kommentare: We are a small rural School of Nursing with approximately 60-70 students. Today's student population is technologically oriented, and we needed a way to best meet their needs. Approximately 7 years ago we embarked on a journey to find a Learning Management System. We found most of the systems were designed for larger schools and had a cost that was well beyond our reach. I was attending a nursing seminar when I first met a representative from Edvance360. After hearing about the product, I set up a demonstration webinar. All of our Faculty members attended and were immediately impressed by the ease of use and the training and support that was available. At that time, several of our experienced faculty members were not as computer literate as others, so we needed a product all could use. We purchased and implemented Edvance360 with many positive responses from students. Initially we limited the use of some of the features to insure equality for all faculty implementing the technology. Over the following year we expanded the number of features we utilized; this slower introduction to features allowed all faculty to learn and master each feature regardless of their individual computer skills. It did not take long for all faculty to become comfortable with using the product. The system is extremely easy to use and implement. Students and faculty both love the enhanced communication between faculty and users via internal emails, discussion posts, and wikis. Lessons organize the material being presented and empower students to come to class well-prepared. Students appreciate having all course resources available in one location where they can access materials from any computer. Faculty appreciate the survey tools where responses are tallied automatically allowing instant access to results. This provides opportunity for immediate changes if needed before the next semester begins. I cannot say enough good things about Edvance360. The technological support, instant responses to any Help Desk questions, and affordable cost makes this the optimal solution for those wishing to incorporate a high quality web-based Learning Management System in a smaller school!
Vorteile:
Lessons Communication - emails, alerts Discussion posts, wiki, drop box Resources Surveys
Nachteile:
Grade Sheet - would like to see categories on separate spreadsheets instead of all together.
Noah
Chief Operations Officer in USA
E-Learning, 2-10 Mitarbeiter
Verwendete die Software für: 6-12 Monate
Quelle: SoftwareAdvice
Not as Intuitive as Advertised
Kommentare: Our experience was excellent up until the signing of the contract. As soon as Edvance360 received payment, the relationship quickly soured. In our opinion, the product they delivered was substandard to the product that was demonstrated during the vendor selection process. If you are looking for an LMS that is SCORM compliant, realize that Edvance360 supports SCORM version 1.2, which is extremely outdated -- the company apparently has no intention of upgrading to the latest version of SCORM. As the administrator and user of this LMS, I found the functionality to be cumbersome and not nearly as intuitive as advertised. The learning curve is very steep, and some of the fields cannot be modified/edited by the administrator, even though we were told that "all fields are editable". This lack of functionality was not only disappointing, it adversely affected our business model. From the onset, we felt the "implementation" team never really took the time to understand our business or partner with us in any way to resolve some of the issues we encountered. The Edvance360 management team gave us the impression they didn't care about our company or our goals. Perhaps they didn't value us as client because we are a small startup. We ended up switching to a different platform and delivery system within the first few months of the contract. We submitted a request for a partial refund, but it was denied by the owner.
Vorteile:
The rapport we established with the Sales representative.
Nachteile:
Functionality, Client Support, Capability, and Technology. LMS only supports SCORM version 1.2, which is outdated.
Verifizierter Rezensent
Professional Development/ Online Learning Coordinator in USA
Verifizierter Nutzer auf LinkedIn
Bildungsmanagement, 2-10 Mitarbeiter
Verwendete die Software für: Mehr als 1 Jahr
Great LMS for Non-Profits
Vorteile:
Edvance360 offers all the LMS features our clients need at an affordable price. As a non-profit entity it is important for us to offer a LMS service at a low cost and Edvance360 allows us to do that. Creating and developing the front-end of the LMS and eCommerce page was fairly simple and Edvance360 staff was supportive and responsive. Edvance360 Help Desk is extremely responsive for general issues related to the LMS. We successfully utilize this LMS to facilitate teacher professional development and as a secondary student platform.
Nachteile:
I submitted a request for custom features in August and did not receive a reply. After several follow-ups it was agreed to revisit the request in late fall. I followed up again in mid-late October and have not yet received a reply. More timely communication from the development team would be wonderful. Occasionally we will have a technology issue requiring the developers to be involved. These issues take an extremely long time to correct. We currently have multiple open help desk tickets within the feature queue that have not been resolved due to the development team. Several of these tickets have been ongoing requests/issues for over a year.
Antwort von Edvance360
vor 4 Jahren
Thank you for the feedback. It is important to us that you are heard. Please contact Cathy Garland directly to discuss these requests to see if something more can be done to speed things up. We prioritize custom requests by 1) the number of clients that would benefit, and 2) the cost in manpower (since most customizations are provided to clients at no charge).
Verifizierter Rezensent
Admin Assistant Aide in Nördliche Marianen
Verifizierter Nutzer auf LinkedIn
Hochschulbildung, 51-200 Mitarbeiter
Verwendete die Software für: 6-12 Monate
Great for distance learning programs!
Vorteile:
Since our community is composed of small nearby islands, we can't be travelling every single day just to go to college. Our college has established many online learning system for years and Edvance360 is the most efficient one that student, regardless of age, can easily understand and learn after using it a few times. It provides more tools compared to the other online learning softwares that we previously have tried, like the completion of the work to do, the automatic updates of work done, the automatic grade updates and other bunch of stuff.
Nachteile:
Discussion forums is still useful even after the chapter discussion is done, since it can still be a reference to the next chapter and to the exams as well. So it would be nice if you can still open the previous discussions even after the closing date.
Antwort von Edvance360
vor 4 Jahren
Thank you for you feedback! Not sure if you are a student, but if you are, your instructor's should open a community or group for the discussion instead of just using the discussion tool inside the course - that way it's limited to just the course! Alternatively, they could use their blog for the discussions, which are always available at all times. Your admin might need to turn these things on, but we love your feedback!