Was ist NueMD?
NueMD ist ein nutzer*innenfreundliches, cloudbasiertes medizinisches Abrechnungssystem, das den Erstattungszyklus verkürzt und die Effizienz in den Praxen erhöht. Biete deinen Kund*innen mit NueMDs detaillierten Berichten zu Umsatztrends, Inkassoverlauf und Zahlungsstatus einen besseren Service. Mit einem etablierten Kund*innenstamm von über 24.000 Nutzer*innen in allen US-Bundesstaaten ist NueMD die sichere Wahl für die medizinische Abrechnung.
Wer verwendet NueMD?
NueMD ist für Arztpraxen, psychiatrische Einrichtungen, medizinische Abrechnungsexpert*innen und studentische Gesundheitszentren in den Vereinigten Staaten geeignet.
Wo kann NueMD bereitgestellt werden?
Cloud, SaaS, webbasiert, Mac (Desktop), Windows (Desktop), Linux (Desktop), Android (mobil), iPhone (mobil), iPad (mobil)
Über den Anbieter
AdvancedMD
Ansässig in South Jordan, USA
1993 gegründet
Telefon-Support
24/7 Live-Support
Chat
Erhältlich in diesen Ländern
Vereinigte Staaten
Über den Anbieter
AdvancedMD
Ansässig in South Jordan, USA
1993 gegründet
Telefon-Support
24/7 Live-Support
Chat
Erhältlich in diesen Ländern
Vereinigte Staaten
NueMD – Videos und Bilder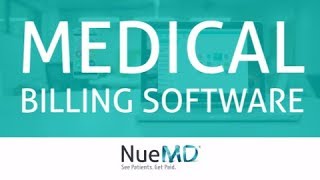 Kosten ähnlicher Produkte wie NueMD vergleichen
NueMD Funktionen
Abrechnung & Rechnungsstellung
Arzt-Management
Behandlungsplanung
Bestätigung / Erinnerungen
Code- & Gebühreneintrag
Coding-Unterstützung
Compliance im Gesundheitswesen
Compliance-Verfolgung
Diagramm-Erstellung
EMR / EHR
Elektronische Rezepte
Ergebnisbewertungstools
Fortschrittsverfolgung
HIPAA konform
Inventarverwaltung
Medizinische Abrechnung
Medizinische Terminplanung
Mehrere Ärzte
ONC-ATCB zertifiziert
Patienten-Aufnahme
Patienten-Terminplanung
Patientenportal
Personalverwaltung
Pflegeplan-Management
Rechnungshistorie
Reklamationsabwicklung
SOAP-Notizen
Schadensprüfung
Self-Service Portal
Terminplanung
Terminverwaltung
Versicherungsmanagement
Verwaltung von Patientenakten
Wiederkehrende Termine
Überprüfung der Versicherungsberechtigung
Überweisungsbescheid
Übungs-Management
Verifizierter Rezensent
Verifizierter Nutzer auf LinkedIn
Medizinische Praxis
Verwendete die Software für: Nicht angeboten
Quelle: GetApp
Fast set up and implementation
Kommentare: Just like everyone else I was very skeptical with choosing a billing software. I feel that it is an important decision especially for a growing clinic. I choose NueMd because of its ease of use and training available. They help you to set up your business information as well as answer questions along the way. There is always someone available to help in the chat or they are very prompt to return your phone call.
Vorteile:
Training, multiple users, access anywhere with an Internet connection, fast set up and implementation.
Nachteile:
Learning a new software.
Alicia E.
Billing Clerk in USA
Verifizierter Nutzer auf LinkedIn
Medizinische Praxis, 51-200 Mitarbeiter
Verwendete die Software für: Mehr als 1 Jahr
Ease of NueMD
Kommentare: I am a non college graduate that has no issues using this product. It is very easy to understand and effortless to use. i would recommend this to any office.
Vorteile:
NueMD is made for ease of use. I feel the color coding for different types of transactions makes it easier to visually determine what action may be needed next. Such as; insurance updates, payments received, or is the patient ready to be scheduled. I also feel the speed buttons make it faster to negotiate around the patient file; such as: am i updating insurance info, or do i need to add an a service to what was received, or do i need to add a memo.
Nachteile:
They only thing i find for this product that i don't like about this product is in the financials. If you see a patient many times over the years the financial page can get very long. If there was a feature that once the ticket is closed it can be downsized or fan or cascade close. Giving you the option to review later or skip over intirely.
Carla F.
Business Director in USA
Medizinische Praxis, 2-10 Mitarbeiter
Verwendete die Software für: 6-12 Monate
Quelle: SoftwareAdvice
Not intuitive - NOT designed for Medical Doctors
Kommentare: Make a list of the basic task the doctor does to complete a chart. Then ask them to show you how they perform that task. Don't be like me and take for granted that a doctor can pull up a med, and see the mg dosing, or use a simple auto correct, or upload and save a form without waiting so long it delays your intake. Perhaps choose another software that is actually designed for medical doctors.
Vorteile:
Looks professional and has nice colors. It has caused us to become creative and design our own "work arounds", which are costly to our practice but necessary to use this software.
Nachteile:
The software freezes constantly requiring to reload it. The pharmacy meds are listed by full name, then NDC, then mg. They list a multitude of NDC numbers that the doc has to "choose" in order to auto fill. Cannot see the mg of med because the window is so small, requiring the doc to scroll down and across to find the right med. What doctor will know the NDC no. the pharmacist will use? A mystery! Doing the shortcuts for common meds is very time consuming since a lot of meds are prescribed and you must input those individually and for each doctor separately. The software will not allow more that 10mb to be uploaded into a chart at a time, and each page takes 10 seconds to save, blocking the use of the software until the save is completed. To upload a 25 pg medical chart scanned to the patient's record requires you to separate it into 5 pages each, wait for the minute to upload before you can move on to the next batch. More than 5 minutes to compete the process before you can use the software. A killer for an office that needs to upload various forms we complete for patients. A CD with 160mb to upload? Impossible. They don't have the common auto correct for medical terminology that other softwares use, requiring time consuming corrections by hand. Any fixes take months and you have to hound the support team to do them. They have to send the requests to a tech committee to review it. They never respond to your request, especially when they cannot or will not do the fix. Now that they are merging with AdvancedMD, they won't consider a fix unless it is urgent. Wait! Our fixes were requested long before the merger, over 6 months ago! And the one task we were promised to be fulfilled within three weeks of our purchasing the product (and as a condition of purchase) is still not done, and it has been over 6 months in the waiting. You cannot see more than one page on the screen so you can review an area while writing the chart. Sadly the staff are unaware of how a busy medical practice is run, or perhaps their hands are tied because the software falls very short of being useful for a medical practice. Not a good match for busy doctors. Many more issues, but I've run out of space.
Sabrina C.
Office admin assistant in USA
Gesundheit, Wellness & Fitness, 51-200 Mitarbeiter
Verwendete die Software für: 1-5 Monate
Easy to use and useful.
Vorteile:
We use it mostly for scheduling and entering patients. It is super easy to use, even without training you can figure out how to enter patients and book appointments.
Nachteile:
Not all reports work. It is missing some important reports as well, like a report of entered patients even if they have not been scheduled. Just a list of entered patients for the day/month and their contact info.
Tami W.
Business Manager in
Verwendete die Software für: Nicht angeboten
Would highly recommend NueMD for your Practice Management. A++++++++++++++
Kommentare: I am the Office Manager here at a pediatrics office and I absolutely love this software. The majority of my time consists of the patient billing: entering of charges, posting of payments and printing of reports. Each of these are very simple to easy to use. My ONLY complaint is that searching for a diagnosis code, then inserting into the claim is a bit cumbersome. Still haven't mastered it yet, and have been here a year. Posting claims, correcting claims, posting payments and sending statements are all a breeze. Entering of patient demographics is easy to maneuver. The patient insurance screen is so simple. I have used a number of medical software programs, and the insurance screens are by far the easiest with NueMD. As a manager, I have to print many reports both daily and monthly. The ease of printing a variety of reports with NueMD has made my job easier as well. In addition, as the key administrator for NueMD in our office, my responsibility includes the addition of new employees. Such a simple process. Likewise, adding new insurance companies is a breeze. In regards to customer service, I feel very fortunate to have the availability to email Dotty at NueMD whenever I have questions. She ROCKS!!! It is very reassuring to know that I typically will receive a very timely reply. There has been a few questions that have taken quite a long time get resolved, but these involved technical support. I am quite certain that every situation can not be resolved immediately. Additionally, we seem to have "NueMD slow" times through out the day, and that can be quite annoying, although I am unsure how the connectivity to the "the Cloud" affects NueMD? In closing, I would highly recommend NueMD. Best Practice Management software ever!!!
Antwort von NueMD
vor 8 Jahren
Hey Tami, thanks so much for the review! It's great to know that you appreciate Dotty as much as us here at NueMD!