Was ist Alora Home Health?
Die Alora-Software bietet Gesundheitsorganisationen für die Betreuung jede Menge Funktionen, dazu gehören die Planung, Abrechnung für alle Zahler, Pflegeplanung (485), OASIS, Pflegeort, papierlose Dokumentation, integrierte Faxfunktion, integrierte Telefonie, Offline-Diagramme, umfassende Beurteilung, Besuchsnotizen, elektronische Signatur, Debitoren- sowie HR-Funktionen und vieles mehr. Alora ist eine All-In-One-Lösung für Agenturen, die sowohl qualifizierte als auch nichtqualifizierte Pflegedienstleistungen anbieten.
Wer verwendet Alora Home Health?
Alora ist die perfekte Lösung für Agenturen in den Bereichen häusliche Gesundheit, häusliche Krankenpflege, qualifizierte und nichtqualifizierte Pflege, Hospiz und/oder Kinderheilkunde. Die Alora-Software ist browserfreundlich und für die mobile Verwendung geeignet.
Wo kann Alora Home Health bereitgestellt werden?
Cloud, SaaS, webbasiert, Mac (Desktop), Windows (Desktop), Linux (Desktop), Windows (On-Premise), Linux (On-Premise), Chromebook (Desktop), Android (mobil), iPhone (mobil), iPad (mobil)
Über den Anbieter
Alora Healthcare Systems
Ansässig in Atlanta, USA
2005 gegründet
Telefon-Support
Erhältlich in diesen Ländern
Vereinigte Staaten
Sprachen
Englisch, Spanisch
Über den Anbieter
Alora Healthcare Systems
Ansässig in Atlanta, USA
2005 gegründet
Telefon-Support
Erhältlich in diesen Ländern
Vereinigte Staaten
Sprachen
Englisch, Spanisch
Alora Home Health – Videos und Bilder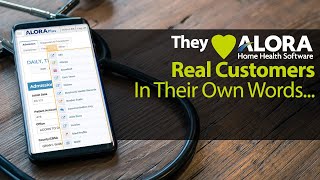 Kosten ähnlicher Produkte wie Alora Home Health vergleichen
Alora Home Health Funktionen
Abrechnung & Rechnungsstellung
Compliance Management
Kalenderverwaltung
Kundenmanagement
Mobiler Zugriff
Pflegeplan-Management
Planung für Pflegekräfte
Reklamationsabwicklung
Terminplanung
Terminverwaltung
Verwaltung von Patientenakten
Alternativen für Alora Home Health
Bewertungen über Alora Home Health
Mohini C.
Home Health Administrator in USA
Krankenhausversorgung & Gesundheitswesen, 2-10 Mitarbeiter
Verwendete die Software für: Mehr als 2 Jahre
Quelle: SoftwareAdvice
Excellent Customer support
Vorteile:
Customizable. Parameters driven making it scalable. Well integrated with the DDE , Clearing houses and SANDATA for EVV transmission.
Nachteile:
Because it is highly parameterized. Nursing staff finds it difficult to make proper use of it's customizing features. Initially, they take time to understand the information flow. I highly recommend to introduce incident reporting template. Nurses don't use communication log properly to report incidents. A/R Module is tedious.
Krankenhausversorgung & Gesundheitswesen
Verwendete die Software für: Nicht angeboten
Quelle: SoftwareAdvice
Thus far, my experience with Alora has been overall very good.
Vorteile:
I am a fairly new user with lots of learning ahead of me. At this point of use with our new company, the software has been user-friendly and seems to be very comprehensive in the home care field. The best thing thus far has been the help/support I have received. They have been extremely helpful with resolving some issues and training, as well as with answering questions in a friendly and prompt manner. They have not only helped resolved what I felt like were some big issues but have also taken the time on several occasions to teach me. Our rep is very patient and personable. When it comes down to it, in my opinion, all the home care software out there is similar, for the most part, with varying degrees of bells and whistles, as well as price. Besides price, the thing that sets software vendors apart is the support staff who work with the agencies using the software. Alora has a really good team, and I think that will build on their reputation in a very positive way. I also like how Alora will listen to users that have suggestions to make something easier or better with the software and then sometimes make changes/updates to accommodate. It gives the users a sense of teamwork - that Alora is always trying to make the software better for its users, not just customers with no voice. I like how Alora is constantly updating and sending the updates to the users. I also like the ability to open so many windows from a single window that I'm in to check information, etc. This is very helpful and useful. I really like the scrubbing tool! I think the price is reasonable. I am hoping it stays that way. The more I use the software and learn its capabilities, the more I like it.
Nachteile:
The biggest issue up to this point is that the system seems to crash a lot when I have entered and completed a 485 then go to print. I have lost all data more than once when this happened which was frustrating. I have now learned to hit the save button before I try to print. It still crashes at times, but when I reopen the software, the 485 is there.
Krankenhausversorgung & Gesundheitswesen
Verwendete die Software für: Mehr als 1 Jahr
Quelle: SoftwareAdvice
Alora is non-interactive
Vorteile:
We do not like this product at all. We do not feel that the program is intuitive. Support is poor and not timely.
Nachteile:
The product is set up by task, instead of set up by client chart. The point of care tablet use is frustrating and time consuming. To chart on a nursing note, or any type of form, put the client name in, choose the correct client. If a medication needs to be added, close the nursing note, choose the med profile, type in client name, choose the client, add the med. Close the med, go back to nursing notes, type the client name ... and so on. If the schedule is set up for a Monday, and you go into that visit and change the visit to Tuesday, the schedule does not update. You have to physically move the visit. Reports are poor. We recently had a CHAPS survey and they wanted to see the Transfer Summary for a patient hospitalized. No such thing in this software. When you call support, they rarely pick up the phone. Even though the issue is usually a question for IT, they will not let you speak with IT. They give IT the message and get back to you.
Isabelle O.
Admin. Assist/Office Manager/Billing Manager in
Krankenhausversorgung & Gesundheitswesen, 11-50 Mitarbeiter
Verwendete die Software für: Mehr als 2 Jahre
Quelle: SoftwareAdvice
Administrative assistant/ Office manager/ Billing Manager
Kommentare: On the Classic Version we do not have a place to put comment when the patient has a change on the profile.
For the New Web version on the Oasis there is no name and date the person who made change on the Oasis.
Vorteile:
Alora is easy software to use, to access and manage with the help of the windows that the programmer created for the client to be able to use. This software gives opportunity to any user whatever the level of computer knowledge to use it without worrying about the improvement of the work; you do not try to think too much to do the work. It is software that does not require much computer knowledge for its use. It is software that accepts the whole level of study to use it.
Nachteile:
What concerns me the most after the webinar training there are no certificates provided to encourage all those who have taken the training that will allow the motivation and the participation of the user to follow the software update and some changes rules from CMS
Krankenhausversorgung & Gesundheitswesen, 51-200 Mitarbeiter
Verwendete die Software für: Mehr als 2 Jahre
Quelle: SoftwareAdvice
Customer service has always been on point and continues the same quality of service no matter how many times you contact them. 9:10 your problem is solved or there is a followup resolution expedited whether quickly.
Kommentare: I would also like to see more features with Supervisory visit tracking (QA) and option to run multiple QA document type and status at one time. A request that was already discussed but note officially ticketed as feature upgrade.
Also, enable more stricter and user friendly way that prohibits scheduling what is not authorized.
Vorteile:
Fax ability, electronic nurses assessments. Lots of hard work updating and creating new features for compliance with New CMS CoP's!! Love the new POC Plus. Billing module, schedule module, etc...Perks!!
Nachteile:
Carry over feature for skilled nurse visits when there are multiple nurses on the case. Other nurse's systems review boxes are carried over, interventions are carried over, general notes are carried over.... These are from another nurse's assessment and should not be part of the "carry over feature". Should have a choice to only carry over a particular user's last note, not just the last note in the system. So carry over feature should only populate from that specific user ID's last note.