Was ist WinSPC?
WinSPC helps manufacturers create the highest quality product for the lowest possible cost. It does this by applying real-time statistical process control (SPC) to processes to detect unexpected changes. Once a change is detected, WinSPC responds appropriately to help you and your production staff prevent scrap and rework: it can prompt workers to take a corrective action, send a mobile alert to a supervisor, adjust a machine parameter, and more.
Wer verwendet WinSPC?
WinSPC is used by manufacturers to improve their product quality and reduce their costs.
WinSPC – Details
DataNet Quality Systems
1995 gegründet
WinSPC – Details
DataNet Quality Systems
1995 gegründet
WinSPC – Videos und Bilder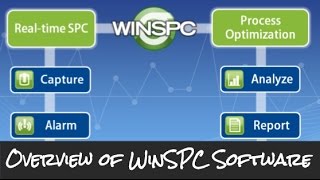 Kosten ähnlicher Produkte wie WinSPC vergleichen
Startpreis
1.600,00 $/einmalig
N/A
Nicht verfügbar
300,00 $/Monat
WinSPC – Bereitstellung und Support
Kundenbetreuung
E-Mail/Helpdesk
FAQ/Forum
Wissensdatenbank
Telefon-Support
Chat
Einsatz
Cloud, SaaS, webbasiert
Windows (Desktop)
Windows (On-Premise)
Linux (On-Premise)
Training
Persönlich
Live Online
Webinare
Dokumentation
Videos
Funktionen von WinSPC
API
Aktionsmanagement
Aktivitäts-Dashboard
Aktivitäts-Verfolgung
Alarmfunktion / Benachrichtigungen
Anpassbare Berichte
Anpassbare Formulare
Anpassbare Vorlagen
Audit Trail
Aufgabenmanagement
Berichterstattung und Statistik
Beschwerdemanagement
Compliance Management
Corrective and Preventive Action (CAPA)
Daten-Import / -Export
Datenvisualisierung
Dokumentenmanagement
Dokumentenprüfung
Dokumentenspeicher
Dokumentkodierung & -kontrolle
Drittanbieter-Integration
Echtzeit-Aktualisierungen
Echtzeit-Analytik
Echtzeit-Berichterstattung
Echtzeit-Daten
Formularverwaltung
Geräte-Management
ISO-Standard-Management
Inspektions-Management
Instandhaltungsmanagement
Kommunikationsmanagement
Kontrolle des Genehmigungsprozesses
Lieferanten-Management
LieferantenQualitätskontrolle
Problemmanagement
Qualitätskontrolle
Qualitätssicherung
Risikobewertung
Risikomanagement
Rollen-basierte Genehmigung
Störfallmanagement
Trainingsmanagement
Verfolgen von Fehlern
Versionskontrolle
Veränderungsmanagement
Warnungen / Eskalation
Wirtschaftsprüfung-Management
Workflow-Management
Zugriffskontrollen / Berechtigungen
Überwachung
Siehe die vollständige QM Software (Qualitätsmanagement) Liste
API
Aktivitäts-Dashboard
Anpassbare Berichte
Audit Trail
Berichterstattung und Statistik
Compliance Management
Corrective and Preventive Action (CAPA)
Daten-Import / -Export
Dateneingabe
Datenerfassung und Übertragung
Datenmanagement
Datenverknüpfung
Drittanbieter-Integration
Echtzeit-Analytik
Echtzeit-Benachrichtigungen
Echtzeit-Berichterstattung
Echtzeit-Daten
Echtzeitüberwachung
Für Fertigungsunternehmen
Individuelle Anpassung
Job-Management
Leistungskennzahlen
OPC Datensammlung
Produktionsanalyse
Prognose
Qualitätskontrolle
Rückverfolgbarkeit
Sichere Datenspeicherung
Statistische Analyse
Statistische Prozess-Kontrolle
Statusverfolgung
Terminplanung
Trend-Analysen
Verfolgen von Fehlern
Visuelle Analytik
Workflow-Management
Paul G.
Information Systems Manager in Kanada
Verifizierter Nutzer auf LinkedIn
Automotive, 10.000+ Mitarbeiter
Verwendete die Software für: Mehr als 2 Jahre
Has to be the best SPC system.
Kommentare: We have been using WinSPC for over 10 years. The software gets better and better. Their support has historically been available during working hours only, but you can arrange after hours for upgrades or major planned events. Sales is easy to deal with. Support is very good to deal with. Their training staff are very knowledable.
Vorteile:
End user for a major automotive parts supplier (Magna): From an end user perspective, the software is very easy to use. It is a simple interface that you can configure to meet whatever needs you have, whether manual entry via keyboard, direct entery from a Mitutoyo style gauge, or automatically fed from a plc as data is collected and presented. As an IT Administrator, this is by far the best software to maintain. They have taken the time to put functions into the softwawre that makes life much easier with upgrades, etc. And, as the Quality Engineer, if you can browse folders in windows, use a mouse and do basic functions in a computer, you can run WinSPC. Very familiar methods of managing data. The canned reports are good enough, but you can make your own easily enough
Nachteile:
It can be costly to get going, but once you use it sufficiently you can understand the cost.
Jay H.
Quality Engineer in USA
Gesundheit, Wellness & Fitness, 51-200 Mitarbeiter
Verwendete die Software für: Mehr als 2 Jahre
Game Changer
Kommentare: Because of WinSPC we are now able to have Production Team Members print our their own capability reports, plus understand them what the data is telling them. Before we had to rely on Engineers and Supervisors. I saved the best for last.........their Support Line is the bench mark for other corporations to follow. How many times do you call for Support and go through recording after recording and minutes later finally get through to an individual just to find out you have to re-tell them everything you told the recording and then its a 50-50 chance they can help. NOT with WinSPC Support, you call, you talk live to a Service Tech. These individuals are friendly and all have the capability to solve your concerns. Customer Service at its best.
Vorteile:
Its flexible enough to fit your company's, its powerful enough to handle large or small inspections, capable of performing manual or automatic inspections just tailor it for your needs.
Nachteile:
Ability to change sub-group size from report features.
Gary T.
Process Engineer in USA
Maschinenbau oder Wirtschaftsingenieurwesen, 51-200 Mitarbeiter
Verwendete die Software für: Mehr als 2 Jahre
It's okay, but would not recommend.
Kommentare: Provides housing for historical process records, allows responses for OOC instances, etc.
Vorteile:
The customer service is great, very knowledgeable, friendly, and responsive. The plant monitor feature is nice. The charts look fine, not cheesy at all.
Nachteile:
It's very hard to use, especially the administration side. The data entry is painful, the database connections are confusing, historical charts are difficult to view, data mining is very time consuming.
Geoffrey B.
Director in Schweden
Unternehmensberatung, 2-10 Mitarbeiter
Verwendete die Software für: Mehr als 1 Jahr
Superb FTP
Kommentare: Positive
Vorteile:
Easy to use, simple to carry out the job that needs doing without unnecessary bells and whistles
Nachteile:
Not sure I can make any criticism of the product.
Matt C.
Quality Engineer in USA
Konsumgüter, 501-1.000 Mitarbeiter
Verwendete die Software für: Mehr als 1 Jahr
Excellent, quick to implement quality software
Kommentare: Management staff enjoys the reporting capabilities and dashboards. It helps to prioritize projects where there is low capability in a way we were not able to do before. WinSPC is changing the way we manufacture and do business, and has been a very positive rollout with operators, management, and engineering.
Vorteile:
Ease of implementation was key when we chose to purchase WinSPC. We have worked with several other SPC softwares which were challenging to implement and use. There was minimal upfront work compared to other softwares, and the long term data is much more easily queried. The data storage is very powerful and easy to extract from. WinSPC has excellent technical support and has been able to help us through both frontend and backend issues.
Nachteile:
The biggest flaw is that there is no easy way to have inspection frequency built in to the database. There are several other quirks, but that is the one that we needed to develop custom work instructions for.