Was ist Moneylender Professional?
It is a platform that automates all the calculations and management tasks needed to service loans and helps to streamline processes.
Wer verwendet Moneylender Professional?
Designed for individuals with one or more loans, investment companies, professional lenders, retailers with in-house financing, mortgage companies, real estate investors, banks, and corporations.
Moneylender Professional – Details
Whitman Technological
2013 gegründet
Moneylender Professional – Details
Whitman Technological
2013 gegründet
Moneylender Professional – Videos und Bilder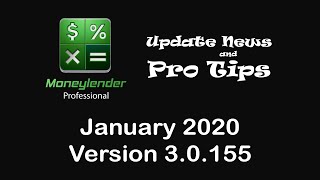 Kosten ähnlicher Produkte wie Moneylender Professional vergleichen
Startpreis
489,00 $/einmalig
395,00 $/einmalig
289,00 $/Monat
595,00 $/Monat
Moneylender Professional – Bereitstellung und Support
Funktionen von Moneylender Professional
ACH Zahlungsabwicklung
API
Aktivitäts-Dashboard
Aktivitäts-Verfolgung
Alarmfunktion / Benachrichtigungen
Anpassbare Berichte
Anpassbare Vorlagen
Asset Lifecycle Management
Audit Trail
Autokredite
Automatische Fonds-Verteilung
Baudarlehen
Bearbeitung von Krediten
Berichterstattung / Analyse
Berichterstattung und Statistik
Buchhaltung
Compliance Management
Daten-Import / -Export
Digitale Unterschrift
Dokumentenmanagement
Dokumentenspeicher
Drittanbieter-Integration
Elektronische Zahlungen
Elektronischer Zahlungsverkehr
Geschäftskredite
Historische Berichte
Hypotheken
Inkasso-Management
Investor-Management
Kontaktmanagement
Kontrolle des Genehmigungsprozesses
Kreditnehmer-Management
Kundendatenbank
Kundenkonten
Leadmanagement
Mehrere Währungen
Mischkonzern
Multi-Channel-Kommunikation
Pipeline-Management
Regelbasierter Workflow
Rollen-basierte Genehmigung
Sicherheiten-Tracking
Statusverfolgung
Studiendarlehen
Tilgungsplan
Transaktionshistorie
Treuhandverwaltung
Visuelle Analytik
Workflow-Management
Zahlungsoptionen
Michelle R.
Bursar in USA
Hochschulbildung, 51-200 Mitarbeiter
Verwendete die Software für: 6-12 Monate
In Betracht gezogene Alternativen:
Great software and exceptional customer service
Kommentare: There have been a few learning hiccups along the way, which are generally because of the slight learning curve for a new user, but any time I have reached out to Whitman for assistance I get a very quick response. I cannot express how much I appreciate the great customer service and quick response times. [SENSITIVE CONTENT HIDDEN] seems eager for input about his product, so I can only expect that it will continue to get better as he takes the information he receives and builds upon it. Great product and great service.
Vorteile:
It is user friendly and the customer support from Whitman Technologies is nothing short of exceptional.
Nachteile:
When a borrower overpays and the user goes through the loan closing process a pop up window asks if you would like to refund the over-payment to the borrower. If you select yet, then a new principal disbursal shows up in the loan set up which makes it look like the borrower actually borrowed more than they did, which in turn skews the principal disbursed information. There is an easy and quick workaround for this issue; I select no when the pop up appears asking if I would like to refund the borrower, then I enter a negative principal payment amount for the refund.
Finanzdienstleistungen, 2-10 Mitarbeiter
Verwendete die Software für: Mehr als 2 Jahre
Tremendous value for a full feature software
Kommentare: We've been using Moneylender for nearly 10 years and have serviced over 1000 loans with it. The new features in MLP3 are outstanding and the recent addition of Auto-Pay, which we have not yet implemented with our clients, will be a major time saver for us. Whitman Tech has always be extremely responsive to any issues or suggestions for improvement over the years and has in fact incorporated many of our suggestions in free updates to the software. MLP has proven itself very reliable and an absolute bargain for what it does.
Vorteile:
User friendly, easy to learn or train new employees on, superb customer support and frequent updates/fixes, customizable reports/statements
Nachteile:
At this point I dont really know any cons of Moneylender, it does absolutely everything we need it to do.
Vermögensverwaltung, Selbstständig
Verwendete die Software für: Mehr als 1 Jahr
Love The Ability To Send Out Emails When Payments Are Made
Kommentare: Provided professional approach to managing loans. Interest calculated precisely, late fees added, can send late notices or payments received electronically.
Vorteile:
Emails to borrowers to evidence receipt of payment.
Nachteile:
Help functions are limited and somewhat confusing. But the customer service rep is great!
Finanzdienstleistungen, Selbstständig
Verwendete die Software für: Mehr als 2 Jahre
I've been using Moneylender for 3 years now and it is a very easy program to use.
Kommentare: It kept all the numbers I needed for each loan, including 1098 & 1099 year end numbers. I like that I can easily open up closed loans to refer back.
Vorteile:
Its easy to use. When I do have an issue, technical support is very prompt. The customer rep makes himself very available to his clients. I don't feel like he sold me his program and abandoned me.
Nachteile:
I had to think about this and honestly I could not think of one thing. For the sake of an answer, possibly having more info about the loan on the front portfolio page, i.e. property address. I sometimes have more than one loan for a client .
Immobilien, 2-10 Mitarbeiter
Verwendete die Software für: 6-12 Monate
Absolutely amazing solution for a small-medium sized company like mine!!!
Kommentare: Not only I was blown away abut how this software solution perfectly fit my needs and how easy to use it is, I had to face a situation where one of my loans had a different late fees calculation based on week days and not just EVERY day. I asked if it was possible to modify the program in this way and in less than a week he made the changes needed to satisfy my request!
Vorteile:
Literally: EVERYTHING!!! It's easy to use, the interface is very intuitive and for a minimum literate user like me it is a big plus to have a software that is easy to use. Is also very light...doesn't need a lot of computing resources to work fine.
Nachteile:
You must be really too much picky to find something negative about this software, but if you really want to play bastard you can point to the fact that is still under development and the online version is not ready yet. But if you are that picky I'd recommend you to take a vacation, relax on a tropical beach, and while you are experiencing the highest physical and mental pleasure think again about this and you'll see that there's nothing negative about this software! :)