Was ist ABELDent?
Durch die Versorgung des Gesundheitswesens seit 1977 ist die langfristige Erfolgsbilanz ein wichtiger Faktor bei der Auswahl eines Anbieters in einer Branche, die sich ständig verändert und mit kleinen Anbietern übersät ist, die ihre Produkte nicht mehr unterstützen können. Die Lösung verbessert deine Praxiseffizienz und maximiert deine Kapitalrendite mit überlegener Verwaltungsfunktionalität für Verwaltung, Abrechnung, Terminplanung, Behandlungsplanung, klinische Aufzeichnungen und Berichterstattung.
Wer verwendet ABELDent?
Die ABELDent-Software ist für Zahnärzte, Hygieniker und ihre Teammitglieder geeignet. Bedient werden Zahnarztpraxen, Kliniken und Praxen mit mehreren Standorten in Nordamerika.
Wo kann ABELDent bereitgestellt werden?
Cloud, SaaS, webbasiert, Mac (Desktop), Windows (Desktop), Windows (On-Premise)
Über den Anbieter
ABELDent
Ansässig in Buffalo, USA
1977 gegründet
Telefon-Support
24/7 Live-Support
Chat
Erhältlich in diesen Ländern
Amerikanische Überseeinseln, Kanada, Vereinigte Staaten
Über den Anbieter
ABELDent
Ansässig in Buffalo, USA
1977 gegründet
Telefon-Support
24/7 Live-Support
Chat
Erhältlich in diesen Ländern
Amerikanische Überseeinseln, Kanada, Vereinigte Staaten
ABELDent – Videos und Bilder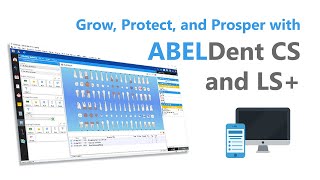 Kosten ähnlicher Produkte wie ABELDent vergleichen
ABELDent Funktionen
Bestätigung / Erinnerungen
Bildgebung und Röntgenstrahlung
Diagramm-Erstellung
Kundenmanagement
Medizinische Abrechnung
Terminverwaltung
Verwaltung von Patientenakten
Zahnarztpraxis-Verwaltung
Alternativen für ABELDent
Bewertungen über ABELDent
Kelly
Owner in Kanada
Verifizierter Nutzer auf LinkedIn
Gesundheit, Wellness & Fitness, 11-50 Mitarbeiter
Verwendete die Software für: Mehr als 2 Jahre
Abeldent -
Kommentare: I have been working on Abeldent for 30 years. (When it started as a database). They STILL have the same team members since 1989. That tells you something. I have worked in other offices with other software programs, but nothing is compared to Abeldent.
Vorteile:
Abeldent is always ahead of new dental technology. If you want to use the basic fundamentals of the software, it is quite easy and user-friendly. If you want to explore more advanced settings of the software, that is an option as well. It offers so much. I find Abeldent has an easy appointment scheduler to navigate. The financial tab, to me, is so well done. It gives you so many options to view. It is well designed. I think that if team members would enjoy the financial more if they were trained properly on the financial tab. I enjoy the reports menu and contact lists. It's endless
Nachteile:
Since the update, the receipt printing is a little slower. HOWEVER, Abeldent team always listens to their customers and ensures that requests are at the forefront and these requested are usually updated in the next version.
Antwort von ABELDent
vor 4 Jahren
Thanks for being such a loyal user of ABELDent. And yes, you are correct in stating that many of our early employees are still with the company after several decades of service!
Julia
Office Administrator in Kanada
Gesundheit, Wellness & Fitness, 2-10 Mitarbeiter
Verwendete die Software für: Mehr als 2 Jahre
In Betracht gezogene Alternativen:
AbelDent LS+
Kommentare: The benefits... looking on dental care as business -increasing production with staying on the top of the treatment planning and completing the dental work - contacts/ pending appointments, once again- priceless future. The benefits for the patient- improving his dental health!
Vorteile:
-Appointment tab- future which not many dental software have. Easy to follow up with treatment. -New Patient intake- if email address is on file while entering new patient in the system, there is option interactive form to be emailed to patient and be completed prior initial visit.
Nachteile:
A bit slow software, it take time to open, print, etc.; also x-rays are not in the software itself but done through bridge with image software, any way most of dental software are working this way, rare when imaging is incorporated in.
Antwort von ABELSoft
vor 10 Monaten
Thank you for taking the time to make such an in-depth review of our software! We appreciate your honest and comprehensive feedback. As we continuously learn to improve our products to make them better for dental professionals, our ongoing updates improve ABELDent's performance. We are looking forward to continuing to assist you and your team with the best quality practice management solutions!
Heather
CDA treatment coordinator in Kanada
Gesundheit, Wellness & Fitness, 2-10 Mitarbeiter
Verwendete die Software für: Mehr als 2 Jahre
Review of Abel
Kommentare: I have used Abel for 20 plus years and find it very easy to use
Vorteile:
Very user friendly and easy to train new staff on this program
Nachteile:
Unable to text patients unless on the portal
Antwort von ABELDent
vor 4 Wochen
Thank you for taking the time to review our dental software. We appreciate your long-time use of our product, and we are glad that ABELDent has provided you with such easy-to-use technology for over twenty years. Regarding your comment on texting patients, we want to recommend you upgrade to our latest software versions, ABELDent LS+ (modern local solution) or ABELDent CS (cloud solution). ABELDent LS+ allows for seamless integration with our new and improved Patient Communication System (PCS). ABELDent CS has built-in communication features, including two-way texting for easier patient messaging. If you would like to upgrade to either option, we encourage you to reach out to us at 1-800-267-2235, and press 1.
Jennifer
Dental Administrator in Kanada
Verifizierter Nutzer auf LinkedIn
Medizinische Praxis, 2-10 Mitarbeiter
Verwendete die Software für: Mehr als 2 Jahre
Outdated Dental Software
Kommentare: I used the software for 2 years and 3 months. I am grateful my employer was willing to switch to a modern dental software system and move away from the very antiquated ABELDent.
Vorteile:
Two things I liked about ABELDent was that when you write a note about the appointment, it is date stamped and locked to the appointment. This was helpful. Along with the notes section that was either for that specific day and a section that was carried through every day. Two things that I could live without.
Nachteile:
The software is outdated and "in transition". I have never used a dental software that has been "in between versions". There were certain functions with billing that would only work if you followed through with the second function otherwise you would get errors and the system would crash. The software crashed a lot and was not user friendly. Support calls were never very supportive and they usually didn't have the answer because their software was "in transition" to their next version. The accounting reports were miles long and was a headache for our accountant. They frequently didn't balance and I had to run a "silent report" to then refresh the system and try processing my month end for the second time hoping it would balance as the system confused it's own numbers. It is not user friendly capable of transitioning an office to go paperless with charts. The odontogram and charting is not modern. Appointments would occasionally "disappear" with no trace! Appointments cannot extending by dragging the appointment down, you must click into the appointment and extend the units of time.
Antwort von ABELDent
vor 4 Jahren
Customers only receive fully tested general release versions - "transition versions remain in development until ready for general release unless the customer agrees to beta testing. We now offer two platforms - local server solution with a traditional windows interface and a cloud server solution with a fresh modern user interface. Thousands of customers successfully balance their accounting transactions everyday - no need to do month end reports. We can't speak to the reason for the system crashes as this office remains anonymous and there could be any number of reasons for them. A large percentage of our customers have successfully transitioned to paperless. The ondontogram/ clinical note functionality has been upgraded in both ABELDent platform versions with the cloud version incorporating a bold new look and degree of customization. In summary, we have a documented high level of customer satisfaction however we realize we cannot keep every customer happy all the time.
Medizinische Praxis, 2-10 Mitarbeiter
Verwendete die Software für: Mehr als 2 Jahre
Abeldent Review
Kommentare: I have been using ABELDent since 2004 and I like the software very well. Ms. Apurva Vashisht she is an excellent sales associate explained very clearly about all benefits can be achieved from ABELDent software to improve our dental business scheduling and including other benefits. Excellent ABELDent technical support team, they go beyond to resolve any issues affecting ABELDent software.
Vorteile:
Ease of use software, user friendly it has potential for adding useful features.
Nachteile:
A bit slow software. Sometimes glitches occurs with SQL services (2 out 10 services not running) after restarting the server PC, you have to go manually select not running SQL services to run. The default backup should not be in C drive, if C drive die you lose the backup, it is better to have your backup in a different drive. Does not have Medical/Dental dictation software with speech recognition, it would be the best to have instead of typing.
Antwort von ABELSoft
vor 3 Monaten
Thank you for your review and for being a long-time ABELDent client! Your feedback about adding useful features rings true! Our goal is to be your All in One solution! With our new products ABELDent LS+ (local solution) and ABELDent CS (our cloud solution), we are confident that we will continue to expand our features to support our customers even better. This also includes our voice activated perio charting, which eliminates much of the typing. We are sorry to hear that SQL Server is giving you some problems. Microsoft SQL Server is the most popular and one of the most stable databases globally, and these types of issues are very unusual. Simple actions like reinstalling SQL will typically clear up these types of problems with services and performance. Our technical support team will be happy to look at the specific errors and advise on the resolution. Our SQL backups can easily be directed to any drive. Of course, the local SQL backup does not replace a good regular offsite backup.