Was ist DynaSCAPE?
DynaScape ist auf Design-Software und Business-Management-Lösungen für den professionellen Landschaftsbau spezialisiert.
Erstelle schnell außergewöhnliche Designs mit dieser CAD-basierten Software, exportiere nach DynaScape Color, um deine Zeichnungen mit Vollfarbdarstellung zum Leben zu erwecken, oder hebe deine Designs mit Sketch3D, der umfassenden Bibliothek von 3D-Komponenten, auf die nächste Stufe.
Mit Manage360 kannst du jeden Aspekt deines Betriebs vom ersten Angebot bis zur Endabrechnung verfolgen.
Wer verwendet DynaSCAPE?
Landschaftsdesigner und -architekten, Design-/Baufirmen, Landschaftspflegeunternehmen.
Wo kann DynaSCAPE bereitgestellt werden?
Cloud, SaaS, webbasiert, Windows (Desktop), Android (mobil), iPhone (mobil), iPad (mobil)
Über den Anbieter
DynaSCAPE Software
1998 gegründet
Telefon-Support
Chat
Erhältlich in diesen Ländern
Kanada
Sprachen
Englisch, Spanisch
Über den Anbieter
DynaSCAPE Software
1998 gegründet
Telefon-Support
Chat
Erhältlich in diesen Ländern
Kanada
Sprachen
Englisch, Spanisch
DynaSCAPE – Videos und Bilder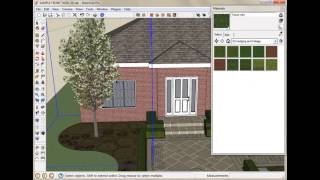 Kosten ähnlicher Produkte wie DynaSCAPE vergleichen
DynaSCAPE Funktionen
Abrechnung & Rechnungsstellung
Angebote / Schätzungen
Arbeitsauftragsverwaltung
Integration in die Buchhaltung
Job-Management
Kundendatenbank
Mobiler Zugriff
Online-Zeiterfassung
Terminplanung
Versandmanagement
Vertrags-/Lizenz-Management
Zeitverfolgung
Alternativen für DynaSCAPE
Bewertungen über DynaSCAPE
Steven T.
Landscape Designer in USA
Verifizierter Nutzer auf LinkedIn
Bau, 11-50 Mitarbeiter
Verwendete die Software für: Mehr als 2 Jahre
Great drafting software for landscapers
Kommentare: This is a great option for creating landscape plans. It fills the niche market where you don't want to by AutoCAD and create everything from scratch, but you need something more than off the shelf garden design software.
Vorteile:
I had only dabbled in AutoCAD before using Dynascape and found it very easy to learn. The library is full of great plant symbols and furniture to create a beautiful plan. The training is great, from the book, and dvd, to you tub videos and live. Once you get to a point that you can make custom objects, you're flying. Adding Color makes for an amazing presentation document and way cleaner than coloring by hand. I was so excited when they rolled out the Sketchup plugin and modeling library.
Nachteile:
I would love to see quicker roll out of modern and updated outdoor living features and paver/stone products. Our drawings do need to reflect the trends.
Len H.
Project Coordinator/Senior Designer in Kanada
Design, 51-200 Mitarbeiter
Verwendete die Software für: Mehr als 2 Jahre
In Betracht gezogene Alternativen:
Great Design & Estimating Software
Kommentare: DynaSCAPE Design and Sketch3D are excellent tools that help us sell large projects because is look professional and helps client visualize our ideas. The estimating system along with Change Orders has made us better at estimating accurately and more profitable as a company.
Vorteile:
Hand drawn look and feel of printed designs always look professional via proper line weights and figures. Excellent symbol libraries specific to landscape design. Good integration with SketchUp and a fantastic 3D library. Tied into Manage360 for quick and accurate estimating - a system that allows you to properly recover overhead. A Change Order system that is critical to collecting project extras that often are left on the table.
Nachteile:
The interface is dated and somewhat clunky, but it works. Not great for very large projects. Horticopia plant pictures are not great or useful.
Janine B.
Owner/Landscape Designer in Kanada
Design, Selbstständig
Verwendete die Software für: Mehr als 2 Jahre
Dynascape review
Kommentare: Overall good.
Vorteile:
It is Landscape specific software which is what I want and need. Scaling site/survey plans into the software. Export/import Autocad function is essential to collaborating with architects.
Nachteile:
Symbols/ Figures that need to be added: Trampoline figure, Septic bed layer for drawing dimensions(Also Arch accessory label in Figures for septic), Water meter symbol, Electrical outlet symbol, Gas hookup symbol (for bbq, firetables etc), Sliding barn style door Rectangular pools with bathing ledge ; ie fiberglass pools Rectangular pools with various stair options Modern firetables in figures including 2D – round, square and rectangular…. Dekko style Better pergolas- modern styles in figures including 2D Kitchens components for 2D Generally, updates to all 2D figures to add more modern designs (ie 2D arbours, sheds, pergolas,gates); Very outdated styles. Better Fence symbols; amend Fence_B to look similar to autocad style with "x" evenly spaced along line. The existing Fence_A looks like too much like property line. Hatch patterns: add a selection of Techobloc pavers that insert accurate/to-scale in the drawing. This would make paver layout documentation much easier to create. Techobloc hatch patterns Techobloc Pavers symbols Rinox as well Enhancements: When rotating a drawing, can there be an option for text leader line to remain horizontal? Text labels don't rotate with the drawing when rotated. Have a Newsletter giving tips and tricks based on common questions Dynascape colour /pattern options are very limited; stone, accessories etc.
Seth M.
Landscape Designer in USA
Architektur & Planung, Selbstständig
Verwendete die Software für: Mehr als 2 Jahre
In Betracht gezogene Alternativen:
Dynascape Review
Kommentare: Overall Dynascape has been a great tool for me to sell Landscape projects.
Vorteile:
I like the plant libraries and export functions for quantifying and bidding. I also like the look of finished color drawing without having to spend hours coloring. I also like the ease of adding shadows in Color to give the 2D plan depth. I also like how the software works with SketchUp.
Nachteile:
I wish the software was more customizable for individual users as far as shortcuts and custom libraries for plants and symbols. I know you can create your own symbols and shortcuts but it is a cumbersome and complicated process compared with other design software. I also really wish you were able to add and subtract nodes on lines and polygons and combine and extract shapes more easily. And while the color line fill in mode is great, it only recognizes the correct area to fill in about 10% of the time, making hand tracing of shapes before going to Color necessary, which takes a good amount of time on a large plan. I also do not understand why you can't show dimensions on color plans. It would also be great to fix the building tool so you don't have to worry about what length line you start on so the building will actually close properly. It would also be nice to have more and updated construction details for landscape products in the industry, or be able to import them for construction details instead of having to draw them.
David M.
Landscape Architect in USA
Bau, 51-200 Mitarbeiter
Verwendete die Software für: Mehr als 2 Jahre
Long time User
Vorteile:
The most impactful features are the great symbols and ease of the layers already set up and ready to be used. The detail that can be incorporated into my plans provides an excellent tool for my clients to understand and see our design intent. I also like the integration of the color as well as the 3D capabilities. Along with the program itself I have been most appreciative of the excellent support and customer service I have received through the many years of use.
Nachteile:
Most of the designers in our office use AutoCad and I am integrating Dynascape and trying to get your program as our primary design tool. The biggest limitation I have come across through the years has been the limitations of using more fonts in labeling. I have brought this up a couple of times when I have been utilizing your support and was told this may be looked at in the future. I am new designer in an office where continuity of plans and presentation materials are critical and I have not been able to replicate even close the fonts available in AutoCad to make my plans look like the remainder of the company. I did relay that this would be an item to be looked at in the future. As a very long time user of your design software I would suggest that this is looked at to become high on the priority list. The font limitations have been discussed in each office I have worked in during my use of Dynascape. A second issue I have not been able to correct is new to my new office is the inability to get consistent prints of my plans. I have contacted support and have not been able to resolve the issue. I am thinking this is more on my end but I can go to a peer's computer and get great print outs and mine will not always print the detail in hatchings or patterns incorporated into the plan. Our printer has been checked with no issues to be found and I feel this could be a setting on my individual work station.