Was ist Barracuda Email Security Gateway?
Umfassender Schutz vor E-Mail-basierten Bedrohungen
Barracuda Email Security Gateway – Details
Barracuda Networks
2004 gegründet
Barracuda Email Security Gateway – Details
Barracuda Networks
2004 gegründet
Barracuda Email Security Gateway – Videos und Bilder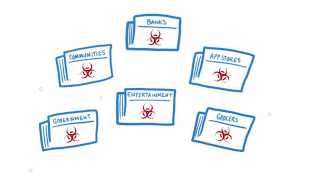 Kosten ähnlicher Produkte wie Barracuda Email Security Gateway vergleichen
Startpreis
Nicht verfügbar
99,00 $/einmalig
1,26 $/Monat
Nicht verfügbar
Barracuda Email Security Gateway – Bereitstellung und Support
Training
Persönlich
Live Online
Webinare
Dokumentation
Funktionen von Barracuda Email Security Gateway
API
Aktivitäts-Dashboard
Anomalie- / Malware-Erkennung
Audit Trail
Bedrohungsschutz
Berichterstattung / Analyse
Betrugserkennung
Datenleckprävention
Domainprüfung
Drittanbieter-Integration
E-Mail-Anhang Schutz
E-Mail-Filterung
E-Mail-Management
Echtzeitüberwachung
Für MSPs
Geplante / automatisierte Berichte
KI/Maschinelles Lernen
Phishing-Schutz
Quarantäne
Richtlinien Managemen-
SURLB/URIBL-Filterung
Schwachstellen-Scannen
Sicherheitsprüfungen
Spam-Analyse
Spam-Blockierung
Threat Response
Verschlüsselung
Warnungen / Eskalation
Whitelist/Blacklist
Zwei-Faktor-Authentifizierung
Aktivitäts-Dashboard
Aktivitäts-Verfolgung
Anpassbare Berichte
Anti-Spam
Anti-Virus
Archivierung & Aufbewahrung
Audit Trail
Authentifizierung
Backup und Recovery
Bedrohungsanalyse
Bedrohungsschutz
Berichterstattung und Statistik
Betrugserkennung
Compliance Management
DLP-Software
Daten-Import / -Export
Datenspeicherungsmanagement
Datensynchronisation
Datenüberprüfung
Drittanbieter-Integration
E-Mail-Anhang Schutz
E-Mail-Filterung
E-Mail-Tracking
E-Mail-Überwachung
Echtzeit-Benachrichtigungen
Echtzeitüberwachung
Einmalige Anmeldung
Ereignisprotokolle
Erkennungssystem für unberechtigte Eingriffe
Erlaube / Blockiere Liste
Geplante / automatisierte Berichte
Integration des aktiven Verzeichnisses (AD)
Microsoft-Outlook-Integration
Passwort-Management
Phishing-Schutz
Quarantäne
Richtlinien Managemen-
Risiko-Warnungen
SSL-Sicherheit
SURLB/URIBL-Filterung
Schwachstellen-Scannen
Sicheres Login
Spam-Blockierung
Spam-Erkennung
Suche
Threat Response
Verschlüsselung
Warnungen / Eskalation
Whitelist/Blacklist
Wirtschaftsprüfung-Management
Zugriffskontrollen / Berechtigungen
Zwei-Faktor-Authentifizierung
Überwachung
Sergey M.
Manager, Technology Infrastructure and Compliance in USA
Verifizierter Nutzer auf LinkedIn
Gastgewerbe, 1.001-5.000 Mitarbeiter
Verwendete die Software für: Mehr als 2 Jahre
Great way to get a better control of your email
Kommentare: Much lighter load on my MS Exchange server, full control of all the incoming correspondence.
Vorteile:
Set it and forget it solution for your email that will help you to significantly reduce amount of unwanted correspondence. Fully automated platform, automatic updates, self learning mechanism. Outstanding customer service and technical support, when you need them. One day I needed an urgent replacement of the unit, because mine broke. Replacement unit arrived in less than 24 hours! In addition, if you host your email in-house (MS Exchange for example), it will significanlty decrease load on your server, blocking all the unwanted messages BEFORE they his your mail server. Administration is very simple and flexible. You can create custom rules in addition to the automated scanning of inbound correspondence.
Nachteile:
While automatic updates are convenient, there were a couple of instances, when the updates were corrupted, resulting in blocking all of my mail. Gladly, Barracuda technical support is always there for you, as I have mentioned. They were able to correct the problem within a couple of hours each time this happened.
Brian H.
Assistant Utilities Director in USA
Versorgungsunternehmen, 11-50 Mitarbeiter
Verwendete die Software für: Mehr als 2 Jahre
In Betracht gezogene Alternativen:
Robust spam, virus, and phishing filtering appliance with a lot of options
Kommentare: Our overall experience has been excellent, and we have been using the product for over a decade. During this time, we have upgraded to the newest Barracuda ESG each time the platform has come up for review. Our experiences with their support team have been minimal, but excellent each time support has been needed. Their user forum has also been helpful when looking to configure rules to address ongoing campaigns, or with basic configuration questions. Firmware updates over the years have kept the platform up to date with new options and user tools.
Vorteile:
Once fully configured, the platform is very reliable, resulting in few false-positives and blocking nearly all spam. The administrator interface is easy to use and allows for numerous ways to detect spam, with a lot of configurability. The user interface is easy to use, either through the web interface or the Outlook add-in. The hardware appliance and firmware is rock solid, requiring almost no ongoing maintenance except periodic updates.
Nachteile:
The mail log view can be cumbersome when trying to analyze large numbers of incoming emails, and the log filtering cannot always be set to find precisely what you're looking for, particularly due to the lack of filtering/wildcard options. When it comes to spam detection, all rules are universal, so you can't apply just some rules to a subset of emails (such as based on user/sender/sending server), which for us sometimes results in false-positive blocking. Barracuda's live definition updating has been quick to respond to new spam campaigns and threats, which results in virtually no spam, virus, or phishing emails ever reaching our users.
Verwendete die Software für: Mehr als 2 Jahre
Good, but not great, Spam Filter
Vorteile:
Price is reasonable for what you get; interface is smooth; easy to use; support is very helpful. I think with more training some of the spam that is getting through could be cleaned up for my business. The firewall has many options and features. The interface is complex.
Nachteile:
No content filter - this software filters inbound or outbound messages only. It definitely takes some time to adjust and customize.
Max S.
Systems Administrator in USA
Bau, 201-500 Mitarbeiter
Verwendete die Software für: Mehr als 2 Jahre
Security and More!
Kommentare: Overall, the experience has been good, with very few exceptions. Everything you need is there, just spend the time to learn it and you will see the value.
Vorteile:
One of my favorite features of the Barracuda Email Security Gateway is its features. For example, the Barracuda Email Security has many tools to allow your users to safely receive emails and also control the things that leave mailboxes. There are tools to control inbound and outbound settings, and in the background, security features that prevent malware from entering your domain. My favorite tool of this SaaS application is the flexibility you have to control inbound settings. Particularly speaking, I like how you can customize content policies. Things like regular expressions (regex) give a new perspective to content filtering. This means you can block templated emails that are used for phishing or malicious activity. Another Pro I consider is the visibility of emails. Barracuda gives you great insight on what's happening during the transmission of emails. You can clearly see what is being exchanged, why things are blocked or deferred or quarantined, email headers, and it gives you the ability to deliver emails regardless of classification - you have the control. Lastly, support is something I really liked. Have an issue with something? Need an explanation to some error or granular configuration question? They can help. I've had nothing but good interactions with support when I am stumped. Email security is a corporate standard and so should Barracuda!
Nachteile:
There is one Con I will have to mention about this piece of good software. When you are subscribing to the Barracuda Essentials, make sure that you are aware of what comes with it. By default, Barracuda does a great job at blocking malicious emails BUT you will notice, as you continue to use it, that you will see phishing emails continue to pass through. They do have a separate component called "Sentinel" that does a really good job at blocking these emails based on AI. This may be a problem for you if only have the Essential package. This would mean that you'll be relying on writing regex to block phishing emails that slip through the cracks. These emails come from Gmail, so you can't simply block Gmail without also affecting legitimate correspondence (IE. recruiters may accept resumes from Gmail.).
Tom M.
IT Director in USA
Einzelhandel, 51-200 Mitarbeiter
Verwendete die Software für: Mehr als 1 Jahr
Barracuda Email Security Has Teeth, but difficult to access
Kommentare: With the new M365 setup and the Barracuda Email Security in place, spam and other attacks in email have been avoided. The logic the Barracuda uses works well, the archiving is complete.
Vorteile:
We moved from an in house Exchange 2007 Server with a SonicWall Email Security 5000 system attached. The Barracuda system is tough on spam and does just as good a job as the Sonicwall ES5000. The daily reports of spam stoppage may be set by the individual to hourly if they like. Easy end user release of documents, and whitelisting specific Addresses.
Nachteile:
The archive is rough. The search features are weak and cumbersome, and are actually difficult for most people to use. Admin searches produces too much information in the results. Compared to Mail Store we were on before this for Archiving, Barracuda Archiving is lagging way behind in user interface functions.