Was ist ThinkWave Educator?
Klassenbuchsoftware für Lehrkräfte für das Verwalten der wichtigsten Elemente des Unterrichts.
Wer verwendet ThinkWave Educator?
Privatlehrer.
ThinkWave Educator – Details
ThinkWave
ThinkWave Educator – Details
ThinkWave
ThinkWave Educator – Videos und Bilder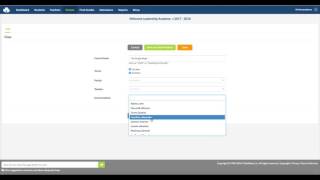 Kosten ähnlicher Produkte wie ThinkWave Educator vergleichen
Startpreis
14,00 $/Jahr
97,00 $/Monat
Nicht verfügbar
N/A
ThinkWave Educator – Bereitstellung und Support
Kundenbetreuung
FAQ/Forum
Telefon-Support
Einsatz
Cloud, SaaS, webbasiert
Android (mobil)
iPhone (mobil)
iPad (mobil)
Funktionen von ThinkWave Educator
API
Aktivitäts-Dashboard
Anpassbare Berichte
Anwesenheitsmanagement
Autorensysteme
Berichterstattung und Statistik
Beurteilung-Management
Daten-Import / -Export
Datenspeicher-Management
Dokumentenmanagement
Drag-and-Drop
Drittanbieter-Integration
Einmalige Anmeldung
Elternportal
Fortschrittsverfolgung
Gemischtes Lernen
Gewichtete Berechnung von Aufgaben
Individualisierte Beurteilung
Kalenderverwaltung
Klassenterminplanung
Klassenzusammenfassung
Kommunikationsmanagement
Kontakt-Datenbank
Kurven-Ergebnisse
Lehrer-Dashboard
Lernmanagement
Notenberechnungen
Self-Service Portal
Studenten-Management
Studentenportal
Stundenplanung
Synchrones Lernen
Zeugnisse
API
Aktivitäts-Dashboard
Aktivitäts-Verfolgung
Alarmfunktion / Benachrichtigungen
Anmeldung / Onboarding
Anpassbare Berichte
Anpassbare Formulare
Anwesenheitsmanagement
Aufgabenmanagement
Berichterstattung / Analyse
Beurteilung-Management
Bibliotheks-Management
Buchhandlungs-Management
Cafeteria-Management
Daten-Import / -Export
Dokumentenmanagement
Dokumentenmanagement
Dokumentenspeicher
Drittanbieter-Integration
Elektronische Zahlungen
Eltern-/Schüler-Portal
Facility-Management
Finanzmanagement
Fortschrittsbericht
Höhere Bildung
Kalenderverwaltung
Klassenterminplanung
Lernmanagement
Online-Kalender
Online-Zahlungen
Personalverwaltung
Registrierungs-Management
Rollen-basierte Genehmigung
Schulbezirk
Self-Service Portal
Software für Schulen
Sonderpädagogik
Studenten-Management
Studenteninformationen/-dokumente
Studentenportal
Stundenplan-Management
Unabhängig/Privat
Verfolgen der Teilnahme
Wohnungsmanagement
Zulassungsmanagement
Bildungsmanagement, 2-10 Mitarbeiter
Verwendete die Software für: 6-12 Monate
Thinkwave Gradebook Pros and Cons
Kommentare: My overall experience with thinkwave has been a very fun adventure
Vorteile:
What I Loved about thinkwave was being able to organize all your assignments, Being able to create more than just ONE class I taught and I am teaching 5 different subjects and I've had a blasted unlike other gradebooks I'm able to show my students exactly were they are at grade wise I am able to show them EXACTLY what had caused them to drop from a 98 to a 65 in just seconds so Think wave can be very helpful to not just students but families as well.
Nachteile:
All in all although thinkwave is great I questioned why it doesn't have its own discipline system because I mean personal experience I don't have time to stop a mini lesson to go through desk drawers and folders just to fill out a discipline referral Form. When if thinkwave were to have it I can A still teach and B it's not as difficult All i have to do is full it out on the grade book it self one last thing I really wish thinkwave allowed teachers to submit grades.
George C.
Kanada
Verifizierter Nutzer auf LinkedIn
Verwendete die Software für: 6-12 Monate
Quelle: GetApp
Some quirks but over all time saver
Vorteile:
Being able to show my students exactly what they need to do to pull them up to their desired grade is fantastic. Knowing instantly what a student's work has done for them and showing the student is a great motivator. Showing parents who complain about their student's grades is great too, there's no ambiguity, the numbers are there. The weighting and bonus grades allow some flexibility to reward students who make that extra effort.
Nachteile:
The custom grade scale is an absolute nightmare. My board (and indeed education ministry) uses Levels, not letter grades. 1-, 1, 1+ etc. Because Thinkwave takes the average of the gap between the minimum grade needed to achieve a level and the minimum of the next one, to get a fair number takes a lot of math work, which hurts this English teacher's brain. Example. 3+ should be worth about 77.5. In order to get that, I have to make the minimum grade for it 76 and the max 80. When a student fails I don't want to necessarily just give a 0, sometimes 10 or 20% on the major assignment can make a huge difference. If I want to make a grade of 20, I need to create a grade called 20 with a minimum of twenty and then create a blank grade (___) with a grade of 20.000001. Doing this for 10, 20, 30, 40 and 45 is rather obnoxious and takes up a lot of room in the drop down menu. The same goes when you try and make a check grade. If a 0 is entered it actually gives the student a 25 because it's halfway between 0 and the next grade, a 50. Took me a while to figure out that you need to enter the grade as incomplete to get a 0. Missing discounts the grade from the averaging entirely but makes you aware it is missing, and excused does the same. Kinda strange. Be nice if there was some documentation to go with the custom grading so I didn't have to figure this all out via trial and error.
Colleen M.
Provider support in USA
Verwendete die Software für: 6-12 Monate
I didnt prefer the product, it seemed very limited.
Vorteile:
Acoounts were very easy to set up and begin using. Data also seemed easy to input. It had a free option.
Nachteile:
It didnt have a very detailed format amd when printing a report alot of space was wasted by extra spacing.
Kathy V.
Administrative Assistant in USA
Religiöse Einrichtungen, 11-50 Mitarbeiter
Verwendete die Software für: 1-5 Monate
Innovative school management software
Kommentare: I set up the software for an employer who would be required to use it for a week of teaching. Set up was easy, there's online help if needed. Students names and photos are available, making it easier to become familiar with them. You can enter assignments and scoring options ahead of time.
Vorteile:
Product was easy to use. I liked the idea behind it--streamlining communication between students and faculty. I only needed to upload the syllabus and it was available to all of the students.
Nachteile:
When setting up daily assignments, the software alphabetized them rather than leaving them in the order I entered them.
Ms. B.
Academic Dean, in USA
E-Learning, 11-50 Mitarbeiter
Verwendete die Software für: 6-12 Monate
Great Product and Amazing Service.
Kommentare: Never before has it been easier for students to know their grades and how they are performing in the class more so then it is now. Thinkwave makes it exceptionally easy for students to see what assignments they are missing, how they are performing, and their overall grade in the class.
Vorteile:
Thinkwave also makes it very easy for us to lay out our 18-week course, which we separate into three six week course effortlessly.
Nachteile:
Students have instant access to how they are doing in class. They have very professional customer service as well. Any questions we had were answered promptly; which was most appreciated.