Was ist Scheduling Manager?
Planungslösung für Hausmeister- und Gebäudeservice-Unternehmen, um Personal einzuplanen, Angebote zu automatisieren und Massen-E-Mails zu versenden.
Wer verwendet Scheduling Manager?
Dienstleistungsunternehmen, die Auftragspläne, Debitorenbuchhaltung, Gehaltsabrechnung, CRM und Mapping in einem integrierten Programm verfolgen müssen. Du kannst das System auch verwenden, um Sales Leads zu verfolgen.
Wo kann Scheduling Manager bereitgestellt werden?
Cloud, SaaS, webbasiert, Mac (Desktop), Windows (Desktop), Windows (On-Premise), Linux (On-Premise), Android (mobil), iPhone (mobil), iPad (mobil)
Über den Anbieter
Thoughtful Systems
2000 gegründet
Telefon-Support
Chat
Sprachen
Englisch, Französisch
Über den Anbieter
Thoughtful Systems
2000 gegründet
Telefon-Support
Chat
Sprachen
Englisch, Französisch
Scheduling Manager – Videos und Bilder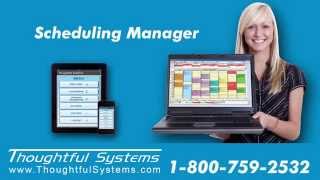 Kosten ähnlicher Produkte wie Scheduling Manager vergleichen
Scheduling Manager Funktionen
Abrechnung & Rechnungsstellung
Angebote / Schätzungen
Arbeitsauftragsverwaltung
Elektronische Unterschrift
Für HLK-Unternehmen
Gebot-Management
Gerätenachverfolgung
Inventarverwaltung
Job-Management
Kontakt-Datenbank
Kundendatenbank
Kundendienst-Historie
Kundenhistorie
Mitarbeitereinsatzplanung
Mobile App
Mobiler Zugriff
Online-Zeiterfassung
Standortverfolgung
Techniker-Management
Terminplanung
Versandmanagement
Wiederkehrende Termine
Zahlungseinzug im Außendienst
Alternativen für Scheduling Manager
Bewertungen über Scheduling Manager
Tatiana
General Manager in
Verwendete die Software für: Nicht angeboten
Great service and helpful schedule program
Kommentare: Ask as much question as possible about every fisture at this progam, get all helpful modules for your company, save your money on your services (speedy database entrance with CALLER_ID fixture) and quality of services (NO mistakes on phone numbers, machine does entry itself, no dispatch is needed I'm ready to accept more calls now! And meet more services, it save me money from extra person in a office. Count yourself, talk to Service Department at Schedule System, and ask for DEMO version. If any question, send me e-mail, use this system myself with my dispatchers, very helpful, I don't have to run to them and explain every details anymore - they can see on thier computers screen all my notes and warnings
Vorteile:
I was looking around for more than a year for schedule program for our plumbing company in Toronto, Canada. Nothing was matching our needs. Finally, I choose THOUGHTFULSYSTEM Schedule program.We met a lot of extra fixtures - phone module, different reports to make quality controls for our plumbers, ability to change the crew every time we need (to have chances to find who was at that job site and be flexible with switching the plumbers). Sales department did a great job, Elina was very patient with me, answer right away on all my questions. Charlie! The person who pick up the marathon from Elina to serve us, any minute I can call and I will get a help from professionals, they fixed every single peace at this program specially for us.
Nachteile:
About the program - very friendly interface! We just follow the instruction (company provided to us book with articles about every module available) This year we are sending special Christmas LETTER for every customer Easy to control changes (assign plumbers to projects and than re-assign them because of changes happenned on the day schedule) Make notes every time customer called us, every time next dispatcher will serve this customer she will know what the details were in a previous cases. Any time you need to make "remind call", you make a note and on that time special window will appear to remind you to call the customer to confirm the appointment, for example. Easy to learn the fixtures, no complication (for the first couple weeks we called to technical support - to install the program we even didn't use Network Admin, we did ourself, every workstation were installed just with all recommendation from the book-instruction provided with program
Verwendete die Software für: Nicht angeboten
Scheduling Manager Review
Kommentare: We bought Scheduling Manager 5 years ago for our plumbing business. It has been a big help in the day to day running of our business. We've been very happy with the service we've received from Thoughtful Systems. Sarah was very helpful to us. Initially, she helped us learn the program and get started inputting our data. Over the years, as we ve grown, we ve learned more and more things that the software can do. We had a few things changed for us, so that it would work exactly according to our needs. Like customizing an invoice and some of the email templates. It saves us a lot of time, and is very convenient when you need to send out Christmas cards, etc., or promotional pieces offering special offers or new service offerings. The built-in e-mail features are great! I highly recommend the software for your plumbing business, or any business you re in that requires keeping tabs on customers, assigning jobs to employees, tracking accounts.
Vorteile:
Over the 5 years we ve been using The Scheduling Manager, we ve found more and more features which help us save time, and even help generate new business. It s great for keeping track of the technicians. We can see all the appointments for each tech on the drag and drop calendars. This makes it much easier for us to handle existing appointments and find the right tech for a new appointment while a client is on the phone, asking for service. We found that it s much better to try and give a definite appointment time to our plumbing customers at the time they call. We used to have to call them back, and then there were problems with playing phone tag. Sometimes we lost a job altogether. Also, it s a great plus that we can send a text message straight from the software to the tech who s assigned the job, giving him the job details right on his mobile phone.
Nachteile:
Nothing I can think of right now. In the past, we found certain things we wanted that we didn t find in the software. After discussions with the folks at Thoughtful Systems, we had the software customized so that we got the features we needed. As of now, we re happy!
Julie
Owner in Australien
Verbraucherdienste, 2-10 Mitarbeiter
Verwendete die Software für: Mehr als 2 Jahre
Excellent Scheduling/Billing Software
Kommentare: We 've been using Scheduling Manager for over 12 years now. Our business has grown with it, and we have built our procedures in conjunction with the software. It's now an indispensable part of our business management. The folks at Thoughtful are always helpful when we need them.
Vorteile:
Scheduling Manager is easy to use, and provides us all the features we need, day to day, in our business, where we need to schedule over 120 maids every day in various widespread parts of Melbourne.
Nachteile:
There's nothing I can think of. When we have something we want that's not in there, we call Thoughtful and generally arrange for them to customize it for us.
Verbraucherdienste, 11-50 Mitarbeiter
Verwendete die Software für: Mehr als 2 Jahre
Feature Rich But Needs Work
Kommentare: Feature Rich but needs a much better UI and the ability to easily create custom reports on all the data fields. Also, needs online help for for most visible fields. Finally, unit, system and integration testing needs to be much better.
Gastgewerbe, 11-50 Mitarbeiter
Verwendete die Software für: Mehr als 2 Jahre
Great Scheduling Software!
Kommentare: I don't know what I would do without my scheduling software. It is crucial to our daily operations. It really keeps everything organized and running smoothly. I love the feedback forms and appointment reminder feature, processing of credit cards, and being able to email clients in one shot. I love that Thoughtful Systems will customize documents for me to say and look how I want them to. There is a fee for that of course, but I believe they are one of the only companies, if not THE only company, that offers that. Thoughtful Systems really makes keeping the schedule organized a breeze.
Vorteile:
Houses all client and employee info Can process credit cards right thru the software mobile app mapping tool customized documents (for a fee) can email all clients at once with the click of a button can send appointment reminders and feedback forms for all clients each day with the click of a button
Nachteile:
yearly support is a little pricey if i need help with something they don't always answer the phone and i have to wait for a call back i can not edit or customize the documents by myself