Was ist Auto/Mate?
DealerSocket bietet eine Reihe nahtlos integrierter Produkte, mit denen Händlerbetriebe Fahrzeuge profitabler verkaufen und warten können und gleichzeitig das Kundenerlebnis verbessern können. Die Produkte von DealerSocket umfassen modernes CRM, innovatives digitales Marketing und Websites, zuverlässige Fahrzeugbestandsverwaltung, aufschlussreiche Analyse-Berichterstattung und Lösungen zur Optimierung von Händlervorgängen wie Schreibtischarbeiten, Kreditberichterstattung, Compliance und ein Dealer-Management-System (DMS) für Händlerbetriebe jeder Größe.
Wer verwendet Auto/Mate?
Die Produkte von DealerSocket verbinden nahtlos Vertrags- und freie Händlerbetriebe aller Größen mit Kaufinteressierten aus allen Gegenden.
Wo kann Auto/Mate bereitgestellt werden?
Cloud, SaaS, webbasiert, Linux (On-Premise)
Über den Anbieter
von DealerSocket
Ansässig in Irving, USA
2001 gegründet
Telefon-Support
Erhältlich in diesen Ländern
Vereinigte Staaten
Über den Anbieter
von DealerSocket
Ansässig in Irving, USA
2001 gegründet
Telefon-Support
Erhältlich in diesen Ländern
Vereinigte Staaten
Auto/Mate – Videos und Bilder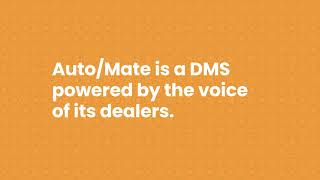 Kosten ähnlicher Produkte wie Auto/Mate vergleichen
Startpreis
Nicht verfügbar
Nicht verfügbar
Nicht verfügbar
1.000,00 $/Monat
Funktionen von Auto/Mate
API
Aktivitäts-Dashboard
Aktivitäts-Verfolgung
Alarmfunktion / Benachrichtigungen
Angebote / Schätzungen
Anpassbare Berichte
Anpassbare Formulare
Automatisierte Terminplanung
Barcode / Tickets scannen
Berichterstattung / Analyse
Berichterstattung und Statistik
Bestandsführung
Bestandsverfolgung
Buchhaltung
Dokumentenmanagement
Dokumentenspeicher
Drittanbieter-Integration
E-Mail-Management
Echtzeit-Aktualisierungen
Echtzeit-Analytik
Echtzeit-Berichterstattung
Finanzierungsmanagement
Formularverwaltung
Für Automobilhändler
GPS
Gebrauchtwagenverkäufer
Hier-Kaufen-Hier-Bezahlen
Inkasso-Management
Integration in QuickBooks
Integration in die Buchhaltung
Inventarverwaltung
Kalenderverwaltung
Kommunikationsmanagement
Kontakt-Datenbank
Kundendatenbank
Kundendienst
Kundenhistorie
Lead-Erfassung
Leadmanagement
Mietverträge nachverfolgen
Neuwagenverkäufer
Preis- / Margen-Management
Rabattmanagement
Rechnungsmanagement
Terminverwaltung
Verkaufsberichte
Verkaufsflächenmanagement
Webseitenintegration
Website-Management
Zusammenfassende Berichte
Allison F.
Marketing/IT Director in USA
Verifizierter Nutzer auf LinkedIn
Automotive, 51-200 Mitarbeiter
Verwendete die Software für: Mehr als 2 Jahre
Best Website & Inventory Platforms
Kommentare: Overall, this company is not one to take lightly. These guys are constantly coming out with bigger and better things while also keeping their support team top notch. There is not much more you can ask for from a consumer standpoint.
Vorteile:
I have used many different inventory and website platforms, and Dealersocket is at the top of the competitors in both areas. This company is so innovative and constantly working to better the products they have to offer. Not to mention the support for all of the different products is the best I have ever experienced. There is no such thing as opening a case and waiting a week until you have to reach back out again and remind them about it. Everything has either gotten taken care of that same day or as fast as they possibly can. When it is not completed that same day, the support rep reaches out to me to update me on the status. That is very rare in this industry and is like a breathe of fresh air!
Nachteile:
The only complaints I have are the capabilities of the website software and what is able to be changed and created by the dealer. I am very technologically inclined and have many ideas and projects for my websites and I have yet to find a provider that can keep up with my ideas and demands, but DealerSocket comes the closest and will always work with me on an idea and they will try to turn it into a reality for me.
Gavin D.
Marketing Manager in USA
Automotive, 11-50 Mitarbeiter
Verwendete die Software für: Mehr als 2 Jahre
In Betracht gezogene Alternativen:
The Best Automotive CRM, Period.
Kommentare: My overall experience has been extremely positive! DealerSocket is our dealership's go-to software for nearly everything, and each of our reps spend at least 6+ hours every day in it with very little complaints. We love DealerSocket!
Vorteile:
DealerSocket has outdone itself with their fully-loaded CRM. It's simple enough that non-users can jump right in and feel like they know what they're doing, but it's incredibly rich in features that it would take month to learn how to utilize all of them.
Nachteile:
Some features crash or don't work quite often, but it usually doesn't detract from the overall experience because support has been helpful whenever we call them.
Daniel H.
Marketing Manager in USA
Automotive, 11-50 Mitarbeiter
Verwendete die Software für: Mehr als 2 Jahre
Do Not Purchase or Use!
Kommentare: Current problems are going unanswered and unsupported. Beyond just minor dealer problems. We found a huge error in the code that was causing vehicles sent to Ebay Motors from INV+ to not be categorized properly. After Ebay and us reported the issue in February, there is still no solution in sight, with Dealersocket sticking to their posistion of no ETA and no idea when an update might occur, since its now in different departments hands. This handing off issues from one product or department seems to be the M.O for Dealersocket. When pressured to give an ETA or answer they try and pass the blame onto another department. Support also seems to not know how one product may work with another. On numerous occasions a support agent would have to stop providing support once the issue would move to another product. With only a select few agents that could assist with a cross software issue. IE. An issue in IDMS that was affecting INV+ may never get a proper support person to help figure out a solution. As many have stated. We were unfortunately sold a product that could do everything. Come to find out Dealersocket can do everything, but nothing well. Save your money and look to another product.
Vorteile:
As others have stated. The product was SOLD as being a one stop solution to a lot of our problems. However, we have come to find out the sales staff would lie to close a sale and promised functionality that was not available.
Nachteile:
IDMS: We have been attempting to use IDMS for over a year now and are still running into huge bugs and issues. The most recent being that if a customer has a " ' " in their name then they are unsearchable. We have also been experiening issues with forms coming from the ignite website platform and creating "deals" when it is just a customer asking a simple question. Another glaring issue with IDMS is that you can not delete a customer from the system. So if you have a customer that was accidently entered twice, too bad, that Joe Smith is now in your system twice forever. CRM: We tried the CRM for 6 months and spent hours importing data and creating templates. Come to find out that when it came to emailing a customer a vehicle brochure. The brochure was hosted by a completely different team and therefore a vehicle brochure would never lead a customer to your website. The brochure is also not customizable so your logo and brand identity could never be incorporated. The CRM also allows for custom timed emails to be sent out. These turned out to require so much finessing and time to create for each scenario that in the end a sales person or BDC would have been better off creating an email themselves and tracking it in the CRM opportunity. INV+: We have been using for years. There have been minor problems when it comes to showing vehicles properly and exporting to 3rd party sites. However, most problems started arising when we made the connection to IDMS....
Bobby W.
Service Manager in USA
Automotive, 51-200 Mitarbeiter
Verwendete die Software für: Mehr als 2 Jahre
Great Company That Cares About Their Clients!
Kommentare: It's been great, they're a great company.
Vorteile:
There are so many good things about this system, but the one thing as a service manager I like the most is they have the option for a service department to schedule by technician which is something that no one else does and I don't know why. I hope they never get rid of this feature because there are still many departments out there that like to schedule that way and they show that they care about ALL of their customers by allowing this.
Nachteile:
Really there are none, they could do better on some of their reports but other than that, the dealership I worked for loved this DMS.
Jack B.
Internet Sales Director in USA
Verifizierter Nutzer auf LinkedIn
Verwendete die Software für: Mehr als 2 Jahre
Dealersocket is one of the better automotive vendor companies
Kommentare: Ease of moving inventory between digital retailing platforms. Appraising cars was as simple as a few clicks.
Vorteile:
Dealersocket offers multiple software packages, from inventory control, used car appraisal to website hosting. This bundling allows for ease of use.
Nachteile:
Customer support is difficult to reach. They have several barriers in place to actually reach a real person. The customer service agent is not always very understanding of an issue, and this can cost alot of money.