Was ist ThunderTix?
Ausgerichtet auf Live-Performances, mit vollständig integrierten Tools, um deinen Kartenverkauf effizient zu gestalten: Fundraising, Geschenkkarten, Marketing, Merchandise, Kund*innenloyalität, Gutscheine und Umfragen. Der einzige Dienst OHNE Ticket-Gebühren, füge optional Gebühren hinzu und behalte die gesamten Einnahmen. Reservierte Sitzplätze ab 80 $/Monat und allgemeine Version für 60 $/Monat. Nutze die kostenlose Testversion, um einen guten Kund*innenservice zu erleben und erfahre, warum ThunderTix eine gute Wahl für Live-Performances ist.
Wer verwendet ThunderTix?
Ausgerichtet auf Organisationen der darstellenden Künste – Theater, Tanz, Galas und Comedy – sowie Live-Musik, geführte Touren und Festivals. Veranstaltungsauflistung auf Englisch, Französisch und Spanisch.
Wo kann ThunderTix bereitgestellt werden?
Cloud, SaaS, webbasiert, Mac (Desktop), Windows (Desktop), Chromebook (Desktop), Android (mobil), iPhone (mobil), iPad (mobil)
Über den Anbieter
Thunder Data Systems
2000 gegründet
Telefon-Support
24/7 Live-Support
Chat
Sprachen
Englisch, Französisch, Spanisch
Über den Anbieter
Thunder Data Systems
2000 gegründet
Telefon-Support
24/7 Live-Support
Chat
Sprachen
Englisch, Französisch, Spanisch
ThunderTix – Videos und Bilder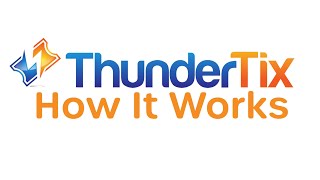 Kosten ähnlicher Produkte wie ThunderTix vergleichen
ThunderTix Funktionen
API
Abrechnung & Rechnungsstellung
Aktivitäts-Dashboard
Alarmfunktion / Benachrichtigungen
Angebot in sozialen Medien
Angebotsmanagement
Anpassbare Berichte
Anpassbare Formulare
Anpassbare Vorlagen
Aussteller- / Lieferanten-Management
Barcode / Tickets scannen
Befragungs-/Umfragemanagement
Berichterstattung / Analyse
Berichterstattung und Statistik
Bestätigung / Erinnerungen
Drag-and-Drop
Drittanbieter-Integration
E-Mail Marketing
Echtzeit-Aktualisierungen
Engagement-Tracking
Event-Ticketing
Eventplanung
Kartenverkauf
Kommunikationsmanagement
Kontaktmanagement
Kundendatenverwaltung
Kundenmanagement
Kundenspezifisches Branding
Marketing-Automatisierung
Mobiler Zugriff
Online-Anmeldung
Online-Zahlungen
Registrierungs-Management
Reservierte Plätze
Reservierung-Management
Reservierungs-Management
Sitzplan
Social-Media-Integration
Ticket-Reservierungen
Veranstaltungskalender
Veranstaltungsmanagement
Verkaufspunkt POS
Website-Management
Zahlungsabwicklung
Zugriffskontrollen / Berechtigungen
Alternativen für ThunderTix
Bewertungen über ThunderTix
Sergio G.
Verifizierter Nutzer auf LinkedIn
Verwendete die Software für: 1-5 Monate
Quelle: GetApp
Easy Interface. Easy to Setup. Reliable & A+ Professional Customer Service.
Kommentare: I enjoyed the overall experience. What was great about ThunderTix was a combination of two things, dependability and customer service. Whenever I had a question they answered it either by phone or email in a timely manner. They were also very thorough as to what you cannot and could do. With much creativity and flexibility there isn't really much you cannot do with their ticketing system.
Vorteile:
It's affordable with its different ticketing plans, and you are not stuck paying an outrageous percentage of your sales. *Customer Service *Dependable *Automated Pre-sale system *Automated Post-sale system *Works on smartphones and tablets with easy. *Promotional tools. *Easy simple buttoning system even low tech Church volunteers of an elderly age were able to operate. *SSL Encryption on their end. *Works with multiple merchant portals
Nachteile:
I am not really sure. They seem to even be concerned about quickly changing their system to benefit you from their open customer support page. You can see what the customers complained about, and even how they solved it. It was freaking incredibly risky, but also awesome to see how they fixed it. So if there are issues which I did not experience, they probably won't last too long.
Renae R.
President, Board of Directors in USA
Darstellende Künste, 2-10 Mitarbeiter
Verwendete die Software für: 6-12 Monate
In Betracht gezogene Alternativen:
Simple, Straightforward Ticketing with Excellent Support
Kommentare: The experience has been very positive over all. I find that other ticketing software I have used make it possible to do everything and impossible to do anything. They get so bogged down in customizability that it makes it very difficult to make the most basic thing a ticketing software needs: the ability to sell tickets. Our organization is a small, 100% volunteer community theatre. Without staff, using a software that has a million bells and whistles but takes months to master just wasn't an option for us. ThunderTix was immediately very easy to use. Once I did about an hour's worth of set up and purchasing, sent in our seating map, and uploaded our contact list, everything was really straight forward and intuitive. Not to mention, for moments where something might not be as clear, there's a unique amount of amazing documentation and videos provided by the staff that make it a lot easier for our volunteers. Their support is awesome and they take recommendations and bug reports really seriously. It sort of has a "local business" feel to it.
Vorteile:
ThunderTix is cost-effective compared to other options on the market. It's easy to use with intuitive and thoughtful configuration. The design is empathetic and prioritizes access in a way that is refreshing for ticket software. The support is outstanding and their documentation is comprehensive. Our customers think the process is seamless and clear, and we have had no reports of a negative customer experience to date.
Nachteile:
Support is awesome, but figuring out how to contact them can get convoluted because it's clear they want to lead you to their truly excellent documentation first. That's fine for "how do I" style questions, but makes reporting bugs pretty difficult. When we were setting up ThunderTix, it kind of felt like we were paying for every little thing: venue configuration, having reserved tickets, purchasing our POS equipment, etc.-- we didn't feel misled by the indicated pricing on the website, though, simply because those are primarily one time expenses.
Antwort von Thunder Data Systems
vor 2 Monaten
I love the fact that you find our system easy for volunteers to use, Renae! Our design team spends a huge time on little things to make it easy. And how about those support reps? They are anything but unsung heroes to our clients, and I know they'll appreciate your words. So, thank you! I'm truly sorry you felt dinged by small fees. We really strive to be the perfect price point for smaller organizations, so we obviously have some work to do to explain any extras. Some costs such as hardware of course, are required to be passed on to the customer. By venue configuration, perhaps you mean the seating chart setup. We are looking at DIY processes to allow you to create them on your own, but we're not there yet. We'll keep improving areas for self-help to help small organizations feel confident in their choices. Thank you for your valuable feedback and, of course, your stellar rating.
Denise D.
Lifestyles Coordinator in USA
Eventservice, 501-1.000 Mitarbeiter
Verwendete die Software für: Mehr als 2 Jahre
ThunderTix Review
Kommentare: Thundertix has eliminated many of the issues that we were having with residents purchasing tickets. The process from announcing upcoming events to selling/purchasing tickets is easy for our staff and residents. The reports that we need to print are readily available and easy to understand.
Vorteile:
ThunderTix is easy to use. Each month I am responsible for inputting our event tickets on line to over 19,000+ residents. This system allows me to get the information out to the residents ahead of each scheduled event and select a date and time for them to go on sale.
Nachteile:
My only suggestion would to have a contact number for an emergency issue. The forum is great but if you need help immediately it would be nice to be able to contact a live person.
Verifizierter Rezensent
Group Sales Representative and Events Assistant in USA
Verifizierter Nutzer auf LinkedIn
11-50 Mitarbeiter
Verwendete die Software für: Mehr als 1 Jahr
Fine but not the best option out there
Kommentare: I feel like the biggest benefit is the price and the customization of the software. I would highly recommend spending quality time on the set-up to ensure you're using it to the best of its ability for your organization.
Vorteile:
The customization is really nice -- from show details, customer reminders, and prices. The customer side of things is really clean and well setup.
Nachteile:
The navigation can be non-intuitive, but understandable once you get the lay of the land. The biggest issue we've come across is the inability to delete or archive orders. Our group sales processes including deposits were always in jeopardy of getting really messy on the back end. Even leaving notes about orders that you couldn't later update would get irritating for the small space provided.
Antwort von Thunder Data Systems
vor 4 Jahren
Thanks for your great feedback. We spent a bit of time this year trying to improve our interlinking to make it easier than ever, and our efforts will continue. We truly want to be the most efficient, time saving software. If you have specific suggestions, I am all ears. You are welcome to write me directly, or you can create a feature request once you're logged in. I'll look forward to hearing from you!
John P.
Technology Director in USA
Unterhaltung, 2-10 Mitarbeiter
Verwendete die Software für: 6-12 Monate
In Betracht gezogene Alternativen:
Crash, Boom, Bang! ThunderTix Makes Noise!
Kommentare: For the value, we have found this to be superior for our use. We are very happy so far. On March 14th, our first event goes live. We have tested, tested, and tested. If the system holds up, we will have exactly what we expected...........a great solution for our ticketing.
Vorteile:
TTix was one of many ticketing packages that we researched. It was mid-range priced, had a very nice cross platform web based interface. We especially found that the product was easy to use, and when needed, video tutorials were provided. They also have a robust help forum, and a support ticket system that is quick and helpful. They also offer a paid top tier support package that we did not choose. We also liked their pricing structure that allows you to move to a maintenance status for "off times". Lastly, we found that the integration with our current STRIPE account was seamless.
Nachteile:
The added costs made us hesitate a bit. For example, reserved seating is a must for our venue. In this package, you must have them create the seating chart for you (at cost). There is a bit of a delay in this process, and other competitors allow you to create your own charts. They also charge for adding Thermal ticket printing. We found that odd but ultimately decided not to offer Thermal ticketing. There is also added costs for using their email marketing.
Antwort von Thunder Data Systems
vor 2 Monaten
Thank you, John, for shouting out those accolades for us! Our support staff will certainly love reading your comments. We realize that there are folks that might want to create the charts on their own, and one day we hope to offer that. Our design team is phenomenal, and they talk through the presentations with our clients to ensure we've covered every detail before ticket sales begin. Most of our clients appreciate that hand-holding, but we certainly can look at a self-serve model. The self-serve model will be coming for thermal tickets, so should you decide to add that, you can avail yourself of our designer. (You can design eTickets now.) Again, thank you for the fantastic rating!