Was ist GAGEpack?
GAGEpack verwaltet die komplette Geschichte deiner Messgeräte, Instrumente und Messinstrumente. Es liefert Informationen über Messinstrument-Inventar, historische Ereignisse und projizierte Arbeitsbelastung für eine bessere Entscheidungsfindung. GAGEpack verfolgt Standort und Status, bewahrt Reparatur-Berichte auf, bietet einen Prüfpfad für die Rückverfolgbarkeit und das leistungsstarke Dashboard bietet eine Übersicht auf höchster Ebene. Es bietet eine vollständige statistische und grafische Analyse deiner Messsysteme, um den Ursprung von Mess-Variationen zu identifizieren.
Wer verwendet GAGEpack?
GAGEpack wird von auf Qualität ausgerichteten Fertigungsunternehmen aller Größen in verschiedenen Branchen eingesetzt. Wenn deine Organisation Messgeräte verwendet, kann GAGEpack helfen!
Wo kann GAGEpack bereitgestellt werden?
Cloud, SaaS, webbasiert, Windows (Desktop)
Über den Anbieter
PQ Systems
Ansässig in Dayton, USA
1982 gegründet
Telefon-Support
Chat
Über den Anbieter
PQ Systems
Ansässig in Dayton, USA
1982 gegründet
Telefon-Support
Chat
GAGEpack – Videos und Bilder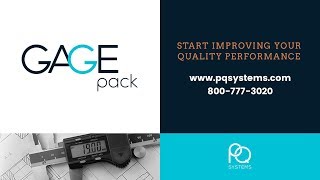 Kosten ähnlicher Produkte wie GAGEpack vergleichen
GAGEpack Funktionen
Alarmfunktion / Benachrichtigungen
Berichterstattung / Analyse
Compliance Management
Instrumentenmanagement
Kalibriermanagement
Kalibrierungsplanung
Standortverfolgung
Wartungsplanung
Wirtschaftsprüfung-Management
Zertifikats-/Etikettendruck
Alternativen für GAGEpack
Bewertungen über GAGEpack
Cassandra
Quality Engineer in USA
Verifizierter Nutzer auf LinkedIn
Verwendete die Software für: Mehr als 2 Jahre
I have used GagePack for many years and have always loved it.
Vorteile:
I like that it updates automatically once the software agreement is renewed. I have used the phone tech support and it was helpful.
Nachteile:
Formatting of some reports - sizing columns. I want to lengthen the time before the lock screen pops up.
Antwort von PQ Systems
vor 3 Jahren
Cassandra - Happy to hear of your satisfaction with GAGEpack and your positive experience with our support team!
Fluggesellschaften/Luftfahrt, 11-50 Mitarbeiter
Verwendete die Software für: Mehr als 1 Jahr
In Betracht gezogene Alternativen:
great product, great price
Kommentare: overall a great product. very happy with it's capabilities.
Vorteile:
less expensive than many competitive products. intuitive to use for a non-computer person. Excellent customer service when I call in for help!
Nachteile:
a few functions were not intuitive for me to use (a non-computer savy person). took quite a while to enter all of our gauges manually (PQ Systems can migrate all your gauges into the program for you, but it costs more) these are minor issues however.
Antwort von PQ Systems
vor 3 Jahren
Paul - Thank you for your feedback! If you ever have a question regarding entering gauges, feel free to contact our Application Support team via email (support@pqsystems.com), by phone (1-800-777-5060), or by online chat (http://pq.systems/pq-chat). We are happy to help!
Medizinische Geräte, 1.001-5.000 Mitarbeiter
Verwendete die Software für: Mehr als 2 Jahre
In Betracht gezogene Alternativen:
GAGEpack - you get what you pay for
Vorteile:
Helps track and document Calibrations & PM's and provides Inventory management
Nachteile:
The MFG, PQ Systems, doesn't offer or perform any validation or qualification of the software other than basic calculations. Relies on customer feedback to find bugs.
Antwort von PQ Systems
vor 2 Monaten
Thank you for your review Mark. PQ Systems now offers a validation kit for GAGEpack. It is available on our website www.pqsystems.com.
Taylor
Gauge Lab Technician in USA
Öl & Energie, 201-500 Mitarbeiter
Verwendete die Software für: Mehr als 2 Jahre
Gagepack's Effectiveness
Kommentare: I myself have enjoyed implementing this software into our application and have full faith that it can and has served my company well. Any short comings could and/or should be looked at objectively by not only myself but my team as opportunities.. opportunities to utilize the software better, to facilitate the internal IT support required, as well as invest in training offered through PQ systems, unfortunately for Gagepack and myself this isn't always possible. I hope we can continue using this software but with new management and new ideas coming with other experience I fear this may not be the case. I will continue to advocate for this software whether here or elsewhere. I am very much satisfied with PQ System's Gagepack and will continue to try and demonstrates its effectiveness as it accomplishes most every need and requirement for our application.
Vorteile:
The systems ease of use, once established through a heavy early development period, allows for an quick and efficient operations in supporting company assets.
Nachteile:
Personally, I have had very few complaints as most issues are more an likely operator induced and can be resolved easily. HOWEVER, the technical/and or customer support i have received has been quite lackluster and at times challenging. I have had support that was so difficult to bear it was almost comical, calls which would require no editing for SNL and would have been plots for Seinfeld.. Maybe it is my ignorance or perhaps my companies incompetence but there has been times customer support has left me feeling like a complete idiot. My company and myself would gladly pay for additional support if this was possible, I don't appreciate nor require condescending conversations, especially in a time of need.
Antwort von PQ Systems
vor 2 Monaten
Taylor, I apologize for your uncharacteristic experience with our support team as well as for our delay in responding. We take great pride in delivering quality support to our GAGEpack customers and would like the opportunity to learn more about your experience. If you could spare a few minutes to share them, please reach out to me derekb@pqsystems.com. Thanks!
Justin
Quality Engineer in USA
Medizinische Geräte, 51-200 Mitarbeiter
Verwendete die Software für: Mehr als 2 Jahre
Our experience with GAGEpack has been exceptional. It has been well worth the purchase for us.
Kommentare: Organization of calibration events and gauges. Reduced time in performing calibration events from having to write all of the information needed. Ease of use when perform calibration events, developing reports and/or reviewing the audit trail of gauges. The customer support for when we need help answering questions or need to make changes that suit our needs.
Vorteile:
Everything GAGEpack has to offer has been a drastic improvement to our Quality System. Coming from a paper based and in-house developed calibration database, transferring over to GAGEpack was a no-brainer. The time spent writing all of our calibration events and navigating the in-house database has reduced our time performing calibration events. The ease of use and features of GAGEpack has improved our overall gauge management and calibration events. Being in the Medical Device industry, the reports needed for gauge files and the audit trail feature makes it a perfect fit for our company. Being 21 CFR Part11 compliant was a must for us. The information provided about the Validation and the software being 21 CFR compliant helped us in making a quick decision to purchase GAGEpack. The customer service PQ Systems provides is above all. When calling for questions, a live person is on the phone. If no one is able to answer your call, it takes no time for them reach back out to you.
Nachteile:
Using GAGEpack for 4+ years, I have not experience any issues using the software. Our company has been using the software for 5 months now. Any questions or modifications that we had were quickly answered by the PQ Systems team. Our calibration technician has not experienced any issues as well. The technician is very happy that we purchased GAGEpack for their daily calibration needs.
Antwort von PQ Systems
vor 4 Jahren
Justin - Thanks for sharing your experience with GAGEpack! It's been a pleasure working with you and Atrion!