Was ist TOPS [ONE]?
Die webbasierte Plattform von TOPS [ONE] für Wohneigentümergemeinschaften (HOA) erfüllt die Anforderungen von Managementunternehmen und selbstverwalteten Communitys. Kombiniere deine Portfolio-, Buchhaltungs-, Management- und Automatisierungstools über die Plattform von TOPS [ONE]. Reduziere deinen Tech-Stack, beseitige sich wiederholende Aufgaben und biete eine höhere Servicequalität. Schließe dich über 40.000 Communitys, 5 Millionen Haushalten und 9.000 Nutzern an, die TOPS-Software für eine All-in-one-Community-Association-Management-Erfahrung vertrauen.
Wer verwendet TOPS [ONE]?
TOPS wurde für das Gemeinschaftsverbandsmanagement entwickelt, insbesondere Organisationen, die Eigentumswohnungen und Hauseigentum verwalten.
Wo kann TOPS [ONE] bereitgestellt werden?
Cloud, SaaS, webbasiert, Windows (On-Premise), Linux (On-Premise)
Über den Anbieter
TOPS Software
Ansässig in CLEARWATER, USA
1985 gegründet
Telefon-Support
Chat
Erhältlich in diesen Ländern
Vereinigte Staaten
TOPS [ONE] Kosten
Startpreis:
350,00 $/Monat
TOPS [ONE] bietet keine Gratisversion. Die kostenpflichtige Version von TOPS [ONE] ist ab 350,00 $/Monat verfügbar.
Über den Anbieter
TOPS Software
Ansässig in CLEARWATER, USA
1985 gegründet
Telefon-Support
Chat
Erhältlich in diesen Ländern
Vereinigte Staaten
TOPS [ONE] – Videos und Bilder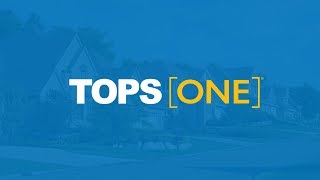 Kosten ähnlicher Produkte wie TOPS [ONE] vergleichen
TOPS [ONE] Funktionen
Abrechnung & Rechnungsstellung
Arbeitsauftragsverwaltung
Ausschuss-Management
Berichterstattung / Analyse
Berichterstattung und Statistik
Buchhaltung
Dokumentenmanagement
Finanzmanagement
Hauptbuch
Immobilien-Datenbank
Instandhaltungsmanagement
Kalenderverwaltung
Kommunikationsmanagement
Kostenverfolgung
Miet-Nachverfolgung
Mieter-Nachverfolgung
Mieter-Portal
Mietmanagement
Mitglieder-Datenbank
Mitgliederverzeichnis
Mitgliedschaft-Management
Website-Management
Zahlungsabwicklung
Alternativen für TOPS [ONE]
Bewertungen über TOPS [ONE]
Irene L.
Resident Services Manager in USA
Non-Profit-Organisation Management, 11-50 Mitarbeiter
Verwendete die Software für: Mehr als 1 Jahr
Tops One for all your HOA accounting needs
Kommentare: Tops One has been instrumental for us as an entire office. We no longer have to rely on just our finance department to assist homeowners with financial information. Everyone has been cross trained on the Tops One system and can easily pull a statement or look up a balance
Vorteile:
The software is easy to use , uses simple language ( which is important for those not in finance or accounting ) and can produce a statement with just a few key strokes. Statements can be printed or emailed depending on the homeowners preference. I cannot say enough about the customer service aspect as well. When we decided to switch from QuickBooks our account representative was instrumental in helping us set up our system. Whenever we have needed customer service they are always available.
Nachteile:
We actually set up our system at the start of the Covid pandemic. That made training a little difficult as everything had to be done virtually. Our trainer was prepared much more so than we were. I wish we had known how much pre-work actually needed to be done before we made the migration to Tops One. I think we would've worked a little harder to make sure that our #DATA imports were cleaner than they were.
Verifizierter Rezensent
Project Manager in USA
Verifizierter Nutzer auf LinkedIn
Buchhaltung, 11-50 Mitarbeiter
Verwendete die Software für: 6-12 Monate
Greg's Review
Kommentare: I came into the property management business knowing nothing and tops for sure eased me into the business of it and now I am pretty comfortable with it all.
Vorteile:
Easy to access and learn. Keeps everything organized I need on a daily basis.
Nachteile:
Hard to edit tablets in the soft system. Wish you could do it instead of having to add a whole new one
Antwort von TOPS Software
vor 4 Jahren
Thank you for your feedback, Greg! It¿s always great to hear from those who are brand new to the industry, and we¿re so glad that using TOPS has helped your learning experience! Don¿t forget that you can access our educational content to learn more, not just about our software, but about industry best practices and know-how, on our website at www.topssoft.com.
Jay P.
Vice President in USA
Immobilien
Verwendete die Software für: Mehr als 2 Jahre
Quelle: SoftwareAdvice
Full of Bugs and No Support
Vorteile:
The vendor has very nice and professional employees
Nachteile:
The software is full of bugs and links mysteriously stop working. Print to screen might work on some reports, not others. Email a homeowner, no way. Cant open that link at all. After upgrading and buying the new Professional a year and a half ago the product is obsolete and not supported. They want us to pay additional $ a month to fix the errors in their program.
Antwort von Andrea
vor 6 Jahren
Jay, thank you for taking the time to share your opinion on TOPS. Feedback like yours keeps us honest and allows us to continually improve both as a company, and in our products themselves. I am very sorry to hear that you have had some problems using the software. As I am sure you know, every software program (even the big boys!) have issues that sneak their way into the code. This is why we offer the monthly support plan for clients not only to have access to our world class support team, but also to provide you with regular updates to the software. More than just new features, these semi-annual updates include many bug fixes. Because the product that you purchased is a stand-alone Windows product, the only way we can afford to provide the level of support we offer is to charge a monthly maintenance fee. With our newer, SAAS products, support and updates are included in the monthly fees, but there is no way to do that for a one-time purchase. So yes. We do charge for support. But we do offer scaled plans that make it cost effective for smaller organizations like yours. And I promise you, it's worth the price.
Kathy B.
Principal in USA
Verifizierter Nutzer auf LinkedIn
Unternehmensberatung, Selbstständig
Verwendete die Software für: 1-5 Monate
Breath of Fresh Air
Kommentare: Like with TOPS Pro, it is an all-in-one solution. It has improved 100 fold by becoming web based with the portals. It was a bit of a learning curve switching from Pro to One but it is still very user friendly. I use it as a selling feature when pitching to potential clients. I love it and have no regrets on my purchase!
Vorteile:
I love that it is cloud based and appealing to the eye. It is easy to add Board members as additional users and control what they can alter. Owners can log in to portals which makes it an inexpensive alternative to websites. I love all the partner integrations that they offer.
Nachteile:
I wish it would further integrate with their partners. I also wish that it would remember some of the ways you like to toggle things instead of having to do it every time you log in.
Antwort von TOPS Software
vor 4 Jahren
What a delightful review Kathy! Thank you so much for your kind words! We do have much more planned for our industry partnerships in the future, so keep an eye on those product update notices!
Wendy C.
paralegal in USA
Anwaltskanzlei, 2-10 Mitarbeiter
Verwendete die Software für: 1-5 Monate
TOPS [ONE} Overview
Kommentare: I am enjoying the ease and accessibility offered through the TOPS [ONE] program. It makes my workflow more quickly.
Vorteile:
I like that I can secure the information I need to process our files in different formats. As we work with a property manager for several HOA communities, I have the ability to access crucial information for our legal processing for all communities in one program. I was able to easily navigate myself through the system and updated information is available daily for all communities.
Nachteile:
So far, there has been no downside. I tend to input too much information and am learning that the system is able to provide the information I am seeking with only 1 search criteria. It amazes me how quickly the sought information is at my fingertips.