Was ist STORIS?
STORIS ist eine Unified-Commerce-Lösung für die Möbelbranche. STORIS integriert alle Aspekte des Einzelhandels, einschließlich POS, E-Commerce, Bestandskontrolle, Merchandising, Logistik, Customer-Experience-Management, Buchhaltung, BI-Tools, Mobile Apps und mehr. Heute automatisiert STORIS Tausende Möbel-Showrooms wie Ethan Allen, Bassett und Ashley HomeStores. STORIS ist in der Cloud verfügbar und darauf ausgelegt, die Effizienz der Betriebsabläufe im Einzelhandel zu steigern.
Wer verwendet STORIS?
STORIS, Inc. bietet eine Einzelhandelssoftwarelösungen für die Möbelbranche.
Wo kann STORIS bereitgestellt werden?
Cloud, SaaS, webbasiert, Windows (Desktop), Windows (On-Premise), Linux (On-Premise), iPhone (mobil), iPad (mobil)
Über den Anbieter
STORIS
Ansässig in Mt. Arlington, USA
1989 gegründet
Telefon-Support
Erhältlich in diesen Ländern
Kanada, Vereinigte Staaten
Über den Anbieter
STORIS
Ansässig in Mt. Arlington, USA
1989 gegründet
Telefon-Support
Erhältlich in diesen Ländern
Kanada, Vereinigte Staaten
STORIS – Videos und Bilder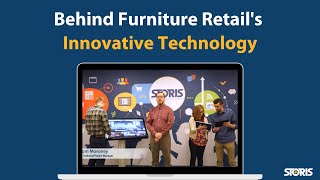 Kosten ähnlicher Produkte wie STORIS vergleichen
STORIS Funktionen
Alarmfunktion / Benachrichtigungen
Artikelverwaltung
Auftragsmanagement
Barcode / RFID
Berichterstattung / Analyse
Bestandsoptimierung
Bestandsverfolgung
Bestell-Management
CRM
Check-in/Check-out
Daten-Import / -Export
Datensicherheit
Drittanbieter-Integration
E-Commerce-Management
E-Mail Marketing
Einkaufswagen
Einzelhandel-Lagerverwaltung
Elektronische Unterschrift
Elektronische Zahlungen
For iPad Devices
Integration in die Buchhaltung
Inventarverwaltung
Kreditkartenbearbeitung
Kundenkonten
Lieferanten-Management
Mehrere Standorte
Mitarbeitermanagement
Mobiler Zugriff
Multichannel-Management
Nachbestellungen verwalten
Preismanagement
Rabattmanagement
Retourenmanagement
Rückgaben nachverfolgen
SEO-Management
Verkaufsberichte
Verkaufspunkt POS
Versand-Management
Website-Management
Zahlungsabwicklung
Jack
Design Director, Project Manager in USA
Verifizierter Nutzer auf LinkedIn
Verwendete die Software für: Mehr als 2 Jahre
It's a quick and efficient software.
Vorteile:
It has a lot of checks and balances that doesn't allow the user to make mistakes. It also shows the designer custom options they may not be aware of to give their client the best design solution possible. Once you learn the drop-down abbreviations and become proficient you can quickly create a quote for your client. New employees never exposed to the system are able to pick it up quite rapidly as it is extremely user-friendly. Our administrator has the ability to quickly fix any errors we might have made. The reports it generates allow us to give real-time information to our clients. The ability to review clients past purchases when adding items to their home is very helpful and selecting new furniture that will compliment what they have purchased in the past!
Nachteile:
There are times that the software is down. This can wreak havoc on our business. This may not be hey STORIS issue but rather an in-house Ethan Allen issue. We also recently moved locations. This required a new store code. The system was unable to blend the client base from the old store code to the new one requiring searching a customer's information in two different places. Not a significant hindrance.
Einzelhandel, 2-10 Mitarbeiter
Verwendete die Software für: Mehr als 1 Jahr
In Betracht gezogene Alternativen:
McRoskey Mattress Company
Kommentare: Good. Once you get everything set up and everyone trained it is straight forward.
Vorteile:
the customer service team at Storis and their tenacity to address issues as they arise
Nachteile:
a little cumbersome for our type of operations but we operate unlike most mattress retailers
Antwort von STORIS
vor 8 Monaten
We at STORIS are happy to hear about your positive experience with our software. Thank you for your partnership.
Verifizierter Rezensent
Former Employee of Ashley HomeStore in USA
Verifizierter Nutzer auf LinkedIn
Informationstechnologie & -dienste, 1.001-5.000 Mitarbeiter
Verwendete die Software für: 6-12 Monate
If you want a Time Machine Reminder of the terrible software of the 90's
Kommentare: Awful!
Vorteile:
There are none, except this is the best the furniture world has for software and they worship it. The software is so outdated it's like stepping back 30 years. .Terrible, clunky, slow and just pathetically behind. They say it's because furniture is difficult but I've run logistics and financing before in other organizations it's just that Furniture as a whole is a racket and they exploit customers and STORIS exploits the companies.
Nachteile:
Everything! It is slow, it looks and feels outdated. The company is so overly sensitive if you review them bad they withing days contact higher leadership in a conference call and demand retribution against employees of the organization who spoke out and they are overall. Not kidding had a review posted once and they wanted it taken down and me fired, the Vice president found me on LinkedIn shortly after my review went up. They're that petty cause they know they are slinging terrible and pathetic product. Furniture companies being cheap think they're getting top of the line (similar to what they tell their customers) when in reality they're getting a nice looking package with nothing inside for it to function properly. This product is a LEMON through and through STAY AWAY! Find a start up and invest as a company they will make something 10x better in months!
Ashlyn
Business Admin in USA
Einzelhandel, 2-10 Mitarbeiter
Verwendete die Software für: Mehr als 2 Jahre
After Using For 5+ Years...
Kommentare: I have never had a software company be so hands on with their product and offer as much support in training and technical support as STORIS. Sometimes it is easy to take a product for granted when it works seamlessly for you as STORIS does for our business but I am reminded how fantastic the service is every month when our point of contact, Chris, checks in to confirm STORIS is working well for us.
Vorteile:
I began working at Luxe Home Company after STORIS was already well introduced into our routine and immediately I found the software to be incredibly easy to navigate and learn. It is critical that tasks are able to be performed quickly and efficiently in a small business and STORIS has everything laid out in an easy to use, step by step system. For example, if I want to see our outstanding gift certificates - even if I am not familiar with the function - all I need to do is search "gift certificates" and a clearly labeled option comes up and I am guided through the prompts to print a report with exactly the information I need.
Nachteile:
When STORIS is not working properly for whatever reason, I find troubleshooting not very user friendly. Luckily, technical support has always been quick to respond to whatever issue I am having. Specifically, my biggest gripe is when your computer goes to sleep or if you are disconnected from the internet for whatever reason, if you were working on a sales order or purchase order at that time when you go to reload the same page to pick up where you left over, STORIS will not let you in and you need to call to reset the page.
Antwort von STORIS
vor 6 Monaten
We appreciate your feedback and your partnership. Thank you for taking the time to leave a review.
Richard
Executive Vice President in USA
Unterhaltungselektronik, 11-50 Mitarbeiter
Verwendete die Software für: Mehr als 2 Jahre
Modular and Flexible - Transactional Accounting for Other Industries Too
Kommentare: We've been with Storis since 2006. As our accounting applications service provider (ASP), we couldn't be happier with Storis as our "partner" for our software accounting needs. Transactional accounting at its best. Robust, redundancy built in, and modular. Storis maintains our Inventory on a perpetual basis as we require - from PO's through receiving and sales order sell through. A/P and A/R functions download perfectly with a fail-safe approval process. Customizable reporting to handle all including sales taxes. Truly, though, we are most grateful, not just regarding the software; but also, the Storis staff. They are always available to us when we need them to answer a question on rare transactions or when we've made input errors requiring their help to correct. Storis has become part of our extended "family". You can't do better. downloading to our Quick Books
Vorteile:
Modularity - Use only what you need. Flexibility - Create custom reports needed by your industry and business, easily. Robust, no downtime to speak of. Upgrades included at no charge. Amazing, attentive, professional and caring staff.
Nachteile:
Absolutely - and I am tough - not even one negative thought about the company or its software
Antwort von STORIS
vor 6 Jahren
Richard, thank you very much for your thoughtful comments. We are always happy to hear success stories like yours.