Was ist iContact?
Unbegrenztes Senden. US-basierter Support. E-Mail-Experten als Mitarbeiter. Mit iContact Email Marketing können Unternehmen aller Phasen und Größen Ergebnisse erzielen. Vom kleinen Unternehmen, das gerade erst begonnen hat, über professionelle Vermarkter und Agenturen bis hin zu Großsendern mit 25.000 bis 500.000 Abonnenten bietet iContact einen Plan für jeden Bedarf. Alle Kunden erhalten einen Success Manager, der ihnen den schnellen Einstieg ermöglicht, unbegrenzten Zugang zu preisgekröntem, technischem Support und eine Zustellbarkeitsrate von 98 %.
Wer verwendet iContact?
iContact ist ideal für kleine Unternehmen, Unternehmer, Vermarkter, Agenturen und Sender mit hohem Volumen mit 25.000 bis 500.000 Abonnenten. Gemeinnützige Organisationen, EDUs, Finanzdienstleister, Eventmanager und viele mehr sind einfach begeistert!
iContact – Details
iContact
2003 gegründet
iContact – Details
iContact
2003 gegründet
iContact – Videos und Bilder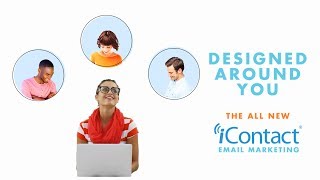 Kosten ähnlicher Produkte wie iContact vergleichen
Startpreis
Nicht verfügbar
20,00 $/Monat
10,00 $/Monat
4,00 $/Monat
iContact – Bereitstellung und Support
Kundenbetreuung
FAQ/Forum
Wissensdatenbank
Telefon-Support
Chat
Einsatz
Cloud, SaaS, webbasiert
Android (mobil)
Training
Persönlich
Live Online
Webinare
Dokumentation
Videos
Trevor K.
Art Director in USA
Verifizierter Nutzer auf LinkedIn
Verwendete die Software für: Mehr als 1 Jahr
A Solid Email Platform
Kommentare: I get the ability to reach my customers and turn them into return customers week after week and year after year.
Vorteile:
iContact is easy to use in most cases. There are tons of different templates and creating your own email template is a breeze. If you get one of the Pro plans they'll even help you make templates for future use, so that's great, too. There are plenty of ways to upload data and keep track of that data. In fact I tend to use iContact to export my data for use on other platforms because it keeps everything so nicely. My point of sale doesn't even allow the breadth of exports and options that iContact does, so it's more than just an email platform to me. Automation is visually very simple and means that I know I'm reaching my audience at the correct times. I no longer have to manually send each email, and with the automation there are tons of options to segment in addition. This means I'm not sending frivolous emails, so that keeps our open rate high.
Nachteile:
I have three businesses that have to be kept separate and my only big complaint is that I can't copy automation plans or other things back and forth between them. So a lot of time is wasted redoing certain campaigns between the locations. I also think the social connectivity needs to be updated. Twitter for one is outdated and the actual website allows much more text to be posted than in-app. They're several updates behind on Twitter.
Antwort von iContact
vor 4 Jahren
Hi Trevor! We are thrilled to hear that iContact¿s design services and automation tools make your job easier and your emails more impactful with your customers. At iContact we value being your one stop shop for your email marketing needs. We also appreciate your feedback about copying your automation plans from one platform to another. We¿ve noted this feature and completely understand how it would be helpful. Thank you and have a wonderful day!
Karen C.
Consultant in USA
Informationstechnologie & -dienste, 11-50 Mitarbeiter
Verwendete die Software für: Mehr als 2 Jahre
Works great for us
Kommentare: We've had to contact support a couple of times and they have been helpful. The level we purchased isn't a comprehensive marketing solution. But we came back to it after having trouble with ClickDimensions, it actually works better.
Vorteile:
When I want to send out an email, I go into my list of prior emails, make changes, and send. It's very easy. It has all of the functionality we need for sending out bulk emails.
Nachteile:
The editor is a bit clunky. It does take a bit of time to create a new email format. Sometimes it doesn't behave like it is supposed to. But once you save that new format you can use it over and over.
Antwort von iContact
letztes Jahr
Hello Karen, Thank you for taking the time to leave this detailed feedback for us, we greatly appreciate it! All the best, Carlos, Customer Marketing Manager
Verifizierter Rezensent
Email Marketing Manager in USA
Verifizierter Nutzer auf LinkedIn
11-50 Mitarbeiter
Verwendete die Software für: Mehr als 2 Jahre
I've used iContact for the last five years.
Vorteile:
iContact is a low cost solution for basic email marketing. You have access to a strategic advisor. My strategic advisor always provides thorough answers and/or solutions when requested. iContact offers automation with workflows that are easy and quick to build. The user interface is easy to understand.
Nachteile:
The response time to fix API issues can be slow. iContact does not offer a post unsubscribe survey. I'm not able to download user profile information when exporting email send statistics - this is important for me when I want to do a quick analysis on my data.
Antwort von iContact
vor 4 Jahren
Thank you very much for being a long time iContact customer! We are happy to hear that you have been able to quickly and easily design automations with workflows using your iContact Pro account. We like this feature so much we plan to make it available to all iContact accounts. Thank you as well for your feedback, particularly about adding a post unsubscribe survey. This is being shared with our Product Management team so that it can be reviewed for possible updates in a future release.
Sam S.
Digital Media Coordinator in UK
Gastgewerbe, 51-200 Mitarbeiter
Verwendete die Software für: Mehr als 2 Jahre
In Betracht gezogene Alternativen:
An excellent choice for email marketing and customization
Vorteile:
My favorite thing about iContact was how much control we had over the design of the emails using only the visual builder and not having to go into much code. This is way better than most of the biggest competitors that I've used.
Nachteile:
While organizing contacts was good I feel like it could have been better. Would have been great to have more ways to categorize.
Lauren B.
Marketing Coordinator in USA
Verifizierter Nutzer auf LinkedIn
11-50 Mitarbeiter
Verwendete die Software für: Mehr als 2 Jahre
iContact helps me be successful at my job
Vorteile:
iContact is a very user friendly product for anyone. My company sends thousands of emails a week and we are always very pleased with how easy it is to create an email and send it immediately. I also really enjoy the dashboard, it helps me keep track knowing what emails have been sent and what emails I have yet to send. i also appreciate that iContact technology can delete any duplicate people in a contact list. That saves me time from having to go through thousands of people making sure I don't have any duplicates. My customer support is also amazing. My iContact rep. is always so good about getting back to me when I have questions or concerns.
Nachteile:
Sometimes when I am creating a contact list in iContact, I have several excel sheets I need to upload to that one contact list...iContact doesn't let me select multiple excel sheets to upload at once, I have to do one at a time which takes a lot of extra time for me to do. I also wish I could delete more than one contact list at once. On the "upload contact" box, I want to be able to see the whole title of my contact list. Sometimes iContact cuts off my list title if it's too long, I would like to see the whole title...
Antwort von iContact
vor 4 Jahren
Hi Lauren! We sincerely appreciate you taking the time to provide this feedback. Our support team loves helping companies like HireLive who make such a tremendous positive impact. As for the concerns you raised about list uploading, we are taking all product improvement comments very seriously and are working to continually improve our product. We currently do allow you to have 5 concurrent uploads at any given time, but you must start the uploads one at a time. And you are correct, we cannot upload multiple sheets from one excel file. We have noted this potential feature, along with multiple list deletion, and title expansion ¿ and we realize its importance. Thank you again and have a great day!